No one would have ever thought that the smartphone industry would bring such a revolution in movie streaming apps. With improved and bigger smartphones, users started to use smartphones as their personal space to watch and stream movies. And with the passage of time, we had witnessed exponential growth in the movie streaming industry.
Some of the earlier players in the market where Netflix and Amazon prime which offered movie streaming services. In the past few players, many players have dived into this market seeking it as a massive opportunity to make profits.
Lockdown has also been a causal reason for the increase in demand for streaming content which includes web series, drams, reality shows, and movies. So to kill your time, we are compiling a list of the best free movie apps for Android, where you will find unlimited and original content.
Excited? So Let's Get Started.
Best Free Movie Apps 2022
Plex: Best free movie streaming app
Plex is one of the best free movie apps available on the Play Store. The application is an absolute dream for movie and serial enthusiasts as it offers Live TV channels, more precisely 200+ of them, without even requiring a subscription. You can watch movies, TV shows, and series conveniently from any device using the Plex app. It also features a web version, so this is an excellent choice if you are on your PC and want to watch your favorite series.
Plex offers TV in different genres, including news, sports, and kids. You can also listen to live news on popular channels, including CBS, financial times, etc. The app lets you stream movies completely free from popular services, including paramount, relativity, AMC, crackle, etc. All the movies available are full length, thus ensuring no nuisance while watching it.
A notable feature of Plex is its media server that lets you organize all the personal media. You can curate and then stream your collection of the movies. The app is easily one of the best free movie apps on android as it combines functionality with an easy-to-navigate interface.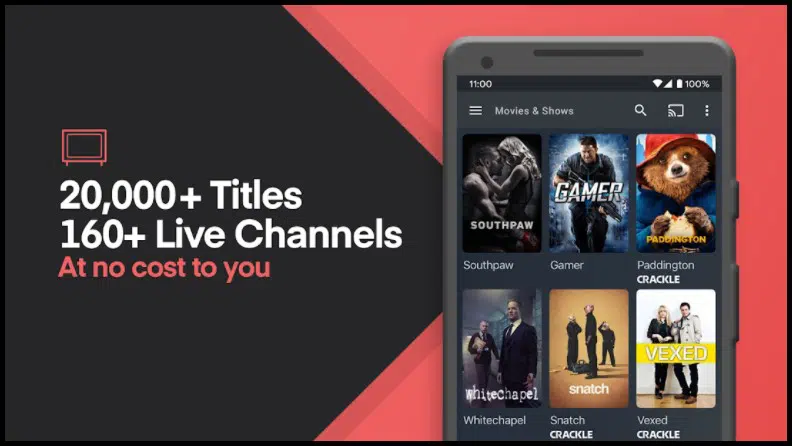 Standout Features:
Get access to 200+ TV channels
Watch series, movies, and news channels free
Easy to use interface
---
Vudu: Best free movie App
Vudu app is among the best free movie app for android. The app offers many unique features that make it a popular selection on the list. The most sought-after feature of the app is that it allows you to watch full-length serials and movies in the 1090p resolution, which means that there aren't better choices out there for HD streaming.
Many users often complain about the sound quality of the movies through the apps. However, Vudu ensures that you have clear sounds through Dolby Atoms on the supported devices. The app offers plenty of choices suitable for various age groups and interests in terms of categorization. It provides comedy, action, crime, suspense, kids and family, etc. The clean and functional interface makes it easy to scroll to your favorite movies instantly.
Vudu allows you to watch 1000s of movies without any costs; however, it also provides a rent feature that lets you find and pay for a special payment. However, the free section also contains plenty of choices to watch with ad support. It also offers TV shows, and more precisely, the library contains over 20,000+ choices.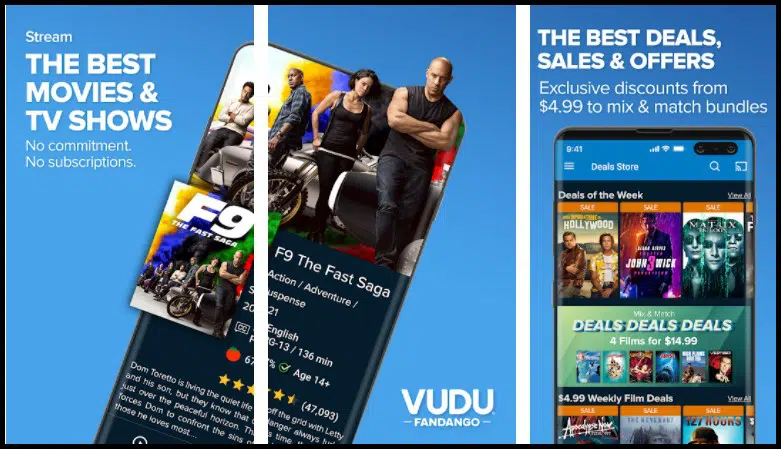 Standout Features:
1000+ movies free
4K support
Free registration
---
Yidio: Free Movie Apps For Android
Yidio is a universal search and discovery platform that allows you to find any movies and TV shows across various popular sources such as Netflix, Hulu, Amazon, and more. The app combines all the sources under a single website and thus conveniently provides you with what you want to watch, thus establishing itself as one of the best free movie apps on the Play Store.
The operation is Yidio is simple; it contains bots that constantly monitor numerous streaming services, including Hulu, Netflix, and Amazon. It has a search and discovery feature to find anything you want to watch instantly. Finally, it offers personalized recommendations features that allow you to receive notifications based on the movies and TV shows you have watched in the past.
The app will provide you access to thousands of popular TV shows and movies. You can watch free live videos in numerous genres, including news, horror, anime, celebrity, etc. Thus, the app is an excellent choice that lets you quickly scroll over to your favorite show without paying anything in return.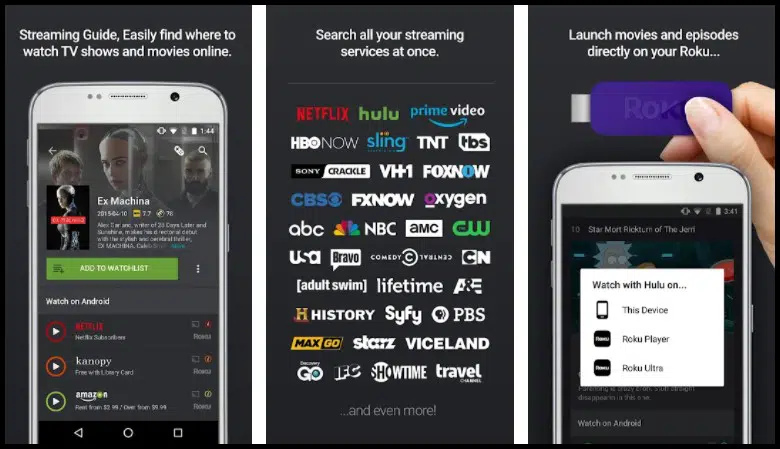 Standout Features:
Get personalized recommendations
Create a watch list
Get access to thousands of movies and TV shows
---
IMDb TV: Best Free Movie App
IMDb TV is a free-of-cost streaming service that lets you watch thousands of TV shows and Hollywood movies. The benefit of the app is that you can watch popular blockbuster movies on it along with shows that took the world by a storm, including Mad Men, List, Friends, and Chicago Fire.
A significant benefit of IMDb TV is that it's completely free and you won't have to pay anything for it. Although it provides a vast library with countless choices, the app constantly updates with new choices. It contains choices for everyone, including romance, comedy, thriller, family, fiction, even informative documentaries, etc.
The user interface of the app is quite simple. It contains a featured Tab with all the trending choices followed by Continue watching famous movies etc. It will provide you with a home screen and a live section to ensure you never miss out on anything. Since the interface contains all the mobiles and shows appropriately categorized and organized, it saves time since you instantly scroll to the content you want to watch.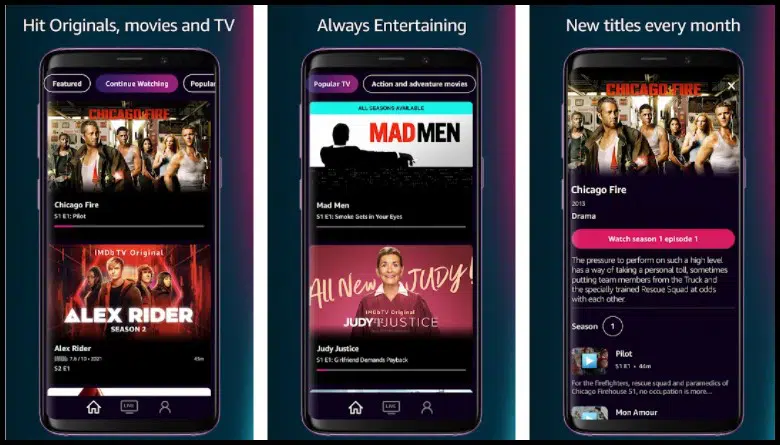 Standout Features:
Watch popular movies and TV shows free
Efficient interface
Free to use
---
Kanopy: Free Movie Apps For Android
The Kanopy app allows you to stream thousands of films without ads or payments. The free movies are only available to you with a library card in one of the supported institutes. If you have a membership of a recognized library, Kanopy can be the best free movie app for you because it will grant you access to movies directly from your mobile device.
It offers movies in all genres, including adventure, animal films, horror, etc. Each film that you find will contain a user rating, synopsis, and cast details. Furthermore, it will also provide suggestions for each movie's related videos to find all the films you like. The search feature allows you to instantly find your desired choice and watch it, while you can also add any movie to a watch list or share it with your friends and family.
Kanopy kid is a unique app feature that lets you access children-friendly content and set parental controls if required. The app is compatible with numerous devices, and it is also ranked as one of the best free movie apps for android due to its features and efficiency.
Standout Features:
Weekly discover new films
Get access to thousands of movies and shows
Kanopy kids feature designed especially for children
---
Rakuten TV – Movies & TV Series
Rakuten TV is one of the most popular on-demand video streaming platforms in Europe. It offers Transaction Video-on-demand services, thus offering viewers an impeccable cinematic experience with quality releases and extraordinary audiovisual quality. The app provides a free mixture of thematic channels that includes the Hollywood classic, exclusive and local-themed content suitable for a broad category of people.
The Rakuten TV app will provide numerous benefits, including watching TV series and movies from the library anywhere. You can easily rent or buy the Rakuten TV catalog through the app. You can watch your favorite movies or informative documentaries for free through it. The app also supports Chromecast to watch the content through it on your TV screen. Downloading the episodes and movies so you can directly watch them from the device without even requiring an internet connection is a blessing.
The app will let you find any content you like through the search feature and enjoy it with your friends and family through the entertaining streaming aspects.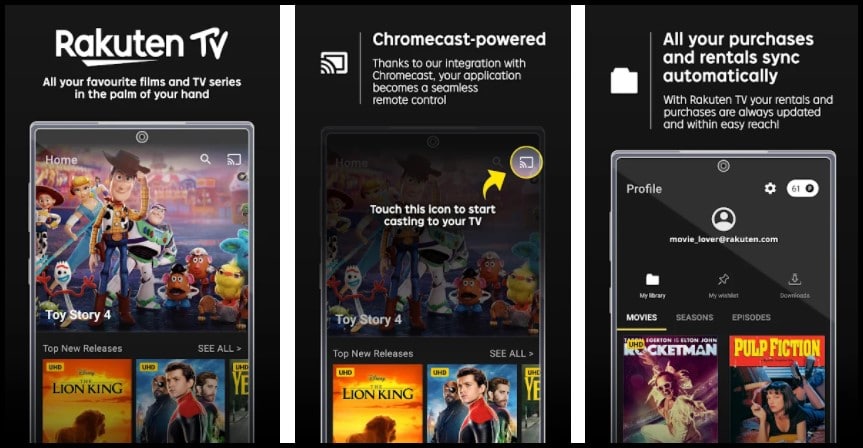 Standout Features:
Watch TV serials and movies through the app
Use to search feature to find films
Discover movies relating to your interests
---
Crackle: Free Movie Streaming Apps
Crackle is one of the best free movie apps for android and ios. The primary reason is that it supports nearly every device you might want to use for streaming movies, including mobiles, TVs, streaming players, and even game consoles. The app's user interface provides a massive boost since it's easy to operate and has exceptionally smooth video streaming.
Crackle is the ideal choice for people with all sorts of interests since it's a versatile and multi-purpose app. You can use it to watch Hollywood and Bollywood's most popular TV shows, movies, and even the classic collection of all the popular choices. You can easily set up a free account in minutes and filter to your desired genres, including drama, action, thriller, fandom, etc.
Every film you watch also has captions, so the app will cover you if you don't understand anything. Furthermore, you don't even have to log in to watch the movies.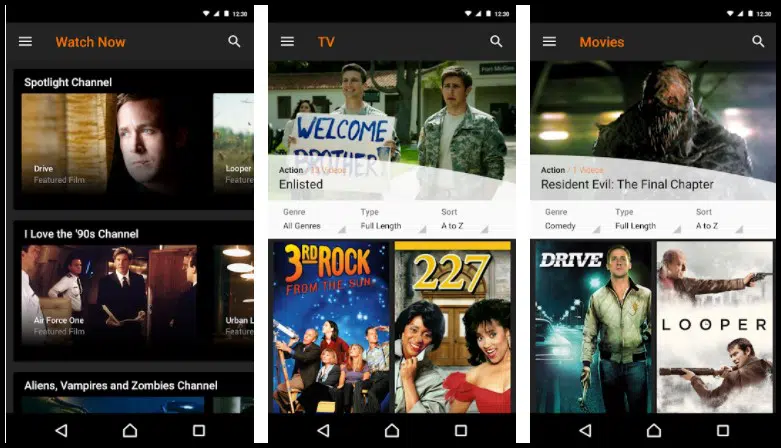 Standout Features:
A wide variety of choices
Each film contains captions
Works efficiently on numerous devices
---
YouTube: Movie Streaming Apps
YouTube should be a no-brainer mention for you on our list. It is one of the most popular online video-sharing platforms that also happens to be one of the best free movie apps. You can get access to thousands of movies from classic to adventure and a lot more completely free. Furthermore, it also features a Live feature that searches all the channels that live stream your search, thus becoming a versatile app for watching anything you want.
One of the most significant benefits of YouTube is its diversity. It will let you watch your favorite movies and TV shows. However, it goes further than providing sports highlights or full matches, music videos, etc. Thus, the web version and the app generate over a billion views each month.
You can use YouTube for free to watch Hollywood, Turkish, Spanish, and Bollywood movies, from the classics to the latest. The movie section contains numerous notable choices that will ensure you remain entertained. Another significant benefit is that it offers a simple UI and supports offline download in certain movies.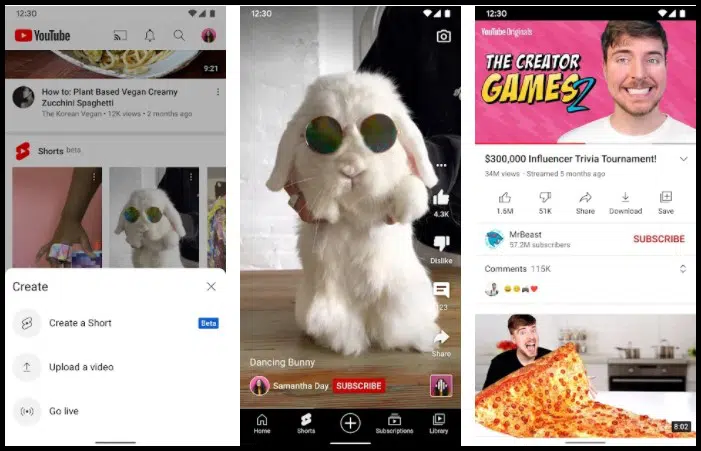 Standout Features:
Versatile app
Easy to find movies
Watch movies and TV shows in all genres
---
Popocornflix: Movie Apps Free
Popocornflix is a reliable and efficient free movie streaming platform that will grant you access to hundreds of movies at full length and TV shows. Diversity, functionality, and features make it one of the best free movie apps for android.
The app's interface is simple and will let you quickly find the feature you are looking for; it contains various tabs, including a home screen, movies, series, and a search feature. Each of them is designed to help you find different content. Furthermore, the search feature will instantly allow you to find a particular choice.
The Movies and Series tab is an excellent choice for people that want to discover shows that match their interests. The app tracks your watching history and provides you with a curated list that contains choices that match your priorities, thus ensuring you are never out of choices again and always have something that you can look forward to.
Popocornflix also features documentaries that allow you to access plenty of informative content and thus enhance your knowledge. Since documentaries are a great source of enlightenment about daily or past affairs, it's a huge benefit to watch Them from the comfort of your android device.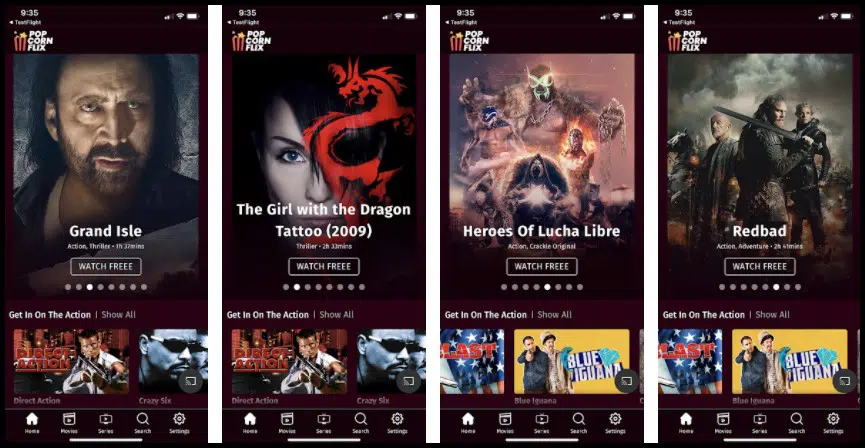 Standout Features:
Get access to hundreds of movies and TV shows
Easy UI
Discover new shows with different tabs
---
Peacock TV: Stream TV & Movies
Peacock TV app is a popular streaming service with thousands of downloads and ratings on the play store. The positive rating and a huge fan base make the app one of the best free movie apps for android. It is a platform that provides you access to famous Hollywood studios and numerous TV series by popular creators.
A significant benefit of Peacock TV is that you can use it to watch movie blockbusters and sports, news, WWE paper views, and more. Hence, if you get the app, apart from watching movies, you can also access popular sports events and the latest news to update you about current affairs.
Peacock TV also features premium content, including Saved by the Bell, Bel-Air, etc. Although the app is free to download and you can enjoy plenty of content without any cost, it also features a premium version available for only $9.99/month; you can access more content.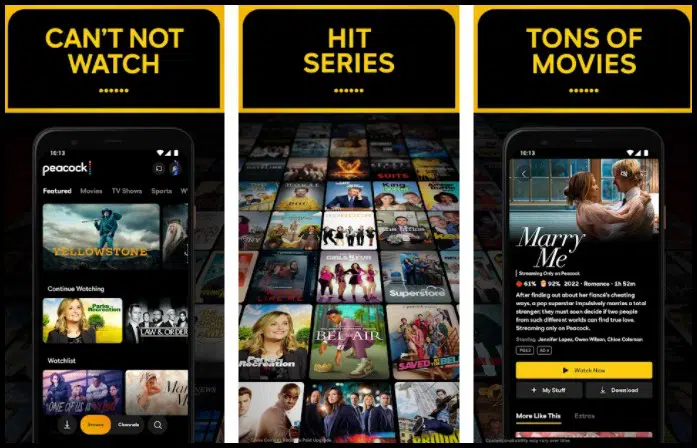 Standout Features:
Watch Movies, TV shows, and sports events
Exclusive, original content
Peacock channels with continuous new content 
---
DistroTV – Live TV & Movies
Distro TV is a top movie and series streaming platform that allows you to watch hundreds of TV channels live and thousands of movies and series. The app can offer over 150 channels in different languages and genres, including sports, news, entertainment, etc. The app is completely legal and does not require any payment or other monetary value, making it one of the best free movie apps on android.
It is a feature-rich application that allows you to access your favorite content through an easy user interface. The app displays the free TV channels on the home screen and all the free TV shows and movies listed on a separate tab when you open it.
The app also offers numerous live channels which you can use to watch movies, and there are also plenty of other TV channels without any cost that provides plenty of entertaining content. The video player is quick and clean while displaying the subtitles for plenty of free movies. Overall, the app remains an excellent choice for people looking to fulfill all their watching requirements through a single app that lets you watch sports channels, TV shows, and more under one platform.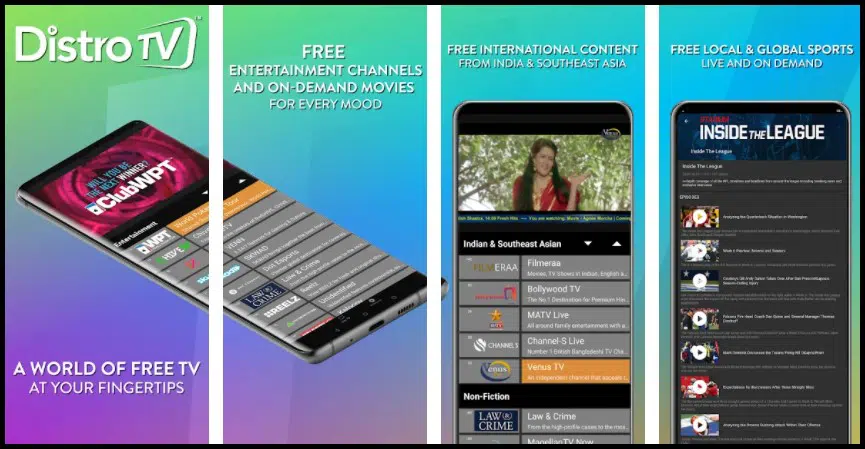 Standout Features:
Watch content in different genres
Efficient video player
Simple UI
---
The Roku Channel: Free Movie Site For Firestick
Roku is popularly known as one of the best streaming device manufacturers; however, to your surprise, it also has an application that makes it to the best free movie app list. The app is loaded with free content, and the best part is that you won't even need an official Roku device to use or tune into it.
The app incorporates plenty of popular movies without any cost. The most notable mentions are Sherlock Holmes films, American animals, Batman, Halloween, Memento and fight club, etc.
However, that's not it; last year, Roku announced that it would not expand its functionality to include the popular TV channels. It includes CBC news, IGN, Real Madrid TV, etc. The Roky channel app's clean interface and numerous features are enough to make movie and TV series enthusiasts download it. Since the app also offers one of the best video players that takes little to no time in buffering, it does become one of the finest choices on our list.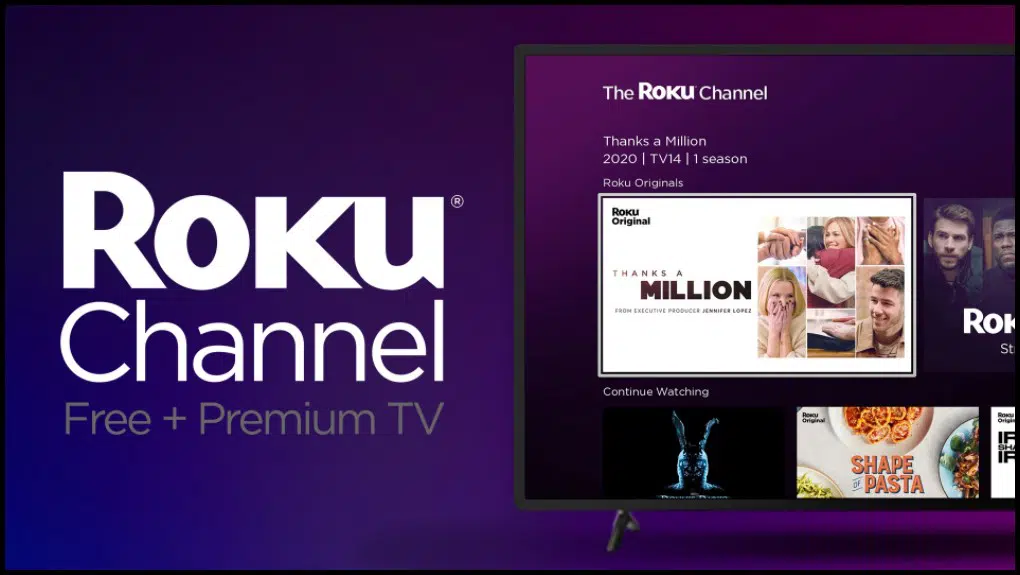 Standout Features:
Watch various classic movies through the app
Get access to TV channels
Available for all devices
Download This Best Free Movie Apps
---
CONtv: Best Free Movie
If you love watching comics, Contv is the best free movie app for your purpose. Anime establishes itself as one of the most-watched categories of shows, and if you are an enthusiast, CONtv is an excellent choice for you. The app is a destination to watch TV series and movies. You can also read different comics and keep yourself entertained with the latest releases as they are updated on the app.
The app offers more than 2500 hours of movies and shows. It offers plenty of different categories, including fantasy, Anime, SCI-FI, Martial arts, action, grindhouse, etc. Furthermore, if you are a comic reader, the app contains a vast database with a massive collection of popular comic books that allows you to read it conveniently from your mobile or tablet.
CONtv offers a functional user interface. You can vouch for various tabs, including a must-see tab, Top movies, and top TV. Furthermore, you can also save any show or watch its details. Overall, the app is an excellent choice for anime-lovers and provides them the convenience of finding their favorite TV shows.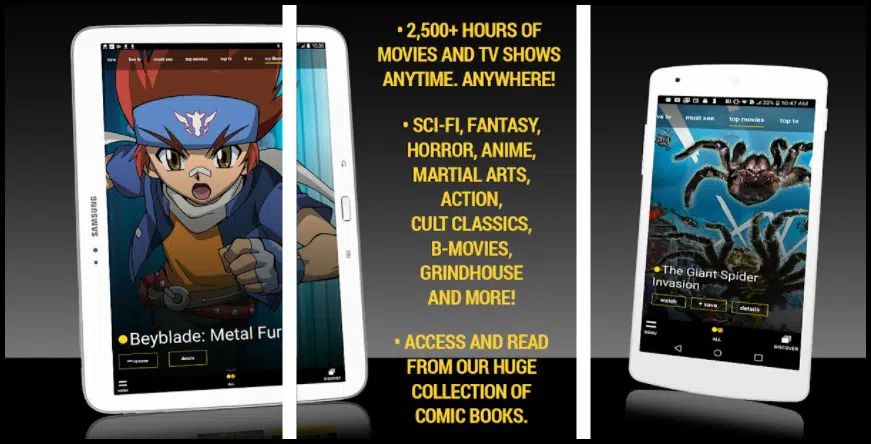 Standout features:
Watch movies and TV shows
Read Comics through the app
2500+ hours of TV shows and movie time
---
Pocket TV: HD Movies & Series
Pocket TV is a popular choice among people that want versatility in the app, and thus, apart from being one of the best free movie apps, it is a feature-packed choice with plenty of choices. The application is a great choice that provides you with different types of movies, including Cinema hub, Tamil, Telegu, 123movies, short films, web series. Furthermore, it goes one step beyond and offers cricket matches, including the T20s, ODIs, etc.
There are plenty of features in the app which make it one of the best free movie apps for android. Starting from the fact that it doesn't require registration, it offers plenty of TV channels live; it grants access to unlimited series and movies, it can stream IPL matches.
Furthermore, the app's interface is also an exciting piece that lets you scroll through all the choices. You can also set custom notifications so you will be notified whenever an update that may interest you is made to the app.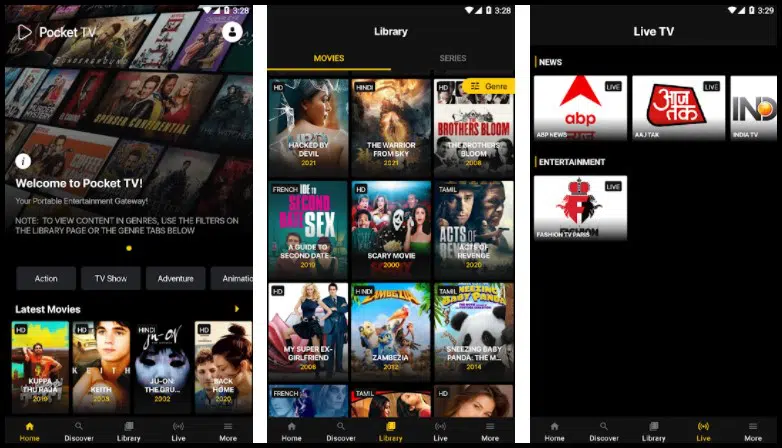 Standout features:
Get access to Live TV channels
Watch movies and series without registration
Streams IPL matches
---
Disney+ Hotstar
Hotstar is a popular streaming platform that ranks as one of the best free movie apps. It has a wide range of users due to its high-quality streaming service. The application offers movies and live sports for enthusiasts and TV shows! To take full advantage of the app's features, you need to subscribe to the full service. The streams work perfectly and smoothly, but you will have to encounter advertisements.
You can also view live news in seven languages, and its live-streaming ability makes it the perfect application for cricket fans. You also get dugout commentary feed, match analysis, and expert commentary. Users can watch full episodes of the most popular drama serials. The movie library includes evergreen favorites of the audience, and this isn't all; you will also find authentic stories of the best storytellers. Hotstar is the app you need to get the best streaming quality for movies.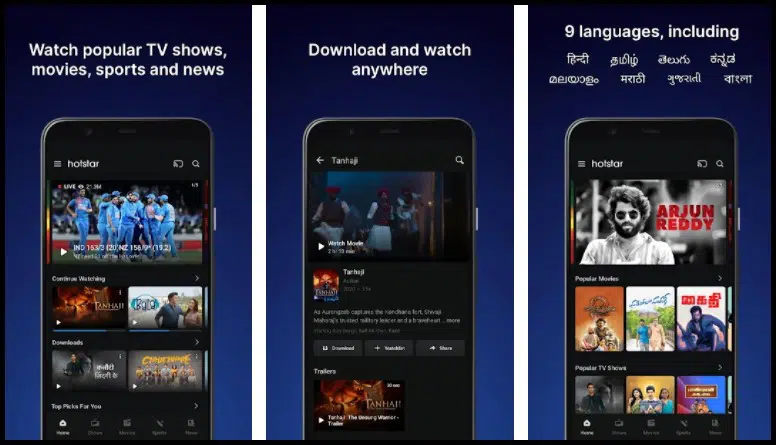 Standout features:
Livestreaming of cricket, along with match analysis and expert commentary
View live news in different languages
Watch popular drama serials
---
Documentary+: Best free movie site
From Oscar-winning documentaries to box office hits, Documentary+ is single-handedly bringing you top-notch content from across the globe. This application provides nonfiction storytelling at its best. You will get to stream documentaries made by the top producers and directors. The best part is that you can watch them anytime, whenever, and wherever you want. You can watch your favorite content on your tablet, computer, and any other device, even a connected TV!
The entire experience of using Documentary+ is smooth and high-definition. You will find the content of every genre, from suspense to politics. You can stream material uninterrupted and without disturbance from advertisements. The best part is that you do not need to subscribe to the app or pay even a single dime to avail of these services. All of this will be provided entirely free of cost!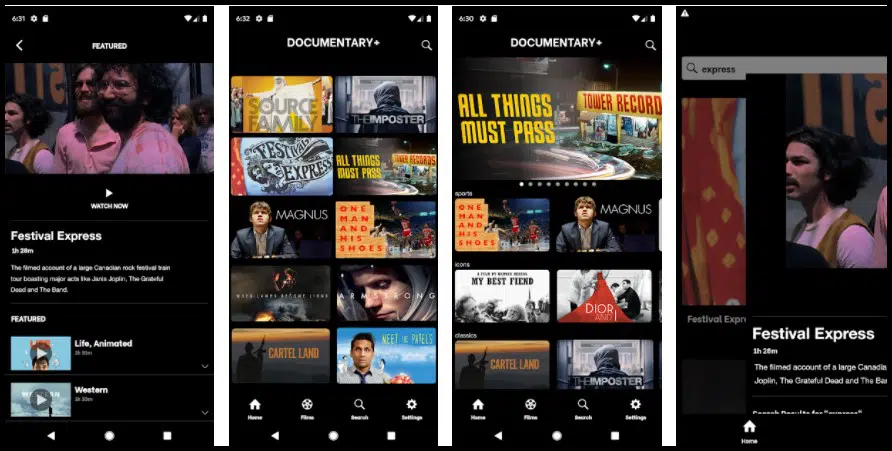 Standout features:
Watch documentaries of different genre
Stream content on a connected TV
No subscription needed
---
Pluto TV: Free Movie Apps For Firestick
It is possible that you might have not heard the name of Pluto TV in the movie streaming app, but the app is associated with a very popular name, Viacom. The app is owned by one of the leading entertainment networks in the world.
The app has a collection of high-quality content in different genres which will make you fall in love with the app. Movies of all the leading production houses can be found on this platform. Apart from this, Viacom itself produces high-quality content, due to which the app has made it to our list of best movie apps.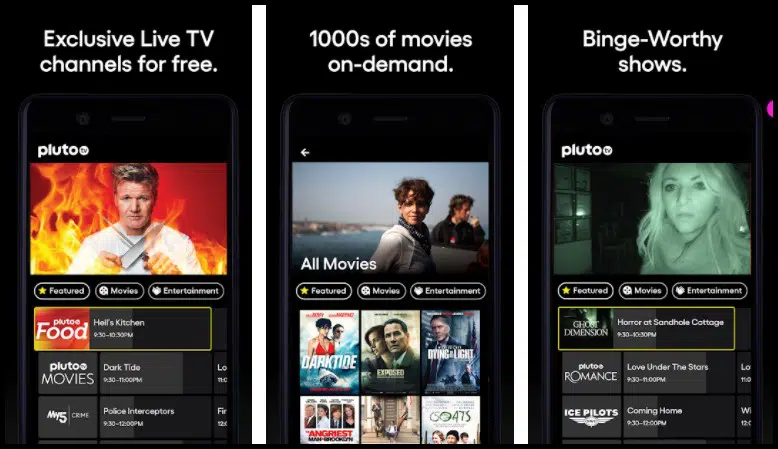 Related: Fastest Android Launchers
---
TubiTV: Movie Apps For Firestick
Tubi tv is a very popular movie app amongst the masses, due to the content it possesses. The app has more than 40,000 titles to choose from different genres. The app has 1 Million plus downloads and the number keeps increasing. The app has been highly rated by the users which helps us to know better about the app.
The diverse content will never make you feel bored and you will stick to the app for your favorite content. The app is available in freemium and premium versions and to watch some premium content on the app you need to make some in-app purchases.
Related: Best Keyboard Apps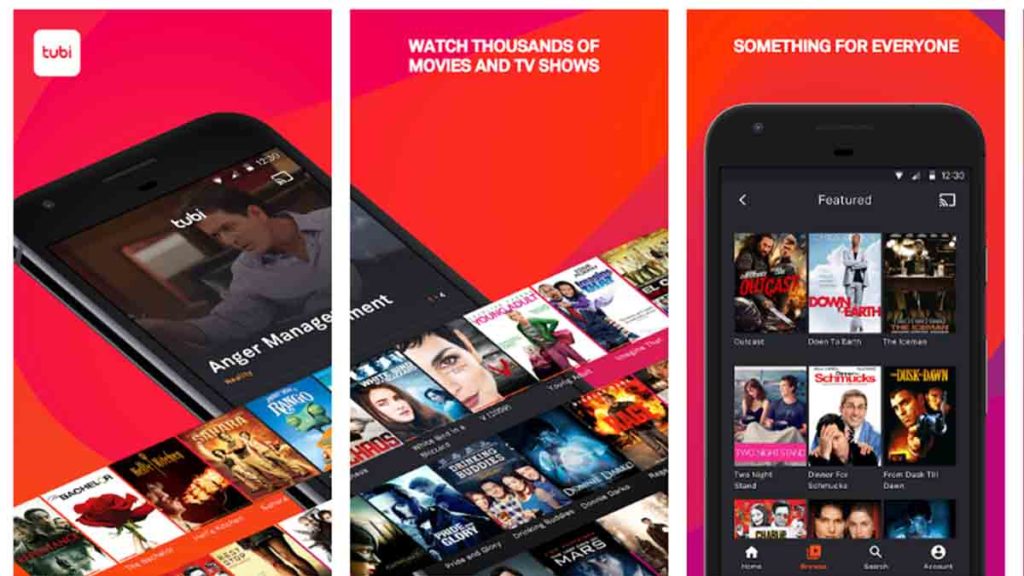 ---
FilmRise: Movie Apps For Android
FilmRise is a free movie app where you can avail the content of the app without registering to put any of your card details which is the best option if you are looking for a free movie streaming app.
The app offers high-quality and engaging content which will make it easy to kill your time in this period of lockdown. The app contains all genres of movies from different regions and languages which you can stream on your Android device.
Related: Best Apps For Secret Texting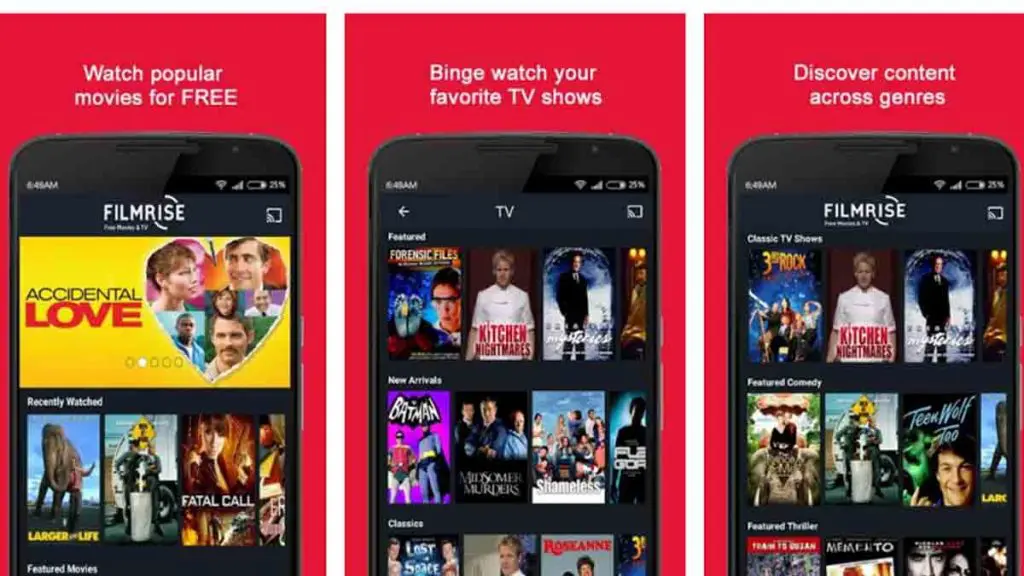 ---
Snag films: Best Movie Apps For Firestick
The choice snag films app offers to make it my personal favorite in this list of best Android apps. The app offers you diverse content from different countries which includes movies from Hollywood, Bollywood, movies, and series of Spanish, Korea, China, and many more.
This is an immense variety that is being offered by the app. The app apparently has 5000+ movies and series.
Related: Best Habit Tracking Apps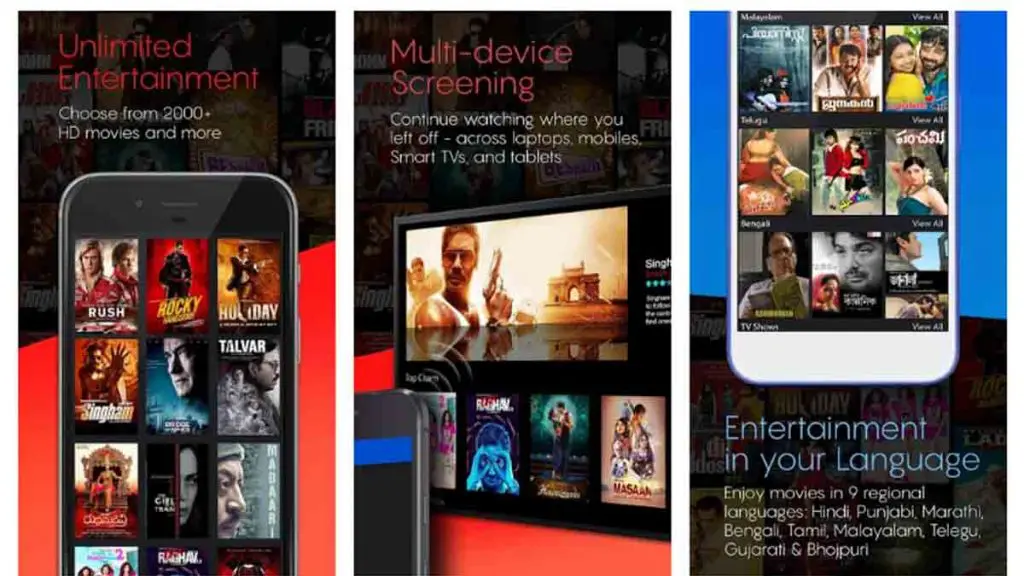 Download This Best Free Movie Apps
---
SonyLiv: Bollywood Movie App
Sony Liv is another app from Sony which is very popular amongst the users of the Subcontinent. The app offers movies, series, and live streaming of various sports which include cricket, football, basketball, hockey, and many other sports.
So if you are a sports geek and want to stream movies and sports on your smartphone device then you can try SonyLiv. The app contains movies and dramas of India with different regional languages like Tamil and Telugu. Reality shows can also be streamed on the app.
Related: Best Cryptocurrency Apps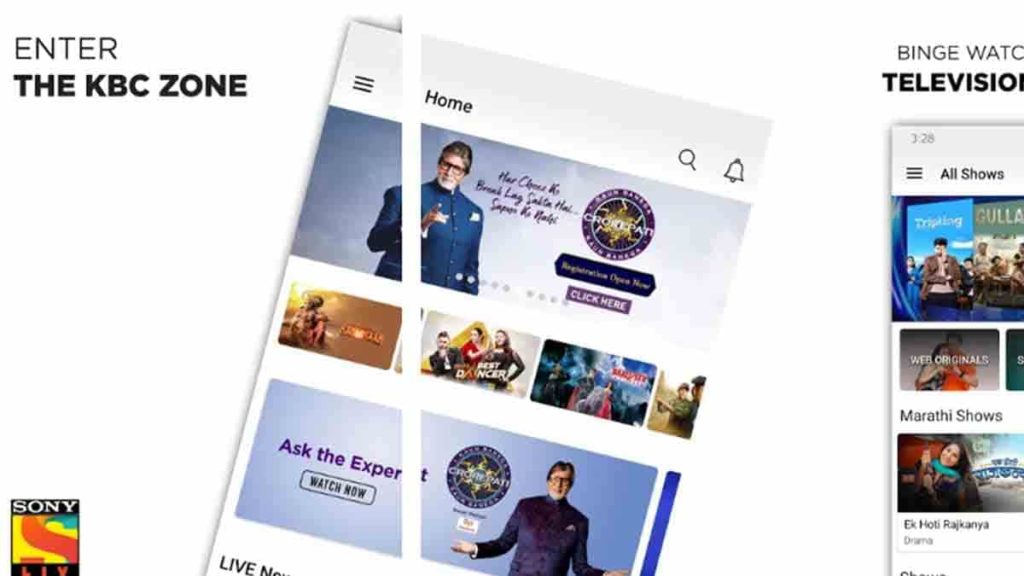 ---
Viewster: Best Free Movie Apps
Viewster is one of the leading anime streaming sites in Europe which is preferred by the masses. The app includes TV shows, movies, series, drama, and reality shows which can be streamed with the help of one click.
The app is totally free and you do not need to pay anything to access the content of the app. The app can be a treat for those who are fans of content-based movies and series as the app is filled with such content.
Related: Best Yoga Apps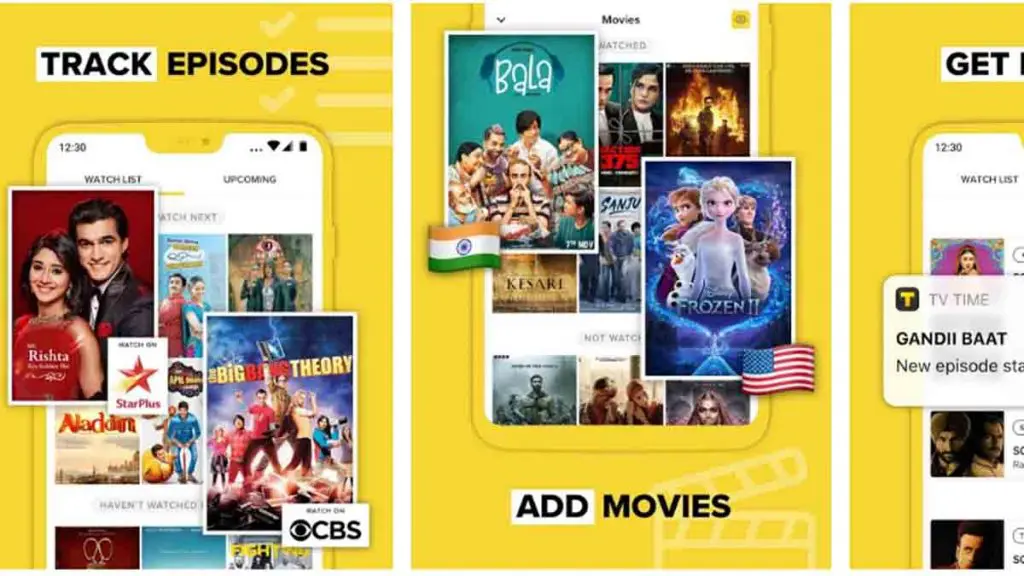 Download This Best Free Movie Apps
---
Voot: Best Free Movie Apps
Voot is another movie app which had been released by a popular brand, Viacom18 in recent times. The app is popular in the subcontinent which has a major audience from India. Apple lets you stream movies and original series which is produced by Voot itself. The app also streams reality shows which are available on Viacom18 channels like Splistvilla, Roadies, and other reality shows.
The best part about the app is that it has channels of the Viaocom18 network, which makes it a treat for the users to get access to all the content that is available on satellite channels. In terms of movies and series, the app has a wide category of movies which also includes regional content. The features this app offers make it one of the best movie apps for Android.
Related: Best VPN App for Android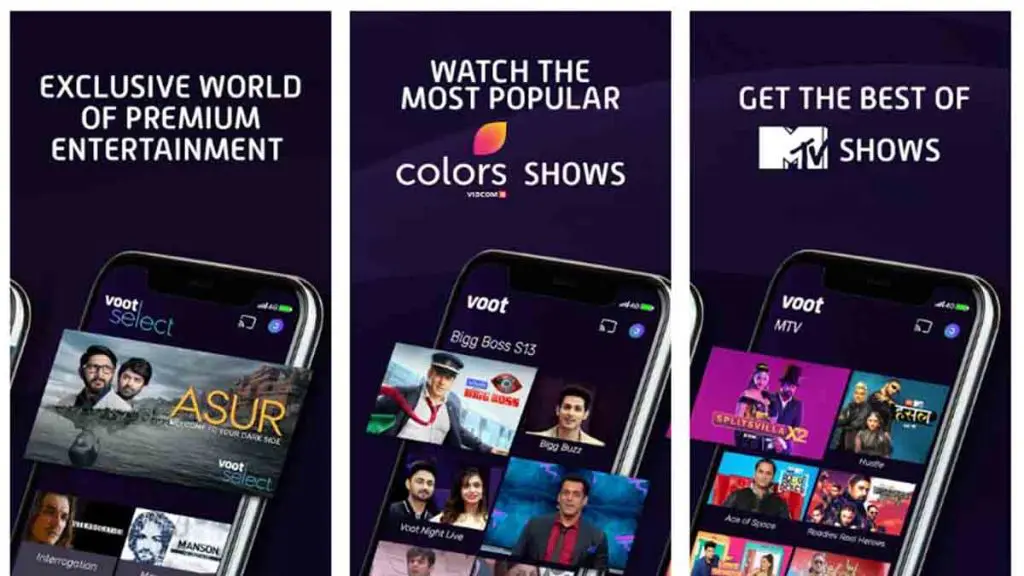 ---
Viu: movie streaming app
Viu is also a recent launch in the movie streaming app which mainly focuses on international content. The app mainly offers Korean dramas and series which you can watch for free. The free content that the app provides makes it much more preferable for the users.
Most of the content of the app includes dramas, series, and movies of foreign and local content. The app has been highly approved by the users with positive reviews and also recommended by us to give it a try.
Related: Best Video Editing Apps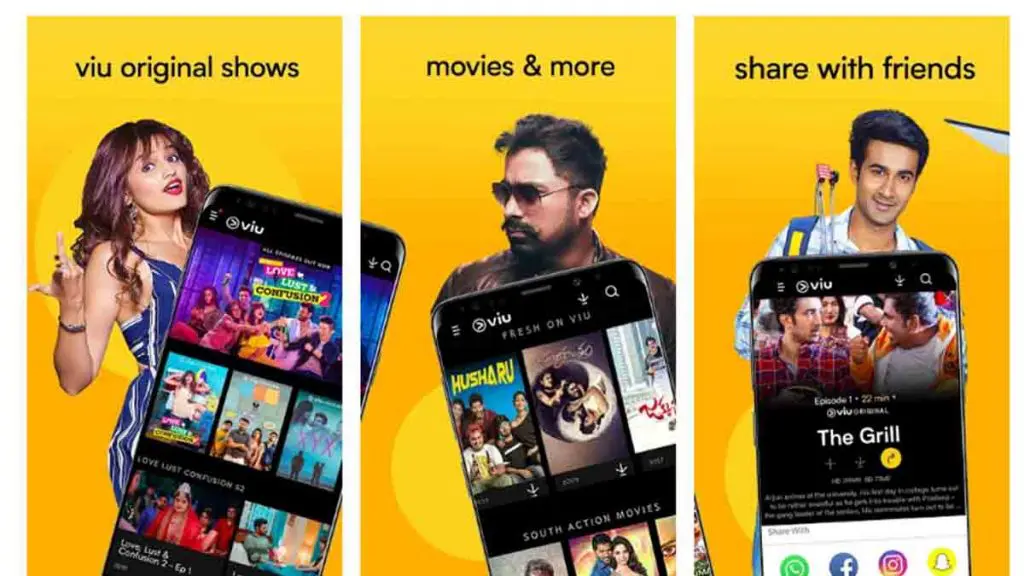 ---
Final Word
With that, we are finished with our list of Best Free Movie Apps out there. We have tried to compile the best apps which are out there with premium and exclusive content which ranges from local to international content. Do comment below in the comments section and let us know about your favorite movie app.
Thank you for reading! Try these out too:
General FAQ