The best time killer after music and movie is podcasts. As most of the podcasts are free or available at an affordable price, it is an ideal choice to opt for. So we will be compiling a list of some of the best Podcast apps that you can download to kill your time.
As Podcasts cover topics from various categories that can range from common topics to intellectual discussions, we are coming with a diverse list of best podcast apps that offers you wide choices.
Excited? So, Let's Get Started
Benefits of Best Podcast Apps
Availability:- The best podcast app for android will make it easier to access your favorite ones. the application will make it easier to listen to any podcast whether you are driving or taking a break. Since podcasts are available in various genres, you can listen to your favorite ones, such as comedy, storytelling, personal development, etc. For people that are obsessed with personal development, the apps will let you hear your desired speaker anywhere and anytime you want
Intuitive user interface:- The best podcast app for android is also relatively easy to use with an intuitive user interface that will make it convenient to search your favorite podcast instantly. Additionally, most of the applications will also allow you to download the podcasts to play them offline and without a stable internet connection restricting you.
Connectivity:- The best podcast app for android also provides plenty of excellent connectivity options. You can connect it to a Bluetooth speaker or wireless headphones and play as you like. Additionally, you can also connect the app to your car speakers so you can play on the way.
Best Podcast Listening Apps
---
Sonnet – Best Podcast Apps
Sonnet is the new kid on the block; however, it still comprises excellent features that provide impeccable functionality making it one of the best podcast apps for android. The most notable feature? Sonnet provides all the premium features for free.
The application will let you search any podcast and subscribe to it while downloading its episodes for playback offline and quickly switching between the dark and light modes. You can also instantly start the podcast from the start by using the delta button. Additionally, a common concern among users is being unable to subscribe or sideload the podcasts restricted to "members only" but with Sonnet, you won't have to worry about it.
All the features ensure that Sonnet is no less than any established application providing features that ensure exceptional functionality at the top of being ad-free. Hence, the users consider it a complete package that encompasses everything you expect and more.
Standout Features:
Free premium features
Ads-free experience
Search and subscribe to any podcast
---
Moonbeam – Best Podcast Apps
Moonbeam can be an interesting choice for podcast lovers. The app offers a curated feed of your favorite podcasts right at your fingertips. You can customize by setting your preferences in the genre section of the app. You can organize all your favorite podcasts and episodes in a dedicated section. The app allows you to have a preview of the podcast and jump into the full episode if you loved it. Besides this, you can also tip your favorite hosts during the live podcast to appreciate their work.
Related: Best Journal Apps For Android
---
Google Podcasts – Best Podcast Apps
Google, our favorite name has managed to earn the top spot on this list of best podcast listening apps. The app offers you podcasts in popular categories like History, News, Comedy, technology, Health&fitness, and so on. All you need is to subscribe to the podcast and you are ready to rock.
The podcast player is customizable where you can adjust the listening speed of the episode, line up all your podcast episodes in a queue for an uninterrupted listening experience. You can also discover the trending podcast with the help of Google Assitant.
Related: Best Audiobook Apps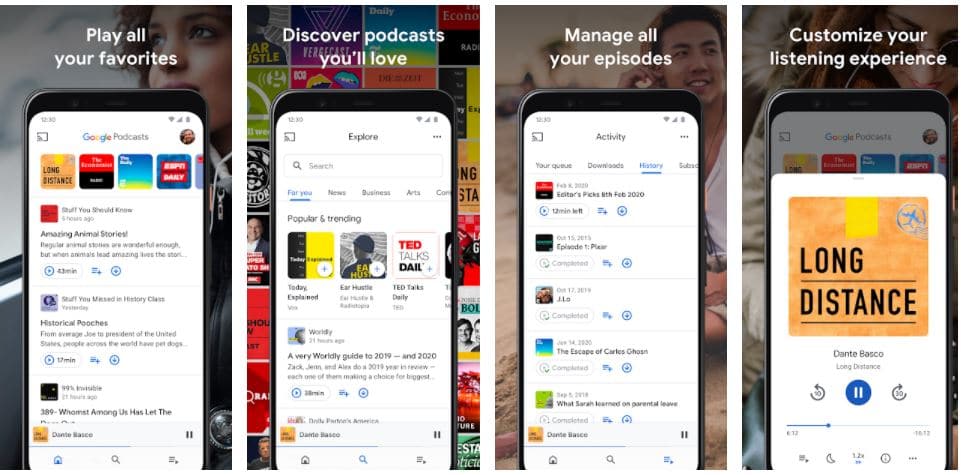 Standout Features:
Listen on multiple devices
Auto-download Episodes
Queue up Episodes
Adjust Listening pace
---
Castbox – Best Podcast Apps
Castbox is a highly rated and one of the best podcast listening apps that offer you 95+ Million audio content on your devices. You get podcasts in some popular categories like News & Politics podcasts, Sports Podcasts, Talk shows, and Music Podcasts. All the podcasts are from some of the leading names in their genre.
The easy-to-use interface of Castbox makes it appealing to its users. You can download your favorite Podcast for offline listening. With over 2 Billion episode downloads, Castbox is the top contender for the best podcast listening apps. The app is free with some in-app purchases, which you can pay for if you want some more exclusive features.
Related: Best Cryptocurrency Apps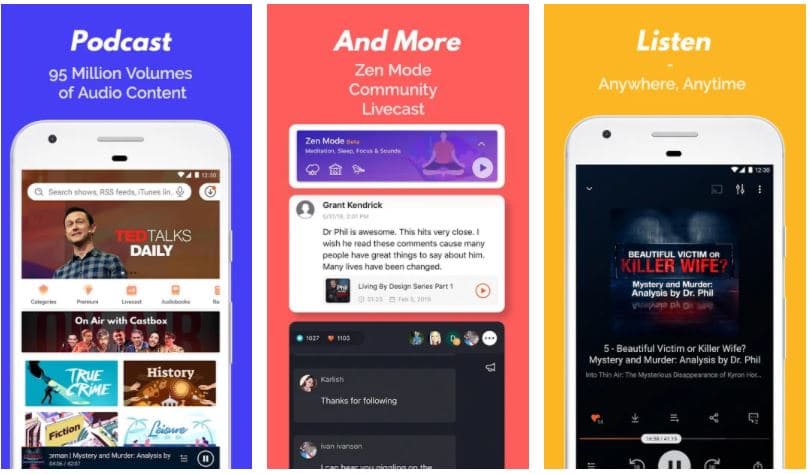 Standout Features:
Interactive Podcast Player
User-Friendly Interface
95 million Audio content
Accessible in 27 countries
---
TuneIn Radio – Best Podcast Apps
With over 1 million downloads on the Play Store, the next app on our list of best Podcast listening apps is TuneIn Radio. It is a 360-degree podcast listening app that offers you live and on-demand audio from all corners of the world.
You get news from some of the leading media outlets like BBC, Fox News Radio, NPR, etc, and sports podcasts of your favorite team. You also get all the latest hits in the Music category of the app, while if you are a Radio lover then you can stream over 100k FM and internet broadcast stations.
You can catch up and listen to all your favorite podcasts whether it's TED Radio Hour or The Joe Rogan Show, TuneIn Radio offers you all the content you want. The premium version of the app will reduce the ads and give you a Commercial-Free podcast listening experience.
Related: Best Journal Apps For Android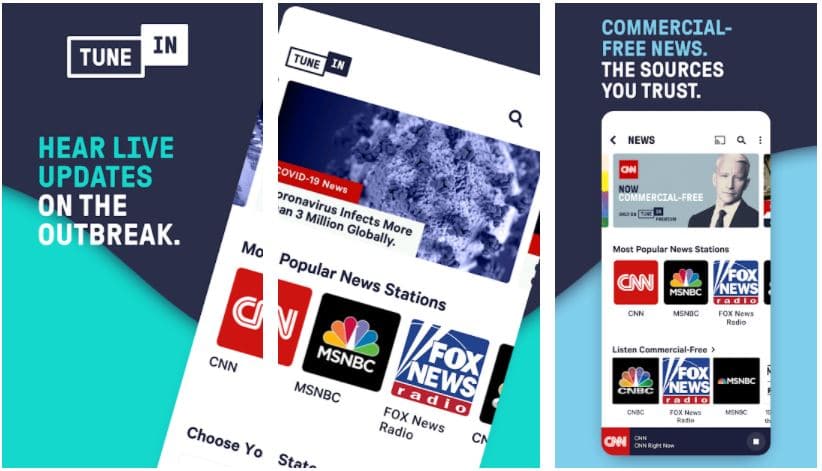 Standout Features:
News from across the world
Local, National, and Global Sports talk.
Latest Music hits
---
Tsacdop – Best Free Podcast App
Tsacdop is a simple and elegant Android app that is unknown to most podcast lovers. The application is entirely free with zero ad placement and microtransactions. It supports accent-colored themes to make it more comfortable for your eyes. Tsacdop is surely among the best unknown Android apps that are slowly becoming popular among avid podcast lovers.
Tsacdop allows you to create a sleep timer, and manage podcast groups. It also has playlist support that has auto-syncing in the background. There is a podcast download feature that also contains auto-download and deletes podcasts from your device. Moreover, the application lets you skip the bits that have no audio and also alters the playback speed if the narration is slow as per your standards. The latest update has reduced the memory utilization of the app so it can easily run on Android devices with minimal resources.
Related: Best Ridesharing Apps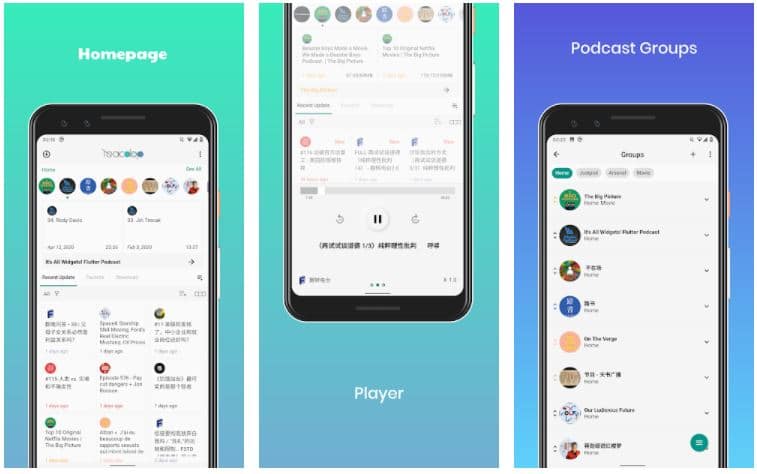 Standout Features
Skip silent parts
Boost the volume
Change playback speed
No advertisements
---
Podcast Addict – Best Podcast Apps
Podcast Addict is an all-around podcast listening app that can manage all your content in one place. The app helps you to manage all your podcasts, Audiobook, Radio, and live streams easily in one place.
The app has a collection of 1M Podcasts and 35M+ episodes from different categories to choose from. Based on your listening history, the app suggests custom recommendations that are trending.
The in-built audio player of the app is highly customizable which makes it one of the best podcast listening apps. You get variable playback speed, multiple playlist support, and features like Sleep time, shuffle mode, and Loop mode.
The app ensures that your listening experience does not get interrupted, that is why it has Automate Update, download, and Deletion features.
Related: Best Apps For Secret Texting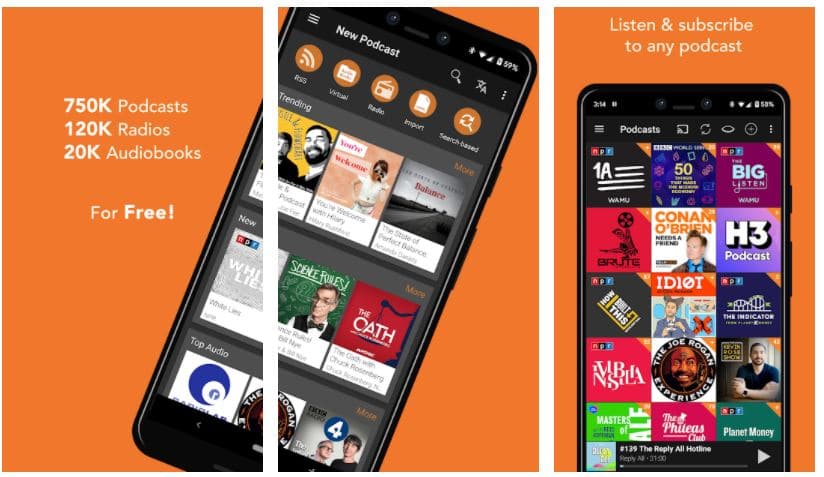 Standout Features:
1M+ Podcasts
Cloud Backup
Audio Effects
---
Anchor – Best Podcast Apps
If you love to create your content and want to get it noticed, then Anchor can be a perfect platform for you. Anchor is a podcast-making app that is developed by Spotify for the general public. Here, you can create your content and share it with the world.
You can record your podcast and edit it with the help of in-built episode builder tools. You can visualize your audio, arrange it, add background score, and effects to your podcasts to make it more appealing.
You can also create cover art for your show with the help of Anchor's Cover art creator. You can host an unlimited number of episodes with a limit of 4 co-hosts.
Not only that you can distribute your podcast to some of the popular podcast platforms like Google Podcast and Spotify. You can also earn from Anchor sponsorship by creating quality audio content or creating a custom ad in your voice that will get featured in the show.
With all being said, there is no doubt that it is one of the best Podcast listening apps for the audience that will help them to create their content and show their talent to the world.
Related: Best Investment Apps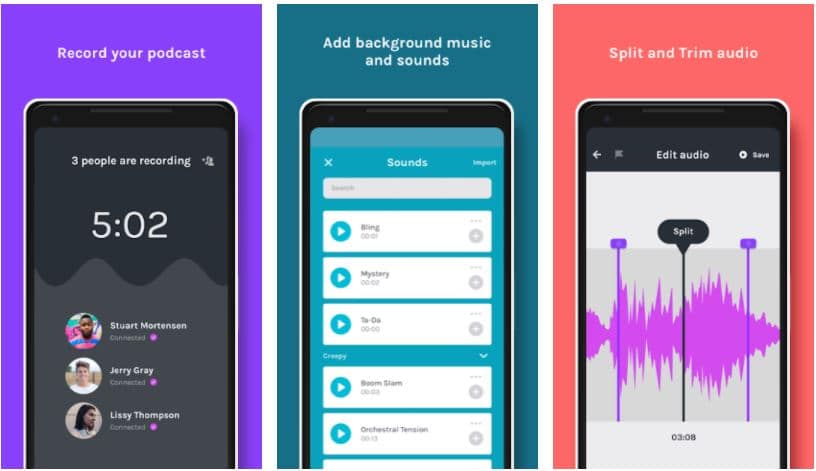 Standout Features:
Recording studio
Editing tools
Free Hosting
---
Podbean – Best Podcast Apps
The next app on our list of best Podcast listening apps is Podbean which is a highly rated and loved app amongst the users. The app offers you millions of podcasts in different categories from some of the popular names.
You can easily look for your favorite podcast by searching the name of the podcast, episode name, and author name. The app recommends some of the latest and trending podcasts to choose from. Apart from this, you can look for audiobooks from the bestseller category.
Apart from this, you can also create your podcasts with the help of powerful editing tools that will give a professional touch to your content.
Related: Best Antivirus Apps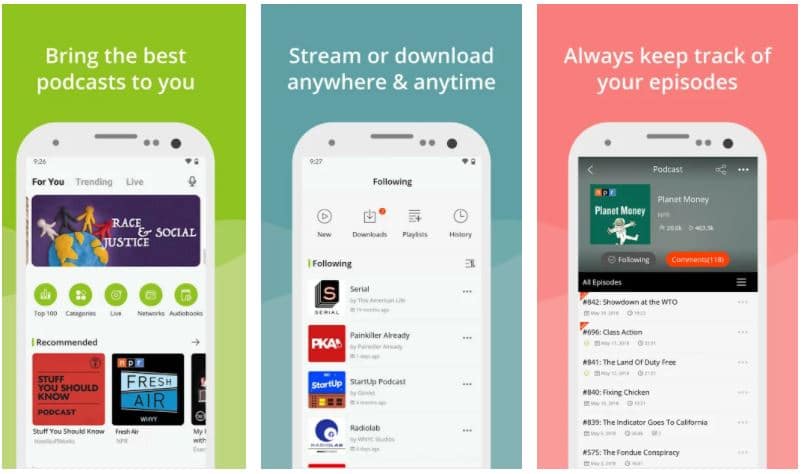 Standout Features:
Millions of podcast channels
Download podcasts to play offline
Customizable playlists
---
Spotify – Best Podcast Apps
Spotify is one of the best music streaming apps that we all are using nowadays. Apart from music, you also get quality podcast content on the platform that can be listened to anywhere and anytime.
The app offers you free podcasts from categories like News, Sports, and music podcasts. You can download your favorite podcast in offline mode and listen to them during your vacant time. The audio player of the app is also interactive and lets you play your podcast seamlessly.
Related: Best Keyboard Apps
Standout Features:
Wide categories
Interactive audio player
Curated playlist
---
Stitcher – Best Podcast Apps
Stitcher is a simple and easy to use best podcast listening apps that offer you quality audio podcasts to choose from. The app contains more than 260K+ podcasts from genres like Politics, Sports, Comedy, and True crime.
So if you are a thrill lover and want to witness some amazing audio content then you can tune in into the True crime category or you are happy to go person who wants some comedy content then you can choose the Comedy genre.
You can organize all your favorite podcasts and create a custom playlist that you can listen to on long journeys. You can also download the content that you can listen to in your vacant time.
Related: Fastest Android Launchers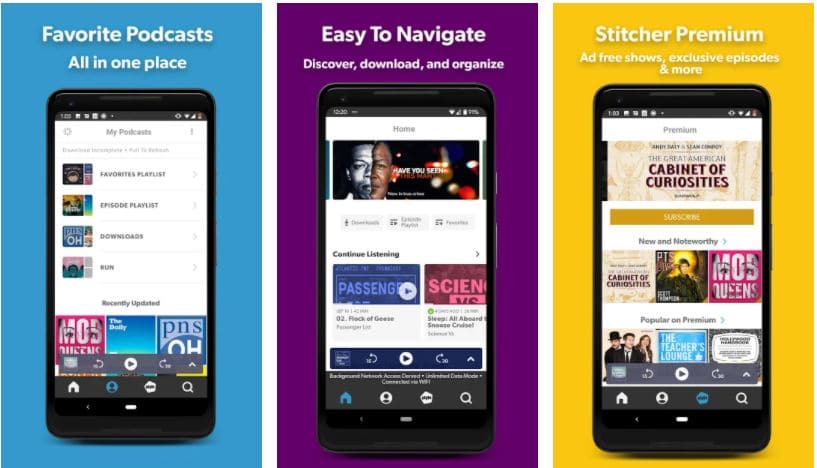 Standout Features:
260K+ podcasts
Custom Podcast Playlists
Smart Speaker integration
---
Pocket Casts – Best Podcast Apps
Pocket Casts is a critically acclaimed best podcast listening apps that have got some of the best audio content in its database. You get some of the best recommendations based on your watch history that enhances your viewing experience.
The theme of the app is catchy and you get both a dark and light theme interface. The app comes with a powerful audio player that can seamlessly play all your podcasts.
The app also supports Chromecast where you can integrate your device with your TV for a bigger and better listening experience.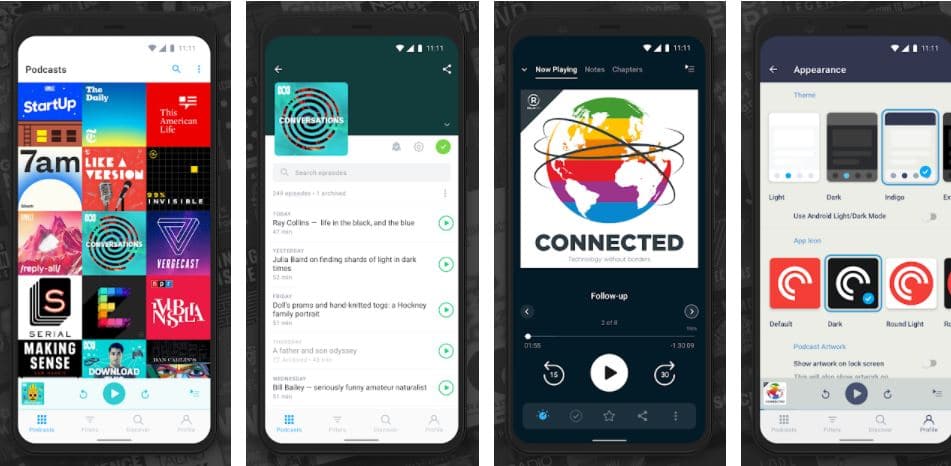 Standout Features:
Powerful Audio Player
Smart Tools
Useful recommendations
---
Laughable – Best Podcast Apps
Have a tiring day and want to get your mood refreshed? Laughable can be a very good option if you are looking for some humorous content. You can access your favorite comic artists and get through their amazing content.
From Joe Rogan to Jordan Peterson you can connect with your favorite artist in a single click. Apart from comedy podcasts, you can also go for Non-comedy Podcasts that have a wide range of popular public figures like Elon Musk, Sam Harris, Jk Rowling, etc.
Related: Best Android Puzzle Games
Standout Features:
Artist profile
Useful Recommendations
Adjustable Playback Speed
---
Final Words
We are finishing our list of some of the best podcast apps that can be the best time killer for you. Comment below and tell us about our favorite app on the list. Keep suggesting to us some other topics which you would like to see an article on.
Thank you for reading! Try these out too:
General FAQ