We often lack focus in our work and fail to manage our tasks effectively. Managing time is one of the core tasks which we often neglect due to procrastination. We will be helping you to find some of the best time management apps that will help you in managing your time and tasks.
We will be compiling a list, with the help of which you can complete your tasks within the deadline and improve your productivity. You can also track your habits and change them to eliminate diversion during your work.
Excited? So, let's get started.
Benefits of Best Time Management Apps
Increase your productivity:- David Allen, in his book "Getting things done," said, "If you don't pay appropriate attention to what has your attention, it will take more of your attention than it deserves." His quote emphasizes the importance of effective management, which is the key to completing a productive day. The best time management app will let you track all your tasks, ensuring that you complete them in a particular duration hence massively improving your productivity
Cut down distractions:- Since we live in a busy world that makes it easier to forget important tasks, tracking and active management are exceptionally important. The best time management app will ensure that you are mindful of the tasks and actions you have to execute every day, thus improving concentration. Since it's easy to get distracted, these apps are a great way to remind yourself about the objectives that need your most attention.
Be Organized:- A major benefit of getting the best time management app from our list is that it will allow you to be more organized. You can schedule everything and put up timely reminders on the slightest of tasks, such as scheduling your meals to more complicated ones.
Best Time Management Apps
---
Clockify
Clockify is one of the best time management app for people looking for the ultimate tool that improves your daily scheduling of tasks. If you often slack off during work and often end up spending more time than you usually should, this app is an ideal choice for you.
Clockify will let you track the time you spend on different activities while providing your stats and data since the key to making progress is tracking it and acting accordingly. You can adjust it accordingly to incorporate changes after getting real-time factual knowledge of your working hours and routine.
The app will assist you in tracking your work hours while also letting you calculate the hours and your payroll. Additionally, you can also evaluate whether you have been productive during work hours or not. The app is free and will let you create an account, after which you can choose how you would like to track the time. There are two main modes, namely the timer mode (you can start the timer while working on a particular activity and stop it once you are finished) and a manual mode (you can manually add the time you spend to complete that activity and enter it into the timesheet)
Once you have successfully logged in, the app will let you create reports that include summaries and weekly or detailed data that express your productivity in a particular time frame. Overall, the app remains an excellent time tracking app that every individual that wants to progress can benefit from.
Related: Best Step Tracker Apps
Standout Features:
Detailed reports
Manual and timer mode
Create a timesheet
---
Remember The Milk
Preferred by millions of users to improve productivity, Remember The Milk is the next app on our list. It is a smart to-do-app for the busy peeps to sort out their work and complete them with efficiency. Focus on your tasks and let all the to-do be managed by Remember The Milk app.
The app sends a reminder to your device via Email, Text, and mobile notifications. Share the list with your co-worker so that the whole project is done and you are ready to review it. You can search for tasks and notes with a single click on the app. The app lets you organize your tasks in sorted order for easy access.
Related: Best Guitar Tuner Apps
Standout Features:
Send a reminder for completion of tasks
Sorts tasks in easily accessible order
Easy to use
---
Toggl
Finding it difficult to complete your tasks on time, then Toggl can be a perfect app for you. It is one of the best time management apps that lets you track every second of yours. The app generates daily, weekly, and monthly reports that give you an insight into your performance.
You can also integrate your calendar with the app to keep an eye on your important upcoming events. Do not worry about your data as you can sync the app with all the devices.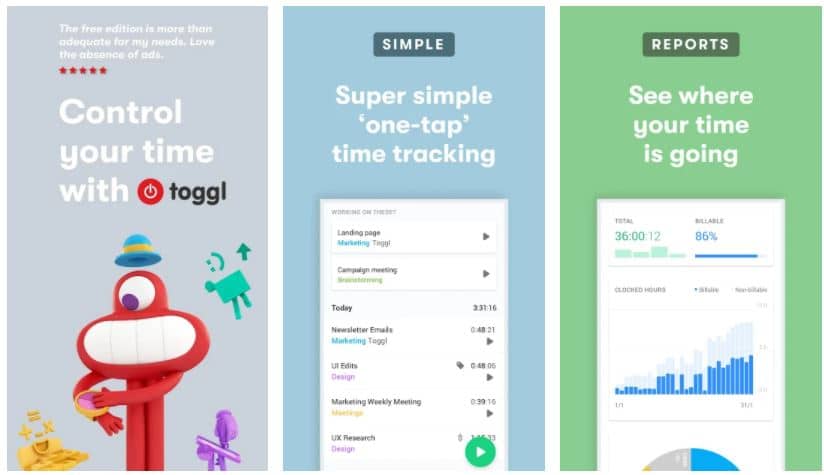 Standout Features:
Integrate with your Calendar
Customize your time entries
Shortcuts
---
Todoist
Todoist is one of the best time management apps that lets you organize, plan, and collaborate on projects. With the help of this app, you can organize your projects in chronological order, prioritize important tasks, and collaborate with others by assigning tasks to them.
You can easily track all your progress with the help of personalized productivity trends. The best part about the app is that you can integrate all your important social tools like Gmail and Google calendar with the app. The app is free with some in-app purchases.
Related: Best Home Workout Apps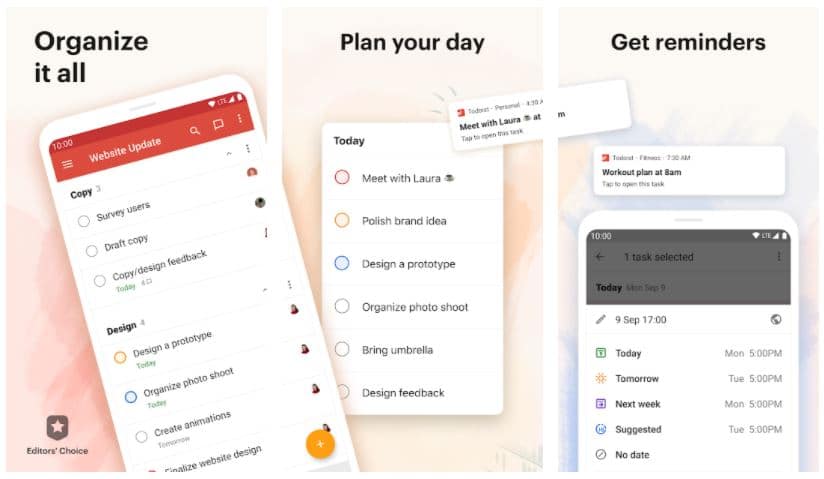 Standout Features:
Build lasting habits
Prioritize your tasks
Track your progress
Collaborate on projects
---
Focus To Do
Focus To-Do lets you focus on your work and effectively manage all your tasks. You can create task reminders, calendar events, and grocery lists with the help of this app. The app helps you focus on your study and track your active hours.
With the help of the Pomodoro timer, you can set a timer of 25 minutes and after the timer is over, you can take a short break from your work or study. You can repeat this cycle and keep yourself focused. You can customize the break length according to your requirements.
The best feature of the app which makes it one of the best time management apps is that it prepares a detailed report on-time distribution of your project.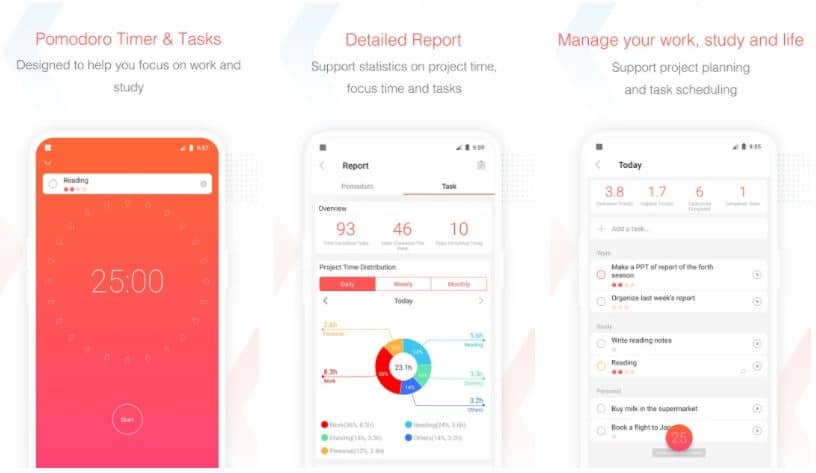 Standout Features:
Detailed statistics of your time distribution
All-Platform synchronization
App Whitelist
Daily/Weekly/Monthly Report
---
Sectograph
Sectograph is an all-around app that can help you to schedule your whole day. Time assigned to each activity will be shown in sector form and before the completion of every event, you get to know about the starting time of the next event. 
you can schedule meals, monitor everyday plans, make your timesheet where you can visualize your time. You can also track working hours to take proper rest breaks on time so that you do not get tired. The app can be one of the best time management apps for you if you are looking to organize your whole day in one place. 
Related: Best Weight Loss Apps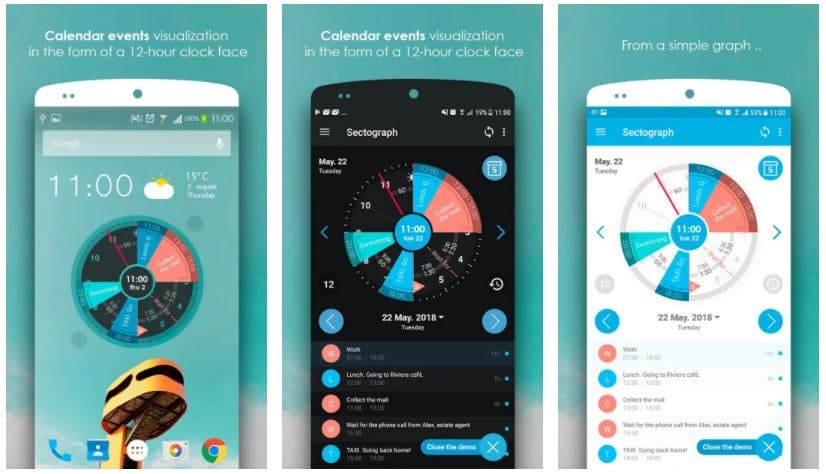 Standout Features:
Accounting and Monitoring of working hours
Convenient countdown
Add local calendar
---
Loop
We all are stuck in some kind of unproductive activity, which over time becomes a habit. If you are stuck in such a habit and want to get out of it, Loop can be your perfect choice. The app helps you to develop good habits and offers you an insight into how your habits improved over time.
The app has an advanced method to calculate your habit score. More repetition of good habits will give you an improved habit score. Besides calculating habit scores, You can create reminders, schedules, and widgets. The widgets will help you to give a glance at your performance directly from the home screen.
Related: Best Sports Apps
Standout Features:
Detailed graphs and statistics
Flexible Schedules
Individual reminders
Ad-free
---
Focus@Will
Focus@Will is one of a kind app that can help you to improve your productivity and can be one of the best time management apps for you. The app has scientifically optimized music that can help you to focus on your work and improve productivity.
There are hundreds of unique tracks that are re-edited and re-programmed especially for you that are distraction-free. The unique tracks can be very useful and can give a kick start to your task. The app is available on the Android platform where you get a trial version and after its expiration, you can avail of the premium version.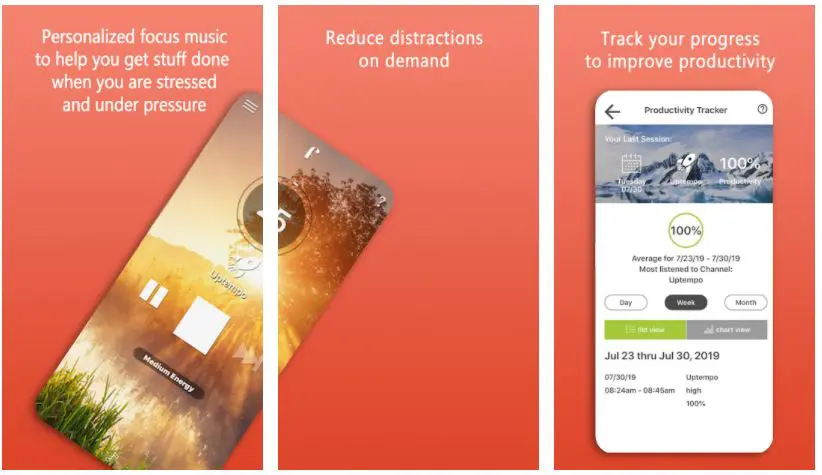 Standout Features:
Hours of unique brain music
9 years of music brain research
Remove all distracting elements
---
Evernote
Evernote can be a handy app for you if you have a habit of taking notes. The app can organize your notes in an easily searchable form that can be found in a single click. You can immediately take a note on Evernote as soon as an idea pops up in your mind.
Apart from making notes, you can create notebooks, memos, checklists, and to-do lists in this app. One of the key highlights of the app is that it lets you create notebooks in various formats Text, PDF, and Audio. The app can be useful for professionals as one can create a separate notebook for managing receipts, bills, and invoices. Evernote is the best time management apps for our list, due to its diverse features.
Related: Best Personal Finance Apps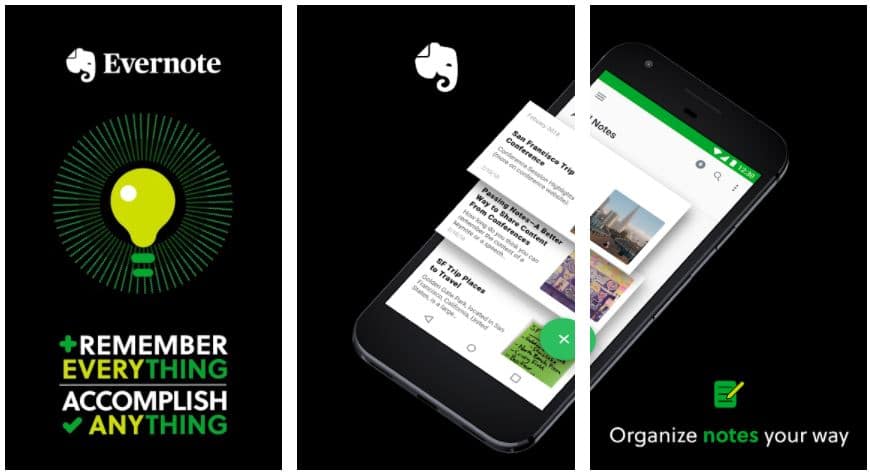 Standout Features:
Create agendas and planners
Plan events
Annotate documents with comments
---
1Password
It can be a very difficult task for one to remember all the passwords of their social network accounts. To solve this problem of yours, the next app on our list of best time management apps is 1Password, which has a simple interface to manage all your passwords in one place.
You can create unique and strong passwords that can be later auto-filled in your respective social media account with the help of this app. You can add individual, family, and team accounts and share all the personal information with them when needed. You can store all the confidential data like credit card credentials, driving license, passport, and financial documents. The app is safe and secure with your fingerprint, which can be quickly unlocked with a single tap.
Related: Best Compass Apps For Android
Standout Features:
Add all your accounts
Create multiple vaults
Create strong, unique passwords
---
Forest: Stay Focused
Forest is one of the highly-rated productivity apps which has more than 4 million satisfied paid users. The app has a unique way to get rid of your phone addiction and encourages you to be more productive.
If you want to focus on productive activities and want to keep your smartphone aside, the app will plant a seed for you in the forest. The less you use your phone, the more productive you become, and ultimately you can transform a small seed into a big tree. If you fail to resist using your phone, then your seed will wither away and you will have to start again.
The app creates a sense of achievement when a seed grows into a tree, which is one of the factors to boosts up your motivation. The app is highly preferred by the users which makes it one of the time management apps that can make you productive.
Standout Features:
Reduces procrastination
Earn rewards
Track your daily phone usage
---
Asana
Asana is the next app on our list of best time management that can be a useful app for team leaders. It is one of the best productivity and collaboration apps, that makes it easy to understand the role of every single member of the team.
You can assign specific tasks to your peers with due dates and track them frequently, to get the thing done on time. You can set tasks as milestones, so it creates a sense of accomplishment and your team members are self-motivated. You can keep an eye on all the tasks to ensure smooth working and completion. You can also attach important files to the project which will be required in the completion of tasks.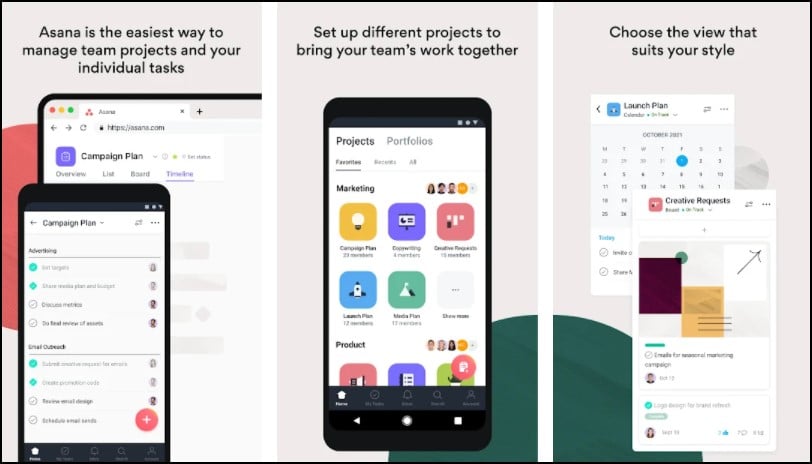 Standout Features:
Coordinate plans, projects, and tasks
Attach Files
Post status updates
Set tasks as milestones
---
Trello
Trello is a simple management app that gets your work done in a quick time. Trello has customizable boards and cards that you can use to put your tasks on. You can label the cards and mention the due dates of completion to get your thing done on time.
Trello can also be used to collaborate on a project with your team and assign them their tasks with deadlines. You can work on the app in offline mode which is a very useful feature to have. You can track all the projects to make sure that the process is going smoothly and fast. If you want a simple app that will be handy in team collaboration and managing day-to-day tasks then Trello is your perfect choice.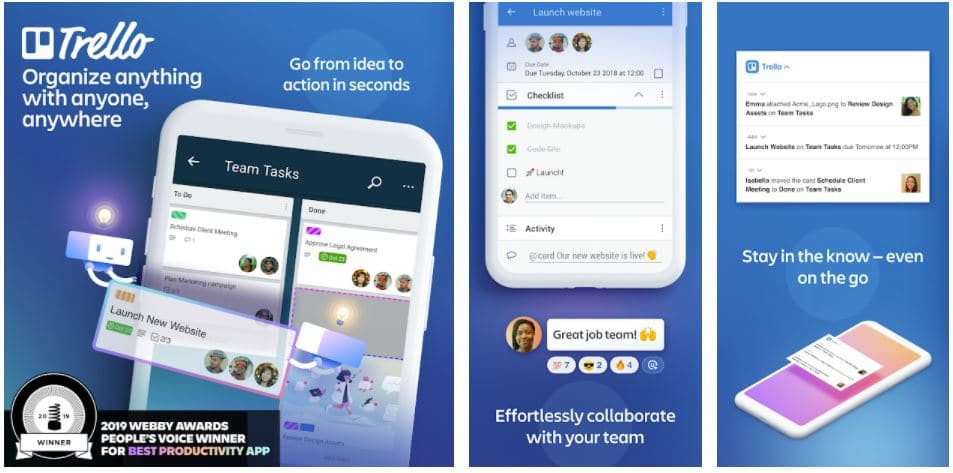 Standout Features:
Customizable cards and lists
Add Power-Ups
Works in offline mode
---
Timetree
Timetree is one of the best time management apps that you can use to manage your personal life. As there are lots of apps that help you in managing your professional life, but finding a personal management app is difficult. 
Timetree can manage your family events, school schedule, and work schedule effectively and efficiently. You can create a list of daily groceries, keep track of your anniversary, and upcoming family events, make a schedule to pick up kids from your school.
The app can also be used by business owners to keep a record of all the inventory of clients and suppliers. If you are a couple and planning to go on a date by taking a break from your busy schedule, then you can plan it with the help of this app. The app has a simple and interactive UI that makes it more preferable for the users.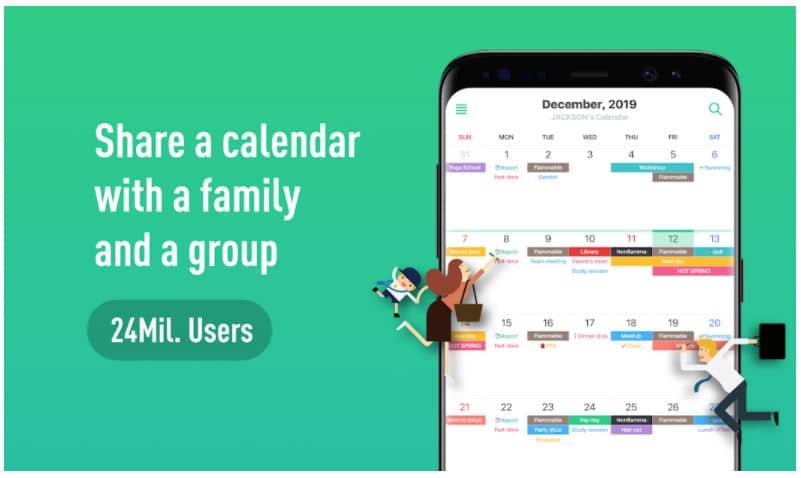 Standout Features:
Productive time management
Keep track of anniversaries and dinner plans
Connect the whole family
---
Alarmy
Alarmy is one of the highest-rated alarm clock apps that has some unique sound to wake you up from your bed. Besides pre-loaded ringtones, you can also use customized tacks as your alarm ringtone.
There are some interesting ways to dismiss your alarm clock. You can take a photo of the place where you have woken up to dismiss the alarm or you can scan the QR code or Bar code to dismiss the alarm. You can also develop some good habits with the help of this app like you can solve maths problems to kickstart your day or shake your phone up to 999 times that will transform your body into active mode. This best time management apps are free but you can avail of the premium version to get some more additional features.
Standout Features:
Quick alarm for quick tasks
Check current temperature
AI voice dictation
---
Join.me
Join.me can be very useful and one of the best time management apps for corporate people. You can host a video call or conference call with the help of this app with a single tap. All you need to do is to type the meeting code and connect with your team wherever you are.
You can lock the meeting to ensure security, share your screen with all the members of the video call, unlimited conference calling, and in-meeting chat with all the participants at once.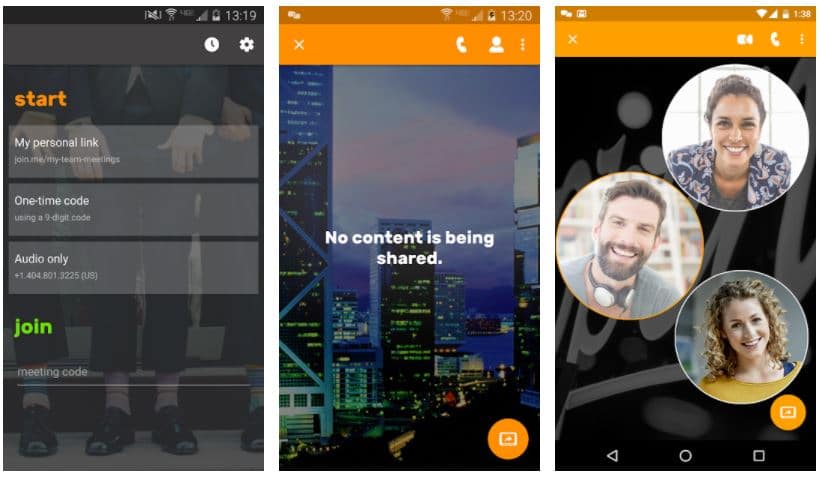 Standout Features:
Create your link
Host meetings with a single tap
Unlimited conference calling
---
Instapaper
Instapaper can act as a bookmark feature for you, where you can save anything important which you have found on the internet. You can read the saved content later when you have vacant time and can add highlights and comments in the bookmark.
You can access the bookmark on any device with which you want to sync the app. The app can also improve your reading speed with a 3x faster-reading feature. 
Standout Features:
Folders for organization
Download up to 500 articles
Tilt scrolling, page-flipping
Dictionary and Wikipedia lookups
---
Final Words
These were some of the best time management apps that you can download on your device and organize your day. All the apps are free and you can download them on Google Play Store. What do you think about our list? Do comment and let us know about your favorite app on the list. Your suggestions are also welcomed. You can tell us some other apps list which you would like to see on our website, so we present you with the best list.
Thank you for reading! Try these out too:
General FAQs