Dogs are humans' best companions, and studies show that every one in three houses has a canine pet. Whether you are a single individual or a family, an addition of a furry friend is never a bad option. However, it's fair to say that keeping a pet isn't all sunshine and rainbows; it means a lifetime of commitment and responsibility. Thus, you may find the best dog walking app handy. The idea behind the development of these applications is to connect people looking for dog walking services and those who want someone to walk their dogs. Since grooming your canine is essential and walking is an essential part of it.
Walking your dog will improve its overall physical health and make your dog more social. Although litter boxes are available, they aren't nearly as healthy as a regular outside walk. Some of the most notable benefits of walking your dog include maintaining a healthy body and weight condition, excellent joint health, and upkeep your canine's good urinary and digestive health.
However, dog walking isn't always easy, and a lot of the time, you may forget to do so, especially if you are busy with work. It is where the best dog walking app comes in and steals the show. The application will help you take your mind off one of the most critical parts of your day.
Nevertheless, finding trusted individuals to walk your dogs isn't easy, and this is why you can't trust all the applications you find on the Play store. Our list of Best dog walking apps contains some of the top picks in the category, and for your facility, we cover them in great detail to help you find the best one.
Excited? So, let's get started.
Benefits of Best Dog Walking Apps
Find trusted service providers:- One of the main concerns when opting for someone to take your dog for a walk is trust. We don't want to risk our furry friend, and walking can get dangerous, so we don't want to hand our pets to a novice walker. Luckily, you will find plenty of skilled dog walkers that have been at work for years. You can also get an idea from the reviews to ensure that the person you hire is the ideal man for the task.
Constant monitoring:- Another pretty helpful feature that will provide you with peace of mind is its constant monitoring features. The best dog walking app will allow you to track the walker, and it also sends a reminder as to when the walk has started and finished. You can also chat with them at all times or ask for photos to ensure the safety of your dog or if you are missing it too much
Extra features:- One of the most significant features of the best dog walking app is that it will provide you with more features than finding dog walking service providers. The apps will let you opt for pet boarding, house sitting, dog walking, daycare, and drop-in visits. The features will make it easier for you to travel while confirming the safety of your puppy
Best Dog Walking Apps For Android
---
Rover – Dog Boarding & Walking             
Rover is one of the best dog walking apps and the most highly reviewed ones. It's packed with robust features that ensure you get an application that will solve all your worries regarding the care and grooming of your furry friend. Rover is ideal for people looking for pet boarding, dog walking, daycare, drop-in visits, and house sitting services. It will direct you to highly trained and skilled service providers that will ensure the safety and care of your canine.
A pretty useful feature is the transparency between the providers and dog owners. The application will let you view all the sitters' ratings and reviews near you. It will help you make the best decision and ensure that you consider real-time reviews. Another feature of it is the instant messages and the photo updates. Once the sitter takes the dog for a walk, you will be notified when the walk starts, along with picture updates of the dog.
You can also review the walk and drop-in information through the daycare reports to provide you with all the required data. It includes the total distance covered during the walk, duration, photos, and activities such as excretion and water breaks. Rover will ensure that you remain connected with the sitter and constantly in contact when availing of the services.
The GPS tracking of your dog during its walk, along with constant communication with the walker, will provide you with peace of mind. It will ensure that you can focus on the work if you are busy and never worry about the health of your puppy.
Related: Best Guitar Tuner Apps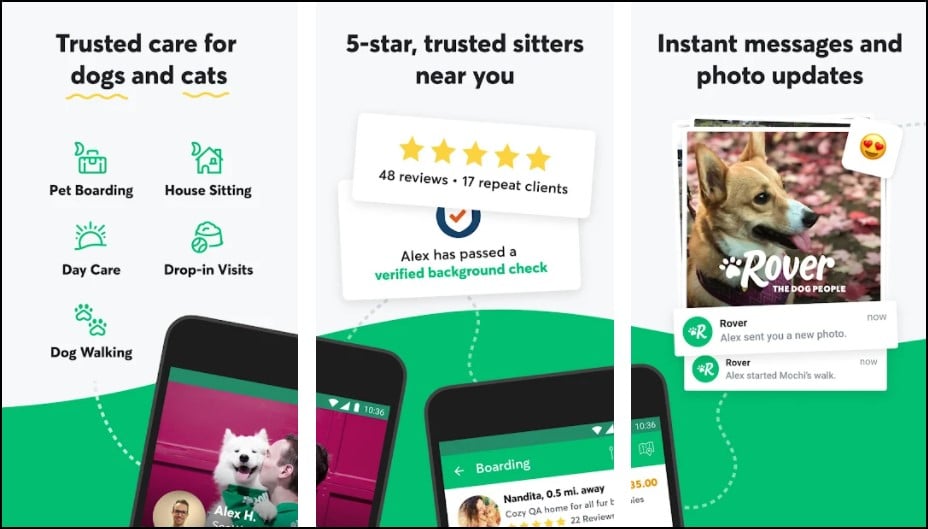 Standout features:-
GPS tracking of the dog's walk
Talk to the sitter and ask for photo updates
Detailed walk stats
---
Wag! – Dog Walkers & Sitters 4+
Wag is our other top pick in the category as it has proven to be the best dog walking app for thousands of users. It has an attractive and simple user interface. The application offers pet sitting, veterinary care, dog walking, and nationwide training services for canines. A significant benefit is that it's convenient and lets you book the right person from the neighborhood. The app is an excellent choice whether you have a busy schedule, are stuck in traffic, or have a holiday planned where you can't take your dog or want to help your dog socialize.
You can use the app to schedule walks on-demand based on your dog's requirements. Since every dog has a different activity level, the app will ensure you find the right person for the task. You can also get sitting overnight care or boarding services and find the ideal providers.
One of the most significant features of the app includes Veterinary consultation from the comfort of your home. It will allow you to seek answers to health questions conveniently from your home anytime. Thus, you can talk to a skilled professional regarding anything.
If you get worried about the security of your dog, the app has you covered with its accurate GPS tracking feature. It offers different walking plans, including Express walk, Wag walk, Deluxe walk, etc. You can also stay connected through the in-app message feature and get cute videos and photos of your dog during the walk.
Related: Best Home Workout Apps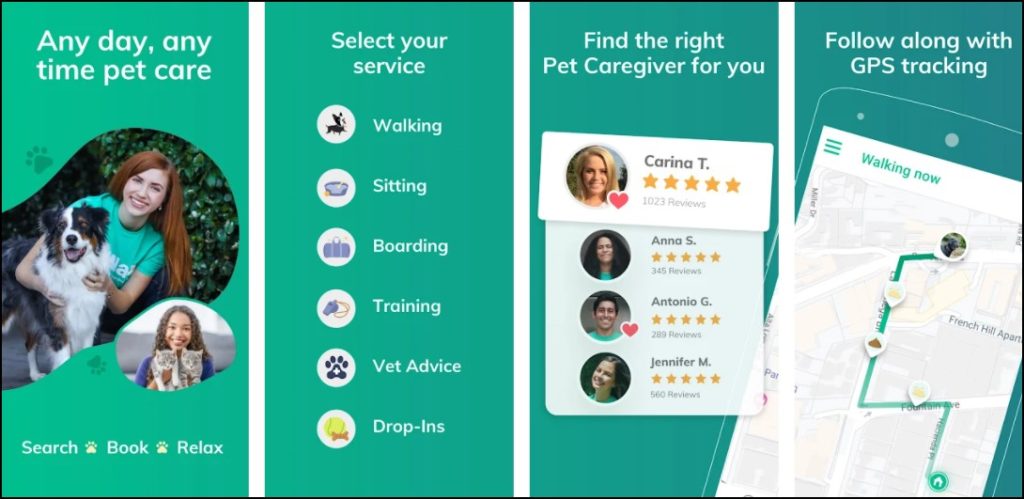 Standout features:-
Avail of multiple services through the app
Stay connected with in-app messages and get photos, videos
Accurate GPS tracking
---
PetBacker – Pet Sitting, Dog Walking, Dog Boarding
PetBacker is among the best dog walking apps that you will find. The app is responsible for connecting dog sitters, boarders, groomers, and walkers with pet owners, which will let you find a reliable pet sitter to look after your furry companion.
One primary reason for its fame is that the application offers plenty of versatility. You can find all sorts of services ranging from pet boarding, daycare, sitting, walking, training, grooming, and even taxi services for your canine. The discover feature of the app will let you search for your city while it displays all the nearby service providers. Furthermore, the app will show the ratings for each sitter; thus, you get a clear idea of the previous history and make a better decision in choosing the right person.
The app will let you create a profile for your pet, and you can then use it to share loving stories with several other pet lovers. It is a great way to engage with like-minded people and with the ones that share common interests. Another feature for collaboration and socializing is joining the pet lover's community.
It also offers a message feature that will let you contact the service provider and talk about the exact arrival time. Furthermore, you can also ask for pictures and videos to ensure your puppy's safety. Overall, the application is an excellent choice for more than one service. If you want diversity, this app could be the ideal choice.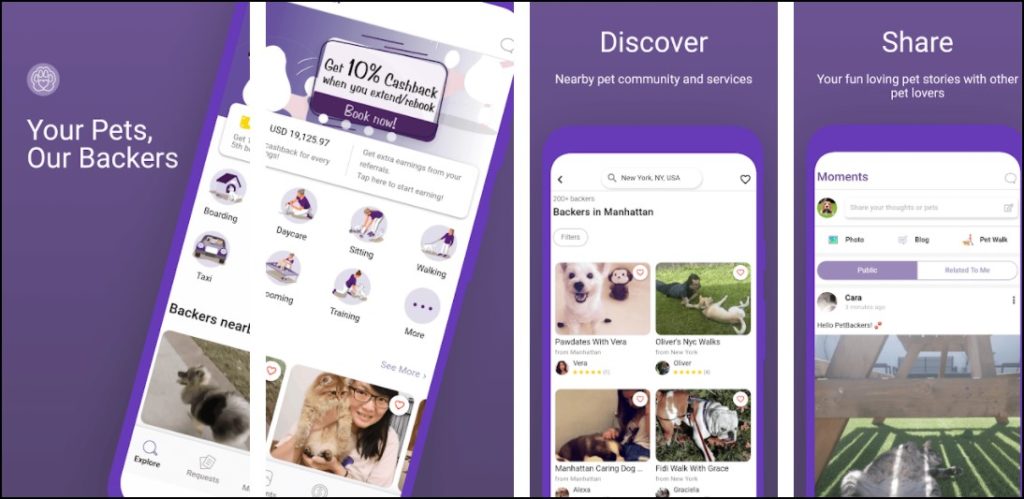 Standout features:-
Versatile app
Find trusted sitters in your locality
Compare service providers and find the right ones
---
Barkly Pets: Dog Walkers' App
Barkley pets come with an award-winning technology that dog owners highly rely upon, thus making it one of the best dog walking apps. It Is specially designed for professional dog owners as it combines two of the most important things, a reliable interface with trusted individuals.
When it comes to the application's user interface, it's straightforward and contains a minimalist design. It displays all three options you might require, including schedule, walks mode, and meetings. Furthermore, the app will let you create a profile to show your services and find pet owners in the locality. The app's interface makes it easier to schedule meeting with customers, manage appointments and receive payments.
The app is ideal for generating free leads for the customers with its professional-grade marketing tools. Since it contains thousands of customers who will access your service provider's profile, you can also use it for the weekly direct deposit of the bank account's earnings. It also offers certain perks such as First aid certificates, discounted Pet CPR, and many others.
Related: Best Weight Loss Apps
Standout features:-
Simple User interface
Suitable for both service providers and dog owners
Schedule meetings and receive payments through the app
---
Time To Pet
Time to pet is one of the best dog walking app that focuses purely on providing one service. The benefit of the app, which sets it apart from others, is the detailed review that you can get with it. The reports will help you ensure that your canine is in perfect health, and also, if it is suffering from any particular health condition, you can track its health from the reports.
You can create a profile for each dog by inserting all the relevant information such as its name, age, type, breed, color, and microchip number. It will provide clarity on the other end and allow the management team to track it down in case of a mishap. You can start a conversation with the service provider, and they also provide a report at the end of each walk that includes different aspects.
A beneficial feature is that you can schedule all the walks. You will have to add all the information relating to the walk, such as the scheduling date, duration, time, and which pets you want the sitter to take on the walk. The app will let you schedule meetings throughout the entire week. Hence, you can plan out the entire schedule and eliminate the stress.
Time to the pet also provides invoices, and you can clear all the service charges quickly. Furthermore, it's also essential to maintain a record and a personal financial score.
Related: Best Sports Apps
Standout features:-
Detailed reports
Create profiles for all pets
Schedule the dog walking appointments in advance
---
Dogiz: Dog Walking Services
If you want the best dog walking app which also offers comprehensive features, Dogiz is the right choice. Apart from providing all the features, you might require, the app combines it with a user interface that can be easily accessed, thus making it more functional and saving you the time and effort required in searching for it.
Dogiz consists of a home screen with all the features in the tabs below. It includes a personal profile for yourself that will let you add all the information you want, dashboard, calendar, inbox, and notifications. The most significant feature of the app is that it will let you book and schedule walk with verified dog walkers. It adds a layer of safety for your canine and provides you with peace of mind that your furry pal is in safe hands.
You can still track the entire walk with the accurate GPS feature of the application. The app also mentions the starting time, date, and the exact route the walker takes. Furthermore, a feature calculates the exact charges, so you also have a clear idea of it. The complete transparency, insured walks at an affordable price is the most notable benefit of the app and one that you can't say no to.
Related: Best Credit Score Apps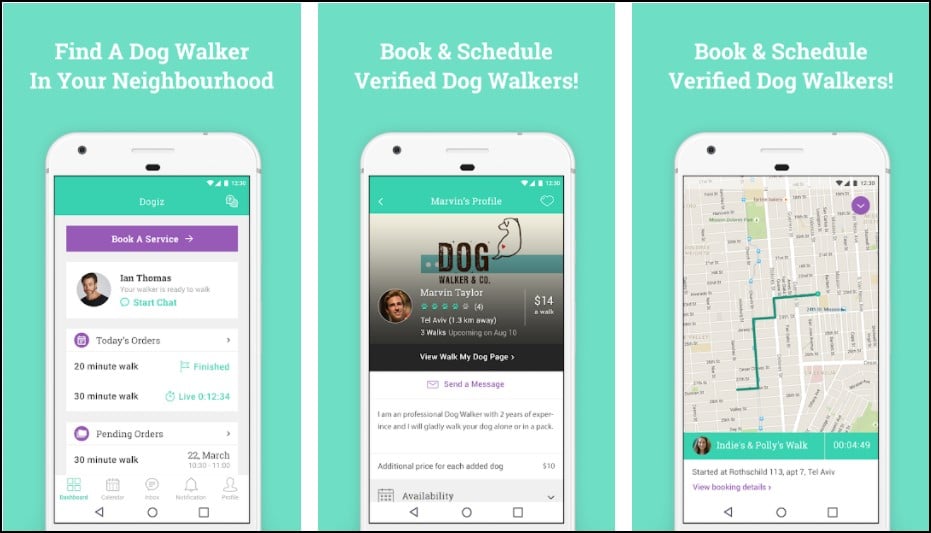 Standout features:-
Flexible features
Reliable walkers
Schedule walks for any particular date and time
---
Final Words
The best dog walking app will let you conveniently find the right person to take your dog out from the comfort of your home. The apps can also provide extra features such as pet sitting or finding daycare centers to leave your dogs. We have listed some of the best applications in the category, and it's now up to you to find the one that may be ideal for you. We recommend Rover and Wag as our 2 top picks in the list.
Thank you for reading! Try these out too:
General FAQs
What is the best dog walking app?
The three best dog walking apps on our list are Rover, Wag, and Time To Pet. All of these applications ensure functionality and convenience.
Is the best dog walking app free?
Yes, the applications are free to download. However, you will have to pay for the service charges when you book a walker or opt for any grooming services.
Can I find trusted people on the best dog walking app?
Yes, the best dog walking apps will provide you with the benefit of finding trusted individuals. All the walkers will have a profile that mentions their expertise and reviews and ratings that will provide a clear illustration, thus helping you find the best person for the job.