You can satisfy your taste buds with delicious cuisines. What better would it be to get tasty food delivered at your doorsteps. Food delivery apps provide mouth-watering dishes and cuisines to your home. There are numerous best food delivery apps you can use according to your choice. You can choose food from your favorite restaurant and get it delivered.
Some of the benefits due to which we highly recommend the food delivery apps are as follows:
Excited? So, Let's Get Started.
Benefits Of Food Delivery Apps
Variety Of Cuisines and Dishes: You can choose from the variety of cuisines and dishes available in your nearby restaurant. You can also compare the prices of the cuisines at various restaurants to get the best price. Food delivery apps also provide deserts and food from popular cities.
Fast Delivery: Food delivery apps can be a savior for you if an unexpected guest arrives. You can order anything and get it delivered within few minutes right at your doorsteps. Some food apps also offer express delivery services for fast delivery.
Compare: Numerous options are available to the users if they are opting for a food delivery service. You can compare the prices of the cuisines to know the best price before buying. You can also check and compare the ratings of the restaurants before buying eatables.
Best Food Delivery Apps For Android
---
Caviar – Order Food Delivery
Caviar is an excellent choice on our best food delivery app list. It allows you to get your favorite food items delivered from various local restaurants quickly. The app will allow you to have a quality dining experience, whether it's a special occasion or just yourself. It also offers a free first delivery along with a $10 discount on your first order by using the code TENONFOOD for orders worth more than $35.
One significant advantage of choosing Caviar is that it benefits diversity. You can choose from several famous local eateries or home-based kitchens. The benefit is that if you are craving home-cooked meals, there will be an option available for you. You can also get special discounts and deals on meals, thus making it budget-friendly. Another valuable feature of the app is that it offers no-contact delivery. It means that all the orders are left at your door while you also have the choice to choose "hand it to me." If not, you can choose no-contact delivery, which means the dasher will leave your food safely and alert you to pick it up.
The real-time tracking option will let you keep a check on your order. You can also check various other factors that might affect the arrival time, including the weather conditions and traffic around the city. The delivery scheduling feature will allow you to place an order in advance at a particular time. The food is automatically delivered to your door even if you forget about it. There is also no minimum quality feature; thus, you can order little to a lot of food depending on your requirements.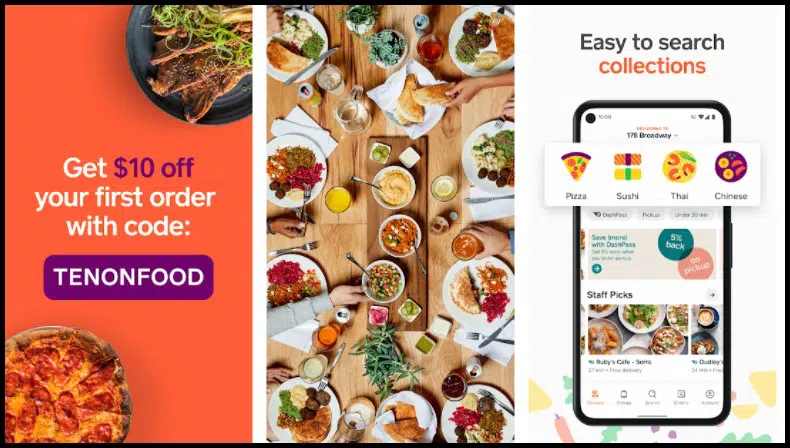 Standout Feature:
Get exclusive deals and unique items
No-contact delivery feature
No minimum order quantity required
---
Swiggy – food delivery app
Swiggy undoubtedly is one of the best food delivery service apps. You can find the top restaurants nearby and order them to get it delivered. The food items offered by Swiggy have high-quality hygiene protocols. You can order Pizza, burgers, Biryani, and other tasty cuisines on Swiggy. The best part is the app provides late-night delivery services to meet your late-night cravings.
You can choose from the 30+ cuisines offered by the Swiggy app. The food categories you will be getting in Swiggy are Thai, American, Healthy Food, Street Food, and Breakfast. The app also accepts and delivers orders from a distant location. You can also avail offers during the festive season. The app accepts multiple payment methods like Master card, Net banking, and Sodexo meal cards.
Related: Best Cryptocurrency Apps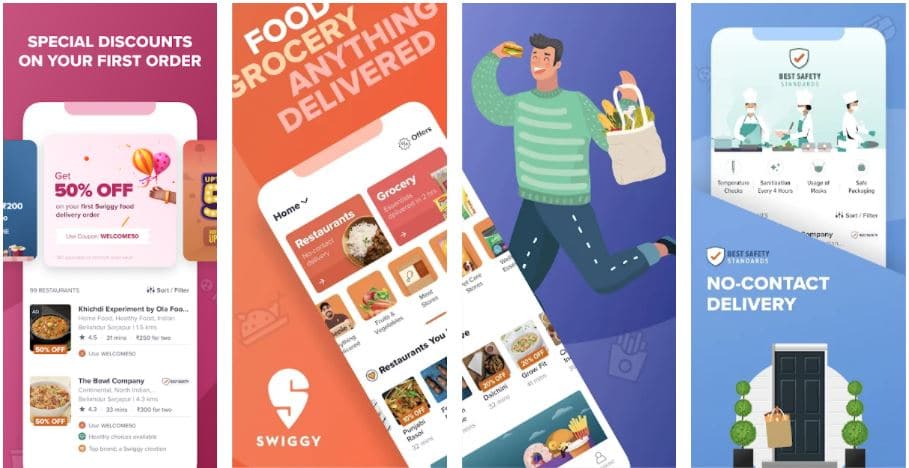 Standout Features:
Late-night delivery services
30+ Cuisines
Hygiene protocols
---
Grubhub – best food delivery app
Buy your next meal on Grubhub with its convenient delivery services. You can simply put the type of feed you are looking for and, you are good to go. The app will suggest the best foods available in your nearby location. The app is available in 3000+ cities of the US, making it one of the best food delivery apps.
The user interface of the app is simple that can help you order food in minutes. The app offers food at affordable prices but with a minimum order limit. You can become a prime member of the app to avail yourself of the exclusive discount and offers from your favorite restaurants.
Related: Best Journal Apps For Android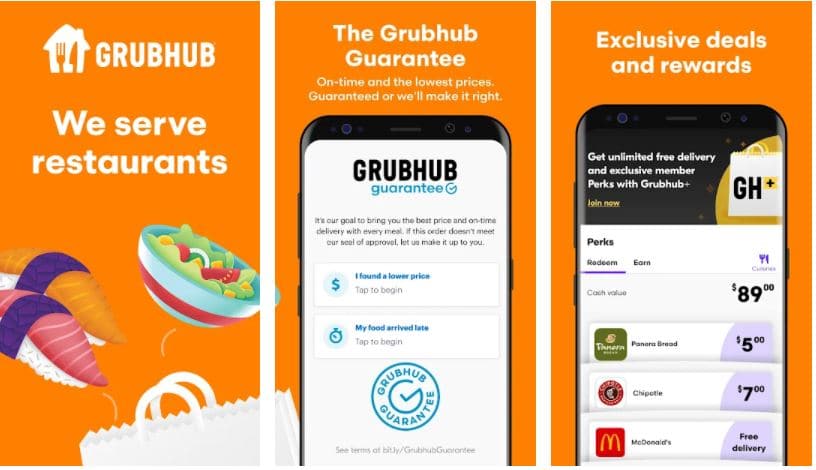 Standout Features:
Available in 3000+ cities
Affordable prices
Discount and offers
---
Uber Eats – cheapest food delivery app
Uber Eats covers some popular food partners like Burger King, Panda Express, Taco Bell, Wendy, and many more. You can find the food you are looking for from the filtered categories. Add the food with a single tap and get it delivered swiftly. You can also order food for pickup and pick it up from your nearby restaurant.
The app offers you to track the order in real-time and see the Estimated Arrival Time. You can take the prime subscription at $9 and get free delivery alongside discounts and offers on your orders. This convenient food delivery app has all the food items for your cravings.
Related: Best Apps For Secret Texting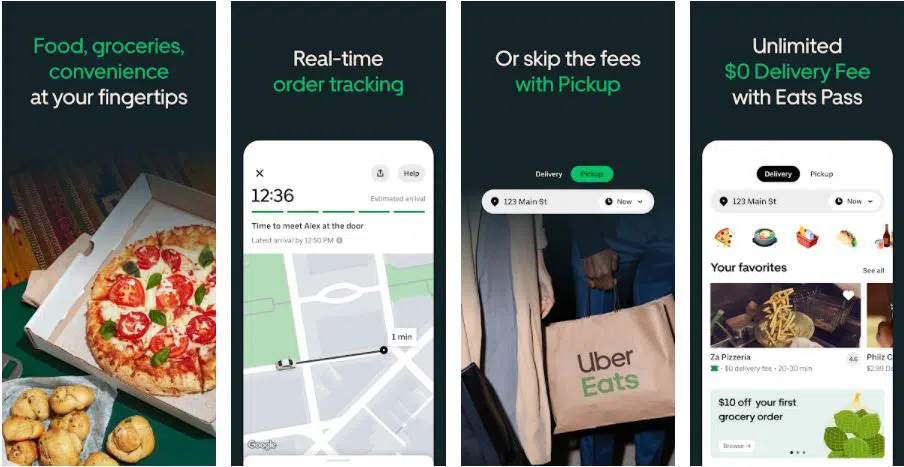 Standout Features:
Popular food partners
Easy delivery
Free delivery for prime members
---
Zomato – most popular food delivery app
Discover favorite meals around you from popular restaurants with Zomato. You can order fast food, meals, breakfast, and international cuisines on the Zomato app at the best prices. You can use the search filter to find a suitable place for dining. The app provides detailed insights into the restaurant you want to dine in.
The app offers delivery services in more than 500 cities from 5500+ restaurants. You can also book a table before arriving at the restaurant, so you do not need to wait. The app is highly rated and offers quality services, due to which it can be of the best food delivery apps for the users out there.
Related: Best Investment Apps
Standout Features:
Hygenic meals
Fast delivery
Quality services
---
Food Panda – most used food delivery app
Food offers round-the-clock food delivery services to food lovers. You can choose from the wide range of cuisines offered by the app to satisfy your taste buds. The app is convenient to use, which makes it user-friendly.
You can find the food via name or restaurant to get started with your meals. The app offers meals in categories like Thai, Chinese, Mexican, Continental, and so on. You can choose from multiple payment options like UPI or COD while ordering the meals.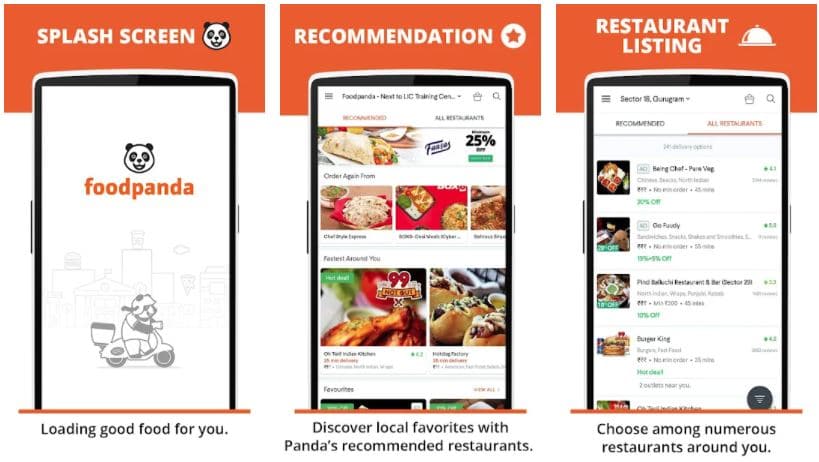 Standout Features:
Round the clock delivery
Wide variety of cuisines
User-friendly
---
Go Puff – best paying food delivery app
Go Puff provides a complete solution to your day-to-day needs, which is why it can be one of the best food delivery apps. You can buy meals, drinks, groceries, and other household items on the Go Puff app. The app has stocks from great brands like Cola and Gatorade for the users out there. You can also earn points on every purchase that you can redeem later. The app offers 24/7 delivery services in California.
Related: Best Keyboard Apps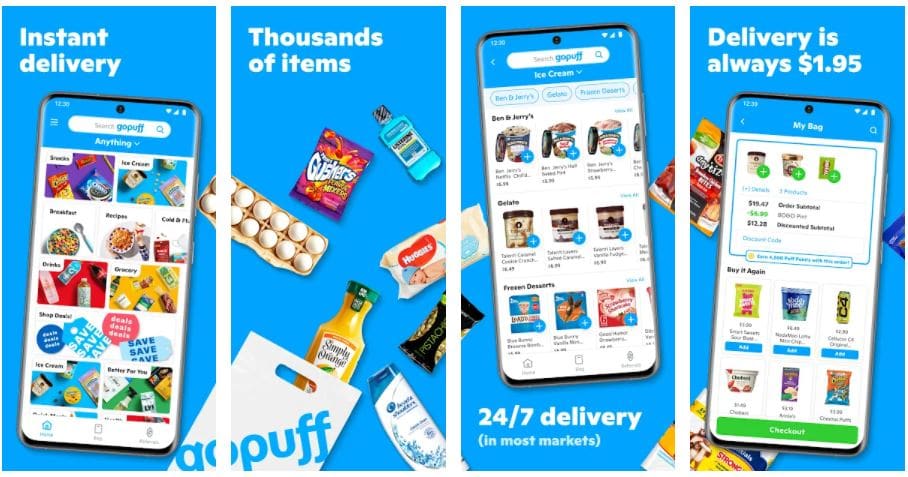 Standout Features:
A plethora of food items
Popular brands
---
Deliveroo – delivery food app
Deliveroo offers quality fast food from brands like KFC and Pizza Hut. If you are a fast-food lover, then this app can be a perfect choice doe you. You can choose and filter the food according to your dietary needs. You can buy food instantly or schedule it for later delivery.
You can also order food and pick it up from your nearest food place. The app also discounts in the offer section that can help you save bucks. The app can also be a good option if you are looking for grocery items.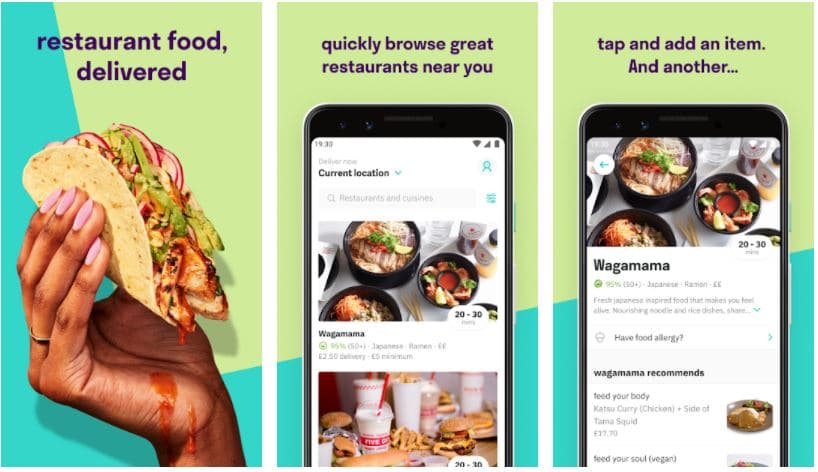 Standout Features:
Choose food as dietary needs
Grocery
Discount
---
Barbeque Nation – Best food delivery app
Barbeque is one favorite thing people are fond of. Barbeque Nation is an app to fulfill your fondness. You can find the nearest barbeque taking place in your locality and attend the event. The app has a vast menu that offers mouth-watering dishes to you. You can also attend the BBQN festivals on the go.
The app has mouth-watering dishes coupled with hard to resist offers. Prebook your table before reaching the outlet to fix your spot. It is an easy-to-use app that can be handy in changing the taste of your buds.
Related: Best Running Apps
Standout Features:
Mouth-watering dishes
BBQN festivals
---
Dominos – free food delivery app
Pizza is one of the most preferred fast foods in the world. Dominos offers pizza right at your doorstep round the clock. You can buy the coupon codes and look for the best offers. You can choose from a variety of pizzas and customize your order as per your needs.
The app offers exclusive offers to pizza lovers. You can save your favorites and previous orders for one-click orders. With the real-time tracker, you can track the estimated arrival time of the ordered pizzas. The app offers multiple payment options that you can pay swiftly. Dominos follows strict hygiene and safety protocols that makes it one of the best food delivery apps.
Related: Fastest Android Launchers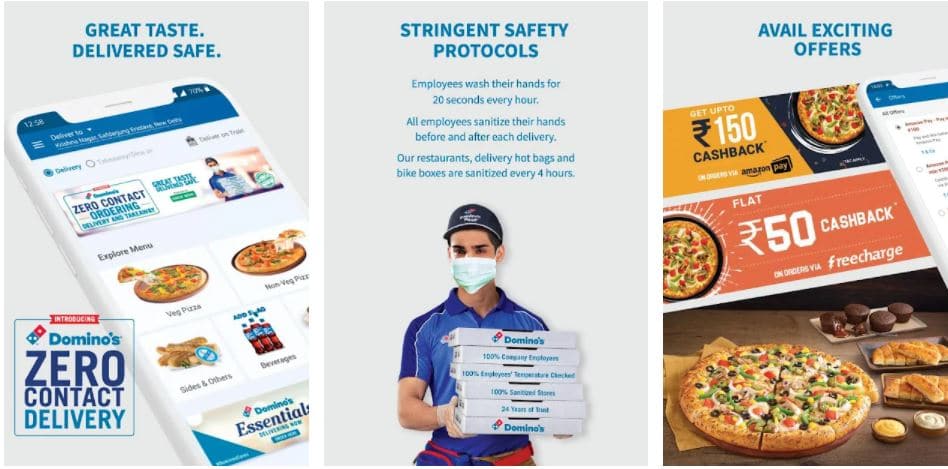 Standout Features:
Customize orders
Real-time tracker
Hygiene protocols
---
Licious – fastest food delivery app
Licious can be a perfect choice for meat lovers. The app offers meat, egg, seafood, mutton, and fish at affordable prices. You can buy a variety of chicken to make chicken breast, chicken lollipops, and chicken drumsticks. All the items are deliverable within the 2 hours of order, making it one of the best food delivery apps.
You can choose from the different modes of payment at your convenience. Besides this, the app also provides mutton and fish varieties for non-veg lovers. The meat is FSSC 22000 certified and, the seafood goes through 150+ quality checks.
Related: Best Parental Control Apps
Standout Features:
Best quality meat
150+ quality checks
Fast delivery
---
Dunzo – best food delivery 2022
Dunzo offers fast delivery services, due to which we have included it on our list of the best food delivery apps. You can order groceries, meat, and fish from the best stores in the town. Besides order, you can send food packages all over the city, which is one more reason to love the app. You can book a bike ride and go to your favorite restaurant on the go.
You can order food from the finest dining in your nearby locality. The app also delivers fast food from brands like KFC, Burger King, Pizza Hut, and others. It is a multi-utility app, due to which we would highly recommend the app to the users.
Related: Best Unknown Android Apps
Standout Features:
Send packages
Quick delivery
Fresh grocery items
---
Bytes – top food delivery app
With over 400 food items to choose from, the next app on our list of the best food delivery apps is Bytes. The app delivers the best eatables right at your doorsteps within minutes. You can get exciting deals on the meals that will help you save bucks. The app allows you to track orders so you can get ready to dine for your meal. The interface of the app is simple and minimal which helps you easily place orders.
Related: Best News Apps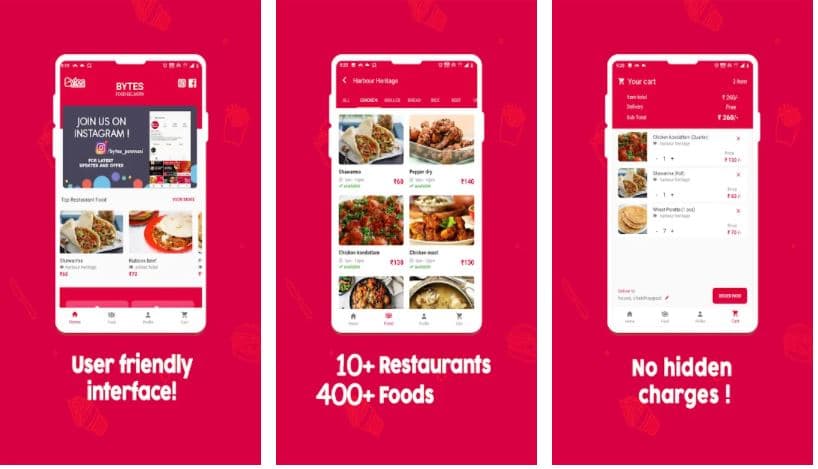 Standout Features: 
400+ food items
Exciting discount
---
Final Words
We would be wrapping up our list with the Bytes app. We hope our list will be helpful for you to satisfy your cravings. Do drop a comment below and tell us about your pick of the list. You can also suggest some topics on which you would like to see the article. Grofers, Uber Eats, and Grubhub are some highly recommended apps users can opt for.
Thank you for reading! Try these out too:
General FAQs
What is the best food delivery app?
Our list above contains excellent choices in the best food delivery apps. Since there is plenty of diversity in terms of services, you need to find an application that fits your requirements and can help you find the perfect meal plans. Our top 3 picks in the category are Uber Eats, Zomato and Caviar.
Does the best food delivery app contain home-cooked meals?
It depends on the application you choose, as the choices can vary among them all. While we have certain choices on our list that entirely cover restaurants and businesses, there are choices like Caviar that will provide access to home-based small-scale businesses.
Is the best Food delivery app free?
Yes, you can download the application without any cost. Furthermore, such apps also don't offer premium versions, but you will have to pay for the delivery services and food items.
Does the best food delivery app offer discount coupons?
It's one of the significant benefits of using the best food delivery app. The app can provide you with delivery services and plenty of options, but it also offers discount coupons regularly to ensure you can enjoy a meal without spending a lot.