Technology has found its way into every aspect of our daily lives. We live in a modern digital world where hundreds of new inventions make our lives easier every day. An essential aspect of innovation is its influence in the medical field. There are plenty of applications that can help you work on an existing medical condition. The best blood pressure app plays a vital role in assisting you in monitoring your condition.
Blood pressure can put you at a greater risk of a heart attack. Furthermore, it is also responsible for elevating other medical conditions. Thus, you need to ensure that your blood pressure is within control limits. It's neither at hypertension nor hypotension state. The best blood pressure app can help you in the process. However, these applications might not be as efficient as the classic doctor's equipment in sphygmomanometer for checking the blood pressure, but they are an excellent choice for monitoring it.
As per a 2015 study in the Journal of the American Society of Hypertension, nearly 72% of the applications that claim to be the best blood pressure apps were good at tracking blood pressure; the users manually enter the readings in the app then tracks over time.
However, if you want to find the best blood pressure app for yourself, choosing one can be difficult. It requires insight into the features and functionality to find a beneficial app. This is where our list of the best blood pressure apps below can help you out.
Excited? Let's Get Started
Benefits of Best Blood Pressure Apps
Maintain statistics: Maintaining stats is one of the most significant features of the best blood pressure app that helps you improve your medical state. The app lets you manually enter information like heart rate, weight, exercise, salt intake, and other factors that might impact your health. These stats will allow you to alter your life as per requirements to practice a healthy lifestyle, thus reducing blood pressure complications.
Constant reminders: A lot of the time, we often get caught with a lot of work and the demands of a busy life that it's easy to forget medications or other measures. The best blood pressure app will allow you to set reminders for taking the proper medications, checking the blood pressure, and entering other data for tracking the condition.
Sharing the report with Physicians: The most effective way to keep your blood pressure at controlled levels is by staying in contact with your physician. The best blood pressure apps also provide features for sharing information with the doctors directly through the application.
Best Blood Pressure Apps for Android
---
SmartBP – Blood Pressure Diary, Log, Tracker
SmartBP is one of the best blood pressure apps, and it's one of our top picks in this category. It has over 2 million downloads, and it's also the first choice of users in up to 114 countries. The application provides an innovative and digital way of managing your blood pressure. It offers all the features that a user may seek, from a simple and easy-to-use interface to efficient blood pressure management. This app aims to provide you with a reliable tool that assists you in improving your blood pressure.
The app allows you to record the blood pressure measurements; thus, you can maintain them and keep track. You can add the diastolic, systolic, weight measurements, and pulse rate with notes to specify any particular information. You can use existing tags or custom ones and add them to the notes to save time and speed up the process. The app contains various tools that automatically calculate the Mean Arterial pressure (MAP), Body Mass Index (BMI), and Pulse Rate for you. SmartBP allows you to modify the time and date of the records to provide you with a clear illustration of the duration. Furthermore, it also supports the International and US weight and height units.
One of the most significant features of the apps is tracking the progress and analyzing the results. It displays the trends on the graph; a statistical graph lets you filter with rags and times. The color-coded data is offered to identify the ordinary and different stages of hypertension. Finally, it also displays the summary at the desired time. Other app features include easy report sharing, setting reminders, and easy access anytime and anywhere.
Related: Best Budget Apps
Standout Features:
Record different BP measurements
Track and analyze results and progress
Easy to share reports
---
Smart Blood Pressure Recorder
Smart Blood pressure recorder is another popular choice on our best blood pressure app list. The application is a history manager for patients suffering from BP as it assists them to manage the history and other vital details. You can use the app to save your daily and monthly records, thus maintaining a record that you can show to your physicians.
The app provides plenty of beneficial features. You can store the systolic and diastolic weight measurements with short notes and a pulse rate recorder. The entire history can be viewed anytime you want in the blood pressure history. Since you can maintain the record with time and date, the app becomes an ideal choice for people looking for a diary to help them improve their heart condition.
You can also use a Smart Blood pressure recorder to view the value of BP on a graph that allows you to demonstrate your condition quickly. Furthermore, an essential feature of the app is that it also offers BP tips, including hypertension, hypotension tips, and the proper diet that will help you keep it in check. The app includes all the data about BP, which includes high, standard, and low values, blood pressure types and symptoms, risk factors, diagnoses, etc.
Related: Best Route Planner Apps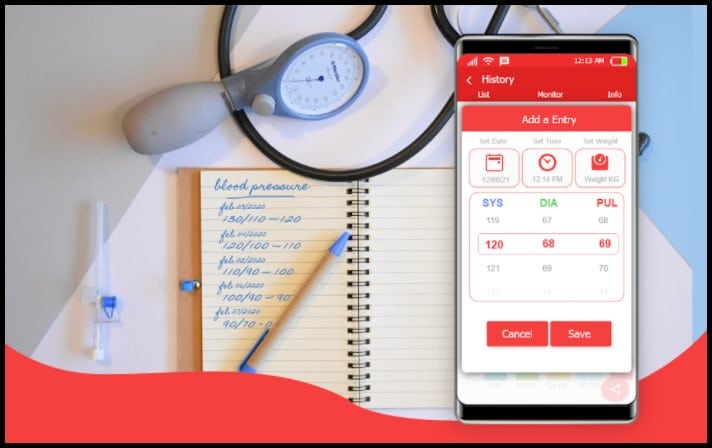 Standout Features:
Track and save blood pressure values
An efficient offline mode
Tips for managing hypotension and hypertension
---
BP Journal: Blood Pressure Log
A BP journal is ideal if you search for a companion app with your home BP monitor. The app allows you to record blood pressure readings, view trends, and send reports to professional health care providers. The app does not offer a blood pressure measurer. Instead, it allows you to record the condition for references.
The app features a BP And pulse reader through the quick keyboard data entry feature. It provides details about the numbers as you can monitor the BP trends through stats and trends by using interactive charts that demonstrate it. The app also lets you send a PDF report to your doctor to address the condition accordingly.
One beneficial feature of the app is that it sends reminders to take the measurements or medications for your BP. It ensures you never forget the time for taking the right medicines. The app also lets you import and export the pressure data in the CSV format, allowing convenient data to interchange with other apps such as MS Excel. The app is also compatible with the standard BP classifications guidelines such as ACC/AHA, WHO/ISH, etc. The data is automatically backed up in Google Drive, keeping it safe and secure.
Related: Best Keto Apps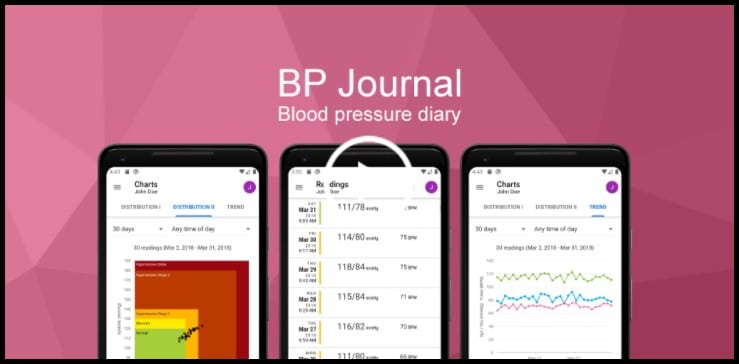 Standout Features:
Quick keyboard data entry for BP and pulse reading
Detailed user guide online
Send PDF reports to doctor
---
Blood pressure Tracker & Diary
Blood pressure Tracker & Diary is one of the best choices on our Best blood pressure app list, and it's our second top pick. The app is an excellent choice for BP patients that they can use as a companion to reduce the potential risks arising from the condition. The app acts like a monitor diary that takes up little space in your device but allows you to add various details about your condition. It offers plenty of tracking features that let you create a history of the condition that you can later share with your physician.
It also offers an informative tab if you have been recently diagnosed with the condition or would like to know more about it. Some of the categories it offers are BP means, types, symptoms, and Normal blood pressure levels. It allows you to add the systolic, diastolic, and pulse rate, which the app store with the date, time, and weight. The benefit of this feature is that the app maintains a history of all the entries for other months. Thus, you have a visual representation of whether your condition has improved over the past few months. It also offers various BP tips that educate you about various aspects that let you keep it in control.
Entering your BP is also a convenient task, and even if you are a new user, you can quickly add it. You have to add the date, time, weight of the systolic and diastolic blood pressure along with the pulse, and the app will save it for you. A helpful feature is that it maintains a Blood pressure graph which is an excellent feature for tracking the device.
Related: Best Dog Walking Apps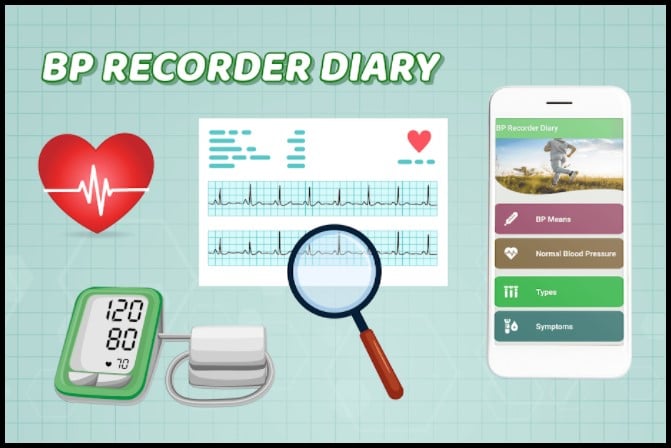 Standout Features:
Get tips and information about the medical condition
Easy to use the app
Maintain a history of Blood pressure readings
---
Blood Pressure
Blood pressure is an excellent choice if you are searching for an application that provides an an abundance of built-in features for measuring analysis and maintaining stats, reports, and grace. The app offers plenty of features to assist you im managing the condition. Although unsurprisingly, it doesn't assist in measuring blood pressure, it does offer plenty of other aspects. At the top of all the benefits, it provides an easy-to-use and friendly interface that makes navigation a lot easier.
The app allows you to create, save and edit measurement records that you can save with short descriptions and tags. Every record is maintained with a date and time and precise values, including the systolic, diastolic, weight, and pulse rate. You can also use it to measure blood oxygen saturation. The app can help you with two unique features: calculating MAP (Mean arterial pressure) and PP (Pulse Pressure). The app is compatible with multiple user profiles; thus, more than one person can easily use it.
Finally, a feature that makes the application one of the best blood pressure apps is its real-time interactive charts. The feature allows you to understand the numbers and observe the trends in your health condition. It expresses the systolic, diastolic, pulse and weight, etc., with clear indications; thus, you have an idea of the situation—furthermore, it's also beneficial for the doctor during examination and observation.
Related: Best Weight Loss Apps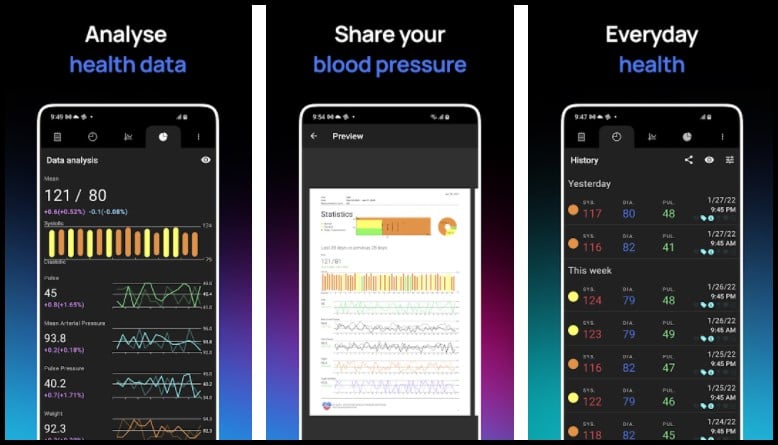 Standout Features:
Several measurements and analysis features
Maintains comprehensive records
real-time graphs
---
Blood Pressure Log – bpresso.com
If you want to ensure that you efficiently manage your Blood pressure, you have to practice a healthy lifestyle. Thus, an application such as a Blood Pressure Log that allows you to analyze the BP measurements and your daily activities including pulse, drugs, exercise, and weight, becomes an essential part of your life. The app also offers stats and charts that will let you view the current state and monitor it; thus, you can change it as you want.
Blood Pressure Log lets you record various activities such as the systolic, diastolic, pulse rate, pressure place measurement, and body position during measurement. You can also add the drug you have taken along with the doze. The app maintains a record of your recorded weight.
Finally, you can also use the app to track your physical activities and intensity. The detailed tracking and measurement features make the app one of the best blood pressure apps on the Play store. You can also register with bpress.com to access advanced features.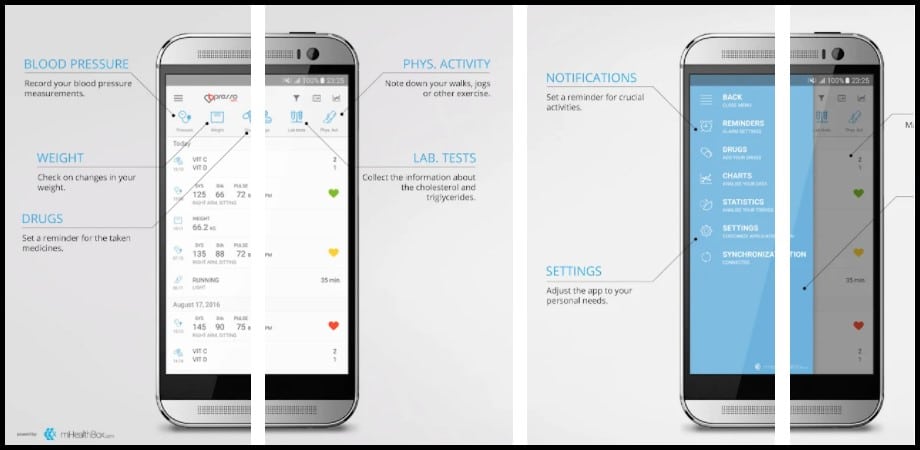 Standout Features:
Detailed tracking features
Easy and user-friendly interface
Quick measurement adding features
---
Final Words
Blood pressure is becoming a common condition and the worrying thing about it is that it could have fatal effects without proper care. The best blood pressure app might not help you accurately find systolic and diastolic rates but it can assist you in maintenance and practicing a healthy lifestyle. Choosing the best blood pressure app is a task that requires an insight on the features of the app, and it's precisely what we have offered you above. Hopefully, our list will allow you to reach a more reasonable decision. Our top 2 picks in the category are SmartBP – Blood Pressure Diary, Log, Tracker, and Blood pressure Tracker & Diary.
Thank you for reading! Try these out too:
General FAQs
What is the best blood pressure app?
The best blood pressure app will not measure blood pressure for you but it can assist you in maintaining records and stats. It's an excellent way for your physician to deal with your medical condition. Our top 2 picks in the category are SmartBP and Blood Pressure Diary.
Is the best blood pressure app free?
Yes, many of the best blood pressure apps are free to download. However, certain choices might require in-app purchases that unlock advanced features such as contacting a physician, etc.
Is the best blood pressure app useful?
Blood pressure is a medical condition that will require you to practice a healthy lifestyle and you can track it by using the best blood pressure app. Thus, the app is handy for managing your health.