Search Engine Optimization (SEO) would sound familiar to you if you are a content creator, specifically a website owner. If you run a website then SEO or Search Engine Optimization is vital in improving your rankings on the Google Search Engine. The plugin is another familiar word we have heard of. Plugins are generally add ons or extensions that can enhance the capabilities of any program. In simple words, you can add extensions to your programs and take full advantage of all the functionalities. The best SEO plugin for WordPress can be one of the best choices if you are looking to produce optimized content on your website.
Combining these two terms we got SEO plugins. From the above-mentioned definition, you might have understood the concept of SEO plugins briefly. SEO plugins are generally one the best ways to optimize your website. These are extension modules that can be used to manage your content or can offer handy solutions for your software problems. Now there are lots of SEO plugins available out there. Some SEO plugins make tall claims and promises, but don't deliver up to them.
So choosing and picking the best SEO plugins becomes a tedious task. Out of the best options available, we are compiling some of the best SEO plugins that can boost the performance numbers for your website. Before starting, let's look at some of the reasons why SEO plugins are vital for your digital growth.
Excited? Let's Get Started
Benefits of Best SEO Plugin For WordPress
Rich user experience: When you optimize your website with SEO and pair it with plugins, it provides a rich user experience to the visitors. You can add rich media files and animations to your content to make it appealing and reader-friendly. Also, you can back your content with statistics and use appealing graphics to optimize your content. You can do all this by using a suitable SEO plugin for your website.
Amplify conversion rate: SEO plugins amplify the visitor's conversion rate for your website. When you add appealing media files to your content then visitors usually prefer your website out of the options available. When visitors frequently visit your page, the conversion rate increases which can ultimately benefit you in monetary terms.
Builds credibility: SEO plugins play a vital role in establishing your name in the competition. When you have optimized content where users frequently visit, it builds trust in your name. Your content will be ranked in the top pages of search engines and can establish a reputable brand name in the market.
Enhances digital growth: Enhancing your presence across digital platforms is also a technique to build your reputation. When visitors find all the relevant content back with stats, the first thing they do is follow your page on the social media platforms. Visitors follow your page on Facebook, Instagram, Twitter, and other platforms.
Best SEO Plugin For WordPress
---
RankMath
It is necessary to know your position and rank in the competition. RankMath as the name suggests does this for all the digital content creators. RankMath will help optimize your website and rank higher on the search engine amongst your competitors. What makes it stand out is its clean and simple user interface. This best SEO plugin for WordPress provides advanced snippet previews that will help you preview your post in the SERPs.
RankMath suggests AI-driven suggestions that automatically yield keywords you are looking to work on. RankMath has an advanced analytics module that can give you insights into your keyword performance, sitemap status, and indexing issues. You can use the Rank Tracker of RankMath to know your standing in the competition. Also, you can specifically look for the keywords that are taking your website on an upward trend. The advanced schema generator helps you generate structured data and improve the readability of your content.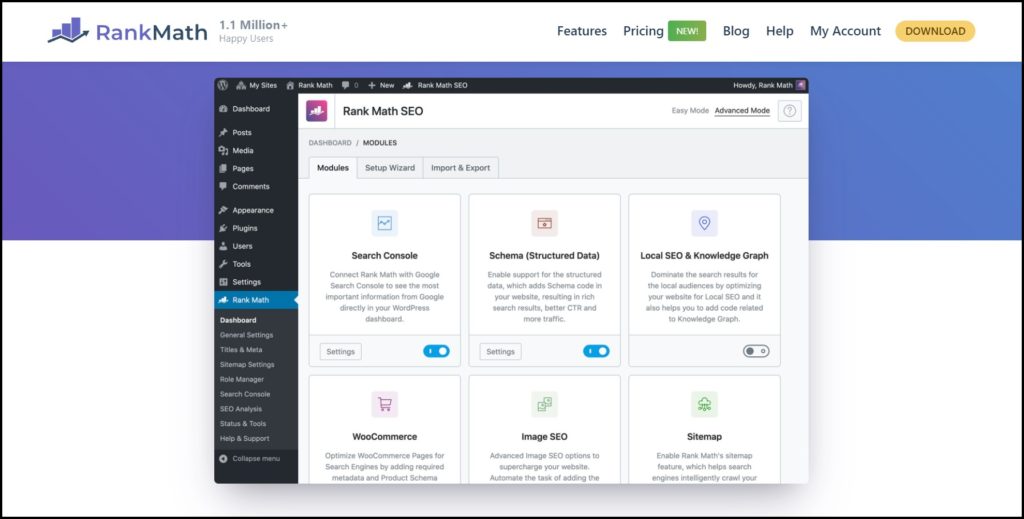 Standout Features:
Custom schema builder
Rank tracker
Built-in advanced SEO analytics module
Simple and clean user interface
Download This Best SEO Plugin For WordPress
---
Yoast SEO
Yoast SEO assists creators in creating SEO-friendly content with its diverse SEO tools. Yoast SEO tools let you find the related keyword phrases for your target topic along with their synonyms. The tool is available in multiple languages like English, Dutch, German, Hebrew, French, Hungarian, and other languages. You get 24/7 premium support from the team of Yoast SEO that is always ready to answer your queries.
Yoast SEO takes you through a routine-based SEO so that you never lag behind in the competition. The SEO Yoast includes powerful interlinking tools that assist in further optimizing your content for the search engine. This best SEO plugin for WordPress also ensures that visitors do not encounter 404 errors on your page. You can integrate visually appealing graphics and structured data with the help of the Yoast SEO tool.
The tool is available in 3 different plans. The free plugin of the Yoast SEO tool gives access to limited features. The premium plugin that costs $99 annually provides diverse features. The $299 plugin subscription gives access to features like 5 powerful Yoast plugins and all SEO training courses.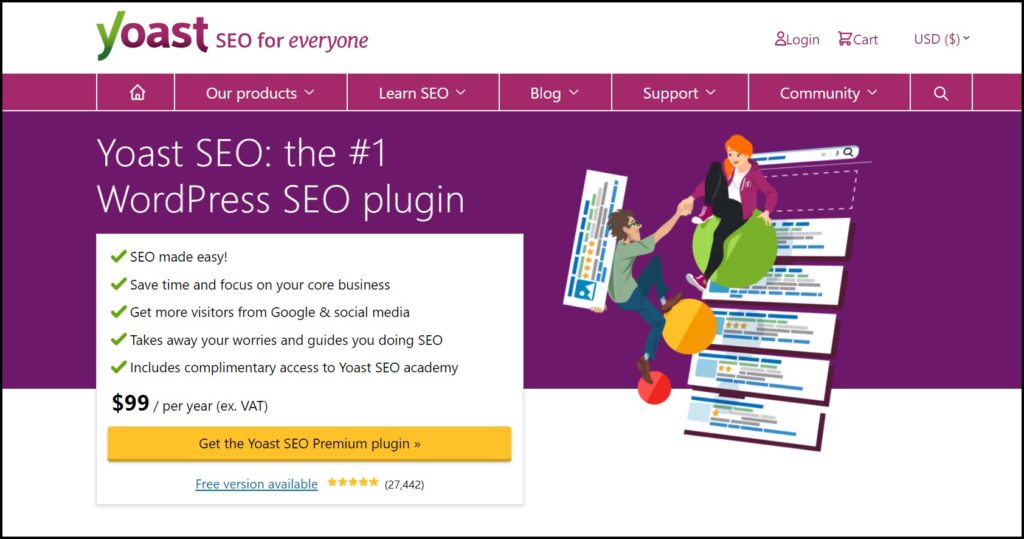 Standout Features:
Can optimise content for desired keyphrases
Powerful internal linking tools
Add structured data
Integration with powerful platforms
Download This Best SEO Plugin For WordPress
---
Ahrefs
Ahrefs is an all-in-one toolset that provides diverse SEO features to content creators. You can optimize your website, analyze your competitors, search for trending keywords and topics, and learn from the experts with the help of Ahrefs. Ahrefs can conduct website analysis and provide you with an overall picture of the condition of your website.
You can analyze the performance by assessing health scores and key data in charts with this best SEO plugin for WordPress. Ahrefs can detect 100+ predefined SEO issues and suggest recommendations to fix them. Ahrefs site explorer has all the relevant tools you will need to know your competitor. It has a backlink checker, organic traffic research, and paid traffic research tools. Ahrefs provides ranking via graphs that will help you access your monthly performance of the website. Besides these features, Ahrefs has free learning materials making it one of the best SEO plugins for WordPress.
Standout Features:
Keyword explores
Content explorer
Rank tracker
Can detect 100+ pre defined SEO issues
Download This Best SEO Plugin For WordPress
---
Semrush
SEMrush is a professional SEO tool for WordPress preferred by leading brands as their marketing tool. It is used by 30% of Fortune 500 companies which itself speaks for the quality and reputation of the tool. SEMrush comprises 20B keywords, 43T backlinks, 800 domain profiles, and 140 geodatabases. Also, SEMrush has more than 50 tools and reports that can provide holistic solutions to your digital needs.
You can run detailed and in-depth website audits to assess the competition in the industry. Also, you can analyze your competitor strategies so that you can optimize content accordingly. SEMrush can be the best SEO plugin for WordPress users who are initially planning to sort and organize all the content. Content creators can create, track PPC campaigns, and schedule content on social platforms.
You can choose from the section you want to target and create the content. SEMrush provides SEO tools for marketing research, content, advertising along with other categories. You can have a 7 day free trial period before choosing the final paid plan for the tool.
Standout Features:
Go-to professional marketing tool
20B Keywords for 130+ countries
Create and track PPC campaigns
Create branded reports
Download This Best SEO Plugin For WordPress
---
All in one SEO Pack
All in One SEO Pack provides a one-stop solution to all the optimization needs. The best part is that you might not need any SEO expert to use this SEO tool. It is one of the most comprehensive SEO plugins that can help your page rank higher on the search engines. It is a beginner-friendly SEO toolkit which makes it one of the best SEO plugins for WordPress. AIO SEO follows an updated SEO standard that helps you keep up with the competition.
AIO SEO is designed keeping in mind your SEO workflow. You can easily initiate SEO setup and quickly move on to the advanced stages to maintain a routine SEO workflow with the help of AIO SEO. This best SEO plugin for WordPress has highly optimized features for Google and other renowned popular search engines. Some features you will be getting in AIO SEO are schema markup, advanced SEO modules, powerful SEO sitemap suite, Google AMP, and much more.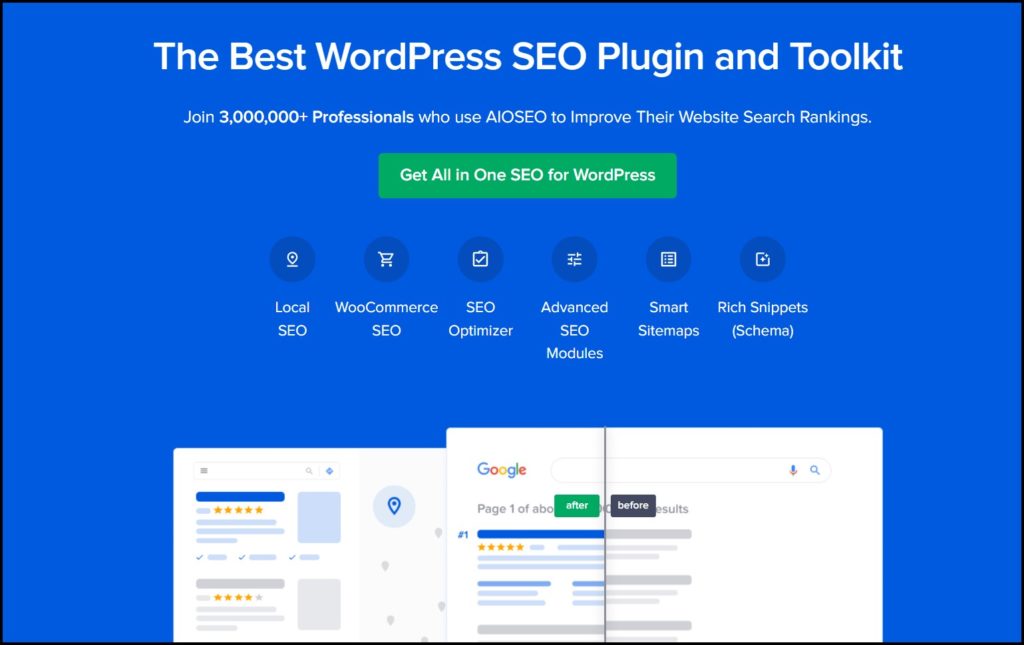 Standout Features:
Beginner friendly
Advanced SEO modules
Highly optimised features for Google search engine
Download This Best SEO Plugin For WordPress
---
SEOPress
SEOPress is ideal for small businesses, developers, SEO experts, and agencies. This best SEO plugin for WordPress is available in more than 20 languages. The tool has a SEOPress free and paid version along with the insights version that you can choose from based on your preference. SEOPress Pro version has premium SEO features like WooCommerce SEO, Schemas, Local SEO, video, and new XML sitemaps, redirect manager, link checker, and 404 monitoring.
The key feature of this plugin is that it has an import tool that will help you import your SEO metadata from a CSV file. You can portray your local business information using the local business schema widget. By using this, you can improve the Expertise, Authoritativeness, and Trustworthiness of your brand. You can track your Google Analytics Metrics on the WordPress dashboard with the help of SEOPress. There are tons of more handy features in this best SEO plugin that we would suggest you try your hands on.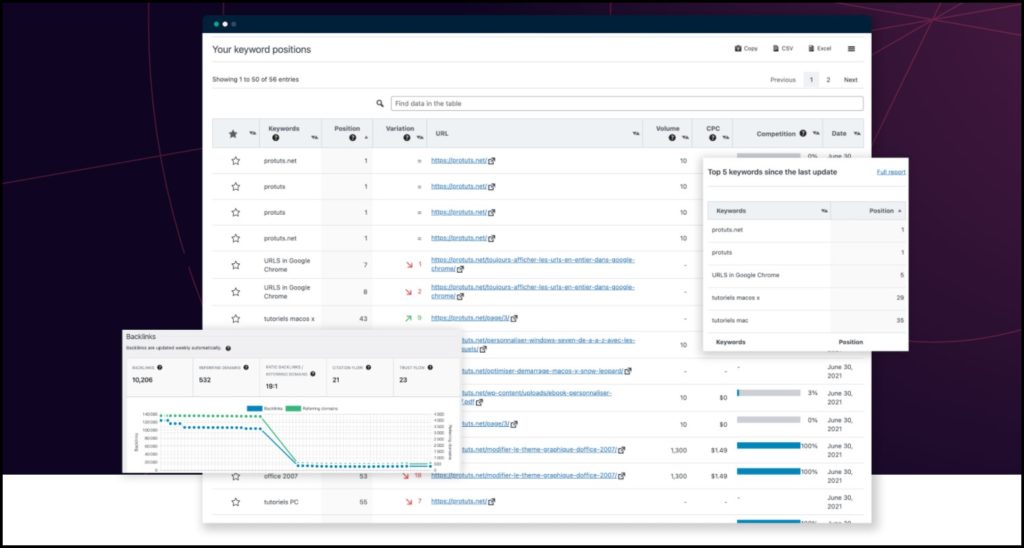 Standout Features:
Increase visibility for local searches
Analytical stats in your dashboard
Automatic and manual schemas
Google news and video XML sitemaps
Download This Best SEO Plugin For WordPress
---
Broken Link Checker
Broken links can adversely affect your SEO performance. To resolve the issue of internal and external broken links, we have a broken link checker on our list of the best SEO plugin for WordPress. Broken Link Checker can monitor and test all external and internal links on your page. After monitoring and running the tests, this plugin will help to improve the SEO and user experience.
A broken link checker can monitor internal and external links in your post, comments, pages, and blogroll and fix them accordingly. The plugin notifies you about the broken or bad links via email or dashboard. For easy identification of Broken Link Checker plugin displays differently. This plugin allows you to search and filter links via URL, anchor text, and so on. Also, you can edit the broken link from the plugin's page directly.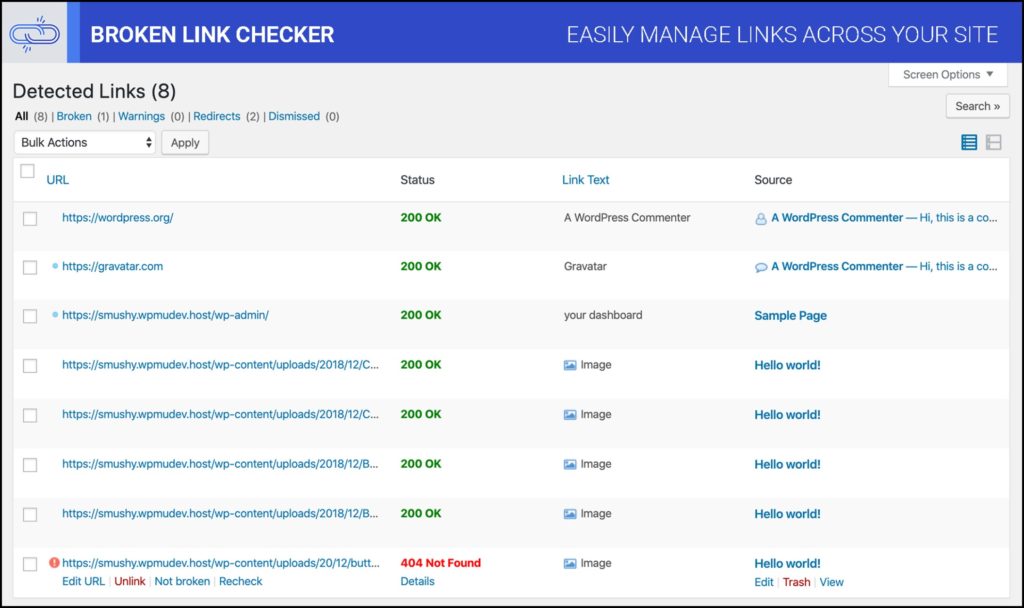 Standout Features:
Monitor internal and external broken links
Notifies about broken links via email
Search and filter URL
Download This Best SEO Plugin For WordPress
---
Google Search Console
Google Search Console can be an ideal plugin to optimize and improve your site performance. You can monitor, test, and track your AMP pages with the help of search console reports and tools. You can measure your site's search traffic and performance with the Google Search Console. This WordPress plugin can also prove handy in optimizing your content with search analytics.
Google Search Console alerts you via email if there is any critical issue that can affect your site's performance. You can generate customized reports to improve the mobile usability of your site with this best SEO plugin for WordPress. Also, you can monitor and improve the structured data on your site to make it more appealing and user-friendly.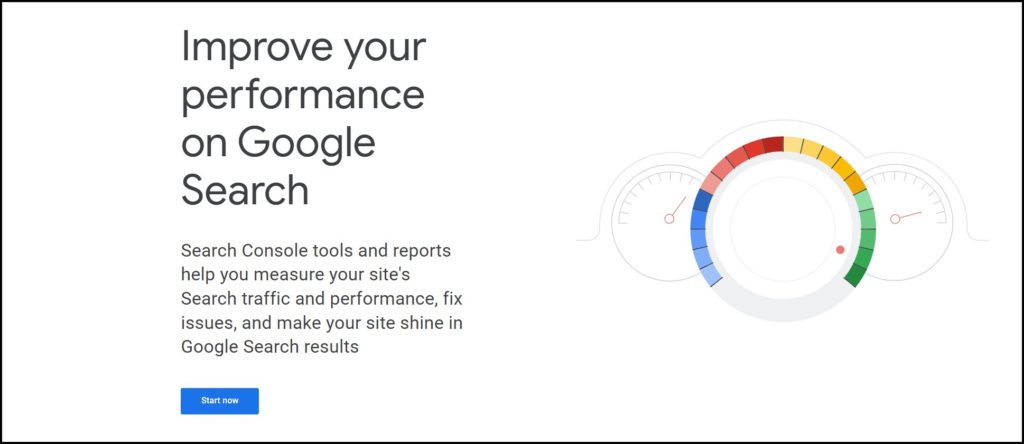 Standout Features:
Improve mobile usability
Analyse site impressions
Measure your site's search traffic and performance
Download This Best SEO Plugin For WordPress
---
SEO Quake
SEO Quake is an SEO Toolbox that can help you conduct a quality check for various SEO parameters. You can compare domains and URLs in real-time with the help of the SEO Quake. Also, you can export all data into a file with the help of this best free SEO plugin for WordPress. This best SEO plugin for WordPress has a SEObar that fetches quick insights and summaries for any webpage. You can adjust the SEObar based on your preferences.
You can track all your data via an interactive dashboard on the SEO Quake plugin. The insights include domain, page, and backlink details of the webpage. SEO Quake can fetch data from platforms like Alexa, Google Rank, Yahoo Index, and SEMrush along with social media platforms like Facebook Lite and Twitter.
SEO Quake has a real-time diagnosis feature that can assess the health of any webpage. Besides this, you can gather details about both the internal and external links and examine them with the SEO Quake plugin. You can use the Keyword Analysis feature to get detailed reports on all keywords on the webpage. You can also further use filters to sort the keywords.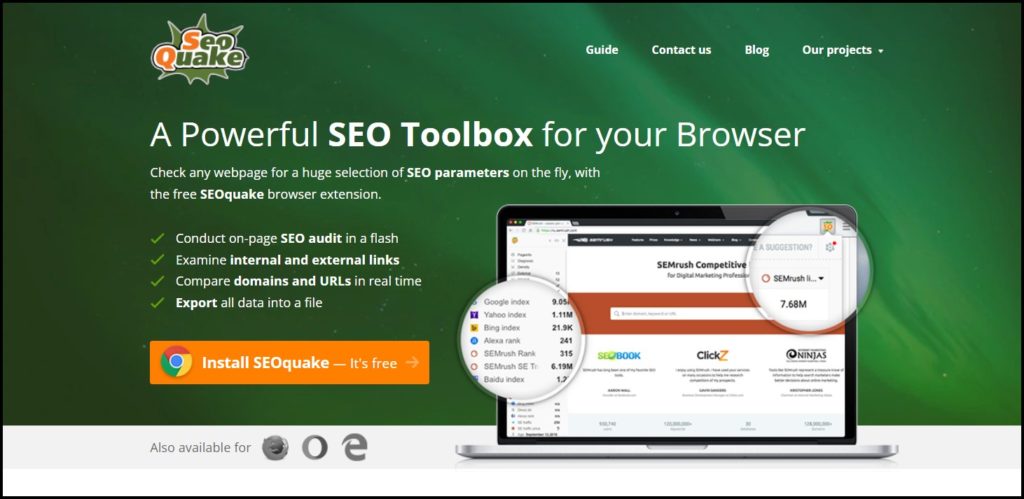 Standout Features:
SEO Dashboard
Real time SEO audit
Link examiner
Compare multiple domains
Download This Best SEO Plugin For WordPress
---
Rankie
Rankie is another best SEO plugin for WordPress that can help you in determining ranks and generating reports. Rankie can track the trending keywords on Google and keep you updated. This SEO plugin can generate monthly or yearly ranking reports to let you know about your progress reports. You can generate these reports in the PDF version also.
Rankie also acts as a powerful research tool for content creators. It can search for keywords based on Google suggestions. Any particular keyword searched on your WordPress via Google Search can also provide handy insights to enhance your website's performance. Some other features you will be getting in Rankie are filtering, proxy support, and a detailed activity log.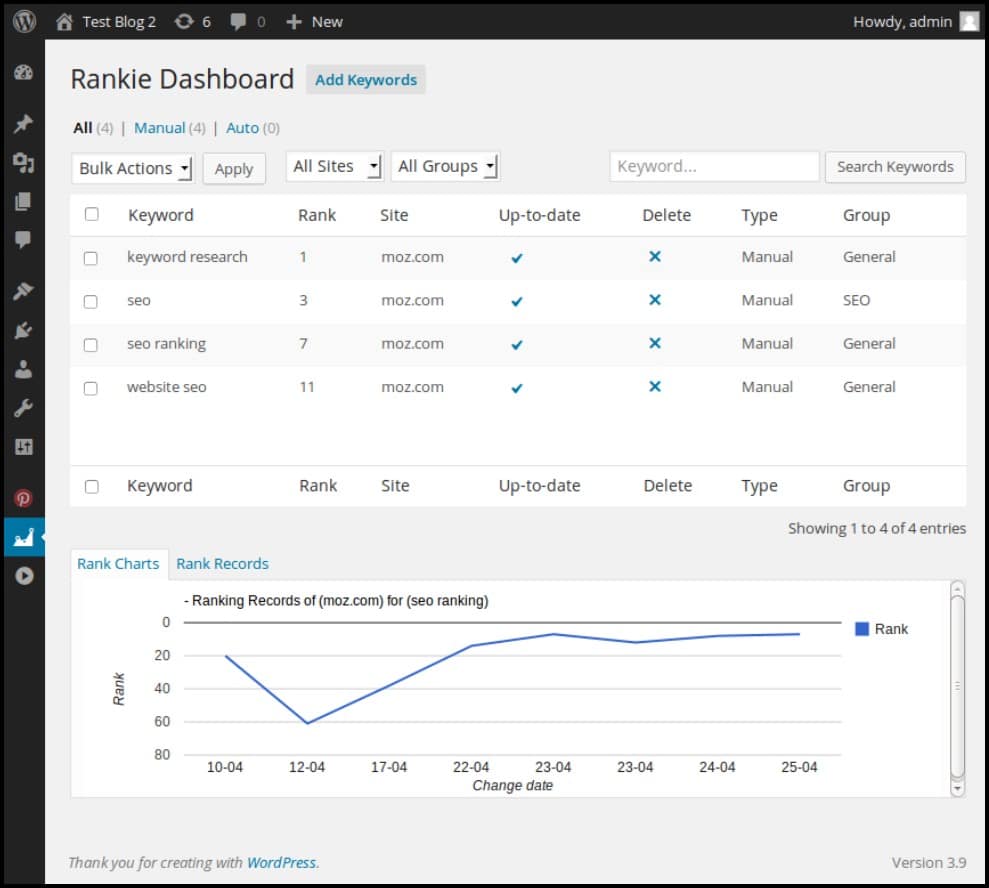 Standout Features:
Handy in determining ranks
Can generate ranking reports
Powerful research tool
Download This Best SEO Plugin For WordPress
---
Final Words
Out of the many options available, we have compiled the best SEO plugin for WordPress that you may find useful. Do comment and add your top picks in the comment section below. Also, you can mention why you loved your top picks. Our top picks of the list are Semrush, All in One SEO Pack, Ahrefs, RankMath, and Yoast SEO. You can also add your valuable suggestions in the comment section so that we keep producing improved content in the coming times. Do share our content with your friends if you find it beneficial.
General FAQs
Do plugins help SEO?
The answer to this question is a straightforward Yes. Plugins are handy in optimizing and improving your site performance. SEO plugins benefits have been already mentioned in our article which you can refer to get the answer to this question. To sum it up, SEO plugins comprise a variety of tools that can optimize the readability, authority, credibility, and competitiveness of your web page in your niche.
How do I get high SEO rankings?
To get a high SEO ranking of your webpage, you will need to produce high-quality content consistently. The more detailed and in-depth your content is, the higher the chances of it being visited by visitors. Integrate relevant media files and charts in your content to enhance readability and credibility. Update your content on a monthly basis so that it doesn't lag behind in the competition. Add internal and external links to your content to build the authority of your website. Use relevant SEO plugins and tools to make your content stand out.