Gamers love action games but, puzzle games have their own fan base. Both genres need the presence of mind, but puzzle games test your critical thinking ability. Go through our list of best puzzle games if you are hunting for some mind-challenging puzzles. The list contains some free and paid puzzle games on which you can try your hands. Some of the games also have in-app purchases that you can purchase to upgrade your experience.
Excited? So, let's get started.
Benefit of Best Puzzle Games
Training your brain:- In his book "Intelligence trap," David Robson describes a vital phenomenon of developing mental abilities such as critical thinking and other aspects of intelligence: to train your brain by various exercises. The best puzzle game for android can help you achieve it as these games allow you to use your creativity and thinking ability, thus providing your brain with healthy mental exercise.
Entertainment:- We live in an age where we don't lack options in any aspect. Although, there are plenty of other choices that you can opt for, which might even prove to be nothing more than a mere time waste. The best puzzle game for android provides healthy entertainment sources that will help you develop your cognitive ability and keep you entertained when you need it the most.
Problem-solving strategies:- Another significant benefit of having the best puzzle game for android is that it can help you develop your problem-solving abilities. Since it's pretty easy to slack off, the games ensure that they come with excellent graphics and the correct mechanics to keep you engaged. Additionally, the game can prove an excellent way to improve your problem-solving abilities when facing different challenges.
Best Puzzle Games For Android
---
Slayaway Camp: 1980's Horror Puzzle Fun!
If you love playing horror games and would like to see a puzzle game in the same genre, Slayaway camp is the right choice for you. The game is one of the best puzzle games for android because it offers various in-game choices.
You can turn into a skull face, playing as a serial killer while you avoid getting caught and killing people. The game can trace its storyline back to the 80's horror films as many of its aspects are derived from it. However, it provides a matchless experience that will allow you to live a life of thrill, adventure, and suspense
The graphics of the game are excellent despite being simple. You have to solve the puzzle to escape from the police and slaughter the people. Hence, you can expect plenty of gore and action in the game. Slayaway camp offers over 11 different horror videotapes and up to 140 different puzzle levels, with plenty of more to come. You can expect all sorts of actions from traps, SWAT teams, cops, rotary telephones, land mines, and you also see cute cats lurking around.
It will let you unlock psycho killers as you progress through the game, including the cult horror movie masterpieces. Many players find the "gore pack" murder scene features, which include lawnmowers, wood chippers, etc., to be the most thrilling, and if you are one of them, download the game right away. To top it all off, the game also features the synth-laden hair metal soundtrack by GNÜ TRUNNION.
Related: Best Guitar Tuner Apps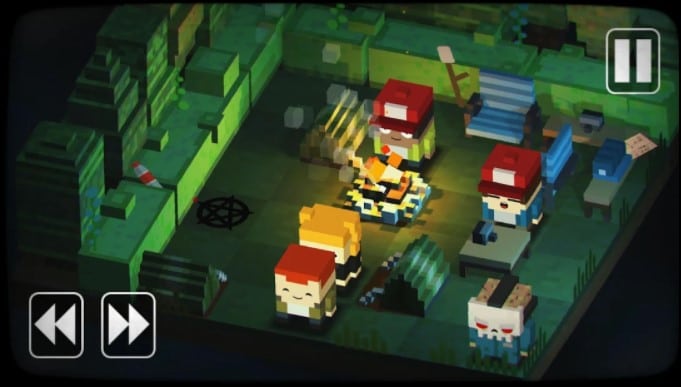 Standout Features:
Unlock your favorite serial killers
Horror and suspense-packed puzzle game
Attractive graphics
---
Sky: Children Of Light – Best Puzzle Games
Highly rated and critically acclaimed, Sky: Children Of Light tops our list. The game has featured in many categories and won awards, which is enough to guess the popularity. The game has a butterfly kingdom that you can explore by unraveling the mystery in each realm.
The app has seven dreamlike realms, where you can encounter like-minded people to solve mysteries. You can also team up with those like-minded peers and uncover ancient treasures. You can choose any character and customize it to your liking. This editor's choice of best puzzle games can be an ideal choice for beginners.
Related: Best VPN Apps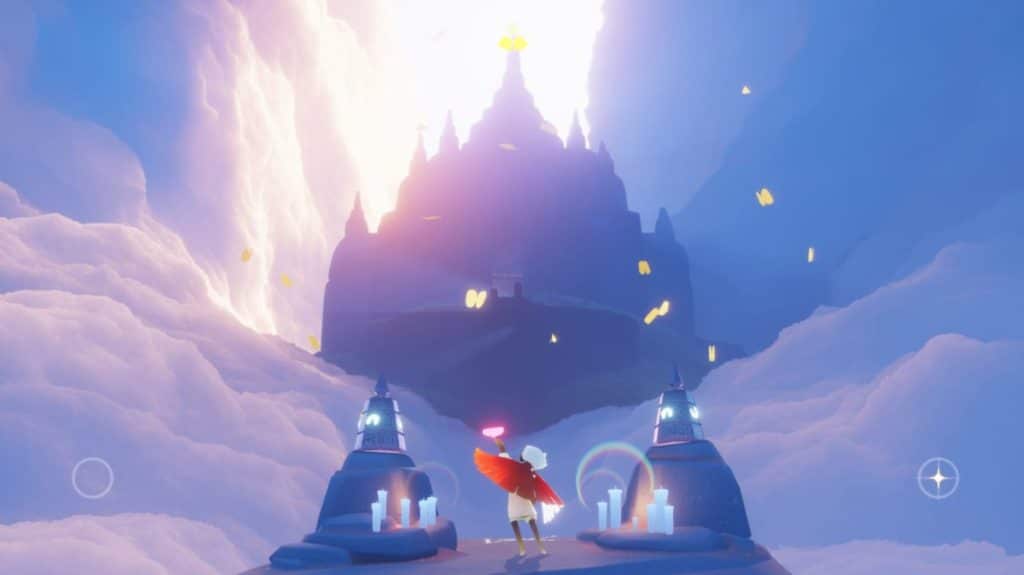 Standout Features:
7 dreamlike realms
Customizable characters
Enjoy a unique music experience
---
The Room – Best Puzzle Games Android
The concept and plot offered by this app keep you hooked on the game. It is the fourth game of the series of super-tactile puzzle games and can be one of the best puzzle games for you. You enter inside the ultimate puzzle box where you need to examine dozen of objects.
After carefully examining the object, you can solve the puzzle to unlock the next room. The haunting background score of the app keeps you hooked on this game. Each object in the game has a hidden mechanism that you need to unlock to progress to the next stage. The game is available in languages like English, French, German, Spanish, and Turkish.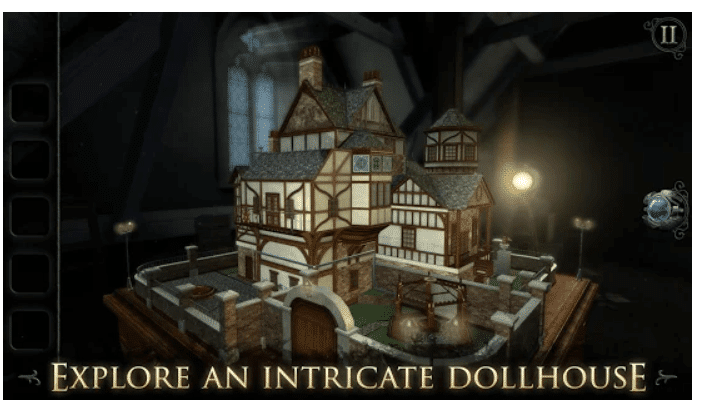 Standout Features:
Intuitive touch controls and UI
Gripping plot
Haunting background score
Intriguing puzzle
---
Monument Valley – Best Puzzle Games
The Monument Valley game takes you through a journey of an architectural masterpiece. The app has breathtaking 3D visuals that will make you go awestruck. It is one of the visually pleasing puzzle games that you can play.
The princess wants to explore this beautiful world of Monument Valley and manipulate impossible architecture on its way. To change this virtual world, you can drag and reshape the architecture to get the best experience. It is a paid puzzle game where you need to pay 260 INR to start enjoying the game.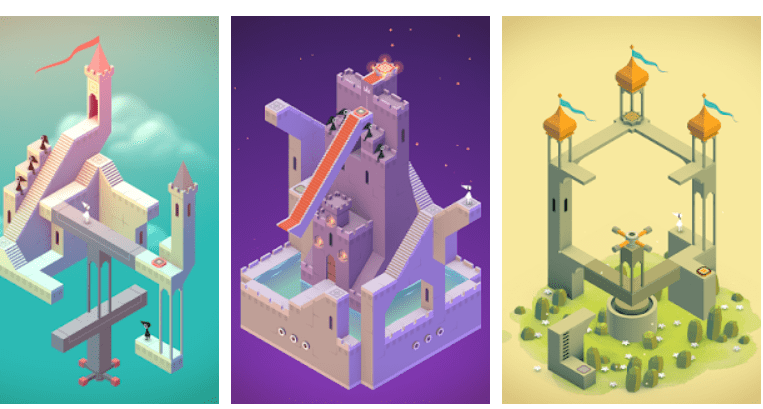 Standout Features:
Minimalist 3D design
Visually pleasing
Eye-pleasing monuments
---
Friday the 13th – Best Mobile Puzzle Games
You can experience the feel of action games in this puzzle game. The app offers you more than 100 killer puzzle levels across the world. You get 8 gut-wrenching strategies-infused episodes at each level.
After completing each level you can unlock lethal F13 weapons to kill the enemies. You can also sell your old weapons to buy new ones. You can choose the R mode for horror movie kills or try PG mode for family-like puzzles. This can be one of the best puzzle games for you if you love Jason Voorhes's character.
Related: Best WhatsApp Alternatives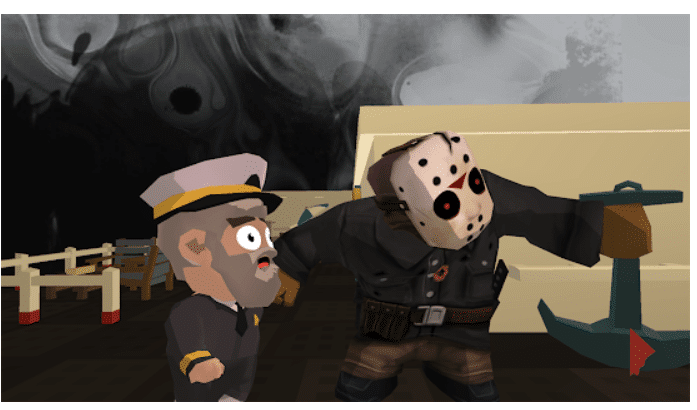 Standout Features:
Gut-wrenching strategies
SWAT teams
No online connection required
---
Monument Valley 2 – Best Puzzle Games
The sequel of Monument Valley, Monument Valley 2 can be a good choice for you if you are looking for adventurous and the best puzzle games to play. The game contains beautiful visuals that are crafted for puzzle lovers.
The visuals of the app are inspired by an eclectic mixture of architectural style and movements. Each level will take you through a sublime experience that makes it one of the best puzzle games for Android users.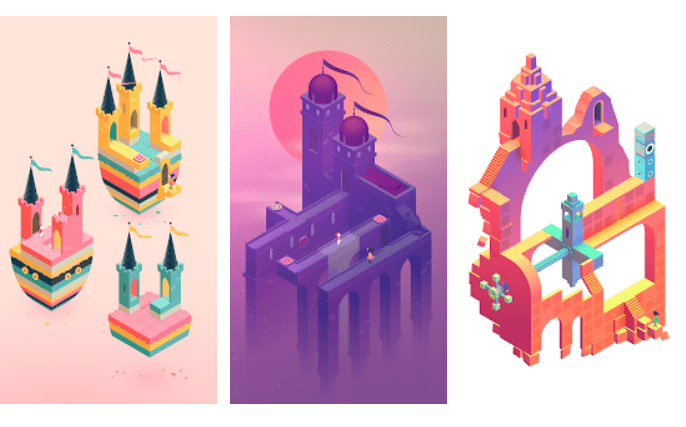 Standout Features:
Contemporary visuals
Beautiful audio
Illusionary pathways
---
Part-time UFO – Best Android Puzzle Games
Part-time UFO is a puzzle game that will help you to polish your task-doing skills. Take your UFO and fly down the area to complete odd tasks. You can lay a helping hand to the farmers or help a mom in cooking. Besides this, you can find plenty of odd jobs at the same location that you can complete.
You can use the coins earned by completing the tasks to change your outfit. Try out the classy and customizable outfits to add more fun to the gaming experience. Doing these basic daily tasks will also help you to improve your productivity. You can share your experience with your friends to let them know the awesomeness of this game.
Related: Best Home Workout Apps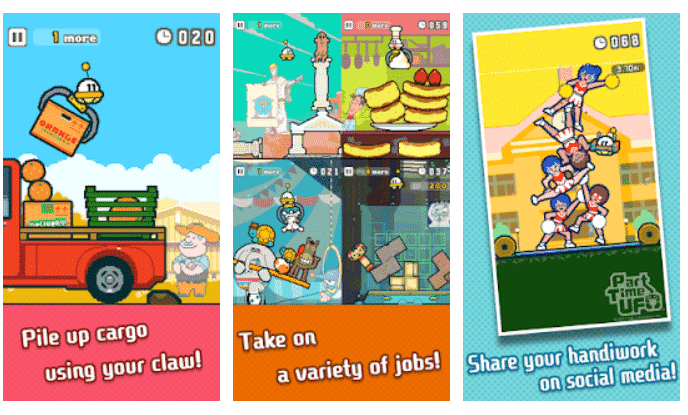 Standout Features:
Customizable outfit
Interactive and simple UI
Improves productivity
---
Total Party Kill – Best Free Puzzle Games
If you love to win games by using different methods then try your hands on the Total Party kill game. In this game, you need to sacrifice your teammates to solve the mind-bending puzzles. You can control 3 different heroes to complete your stage and reach the next level.
You can throw heroes as Knight, Freeze them into blocks, or pin them on them as a bridge to complete your task. The game has also won several awards and if you are looking for some of the best puzzle games then you must try it.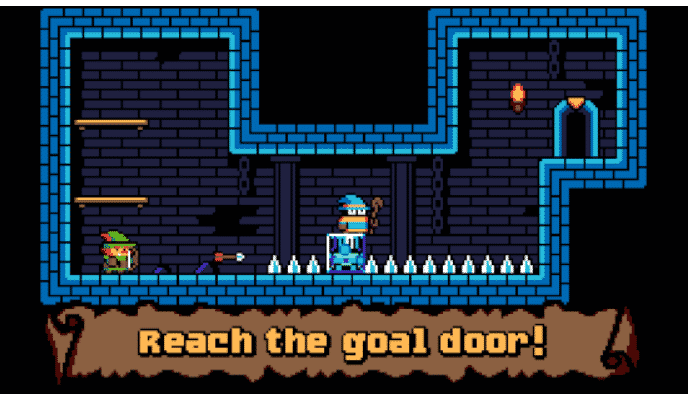 Standout Features:
Mind-bending puzzle
Control 3 heroes
Dark and deep dungeon
---
Tiny Bubble – Best Adventure Puzzle Games
Tiny Bubble is another visually pleasing game that you can try your hands on. In this game, you can fill small bubbles and merge them to create unique shapes. You can play the game in 3 different modes include Puzzles, Arcade, and Infinity. The app contains more than 170 puzzles that will test your critical thinking skills. Each stage requires skills to make the perfect bubble.
The app has ambient background sound that perfectly blends with the mood of the game. You can feel the popping sound of the bubbles while you are finishing your tasks. The game can be best experienced while using your headphones.
You can also save the tiny aquatic creatures that will earn you points. The game is highly rated and acclaimed which makes it one of the best puzzle games for users.
Related: Best Weight Loss Apps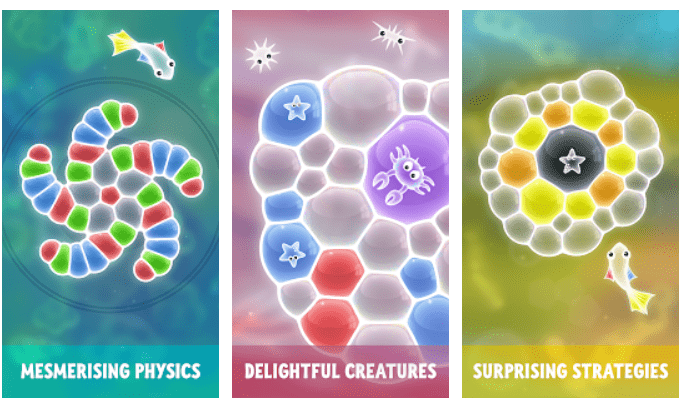 Standout Features:
Charming creatures
Hours of amazing content
Innovative new gameplay
---
Flip Flop Solitaire – Best Puzzle Games
Flip Flop Solitaire could be one of the best puzzle games for users who are fond of playing cards. The game is developed and designed to test your thinking skills and intelligence. You can try from 1 to 4 suits for free after which you need to make a purchase for the 5th suit.
To assess your skills, you can check out the best times, least moves, least undo, total wins, and total play. The game has a natural ambient binaural background to keep you always interested in the game.
Related: Best Antivirus Apps
Standout Features:
Variety of suits
Binaural background
Unlockable backgrounds
---
Aquavias – Best 3D Puzzle Games
Aquavias is a simple and engaging puzzle game that can be ideal for all age groups of people. you need to take water to the cities with the puzzle path of the game. The game has 100 levels and with each level, you need to put more effort and intelligence to get through.
The game has 100 different puzzles with different boards and stories. The app is free and you do not need to pay anything to play these best puzzle games. You can purchase the in-app purchases to get the additional perks.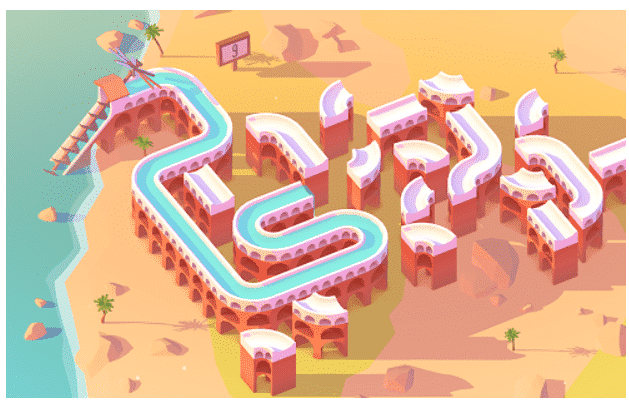 Standout Features:
100 free puzzles
Boards of different sizes
Engaging gameplay
---
Dissembler – Best Android Puzzle Games
If you love puzzles, the Dissmebler app can be perfect for you. The app contains a beautifully presented puzzled game coupled with a catchy soundtrack. All you need to do is to flip the tiles and match identical colors to start pairing.
The game has more than 170 puzzles that are handcrafted to keep you hooked with the game. You can undo the move without any penalty that is one good feature you get. The app costs you around 200 INR and does not contain any in-app purchases. You will get the daily new puzzle in the premium version of the app.
Related: Best Sports Apps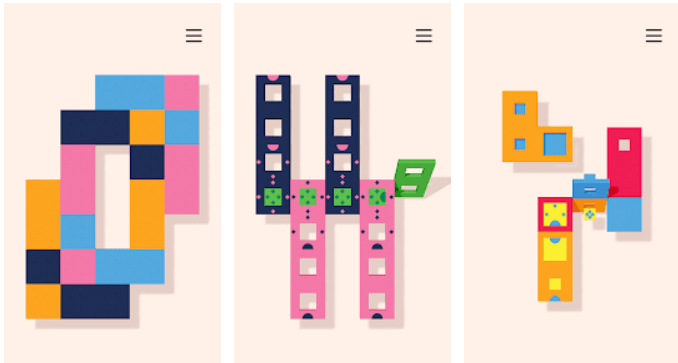 Standout Features:
Minimalist puzzle
More than 170 puzzles
Free daily puzzles
---
Mini Metro – Best Online Puzzle Games
Groom your planning skills with the Mini Metro puzzle game. First, you need to design a subway map to prepare the blueprint for your virtual city. After that, you can draw lines between the stations to run your trains on the track. You need careful planning to start creating your subway.
The app contains twenty real-world cities on which you can try your hands. You will get a variety of upgrades that will help further enhance your planning skills. You can play the game in three modes Normal, Endless, and Extreme mode. You get daily challenges to test your skills that makes it one of the best puzzle games to try.
Standout Features:
Twenty real-world cities
Variety of upgrades
Responsive soundtrack
---
NYTimes – Crossword
Crossword puzzles are one of the most interesting games which we all have played in our childhood. NY Times is one such crossword puzzle game that you can play anywhere, anytime. You get Mini puzzle, Daily Puzzle, and Puzzle packs to solve.
Mini puzzles are short puzzles that you can solve while going to the office or you just want to freshen up your mood. Daily puzzles will be given to you each day which will be getting harder every week. You first get a 7 day trial of the app after which you can upgrade to the premium version. You can download the puzzle theme packs after you have got the premium subscription.
Related: Best Credit Score Apps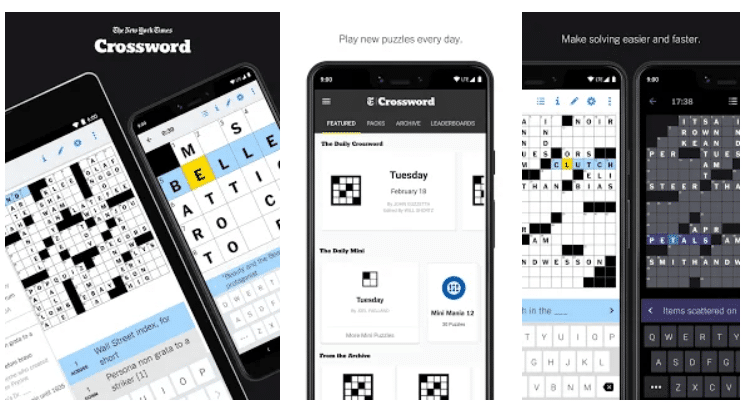 Standout Features:
Gripping puzzles
Puzzle packs
Play anywhere
---
The Eyes Of Ara – Best Puzzle Games
The Eyes Of Ara will be an adventurous treat for you. You are lost on a remote island where you find an old castle. You suddenly heard a creepy noise from inside the castle that excites you to know what is happening inside. Now it's your turn to enter the castle and unravel all the mystery.
The game contains a complex web of a puzzle that will lead you to the ultimate answer. You can find secret vaults and hidden getaways in the castle that will keep you hooked with the suspense. In midst of all this, you have a gripping background score that always keeps you interested in the game.
The immersive 3D environment of the game coupled with an organic storytelling method makes it one of the best puzzle games to play.
Related: Best Video Chat Apps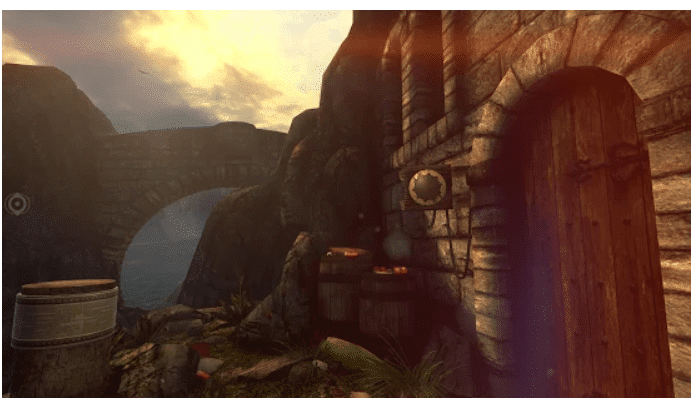 Standout Features:
Immersive 3D environment
Organic storytelling
Countless secrets to discover
---
Final Words
Enjoy these best puzzle games for Android to upgrade your skills to the next level. We have compiled the best puzzle games for you in every genre. Do like and share our content so we keep coming with more useful content for you.
Thank you for reading! Try these out too:
General FAQs
Is the best puzzle game for android free?
Several choices on our list provide free access, while others require you to pay to play. Additionally, you can also expect a lot of in-game purchases to unlock all the features instantly
Why should I choose the best puzzle game for android?
The best puzzle game for android will allow you to polish your mental ability while also offering a great source of entertainment.
Which are the best free puzzle games to play?
Total Party Kill
Tiny bubbles
Dissembler
Is the best puzzle for android boring?
No, the games tend to be a lot of fun. You can now find them in different genres; thus, download the ones that interest you, and you will never get bored of them.