Humanity has come a long way when it comes to technology. We can now access means of communication that were once impossible but are now a reality. The internet has turned the world into a global village where anyone in one part of the globe can easily communicate with another within minutes regardless of their geographical position. Digital messaging apps have massively revolutionized interaction. People can now talk to anyone using their mobile through messages or calls while also using features like Emojis and GIFs to express them.
The best GIF apps will let you create the ones to convey your mood. The Graphic Interchange Format (GIF) is short, precise, and lets you express yourself more than an ordinary photo. Although GIFs aren't a rare sight and you can easily find them everywhere on the internet, you might also be interested in making the ones that you find most interesting.
Even if the internet is a vast gateway for information and all sorts of things you want, you might not find certain things in the format you want. The best way to deal with such a situation is to download the Best GIF app for Android. It will simplify the entire task for you to create GIFs that you like conveniently.
Finding the best GIF app is a question of suitability and functionality. Let's face it: we don't want to spend a lot of time and energy finding the best ones. Our composed list of the Best GIF apps is the solution that you need.
Excited? Let's get started
Benefits of the Best GIF Apps
Customization: – One of the most significant advantages of the best GIF app is customization. It will provide you complete control to create and save the type of GIFs you can like and easily share them with anyone. Furthermore, you can use clips from different sites such as YouTube, Camera, Library, etc.
Editing tools: – The Best GIF app will also provide you with all the necessary editing tools that you might require to trim out a particular moment from a video that you want to convert. You can also apply various filters and effects to create the perfect GIF .
Easy sharing features: – After you have created a GIF , the next step is to conveniently share it across different social media platforms or use it during a conversation. The Best GIF app provides several features to share the GIF you have created with your friends and family.
Best GIF Apps for Android
---
GIF Maker, GIF Editor
GIF maker is one of the best GIF apps on the Play store, and it's one of our top picks in the category. The application provides everything that a user might look for in a tool in the category. It's easy to use and has clear interfaces that let you quickly and efficiently navigate through it. The app's features and functionality aren't compromised either as you opt for the light or dark theme.
You can use the app to create GIFs from videos, images, recordings, and videos. It supports various popular videos and image formats like 3GP, PNG, FLV, JPEG, MPEG, and MP 4. The app is available in 22 languages, thus allowing you to choose the one you understand easily.
The app's feature includes a GIF maker and editor tool that converts multiple video clips images to a GIF image. The tool also offers plenty of editing features such as speed, crop, undo, trim, filters, handwriting, emoji, sticker, resize, and a lot more. You can convert hundreds of photos and up to 50 frames each second.
Other app features include a GIF to video converter, GIFs background, Label, and Meme; quickly edit Gift, Frames and filters, and plenty of blending filters. The benefit of having all these tools is that you can easily create the GIF however you like and share it with anyone on a social media platform.
Related: Best Budget Apps
Standout features:-
Convert Pictures, videos, and screen recordings into GIFs
Filters and frames
Compress GIF to reduce the size while preserving the quality
---
GIF for WhatsApp
If you are looking for the Best GIF app that will be the ideal choice for WhatsApp, GIF for WhatsApp can be ideal for the purpose. The app offers plenty of realistic and attractive animated GIFS. The best part about it all is that it provides a vast collection to choose from, which means that you will have plenty of choices at your disposal.
The app offers various categories of GIFS that you can choose. Some of the most popular ones include 3D love GIFS, Anniversary, Birthday, Good Luck GIFs, Congratulations GIFS, etc. The benefit of these is that they will help you express your emotion or regard to the other person in a more appealing manner.
The app offers two main types of GIFS, these include animated ones, and the other is Image GIFS that are available in different real-time pictures. You can apply a filter with a sorting option to find the best Gifs as per their uploading date. GIF for WhatsApp also provides you with an easy download button to get the GIF on your device; the same also applies to images. Another valuable feature of the app is that you can easily integrate it with WhatsApp and share GIFS through it, saving time and effort.
Related: Best Route Planner Apps
Standout features:-
Various GIF and Image categories
Easy saving and sharing features
Free and Easy to use, the app
---
GIPHY: GIF & Sticker Keyboard & Maker
Giphy is another popular, one of the best GIF apps out there, and it's another Top pick in the category. The app provides one of the most extensive libraries for free clips, stickers, and GIFS. It is one of the quickest ways to search for the best GIFS and easily share them across various social media channels like Instagram, Facebook, etc.
Giphy will let you browse through thousands of GIFS, thus finding those that suit your mood. It offers various categories, making it easy to search for a particular type. Some categories include artists, clips, emojis, stickers, trending, etc. If you like a particular GIF and would like to use it often on different platforms, you can add it to your favorites for easy and quick access to it.
GIPHY also lets you create stickers and GIFS using Camera and face filters. Apart from providing GIFS from different TV Shows, sports leagues, award shows, and other moments, the app also offers plenty of tools to create it. You can create customized GIFS by camera or gallery and create stickers and animations before sharing them with your friends and family using different features. The accessible sharing features of the app are also an added benefit of it that provide convenience and functionality.
Related: Best Keto Apps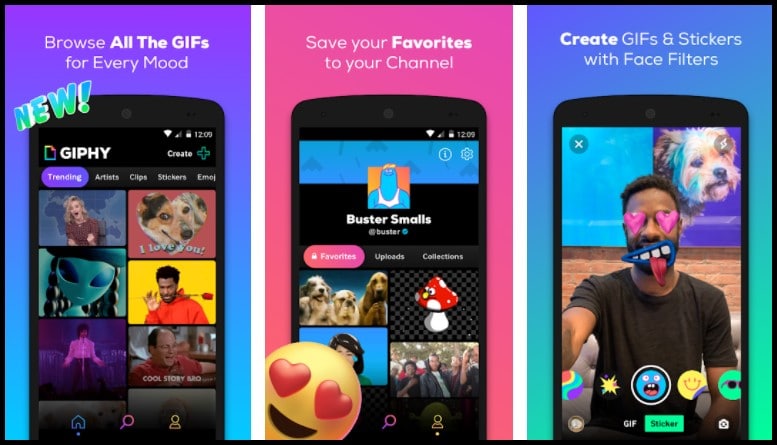 Standout features:-
Massive library with hundreds of choices
Create customized GIFS
Easy sharing options
---
Gif Me! Camera – GIF maker
Gif ME is another popular choice, and the reason we have selected it on our list of the best GIF apps is that it provides several features that let you create Gifs. The best part is that it's easy to operate and offers plenty of convenient sharing options. You can use your Android device's camera to create gifs with the integral camera and create a stop motion or sequence.
Gif ME will let you import videos images (up to 150 ). You can also save the Gifs once you have efficiently created them and share them with your friends. One notable feature of the app is that it lets you import Gifs through an online service (Tenor). The application also incorporates various editing tools, including changing the animation speed, adding stickers, borders, or texts, and applying filters to the image to ensure they are as per your requirements.
Other app features include an image sequence manager and easy sharing options for various social media platforms like Instagram, Facebook, Giphy, and Twitter. It also features a user-friendly interface that lets you create back-and-forth loop videos and GIFs.
Related: Best Manga Apps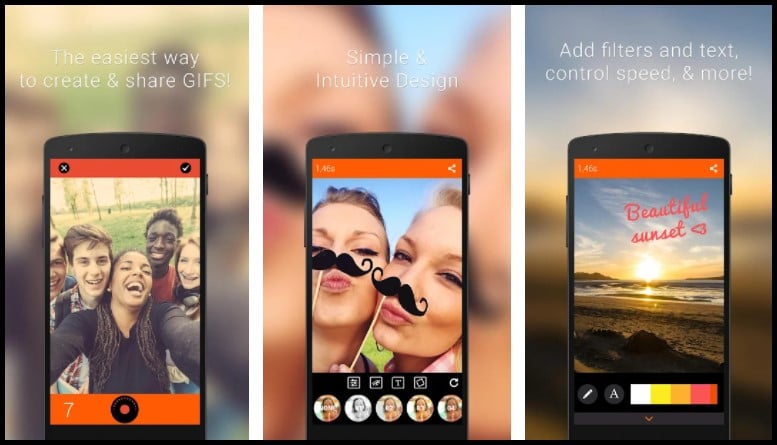 Standout features:-
Editing tools for creating GIFS
Create GIFS using multiple sources
Intuitive user-interface
---
GIF – Funny anime gifs memes, birthday & love gifs
GIF is a diverse app, and unlike other choices we have on our list, this one provides a vast library of collections that you can use anywhere. It's one of the best GIF apps if you don't feel like creating some and instead want to use the most relevant ones from the list it offers. It can provide you with HD anime GIFs, Funny meme GIFs, etc. The app will let you find the most relevant ones and send them to your friends through easy sharing options.
The app offers numerous GIFs categories, including thank you, good morning, happy birthday, or funny ones. One popular category of GIFs that the app offers is the Funny memes that let you find hilarious choices. Furthermore, if you want anime or animated GIFs, the app features an entirely separate category for it as well.
Apart from finding the best GIFs for your purpose, the app offers a one-tap download button along with easy sharing options, which let you quickly get the GIF on your device. It's also a lightweight and entirely free platform without any in-app purchases; thus, it's a harmless app with many benefits, fun, and entertainment.
Related: Best Dog Walking Apps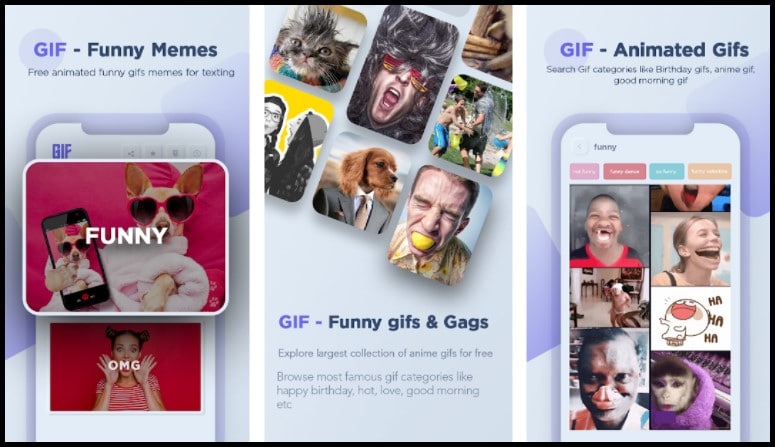 Standout features:-
Several categories of GIFs
Easy to download and share
Search for your favorite GIFs
---
GIF Keyboard by Tenor
GIF Keyboard by Tenor is one of our top picks on the Best GIF app list. The application doesn't let you create GIFs, but it provides a connection to the massive database of Gifs by Tenor that lets you choose your favorite ones. It provides a search tool that lets you add keywords or an emoji later scanned by the discovery tool, providing the most suitable choices.
The users can also search for a particular GIF depending on the trends, and since it has one of the most extensive databases out there, there is a high chance that you will find the GIFs from trending memes, TV shows, movies, and a lot more.
Once you find the ones you like by the search tool, the app can share it through Facebook Messenger, WhatsApp, or Kik messenger. You can also add the particular GIF to your collection, save it to the gallery or copy its link to share with your friends. The app is simple, easy-to-use, and comes with an interface that makes the entire process a lot more simple and time-saving. Since you won't require another separate app or spend a lot of time searching for your desired choices.
Related: Best Weight Loss Apps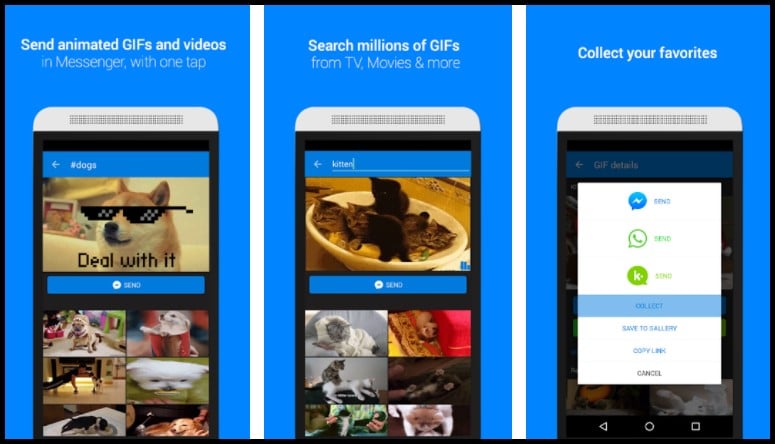 Standout features:-
Search for GIFs from a huge Tenor library
Fast sharing options
Integrate the keyboard with the regular typing keyboard for quick access
---
Final Words
Using the rights GIFs in your conversations will make it more exciting and add an entertaining aspect. Since memes are a trend that ensures that you never get bored and run out of the context of conversations, we can conclude that GIFs are a significant part of messages these days. We have thus extracted the best GIF apps from the play store to ensure you have all the options available at your disposal.
To select one app for your purpose, you have to consider your choices on whether you will like to rely on the choices it offers, or you want to create your GIFs. The 2 top picks in the category are GIF Maker, GIF Editor, GIPHY: GIF & Sticker Keyboard & Maker, and GIF Keyboard by Tenor.
Thank you for reading! Try these out too:
General FAQs
What is the Best GIF app?
The Best GIF app depends on your choices, whether you want to create unique GIFs or you want access to a vast database of it. Our top pick as the best GIF maker is GIF Maker, GIF Editor, and GIPHY: GIF & Sticker Keyboard & Maker, and to get access to a lot of choices, we recommend GIF Keyboard by Tenor.
Is the best GIF App free?
Yes, several applications on our Best GIF app list are entirely free as they offer all their features without any cost. However, some GIF creator apps will require a premium subscription before you can access all the editing tools.
Can I find Memes GIFs on GIF Keyboard?
Yes, The GIF keyboard by Tenor will let you choose from a massive database with thousands of choices. The benefit of it is that you can find all the trending memes or GIFS from your favorite movie show or series that you can use during a conversation.