Over the past two decades, the evolution in technology has changed humanity's world experiences. One of the most significant miracles of innovation is witnessed in the entertainment sector, where Televisions, applications, and mobiles ensure we have more available than we can handle. Since we can now watch music, photos, videos, and movies on our mobile phones, there comes a time when you want it to appear on your television screen, and for this purpose best casting app is a great choice.
Smart TVs are a trend, and nearly every household has one of the best casting apps that will make it easier for you to connect your device to the TV. It will allow you to play anything on your android, and the output can be seen on the big screen. The apps eliminate the requirement of having long cables that take a lot of time to set up, and instead, you can easily download the app on your Smart TV for compatibility.
The best casting app will make it convenient to connect to your TV screen and cast a special event. Furthermore, it also provides users with a lot more content which means that its diverse functionality is also an added benefit.
However, selecting the best casting app requires background knowledge like compatibility and features. Unfortunately, with so many apps available on the Play store, it becomes nearly impossible to test each one. If you want to find the right choice for yourself, then you can rely on our list of the best casting apps.
Excited? Let's Get Started
Benefits of Best Casting Apps
Versatile functionality: – The best casting app allows you to cast online and local videos, images, and music to your Smart TV. Furthermore, it also allows you to maintain control over the entire process by using your smartphone. Thus, its versatile functionality and convenient control features make the apps extremely useful for people who enjoy their gadgets.
Compatibility:- A huge advantage of the best casting app is that it lets you cast to different platforms, including chrome cast, Smart TVs, Xbox 360 and one, Amazon Fire TV, Apple TV, Roku, DLNA receivers, etc. So, regardless of the devices or TV, the applications will allow you to connect with it easily.
Easy to use: – A lot of the users often worry about the complication of the operation. Since it might be difficult for many users if they aren't aware of the technology, the best casting app simplifies the entire process. Thus you can easily cast your favorite video or audio conveniently.
Best Casting Apps for Android
---
Cast to TV
If you search for the best casting app that provides versatile compatibility with different devices, Cast to TV is a great choice. The application offers an easy-to-use and intuitive interface that lets you instantly connect with multiple devices. It lets you cast online and local videos, images, and music to TV. Some other devices that the app supports are Chromecast, Amazon Fire Stick or Fire TV, Roku, Apple TV, Xbox, and other DLNA devices. The device will provide you with a platform to connect to these devices and easily stream movies and videos.
The features of Cast to TV include an easy control feature that will let you use your phone to perform operations like pause, increase or decrease volume, rewind or forward, etc. You can easily select the music, video, and photos you would like to cast through the efficient interface. The app also provides you the choice of streaming videos from the internet, and there is also a local playback available for videos.
The auto search feature lets you find the available streaming and casting devices, while there is a smart identification feature for searching all the device and SD card files. The app provides an inbuilt browser for the web videocast that makes it more accessible. If you want to play multiple videos and audios, you can easily create a Play Queue while Cast to TV lets you repeat, shuffle and create loops. Another helpful feature of the app is its photo slideshow cast which lets you add all the pictures to display them automatically without running back and forth to your mobile.
Related: Best Budget Apps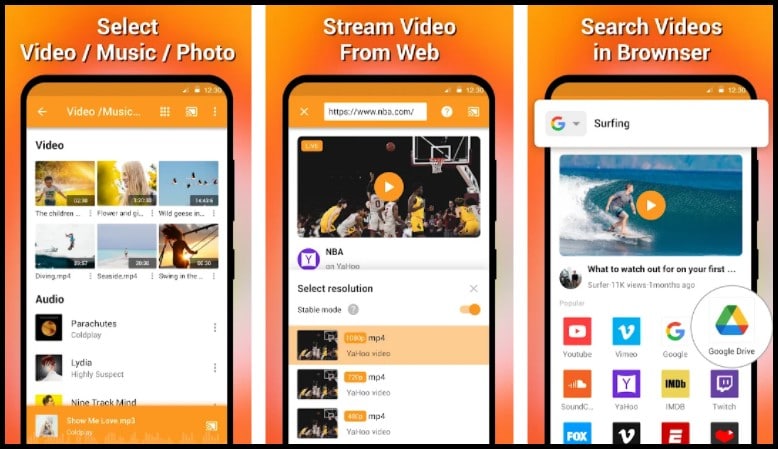 Standout Features:
Easy control features
Compatible with multiple devices
User-friendly interface
---
Web Video Cast
Web Videocast is our Top Pick in the category as the application is one of the best casting apps on the Play Store with over a million downloads. The app is an exceptional choice that lets you watch your favorite TV show, live streams, IPTV, sports on your TV. You can also use it to cast the videos saved on your device while supporting audio files and photos. A valuable feature of the app is that you can also use subtitles or rely on the in-built search of OpenSubtitles.org.
The User interface of the web videocast is simple yet excels in functionality. All the features are easily discoverable on the home screen, while the app also makes it convenient to navigate through it. It supports nearly all the famous streaming devices that allow your TV to stream directly from the internet. Some of the devices it supports include Chromecast, DLNA receiver, Roku, Smart TVs, Amazon Fire TV and Stick, PlayStation 4, etc.
The app supports HLS live streams, MP4 videos, movies, TV shows, live sports and news, HTML5 videos, IPTV, Audio files and photos, etc. You can easily search through the media on your mobile and connect to any device conveniently. The app lets you remain in control of the videos, which means that you can forward, rewind it or control the volume and stop and pause at any instance.
Related: Best Route Planner Apps
Standout Features:
Cast local videos and online streams
Search through the multimedia
Efficient and easy to use, the app
---
Screen Mirroring
Screen mirroring- All mirrors let you cast your favorite TV show from the mobile screen to a large television screen in high quality and speed. The app lets you access various media files, including photos, videos, e-books, music, games, etc. The app is one of the best casting apps that lets you quickly cast to a TV screen that you can enjoy with your friends and family.
The app supports various devices, including smart TVs like Sony, Samsung LG, etc. Its also compatible with Google Chromecast, Amazon, Roku, AnyCast, and other DLNA receivers. The most beneficial feature of the app is that it lets you cast the screen to your TV screen with excellent stability, and you can create a fast yet straightforward connection with a few simple clicks. In terms of the casting options, you can use screen mirroring to cast Twitch, YouTube, and plenty of other live videos as per your requirements.
Furthermore, the app is also compatible with various media files, including audio, e-books, photos, PDFs, etc. The clean and convenient user interface allows quick navigation, providing you with an impeccable experience. The app is exceptional for screen sharing in real-time speed and convenience.
Related: Best Keto Apps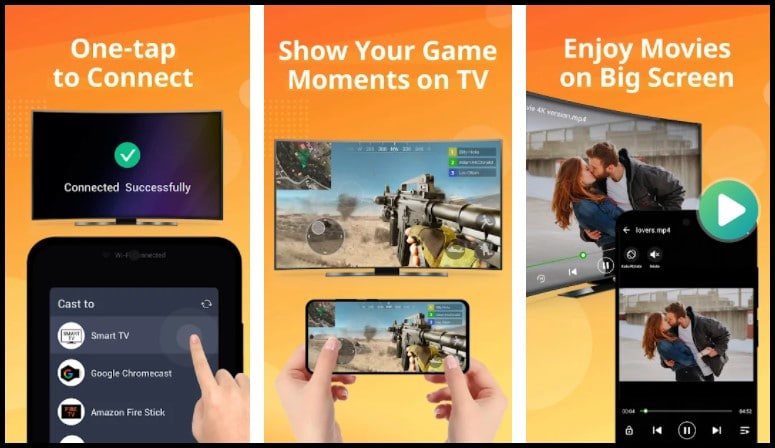 Standout Features:
Compatible with multiple devices
Establish a quick connection easily
Cast live and local videos on your TV
---
iMediaShare
iMediaShare is not the most aesthetic application on the play store, but it can do great. It is one of the best casting apps for playing your videos, photos, and music immediately on the audio system or the TV screen. The app offers a friendly and straightforward user interface to quickly navigate the features you want to use. Hence, although it might not provide you with all the advanced features, the app remains an excellent choice in terms of functionality.
The app is compatible with Samsung TV, LG TV, Apple TV, XBOX, and Sony TV. Furthermore, establishing a connection with the device is convenient as it only takes a few minutes. The app's interface will allow choosing the option you like; it provides a tab for gallery videos, gallery photos, music, local network, best online videos, and even Facebook. You can choose media from any source and cast it on your TV using the app. Choosing the photos, music, and videos is also extremely easy as the app compiles it all in a list that you can choose from conveniently.
iMediaShare scans your phone storage and SD card to find all the media available on your device before letting you cast it. Overall, it's a simple app that performs great for people looking for less-complicated features.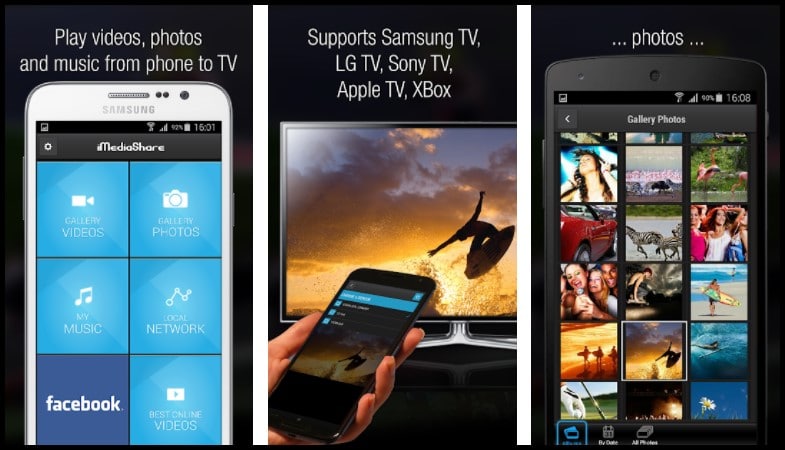 Standout Features:
Easily play videos, music, and photos from phone
Provides a preview of the video, pictures, and audio
Simple interface
---
Quick Cast for Chromecast
Quick Cast is our second Top pick on our best casting app list. The application is a versatile choice that provides exceptional functionality and impeccable features to connect with various devices easily. The application will let you cast to a TV or Chromecast, but it doesn't end here as it's also compatible with other receiver protocols such as Amazon Fire Stick, Android TV, ROKU, Fire TV, KODI, DLNA, etc. At the top of all the beneficial features, the app also offers an aesthetic user interface which makes the app an attractive choice.
The app is ideal for casting videos, images, music from your gallery. Furthermore, you can also use it for casting live streaming of movies, anime, series, and a lot more. The entire process of establishing a connection and starting a stream will only take a few minutes. The app can detect the cast and streaming devices efficiently while casting the videos automatically on the web. It also offers an ads blocker to prevent any annoying interruptions. You can easily bookmark to save your favorite videos or websites for streaming.
The app supports multiple video search engines. It also lets you cast local videos, including photos, music, audio, etc. The control features are also offered through the phone, which lets you pause, previous/next, volume and forward/backward, etc., thus adding convenience. Apart from supporting multiple casting devices, the app is compatible with Chromecast 1,2, and Ultra 4K HD.
Related: Best Dog Walking Apps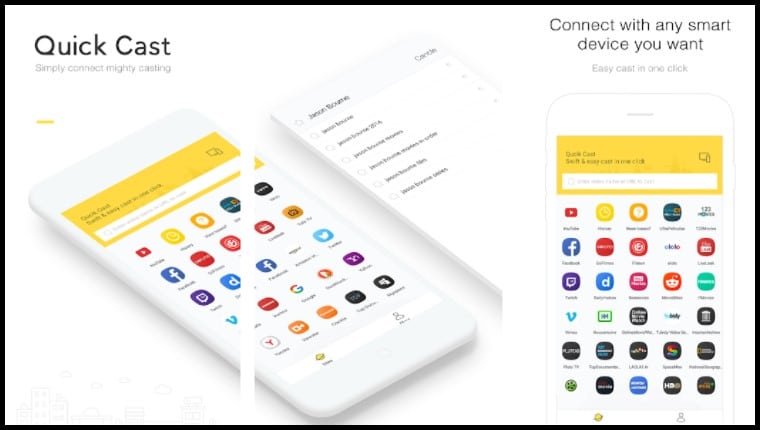 Standout Features:
Various video search engines support
Easily detect various casting and streaming devices
Efficient control features from the phone
---
Cast TV for Chromecast
Cast TV or Castify is an app that excels in functionality, making it a popular choice on our best casting app list. The application will allow you to cast photos, videos, and music from your mobile device to Smart TV and a lot more device. The app's features are simple yet functional, so you don't need some immense computing knowledge to operate it. Instead, you can conveniently connect the mobile with the desired device.
Castify is compatible with various streaming devices, which means it is a versatile app. Some of the apps that it supports include Chromecast 1,2 with Ultra 4k HD, Fire Stick or Fire TV, Apple TV, Roku Express or streaming stick and TV, DLNA receivers, Xbox 360 and one, and Google Cast, and Smart TVs with built-in DLNA receivers.
The application is an excellent choice for casting online videos and local ones on your TV. The app also offers a screen mirroring feature. It maintains a play history if you want to rewatch anything, and you can also bookmark your favorite websites. The app's search feature allows you to quickly search for videos on any website. Some other app features include Popup blocks, picture in picture (PiP), Roku channels and remote control, Substitiels for Roku and Chromecast, and Many custom themes.
Related: Best Weight Loss Apps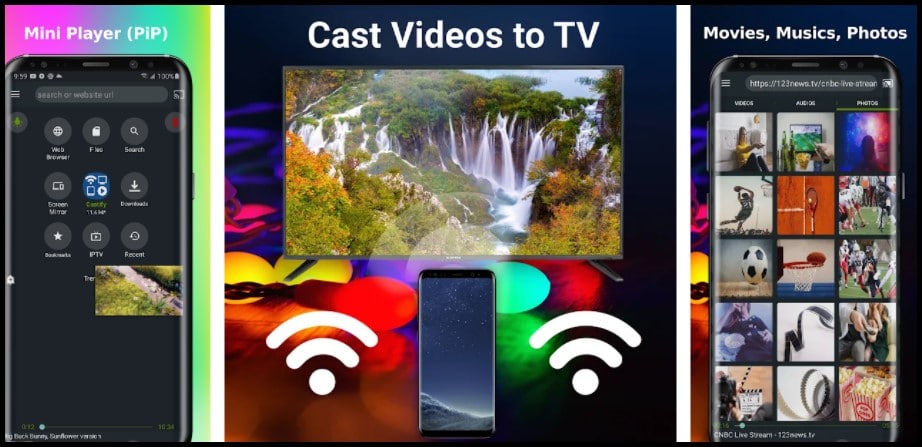 Standout Features:
Screen mirroring feature
Stream online videos and local ones to the TV
Efficient app
---
Final Words
Choosing the best casting app isn't easy, mainly if you aren't aware of features and functionality. Our list of the best casting apps above shortlists the choices and provides extensive insight into their operations and the benefits they offer, so when choosing an app, you should consider the choices given above. The final choice will fall on your expectations and requirements with the app. As per our recommendations, our top 2 picks in the category are Web Video Cast | Browser to TV and Quick Cast for Chromecast, Fire TV, and Roku TV.
Thank you for reading! Try these out too:
General FAQs
What is the best casting app?
The best casting app will allow you to connect your mobile device to the TV and other streaming devices. We recommend that some of our list choices are Web Video Cast, Quick Cast, and Castify.
Is the best casting app free?
Yes, the best casting apps are usually free, and you can get plenty of the features, including casting audio, videos, and pictures on your Smart TV. However, some choices offer a premium subscription which unlocks advanced features.
Is the best casting app useful?
If you want to cast photos, videos, and images from your mobile device to the large screen of your TV, the best casting app is an ideal choice to execute the desire.