Gallery apps aren't paid much attention to by the phone manufacturers. By default, most Android devices come with the Google Photos app that doubles up as a gallery app and a touch-up tool. But there are plenty of options in the category of the best gallery app for Android. These best gallery apps let you do a lot of things including basic photo viewing.
Modern gallery apps for Android focus heavily on customization, privacy, and image previews. The best gallery apps for Android devices can also run multiple image and gif formats without breaking a sweat. I have rounded up the best gallery app for Android that will help to view and manage your images and videos easily.
Excited? So, Let's Get Started.
Benefits of Best Gallery Apps
More customization: The most significant benefit of the best gallery app for android and a popular cause of its recognition is its ability to offer better customization options. You can change it to a particular theme to make things more attractive.
Better privacy features: When we aren't using our phones, a common concern is to ensure nobody evades our privacy. Since your gallery might contain various pictures and videos you don't want anyone else to see, you can protect it by a Pin or password or by AES encryption, a feature of the best gallery app for android.
Editing tools: If you don't want to get a separate app while also enjoying some editing features, the best gallery app for android is the ideal choice. Many applications provide various tools that will help you in touch-ups.
Best Gallery Apps for Android
AI Gallery
If you search for a simple yet efficient app that features our best gallery app for android lists, AI gallery is the ideal choice. The app features a light and a faster design that will provide you with plenty of features. AI gallery will allow you to reorganize the entire home screen and provide proficient album classification.
The app's features include multi-templates for puzzles, various tools for picture editing, and a much-needed photo cleanup feature for the app. The photo compression tool will let you compress the images and get more storage in the phone. A notable feature of the app is that it lets you create a private album that lets you lock and unlock different photos and videos.
Other features of the AI gallery include a dark mode, easy sharing options, a slideshow for pictures, convenient Zoom-in options, and album creation options. Overall, the app is a great choice to offer customization and ensure your phone doesn't slow down.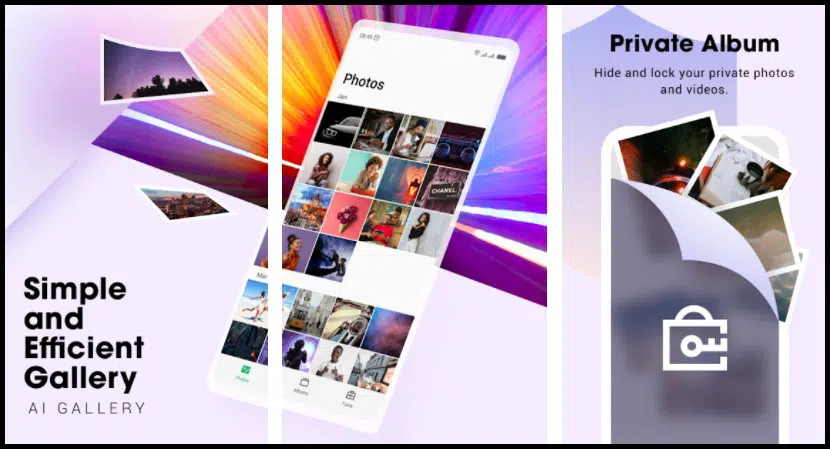 Standout Features:
Homepage reorganization
Easy phone cleanup
Picture editing tools
---
1Gallery – best gallery app for android
1Gallery is among the easiest picks for the best gallery app for Android because of its captivating interface. The moment you open the app, you are presented with a borderless image arrangement with enough space to distinguish between two images. The app supports both light and dark themes but I prefer the former as images already have multiple colors.
1Gallery is our prime pick for the best gallery app for Android because it offers privacy features that let you hide your images and video files. It is not just a basic pin/password arrangement and also encrypts the photos with robust AES encryption. 1Gallery also has a decent photo editing module that helps you to alter existing images, apply filters, trim videos, and resize them. Overall, 1Gallery is among the best gallery apps for Android that even supports multiple file format playback.
Related: Best Unknown Android Apps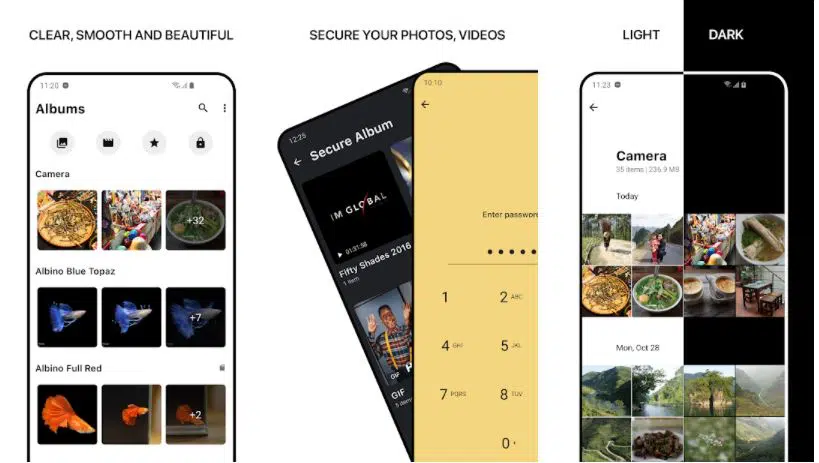 Standout Features:
Inbuilt video player
Photo editor
AES encryption standard for media
---
Google Photos – best gallery app
Google Photos is inbuilt on most Android devices and can be a pretty handy gallery app to arrange and manage your photos and videos. With Google Photos, you get 15 GB worth of cloud backup storage to replicate your image and videos. Even if you accidentally delete them or lose your smartphone, the photos will be securely housed in cloud storage. A simple login will bring all of your memories back.
Google Photos deserves a spot on our list of the best gallery app for Android because it also is a handy image alteration app. You can apply a wide range of filters and can select and crop images. This app can automatically create albums as per upload date and can effortlessly create collages, animations, panoramas very easily. You also get Google Lens integration within the Google Photos application that can scan for text within your images. Google Photos is a very capable app that is way ahead of any basic gallery app for android.
Related: Best Parental Control Apps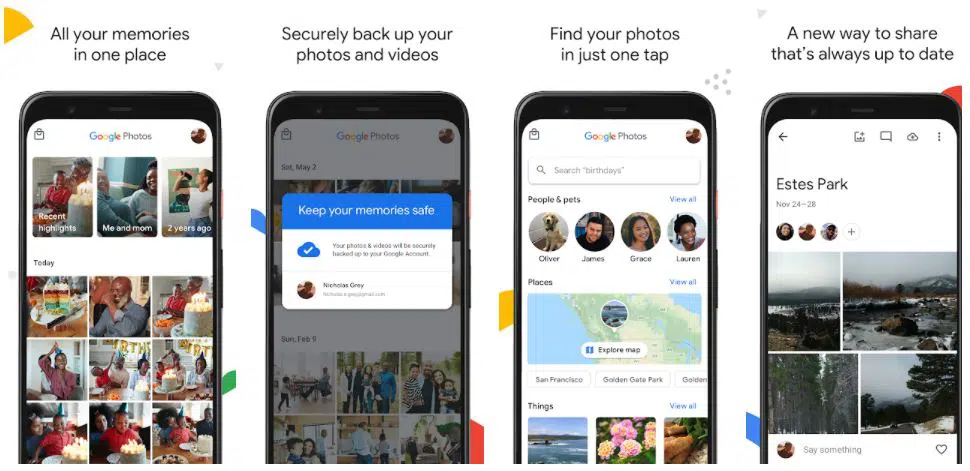 Standout Features:
Automatic Album Creation
Image customization
Google Lens
---
A+ Gallery – best android gallery app
A+ Gallery is among the best gallery app for android that comes with image protection, sharing, and sorting features. The app adopts a material layout that looks good and simple just like the iOS theme. You can choose from a variety of themes in the app and can set them with minimum effort. This gallery app automatically arranges photos by their date and location, which can be easily traversed using the map view. You can search photos by date, location, and even color via a simple color picker.
A+ Gallery can easily connect your phone with all the cloud storage services you use and can easily sync media across them. You can set up automatic backups to save your images to the cloud. This best gallery app for Android also allows you to hide your albums and images and can also lock them behind a pin/password. It doesn't encrypt the images which means your images can be exposed if someone successfully copies them. The only troublesome feature about this gallery app is that it displays persistent ads.
Related: Fastest Android Launchers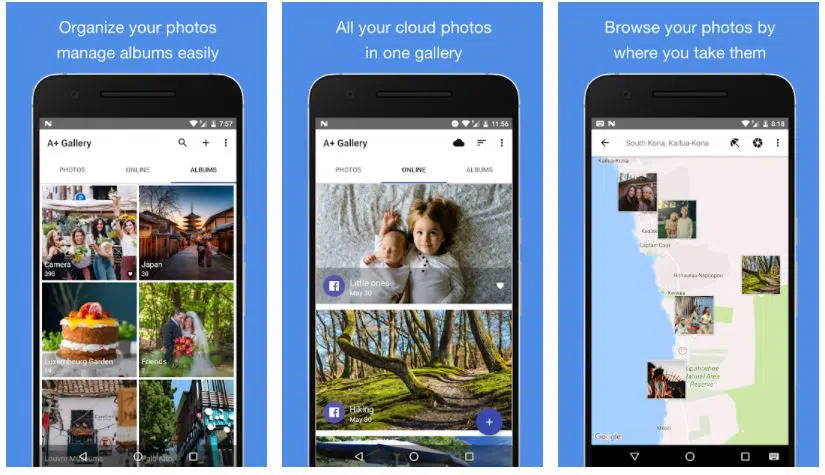 Standout Features:
Powerful search tool
Organize images by location
Sync and backup to cloud
---
Gallery Go – best gallery app android
Gallery Go is a lightweight gallery app by Google for phones that find Google Photos difficult to run. The app has a very limited feature set but is still one of the best gallery apps for android. Its USP is its lightweight design that consumes minimal system resources. The app automatically categorizes your images every night so that you spend little time searching for your recent photos.
This best gallery app for android doesn't require 24/7 internet access and works offline without any difficulty. You can effortlessly move your images across different folders and external storage devices with a simple tap. Gallery Go also has an auto-tune-up tool that retouches your photos so that they look their best. Simple image adjustment features are also available to crop and apply filters. It doesn't have the option to secure photos or hide them.
Related: Best News Apps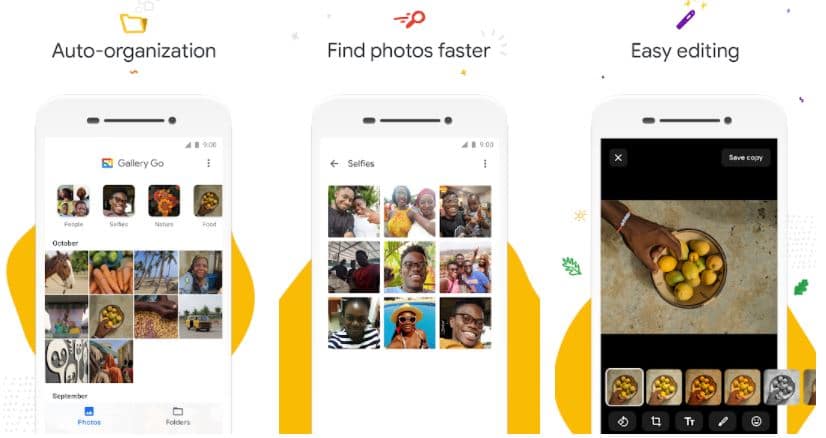 Standout Features:
Auto image touch-up
Small and lightweight
Works offline
---
F-Stop Gallery – best photo gallery app
F-Stop Gallery is among the most sophisticated gallery apps that can overwhelm you with its features. This is among the best gallery app for Android that can help you clear clutter from the device and help you easily access your favorite memories. You can instantly search for an image based on its metadata and XML tags, which can be easily read by this gallery app. Like the A+ Gallery app, this app also displays the images in a location-based format by clubbing them according to the places they were originally clicked.
Due to the location feature, it becomes easy to revisit your experiences of visiting a particular location for sightseeing, trips, or a fun weekend. You can also save tags to your images for future accessibility. F-Stop Gallery is among the best gallery app for Android that has an inbuilt gif viewer along with smart tags and slideshow features. Some features are restricted to the PRO version but the password protection feature for images and albums is included.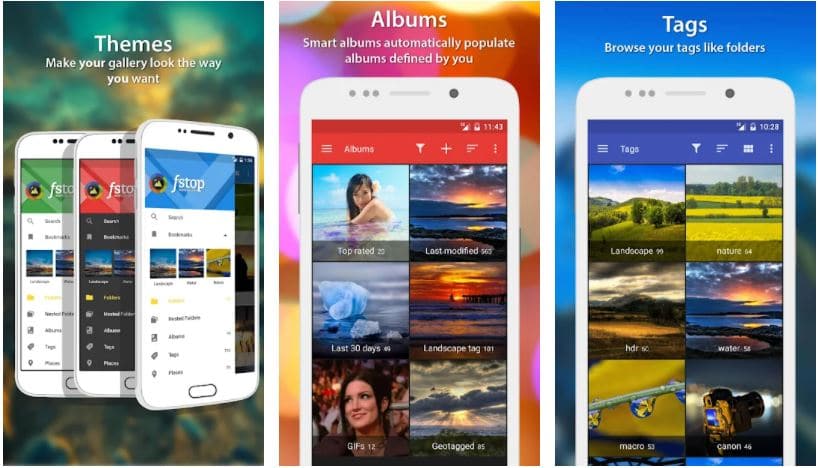 Standout Features:
Reads Metadata
Location-based categorization
Multiple themes
---
Simple Gallery – best photo gallery app for android
Simple Gallery offers an ad-less experience of viewing your photos and videos with a stunning UI design. It is one of the best gallery apps for android with a clean and effortless image-browsing experience. This gallery app has a decent image editor which can help you to spruce up your snaps in multiple ways. The app securely keeps your private photos locked behind an in-app security mechanism that unlocks only with your fingerprint.
Simple Gallery supports JPEG, PNG, MP4, MKV, RAW, SVG, GIF, and many more file formats, so viewing almost every type of image is possible. You can customize your gallery with vibrant layouts and make it work as per your need. It allows seamless file sharing with your contacts and users can assign permissions to each album or image. Hidden galleries can be defined to save your photos from unintentional access.
Related: Best Running Apps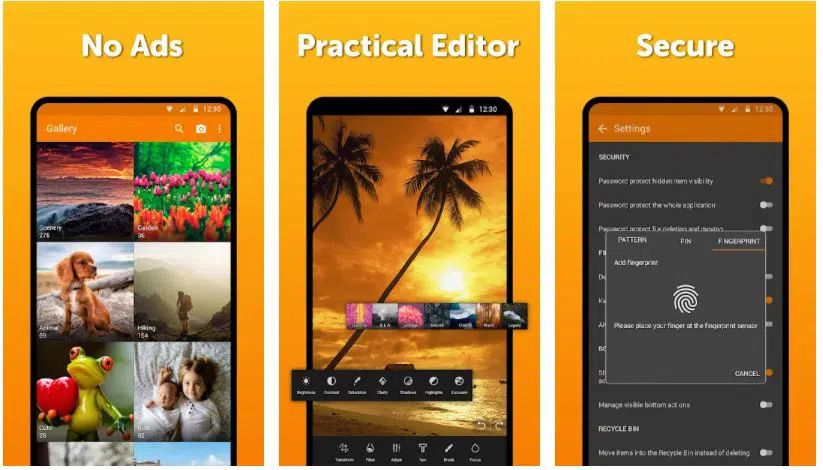 Standout Features:
Photo security
Image editor
Multiple image format support
---
Focus Go – android best gallery app
Focus Go is an enthusiast-level application that simplifies the gallery application. The developer displays his frustration with third-party gallery apps that are bloated with features that a user may never need. It is a simple approach to image viewing that does just that and nothing else. The app is in the beta phase and is jittery but still displays images with an option to zoom them without losing quality.
Focus Go is one of the best gallery apps for android that does just basic things including image viewing and sharing. No image editor or file security mechanism is bundled with the app. There is an option to switch to a 32-bit encoder for better image viewing but that can be difficult for novice users. If you hate the advertisement-laden gallery apps for android, you can go for Focus Go.
Related: Best Keyboard Apps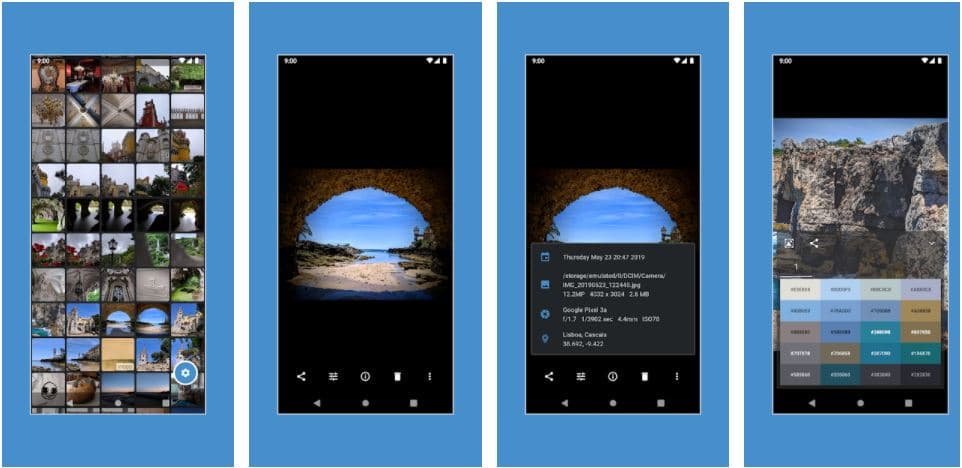 Standout Features:
No ads
Optional 32-bit encoder
mage sharing
---
Photo Gallery – best free gallery app for android
Photo Gallery is the best gallery app for android that tries to bundle every useful feature with the app to make your life easy. It acts as a photo viewer, photo vault, photo editor, and organizer so that you don't have to look for any other gallery application. It provides HD photo viewing and slideshow features to watch your memories in one go.
Album creation and file sorting by date, size, the name is possible with the option to store the deleted images in the trash for added security and to prevent accidental deletion. This gallery app comes with many pre-built templates and can help you create collages with one click. Its image editor allows stylish Stickers, Text, Doodle, Filters, Mosaic, etc to be embedded into the picture. It can also encrypt your images so that they cannot be even accessed using the file manager application.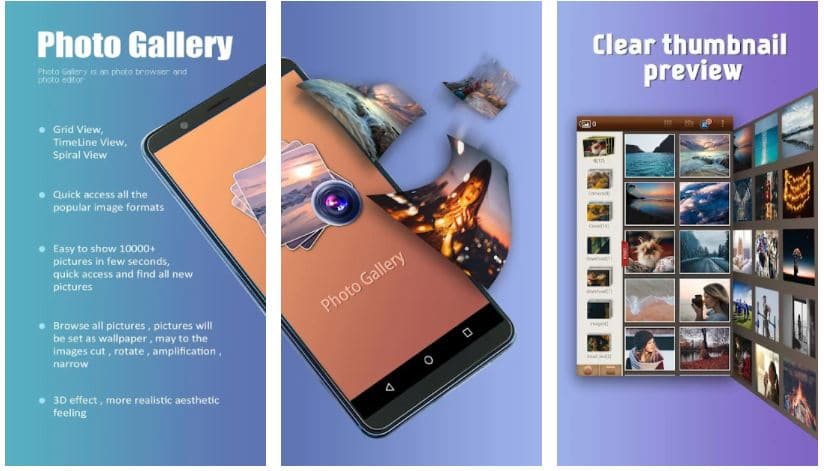 Standout Features:
Photo vault
Photo editor
Image encryption and password protection
---
Gallery Vault – free gallery app for android
Gallery Vault works as the name indicates, as a media security vault. Still, it is among the best gallery app for android with excessive attention to security. Gallery Vault allows you to hide pictures and videos and even set up dummy content and passwords for unauthorized users. The app also has an option to privately browse websites and download images from websites as well into a folder. All the images and videos are encrypted and there is no limitation on encryption size.
Gallery vault also supports hidden icons to truly hide the gallery app from everyone's sight. You can shake your phone to instantly close your gallery vault app if you are in a hurry and can also enable break-in alerts to know more about the prying eyes. Overall, if you are worried about privacy, Gallery Vault is one of the best gallery apps for android that you can install.
Related: Best Investment Apps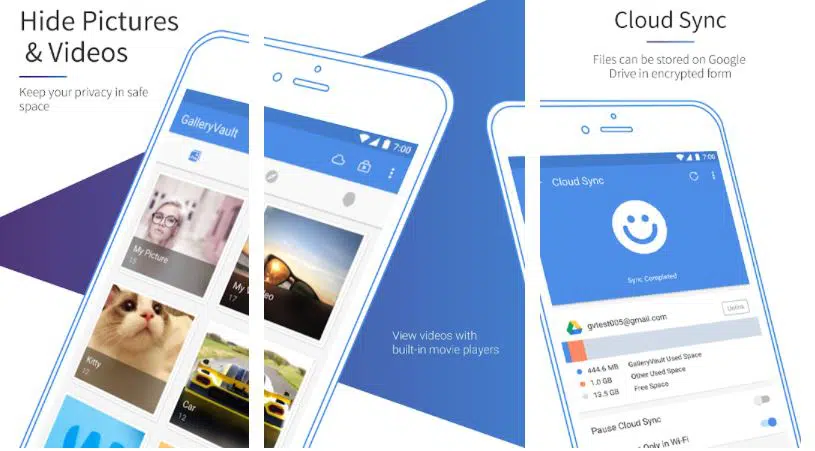 Standout Features:
Hidden icon
Break-in alerts
Image encryption
---
Memoria Photo Gallery – best free gallery app
Memoria Photo Gallery is a heavily customizable gallery app for android that lets you take control of every little aspect. This best gallery app for android lets you personalize the app as per your preferences. The material design looks simple yet vibrant and is fast to scroll and operate. It allows you to apply a custom profile picture and to change the accent color with a color that matches your vibe. This best gallery app supports pinch to zoom and other swiping and tapping gestures.
Memoria photo gallery lets you apply a cover photo on albums, create image vaults, alter album visibility and mark your favorite albums for easy access. The new updates have brought a deep search functionality along with a casting feature to cast images and videos on supported devices. All in all, whatever feature you are looking for in a gallery app is present in this best gallery app for Android.
Related: Best Apps For Secret Texting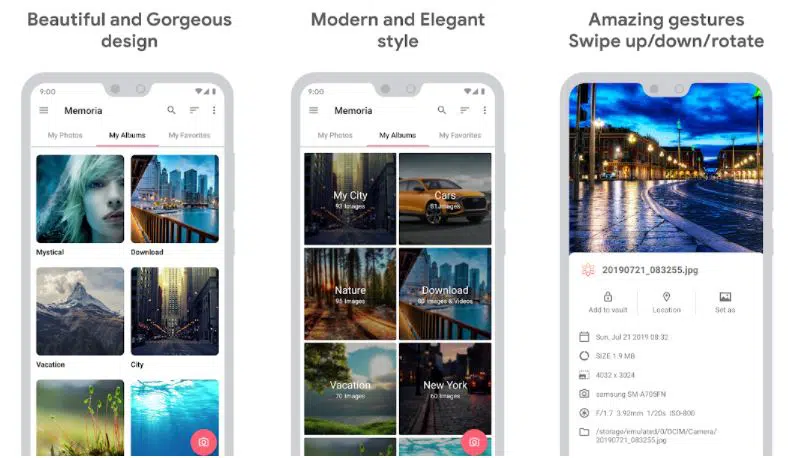 Standout Features:
Material UI with themes
Image vaults
Album cover
---
Amazon Photos – best gallery app without ads
Amazon Photos is a great app for Android users that have an Amazon Prime subscription. It relies on cloud storage to keep your photos safe and accessible. Prime members get unlimited storage space for images along with 5 GB of space for videos in their accounts. This storage can be shared across five family members or friends and is a great way to organize and store your photos in one place.
The app is not very complex and has a great casting feature that can display your image on compatible devices including Fire TV, tablet, computer, or on the Echo Show. Prime members get the ability to perform deep searches using keywords, locations, etc, and also share photos and albums via SMS, e-mail, and other apps. All in all, one of the best gallery app for Android for Amazon Prime users.
Related: Best Journal Apps For Android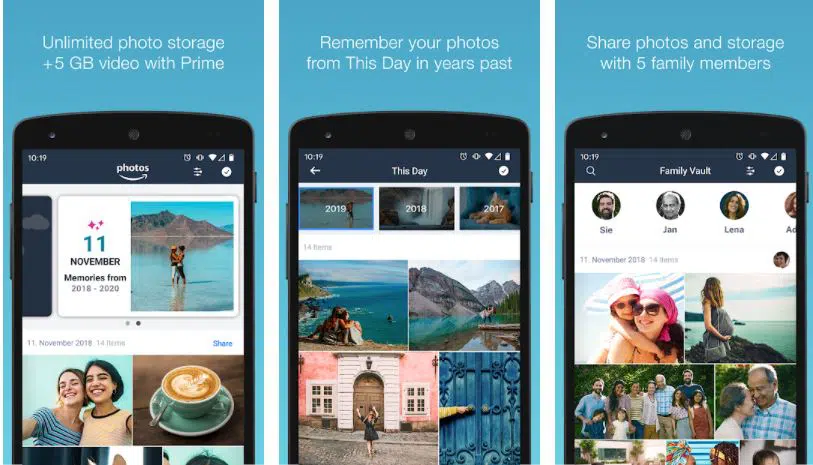 Standout Features:
Cast photo albums
Unlimited cloud storage for images
Share images
---
PhotoMap – best gallery app for iphone
PhotoMap is a different approach from the rest of the gallery apps mentioned in our list of the best gallery app for Android. This gallery app is helpful in organizing your images by geolocation. Whenever you need to make a quick search, you can search the images using the location. Also, it arranges the albums based on geolocations in a map view that looks stunning and marks your achievements.
PhotoMap also has an AR feature to help you enjoy your still in augmented reality and cherish the details. It displays the photos in a calendar view by default that looks equally good and also helps you mark your thoughts about each picture. You can add metadata to your images using this best gallery app for Android and also add GPS positions in your images. The paid version has its advantages and I suggest you should go for that.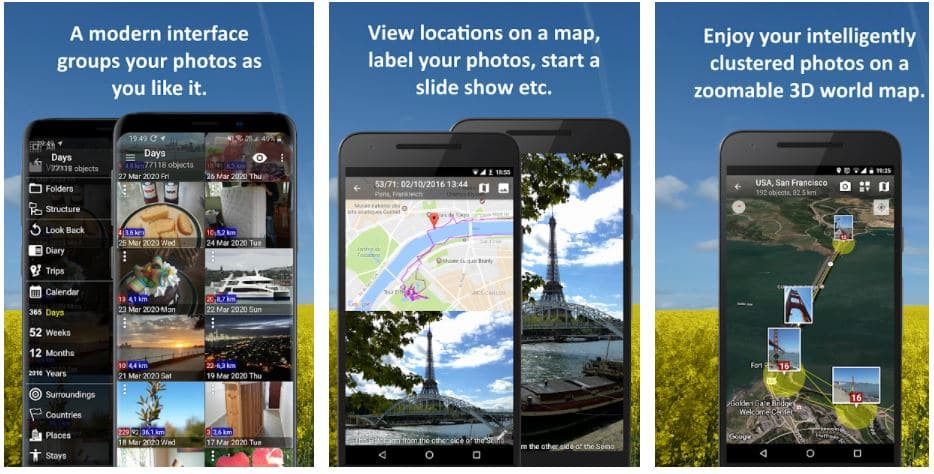 Standout Features:
Geolocation tagging
Map view
Calendar view
---
Piktures – best gallery app for android
Piktures is a lucid gallery app for Android that lets you add, modify, and hide your images. This best gallery app for Android can access your photos and videos on your device and sd card. The app allows you to connect with your different media storage accounts including Dropbox, Google Drive, and One Drive. Also, you get the option of a secret space to hide your most sensitive and private images.
Along with most image viewer and security support, you can also edit your images and apply appropriate filters using this best gallery app for Android. There is also an inbuilt video player to help you view everything inside the app itself. Apart from most image and media formats, a gif player and an animated gif maker are also available for users. Also, a handy QR code scanner is inbuilt if you need to scan a QR code for URL or downloading files.
Related: Best Cryptocurrency Apps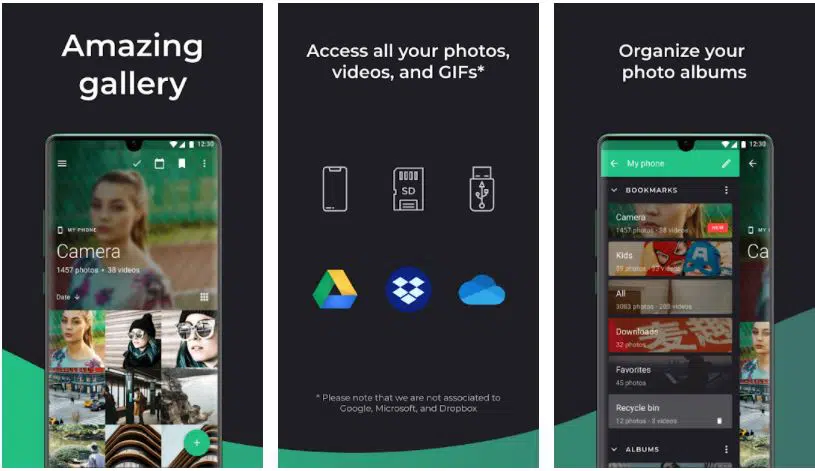 Standout Features:
Gif maker
Hidden folder
Cloud storage access
---
Final Words
These were my picks for the best gallery app for Android that packs a useful set of features. Most of the apps are pretty much ad-free but a few of them do display ads in the free version. My best picks from the lot will be Google Photos, 1Gallery, A+ Gallery, and Gallery Vault. Please add any other best gallery app for Android in the comments section that must have slipped my mind.
Thank you for reading! Try these out too:
General FAQ