The impact and significance of technology are undeniable as we find it making away in every part of our daily lives. The 21st century is known as the "era of science and tech," as we regularly witness developments in the sector. Innovation has massively improved mobility productivity while also being time-efficient. The field of medicine and well-being is no different as several health tools make our lives easier, and among many others, the best diabetes app has a lot to offer.
Diabetes is one of the most common medical conditions, and unfortunately, it could pose massive health setbacks. Luckily, we have a reliable tool in the best diabetes apps that you can use to your advantage as a management app for the disease. The app will let you conveniently share accurate health data with the medical team to ensure you get the best treatment.
Whether you have gestational, type 1, or type 2 diabetes, it's essential to understand how physical activity food interacts with the blood sugar levels since it's crucial for managing the condition. You can use the app to deal with diabetic concerns such as insulin doses, carb counts, glycemic index, A1C, weight management, blood pressure, or glucose; the app will help you out.
However, the primary concern lies in finding the best diabetes apps. It's not easy, and thus we have compiled a list of some of the best choices you can find.
Excited? Let's get started
Benefits of Best Diabetes Apps
User-friendly interface:- One of the most significant features of the best diabetes app is that it provides a user-friendly interface that lets you easily navigate through the app and find the relevant features. The last thing you might want, particularly for medical apps, is a complex interface. The apps ensure that all the features are easy to find.
Customized features and functionality: One of the major concerns among diabetic patients is that they have to do things differently to manage their health condition. You might not want to spend hours surfing the internet for it. The best diabetes app ensures that you have customized recipes, accurate health information, better organisation, carb counting, and an accurate track of your blood glucose levels
Better integration:- Physical activities are important for diabetic patients, and thus you need an app that will be compatible with health watches such as pedometers. The best diabetes app will ensure that you can easily integrate it with various high-tech tools and enhance health management.
Best Diabetes App for Android
---
Bezzy T2D
Bezzy T2D is the best diabetes app for community conversations. The app will connect you to an online forum with other patients with a similar diagnosis to never feel left out or alone. You can talk to other users on a wide variety of topics such as managing daily life, nutrition, diet, mental health, etc. The benefit of it is that it will transform your perception and mindset; thus, you are better equipped with using the right strategies that will improve the quality of your life.
The app will let you discuss different topics related to diabetes, such as general conversations, monitoring, and tests, healthcare, treatments and medications, relationships, a separate section for newly diagnosed patients, etc. Furthermore, you can also select a particular keyword topic and get all the relevant topics in forums.
Every user can create a profile with their age, location, diabetes type, and diagnosis date. You can then proceed to connect with them if you want instantly. The app also updates itself with the latest articles about the diabetic lifestyle and T2D news to ensure you access the latest information.
Related: Best Budget Apps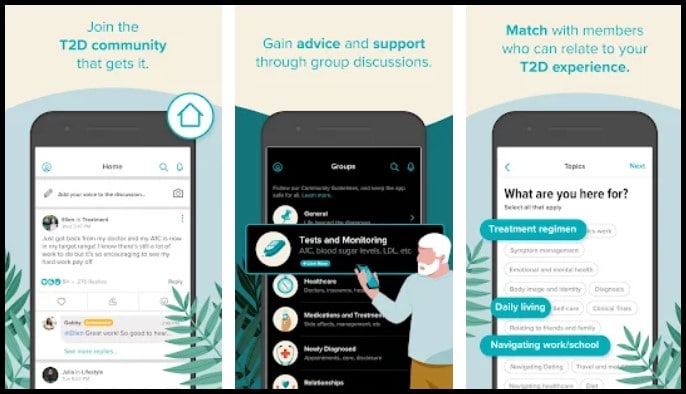 Standout features:-
Live chats
Discussion forums
Discover the latest articles and news
---
Fooducate – Eat better. Lose weight. Get healthy.
When it comes to practicing a healthy lifestyle with diabetes, diet is the most important thing. Knowledge about it is powerful and can help you live the best life possible despite the complications imposed by the medical condition. Fooducate is the best diabetes app for patients looking to find the best food sources to keep their blood sugar inside the healthy range.
The application is a popular choice among diabetic patients because it has a vast database that encompasses 300,000 foods. Additionally, you can quickly scan the barcode and get an accurate grade on a scale of A, B, C, or D, depending on how healthy it is. If the food does not make it to a healthy scale and isn't the most suitable choice for you, the app also recommends the best nutritious option.
Fooducate also makes it easier to track or find more information about foods that you consume, including the secret or hidden ingredients, added sugar content, and a lot more. The app will also provide other detailed facts about the food, such as its best souces, etc. You can also get detailed nutrients, calories, and macros information of any item.
Related: Best Route Planner Apps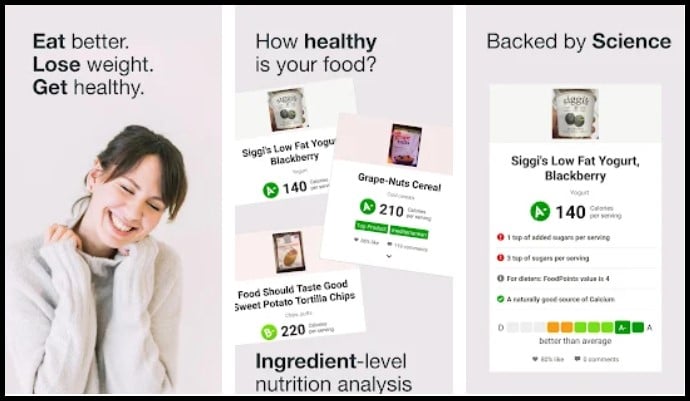 Standout features:-
Scan any food item
Track nutrients, calories, and macros
Measure the calorie quality, water consumption, etc.
---
mySugr – Diabetes Tracker Log
If you are looking for a detailed diabetes management application that lets you track everything related to the medical condition, mySugr is the best diabetes app for this purpose. The app is suitable for all types, including gestational, type 1, and type 2 diabetes management. It provides numerous features that ensure you don't need a separate application in the same category on your device.
You can use the app for glucose tracking, carb counting, and bolus dose calculation estimations. MySugr can also provide reports on the blood glucose level over various weeks or months and even years. It can also estimate the hemoglobin A1c through its precise tracking features. A significant benefit is its clean, customizable, and user-friendly interface compatible with a glucose monitor.
The application can also be used to look for patterns during the day. You can also set reminders for various measurements, such as checking the blood sugar levels after exercise. The charts and data can be conveniently shared with your doctor so you can work together to improve your daily routine and implement more effective treatment methods. There are also plenty of challenges, such as the Endurance challenge, greenhorn, etc., that will help you push your limits.
Related: Best Keto Apps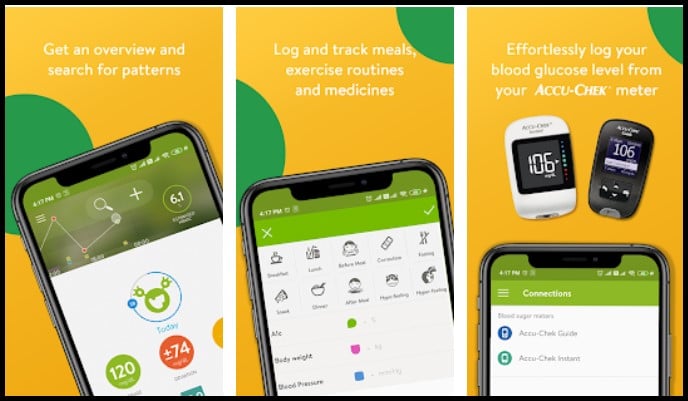 Standout features:-
Comprehensive tracking features
Share detailed reports with your doctor
Effective diabetes management app
---
Glucose Buddy Diabetes Tracker
Glucose Buddy is one of the best diabetes apps for tech integration. Apart from providing various diabetes management features, the app also excels in providing convenient integration with Dexcom glucometer devices like the Apple Health Apps, which lets you easily track meals, exercise, and daily step counts.
The app will let you quickly log meals, blood glucose, and medication through a single entry. You can also track trends in blood sugar, blood pressure, A1C, Insulin, and a lot more. Adding notes to the entries for any references in the future will ensure that you consider any particular things. You can also notice the changes in carb and blood sugar consumption hourly. Adding meals is another easy option in the app by using its extensive food log. Does the app support two glucose units which include mmol/L and mg? dL.
The premium version of the app will eliminate ads and unlock other features. It includes an automatic A1c calculator for effective long-term management, data range flexibility reporting, premium access to some other fitness apps, and the creation of customized tags to make logging quick and easy.
Related: Best Manga Apps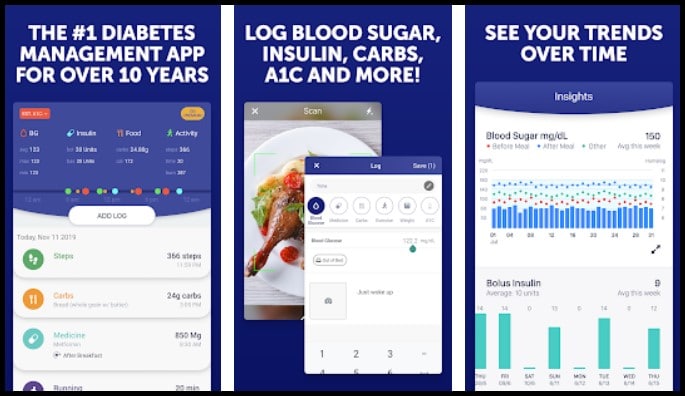 Standout features:-
Compatible with different tech devices
Conveniently enter meals, blood glucose, and medication in the app
Track the trends in insulin, blood pressure, etc.
---
Diabetes: M – Management & Blood Sugar Tracker App
Diabetes: M is another efficient and one of the best diabetes apps for multi-purpose usage; the app lets you monitor each aspect of your condition. The application is an excellent choice for more careful management of diabetes. You can add your breakfast active insulin level and maintain stats to ensure you know everything.
It allows you to add and measure your breakfast, lunch, and dinner to ensure proper diet management. The app also notes trends and provides you a clear demonstration of them for up to 7 days. It lets you measure daily carbs, calories consumed today, Humalog, basal rate, Hba1c, blood pressure, cholesterol, and medications. You can create graphs and charts to make sense and conveniently share them with your doctor.
You can also quickly log the blood sugar levels and other information into the app, which lets you maintain a record while also ensuring you stay within healthy limits. One of the most significant features of the app is that it lets you calculate the insulin doses and the bolus for mealtimes. Keeping track of food consumption is also an efficient task through a huge nutritional database of the application. The logbook has a straightforward design that lets you easily navigate it with powerful features that make Diabetes: M a complete app.
The app's premium version will unlock more smart assistance, no ads experience, Bluetooth integration, creating two profiles, expanding the food database, synchronization, detailed reports in XLS and PDF format with a pattern analysis feature.
Related: Best Dog Walking Apps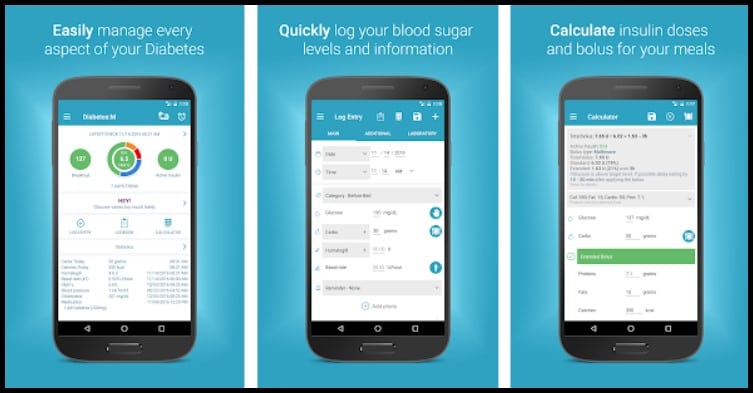 Standout features:-
Conveniently manage all aspects of your medical condition
Measure your food consumption through a vast nutrition database
Graphs and charts which can be easily shared with your doctors to understand trends
---
Beat Diabetes Pro
Best diabetes Pro is the best diabetes app for patients that have been recently diagnosed with a medical condition. The app provides numerous beginner-friendly features that instantly control the situation with delay, thus ensuring you have a better chance of reversing the situation.
There are numerous reasons to opt for the application, from its features to a user-friendly interface; the app offers it all. Beat Diabetes Pro provides more than 70 tips and foods that are medically recommended for patients to defeat diabetes naturally. It also ensures that you remain in the best physical health. The app also recommends up to 9 easy ways to increase physical activities, thus assisting in calories burnout.
Best Diabetes pro also offers eight different ayurvedic remedies to control the disease. For informative purposes, the app also excels since it offers a list of the top 20 best and worst foods that you can consume as a diabetic patient. Controlling the blood sugar level is essential for the patients. The app brings 20 excellent tips for managing blood sugar levels to ensure it stays within normal limits.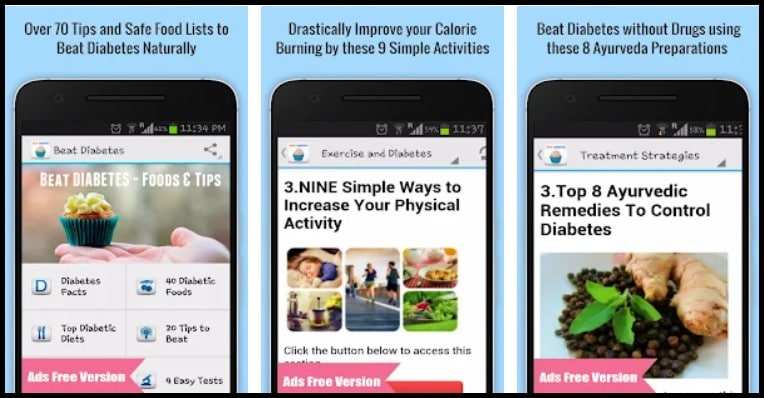 Standout features:-
Get 70 tips and safe foods for diabetic patients
Improve the calories burning through 9 easy activities
Informative articles on managing diabetes
---
One Drop: Better Health Today
One Drop is the best diabetes app for patients that seek a personalized experience. The app provides a one-on-one coaching feature that lets you connect to a specialist and effectively maintain your calm during the situation. The app also acts as a diabetes management tool that will use the blood glucose data to assist you in providing the appropriate activities to remain healthy.
One Drop offers a free version of the application with limited features and functionality; however, you can opt for the premium if you want to truly unlock all of them. The free version includes health data tracking, which lets you keep track of and manage medications, blood sugar, activity, food, blood pressure, etc., in one place and provides a daily, weekly, and monthly analysis report. It also offers a food database automated insulin pump basal rates with informative articles relating to the condition.
The premium version unlocks more advanced features. It includes one-on-one coaching, a customized content library, blood pressure measurement and insights, glucose predictions. So, if you want to use the app for long-term purposes, you can opt for the premium version.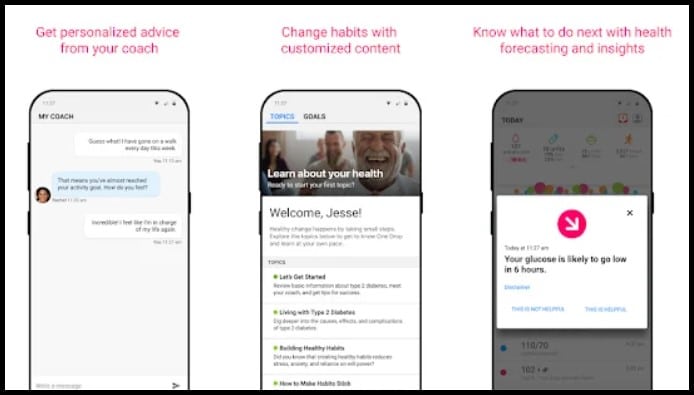 Standout features:-
One-on-one coaching
Diabetes management features
Large food database
---
Final words
We have listed some of the best diabetes apps you can find and use. The benefit of opting for an application on our list is that they are suitable for various situations and ensure you have excellent functionality and all the relevant features available on your android device. However, deciding which app will suit you will depend on your expectations and what you want to get out of it. As per our recommendations, the best app for management are mySugr – Diabetes Tracker Log and Diabetes: M – Management & Blood Sugar Tracker App. While the best app to get food ideas and recipes is Fooducate – Eat better. Lose weight. Get healthy.
Thank you for reading! Try these out too:
General FAQs
What is the best diabetes app for management?
The two best apps for managing your diabetes, including measuring everything from diet to blood glucose tracking, are MySugr and Diabetes: M.
Is the best diabetes app free?
Yes, many apps are free to download with certain features, while others will require a small fee to get them. However, to unlock more advanced features such as one-on-one consultation and get deeper insights, you will have to opt for the paid premium version.
What is the best diabetes app for recipes?
The best diabetes app for recipes is Fooducate. The app will provide you with detailed insight into the best foods you can consume and provide you with delicious recipes for effective disease management.