Knowing the number of nutrients going inside your body is vital. Macros form a dominant quotient of our day-to-day nutrients. To track the number of macros or carbohydrates, proteins, and fats intake, you can take the assistance of the best macro tracking apps. Macro tracking apps can be the top priority for users who are conscious about their health and want to eat a moderate and balanced diet.
With the best macro tracking apps, you can count the grams of macros intake and the type of food you eat. Macros requirement varies from person to person, so you need to be cautious about your body requirement.
Excited? So, Let's Get Started.
Benefits of Best Macro Tracking Apps
Awareness about nutrition intake: One dominant benefit due to which the best macro tracking app becomes necessary is awareness of nutrition intake. You can know about the specific nutrient type and quantity you are consuming during

your meals

. It helps you to know about the nutrient requirement of the body.
Build healthy habits: You are what you eat. The best macro tracking apps help you know what and how much to eat. Once you start seeing the benefits of healthy and balanced eating on your body, it helps develop healthy habits. You will develop healthy eating habits that will help you in maintaining a healthy lifestyle.
Health consciousness: When you track macros over a period of time, you become conscious about your eating habits as it is directly proportional to your health. Macro tracking apps keep you in check with the food items you are taking during your meals. You become choosy and conscious whether you are eating at home or enjoying meals at a party.
Best Macro Tracking Apps For Android
---
Cronometer
Cronometer is trusted by health experts, due to which it tops the list of the best calorie counter apps. The app tracks and provides the most accurate meal data to the users. You can fulfill your dietary needs irrespective of the diet plan you are following.
The app is capable of tracking up to 82 macronutrients which makes it a standout amongst its peers. You can scan food labels to know the nutritional information of the food item. The app has a keto calculator that can be handy in meeting your fitness goals. Besides this, you can add custom recipes and food to the database of the app. The app has monthly and annual subscription plans.
Related: Best Guitar Tuner Apps
Standout Features:
Track up to 82 macronutrients
Accurate meal data
Recommended by health experts
---
My Macros+
My Macros+ offers some handy macro tracking features to the users. It is designed by professionals, keeping in mind the requirements of users. First, you can set the nutrition goal by grams, and you are good to track your macronutrients intake. You can customize your nutrition goal whenever you want. Also, there are no limits in adding nutrition goals, so you can add as many as you want.
You can track the breakdown of the macronutrient for each meal you take during the day. With every passing day, you can monitor your body weight via beautiful graphs. It will help you know the impact of specific foods on your body. The app has a huge food database that helps select the food you want to eat. Besides macro tracking, you can track the water intake to keep your body fit and healthy. You can sync the app with other Android and ios devices.
Standout Features:
Breakdown of nutrients
Monitor body weight
Huge food database
---
Carb Manager
Carbohydrate forms a dominant portion of the macros, and the Carb Manager app specializes in carb tracking. The app has an industry-leading food logger where you can track every bite you consume. You get low-carb diet articles, forums, articles, and recipes to maintain a healthy lifestyle. You can count the macros of food within seconds, thanks to photo recognition technology.
The app has a macro calculator that automatically calculates the macro intake and alerts you when macros exceed. You can use the BMI and weight tracker to know the current state of your body. Track ketones, blood glucose, insulin, diabetes carbs, intermittent fasting, glycemic load, GKI, and much more with the Carb Manager app. This best macro tracking app also provides educational macro-related content to the users.
Related: Best Home Workout Apps
Standout Features:
Macro calculator
Educational content
Photo recognition technology
Food logger
---
LifeSum: Calorie Counter
Right from the editor's choice, Lifesum is the next best macro tracking apps on our list. The app offers healthy meal plans according to every fitness goal. You get access to a detailed diet plan and tips to meet your goal. With the calorie counter and food tracker, you can keep an overview of the nutritional information of your diet.
You get numerous diet plans based on your goal. The app offers keto, fasting, paleo, and sugar detox diet plans. The app has delicious recipes that you can choose to meet your calorie intake. You can know the nutritional information by scanning the bar code of the food packet. Maintain a daily food diary to keep track of your progress.
Standout Features:
Macro tracker
Bar code
Numerous diet plans
---
MyFitness Pal
My Fitness Pal has the largest food database, due to which is a part of our list of the best macro tracking apps. First, you need to set the fitness goal you want to achieve, whether fat loss or weight gain. The app calculates calories via the weight or quantitative value of the food item. The app has 14 million food items that you can choose to meet your calorie intake of the day.
The app automatically calculates the calories and shows the nutritional breakdown. You can also track the macro and micro values of the nutrients you are consuming. You can track your progress with the interactive dashboard of the app. You can take help from a personal coach for meal plans in the premium version of the app.
Related: Best Weight Loss Apps
Standout Features:
14 million food items
Track macro and micro value
Personalized dashboard
---
Foodnoms
You can set nutrition goals based on macros requirements and learn about your nutrition with the Foodnoms app. The app lets you track intermittent fast cycles that help to know about your eating patterns. You can quickly discover the macro value of any food by scanning the barcodes and nutritional labels.
The app suggests food based on your eating habits. You can track the nutritional and macros value of your food on your home screen with beautiful widgets. Also, you can integrate the app with other health apps to track the macros on your smartphones.
Standout Features:
Set macro goals
Smart suggestions
Integration with other apps
---
Fat Secret
A diet calendar, exercise diary, journal to record your progress, and more you will be getting in the FarSecret app. It is a food diary app that keeps track of the calories you consume and burns during the day. The diet calendar of the app provides a detailed log of your calorie intake. The app can recognize the nutritional value of the food items via photos.
The app sends reminders for meals, workouts, and journals to meet your daily calorie goals. You can also take assistance from the active community members of the app. If you are bored with the same diet, you can try your hands on unique meal ideas. The app is compatible with wearables, making it one of the best macro tracking apps.
Related: Best Sports Apps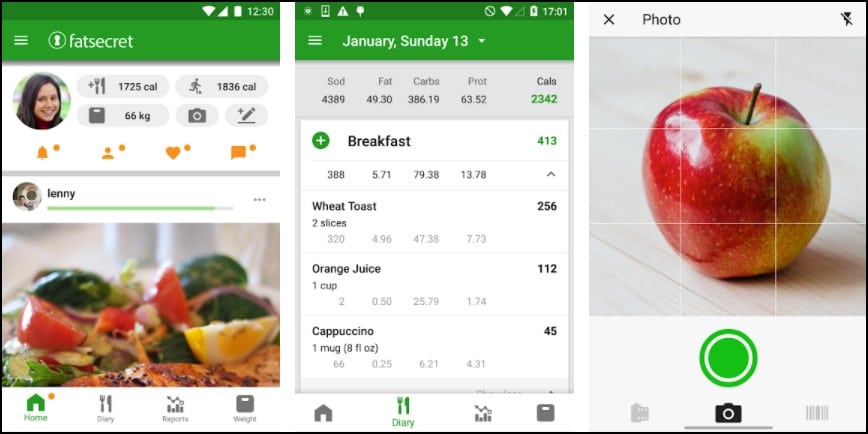 Standout Features:
Diet calendar
Weight tracker
Detailed reports
---
Nutritionix
You can track nutrient totals with the Nutritionix app. The app has 800K+ foods that you can choose from to meet your macro intake requirement. Besides this, the app can track water intake and weight progress conveniently. It has a team of dedicated dieticians that provides customized recipes suiting your macro goal needs.
The app has an advanced recipe creation tool that helps you create custom recipes for your macro needs. You can share the custom recipes with your friends to lay a helping hand and help them in meeting their macro needs. One handy feature of the app is you can download health data as a spreadsheet.
Standout Features:
800k+ Food items
Custom macro recipes
Customized recipes
---
Lose It!
Lose It is a calorie counter and food dietary app you can use to meet your fitness goals. The app contains more than 20 macronutrients, carbs, calories, and health goals. You can set customized meal plans and follow healthy diet suggestions on the Lose It app.
The app offers personal insights into your calorie intake habits that you can use to track your growth. Not only calories, but you can also have a holistic overview of each component of the food you are consuming. The app has 20+ million food items across various categories. The app can be a handy choice if you are aiming for weight loss. With in-app purchases, you can avail of exclusive benefits from the app.
Related: Best Credit Score Apps
Standout Features:
Track 20 macronutrients
Nutritional breakdown of the food
Customized meal plans
---
MyPlate Calorie Tracker
MyPlate calorie tracker is a user-friendly app that takes care of all your nutritional needs. You can set the goal and, the app will recommend a personalized daily calorie target. The app allows you to set meal time reminders so you can complete the calorie intake. You can also create custom food and meals in the MyPlate app.
The app has handy bar code scanners that users can use to know the nutritional value. You can also track and manage the water intake you include in your day-to-day diet. The app offers detailed health data that you can review to assess your performance. You can sync the app with Google Fit to track your daily exercise routine.
Related: Best Personal Finance Apps
Standout Features:
Personalized daily calorie target
Track water intake
Detailed health data
---
Macros (Josman Tek)
The latter app on the list of the best macro tracking apps is Macros by Josman Tek. You can choose your fitness goal and track your caloric needs on the go. The app can calculate all your macronutrients consumption along with net carbs. Also, the app can track the nutritional information of thousands of food that saves you time.
With the integrated barcode reader you can quickly count the macro value of any food. You can also create your food library, and share it with your friends. The app distributes the percentage of calories of your meals based on the nutritional requirement of your body.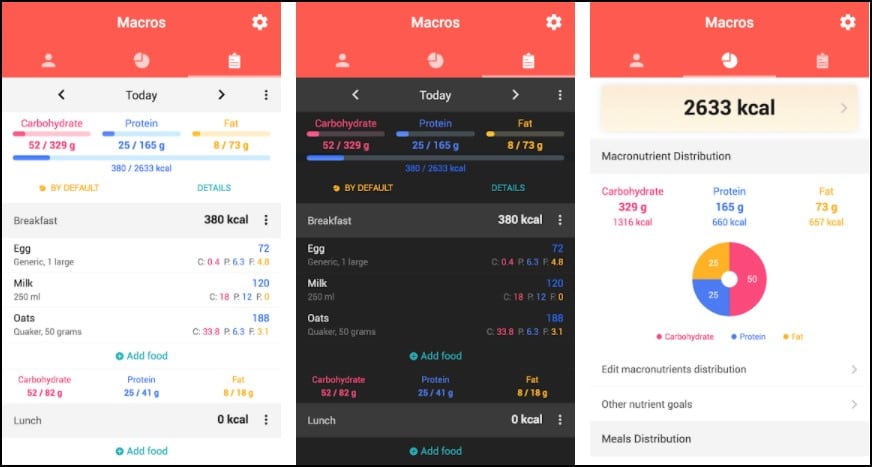 Standout Features:
Calculate all your macronutrients
Custom food library
---
Macro Factor
Macro Factor app is backed by scientific methodology, making it the best macro tracking apps. It suggests a scientific macro plan designed to cater to your nutritional needs. The macro food suggestion is based on your fitness goals, exercise, and preferences. You can track a nutritional macro breakdown of your food intake.
The app has a dietitian verified food library that can track your food intake conveniently. Also, it has a smart algorithm that can help your track changes in your macro plan. You can integrate health apps like Fitbit and Google Fit with the Macro Factor app.
Standout Features:
Science-backed macro diet
Smart algorithms
Apps integration
---
Final Words
These were the 12-best macro tracking apps to track the macro nutritional value of your diet. Our top picks of the list are My Macros+, Carb Manager, Cronometer, and Nutritionix app. You can drop your comment below and tell us about your top picks on the list. For the users who want to have a multi-utility macro tracking app, MyFitness Pal, Fatsecret, and MyPlate Calorie Tracker app will do the job.
Thank you for reading! Try these out too:
Gerenal FAQs
What is the point of tracking macros?
Tracking macros can help you know the number of nutritional values every food has that you are consuming. You can track the fats, proteins, and carbs intake requirements of your body and manage them accordingly. Also, you can keep in check whether the macros intake is going beyond the limit and causing a weight increase in your body and then manage your diet.
Which is better, calorie tracking or macro tracking?
Both the tracking method of calorie intake have their own benefits. Calorie tracking prioritizes the quantity of calorie intake while macro tracking focuses on quantity tracking with quality. If you are more focused on the quality of food you are consuming, macro tracking would be an optimal choice.