Obesity has become a common health issue for adults in this modern age of fast food. People are filling their stomachs with unhealthy food items that are costing them their health. This upward trend in obesity had made people conscious about their health. To manage your diet according to a proper routine, here are some of the best diet apps you can install on your smartphones. You can take the assistance of these best diet apps to get back your life to a healthy lifestyle.
Without going to any personal trainer and spending a large amount of money on your diet plans, you can opt for the best diet apps. There is a wide range of best diet apps available on different platforms, and out of those, we are compiling a listicle of some of the best available. Different users, based on their needs can opt for a suitable diet app to kick start their dieting journey.
Excited? Let's get started
---
Fooducate
Eat better to lose weight and get healthy. Well, Fooducate is now helping you with that. You can now easily choose foods that can help boost your immune system and help you get fit and healthy. Check how healthy your food is. With the help of this app, you can track your calories, macros, and nutrients.
This app analyses and recommends foods based on their desired quality. You can scan more than 250,000 product barcodes. Get a personalized nutrition grade for each food. This app also suggests healthier food based on your scan and searches. You can start weight loss with the help of a 10 days diet plan. Get health and diet tips from professionals for nutrition for free. You can get free weight loss tips. Also, you can know health conditions like – low cholesterol, pregnancy, sugar, and more. 
Related: Best Budget Apps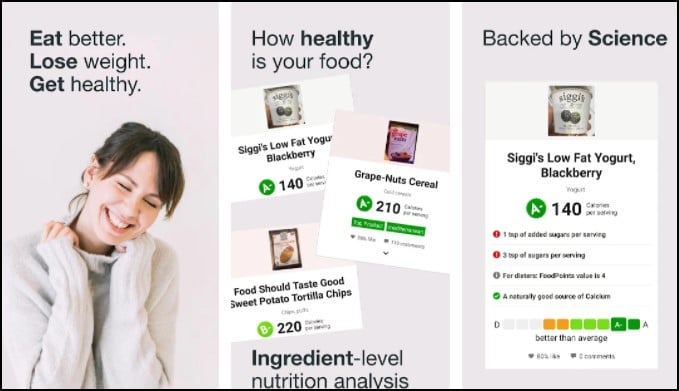 Standout Features:
Track your calories
Scan more than 250,000 products
Food suggestions
---
MyFitnessPal
Now stay motivated with MyfitnessPal. You can easily reach your goal now by following diet plans and recipes. This is a food diary that tracks your calories, macros, and more. It is also a fitness tracker. Accurate nutrition facts for more than 14 million food items are available in the MyFitnessPal app. You can lose weight, improve your fitness, change your diet, optimize macros and keep your nutrition and calories on track and you can do lots more like that. It has over 200 million members.
You can learn about your habits with the help of this app. You can customize your weight loss, weight gain, weight maintenance, and fitness goals as well. You can also easily track your progress every day. you can save recipes and meals quickly again. Stay inspired and learn from experts. You can get guided meal plans by professionals.
Related: Best Route Planner Apps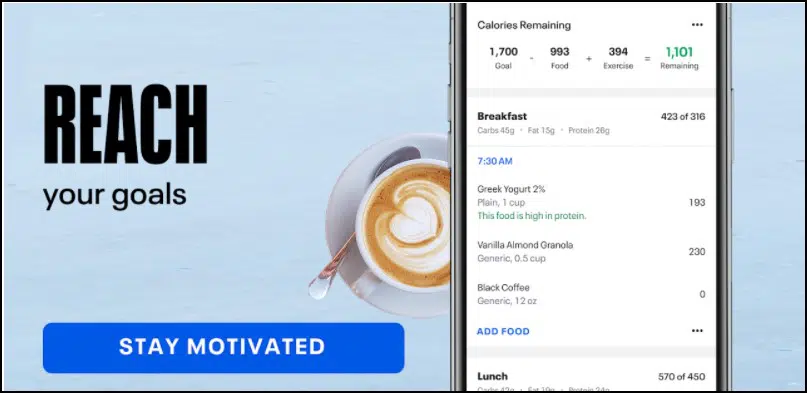 Standout Features:
14 Million food items
Optimize macros
Customize your goals
---
Lifesum
You can now live a healthy and simplified life. Lifesum has simple and complete meal plans for your breakfast, lunch, snack, and dinner. You easily get nutrition tips and personalized diet plans. This app is downloaded by millions of users. Find delicious and healthy recipes.
You can find recipes for sweet potato stew, scrambled tofu with fried potatoes, curry casserole, and much more like that. It has meal plans like – vegan for a weak, 3-week weight loss, keto burn, paleo, sugar detox, protein weight loss, and a lot more. It has features like- weight loss and diet, keto and fasting diets, recipes and meal planners, calories counter and food planner, food diary,  and macro tracker. You can find meal plans, diet tips for any goal, and much more. 
Related: Best Keto Apps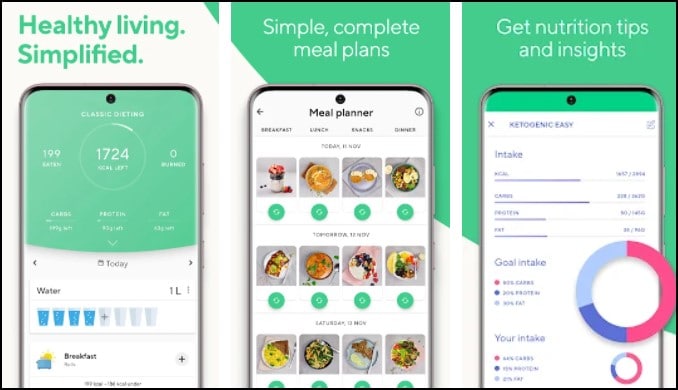 Standout Features:
Personalized diet plans
Food planner
Keto diet
---
Paleo
You can now easily find if your food is paleo-friendly or not. You don't have to worry or think too much about that by just downloading this app and simply typing in the food you are curious about into the search box and the app will tell you whether or not that food is paleo. Now you have answers about your food faster than ever before. Search over 3,000 food items to identify and find the best paleo food list.
Green thumbs up mean your food is paleo-friendly and red thumbs down means it's not paleo. This beat diet app has two sections one is EAT THIS and the other is NOT THIS. In EAT THIS section you can find all the food you should eat. like- fish and seafood, grass-fed & organic meats, fresh fruits vegetables, eggs, nuts & seeds, healthy oils, and more. In the NOT THIS section you can find the list of all foods you should not eat or avoid as much as you can. Like- grains, legumes, dairy, refined sugar, potatoes, processed foods, refined oils, and more. 
Related: Best Manga Apps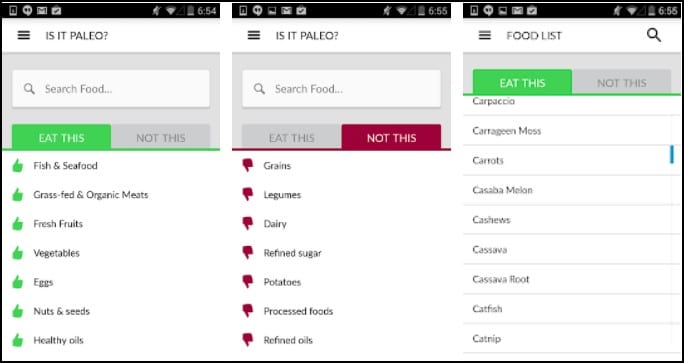 Standout Features:
Can identify more than 3000 food items
All answers related to dieting
---
Low Carb Diet
Low Carb Diet is a very interesting app where you can find easy and healthy recipes with low carb. You can discover new recipes every day so you don't have to eat all those old recipes again and again. Keto and low-carb recipes now help you to lose weight easily and make you fit and healthy. This app helps you to cut your carb intake. You can find low-carb diet recipes including meat, fats, vegetables, poultry, eggs, and non-starchy vegetables.
Get nutrition information for all the recipes with the help of this best diet app. You can get all of them for free. Smart carb manager will help you to know the calories, macros, and nutrition info of each recipe. Not just that you can also know about the number of fats, carbs, and protein in your food. Tasty and healthy recipe categories like- keto bread, keto desserts, keto pancakes, low carb snacks, low carb bread, breakfast keto recipe, low carb lunch, low carb dinner, low carb diet salad, and more are available on this best diet app. This app also focuses on sugar-high carbohydrate foods, fruits, bread, starchy vegetables, and low-fat foods.
Standout Features:
Low carb recipes
Nutritional information
---
Lose it
Track your calories, learn about macros, get DNA-based food suggestions, and save your favorite custom recipes. Also, you can join social groups on this best diet app. You can now easily lose weight and reach your goals. It was launched in 2008. This app has been featured in The Wall Street Journal, The Today Show, Men's Health, Women's health, CNET, Buzzfeed, CNN, Shape, Good morning America, and more.
You can find more than 27 million food items. More than 40 million users start losing weight and reaching their goals. You also get 25 million+ macronutrients, carbs, calories, and health goals to choose from. Control your calories and carb intake with this app and see results in weight loss. You can scan food barcodes with the help of a barcode scanner or search database to track your carb, macro, and calories.
You can also count carbs in your food by simply taking a photo of your food. You can track more than just calories with the help of this app like- macro, protein, water, carb, sugar, body measurements, sleep cycle, and more. You can find recipes for diets like the keto diet, vegan diet, vegetarian diet, whole 30, or any other diet on this best diet app.
Related: Best Dog Walking Apps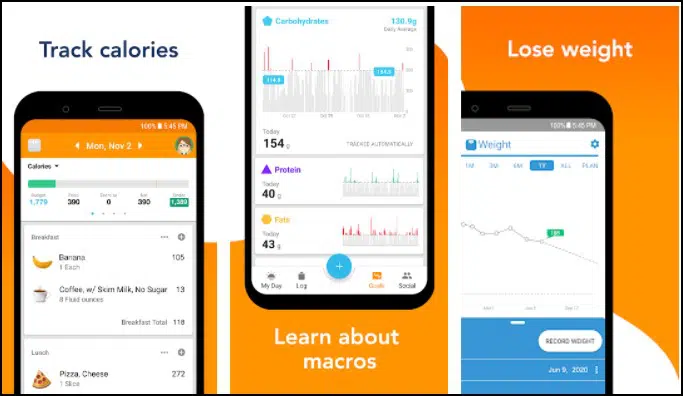 Standout Features:
Barcode scanner
27 Million food items
Take photo and know nutritional value of food items
---
Dietwiz
Discover amazing, yummy, and healthy recipes with the Dietwiz app. You can choose the meals you love. Choose your diet plan as well. Get your menu & grocery list. You can easily reach your weight loss goals with this best diet app. This app updates your weekly menu. You can choose different types of diet like- keto diet, paleo diet, low carb diet, sugar-free diet, dairy-free diet, vegetarian diet. No matter what diet plan you have chosen, this app has given you cover.
You can choose the food you love and this app creates a fully customized weekly meal plan just for you. This best diet app also gives you daily tips and reminders to help you. This app has a grocery calculator for easy shopping. The Keto Calculator will see your daily macros, nutrition, and calories. This best diet app will calculate your BMI, calories intake, and body measurement. It has features like a personal diet tracker, customized meal planner, weekly menu creator, grocery calculator, calories counter, keto calculator, regularly updated goals, and lots more.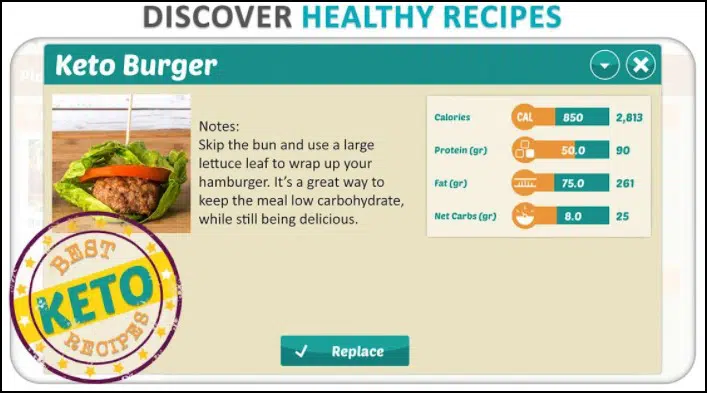 Standout Features:
Grocery calculator
BMI calculator
Weekly menu creator
---
FatSecret
Now get all the information about your food just by clicking a picture of your food. Fatsecret is the easiest way to count your calories. Keep track of your food, exercise, and weight. This best diet app will surely make big changes in your life and lifestyle in a better way. With the help of this app, you can easily start losing weight and achieve your goal the healthy way. The human body needs a proper amount of water daily for a healthy lifestyle.
This app has a water tracking feature to make sure you reach a daily water intake goal. You can also get reminders for meals. It also has a diet calendar so you can see consumed and burned calories. You can get journal records of your progress with this best diet app.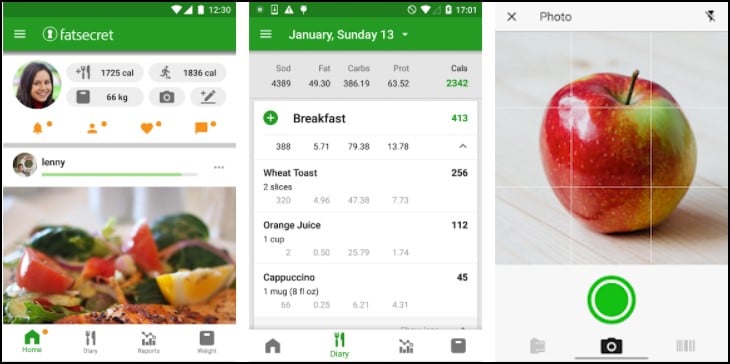 Standout Features:
Count your calories
Lost weight easily
Water tracking
---
Healthy Diet
Healthy Diet is here to track your calories & macros count them and help you to make a healthy and fit person. Find delicious, interesting, and healthy recipes like- Avocado & black bean eggs, Beetroots hummer toasts with olives, smoked salmon rice salad, Asian pear salad, and lots more with information about how many calories they have.
You can personalize your meal plan for a whole week and do your planned meal every day with this best diet app. You can check your weight loss result easily. You also get features of nutrition data and timeline. You can track your workout with goals. You don't need any coach gym trainer or diet planner now. You can get all diet plans and diet tips in this app. You can track your weight loss progress from time to time. This best diet app has features like- a food planner & Macro tracker, diet tips for your goal, step & health tracker, create custom food and meals.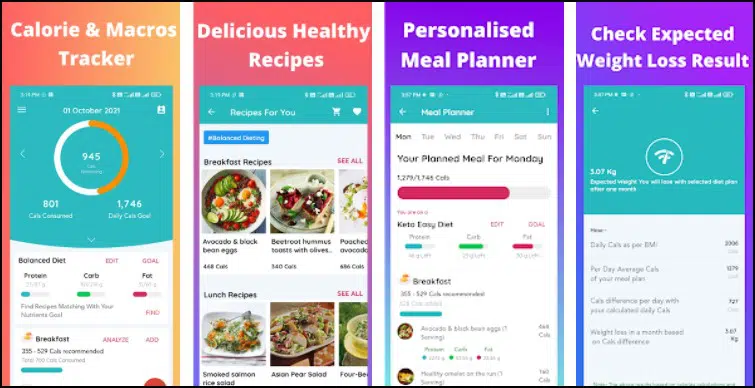 Standout Features:
Personalized meal plan
Track your dieting progress
Create custom food and meals
---
Final Words
These were the 9 best diet apps that can assist you in making your lifestyle healthy. You can choose any app from our listicle of the best diet app to hit your dieting goals. You can share this listicle with your friends who are also looking to hit their dieting goals. Do not forget to drop your valuable comments and suggestions in the comment section below so that we keep coming up with improved content for you. You can also suggest some other topics on which you want to see an article, in the coming times on our page.
Thank you for reading! Try these out too:
General FAQs
Are diet apps effective?
Studies in the past have indicated that diet apps are an effective you of keeping up to a persistent healthy lifestyle. Users have stated that they have met their goals after consistent use of diet apps over a period of time. Consistency is the key to achieving your goal, so make sure you are using and following the diet plans on these apps consistently.
Which are the most effective diet app?
Apps like FatSecret, MyFitnessPal, and Fooducate are some best and most effective diet apps that can help to lose weight. These apps have a large food database and give a holistic overview of your dieting progress. These apps also let you create customized meals and add them to your diet plan.