Traveling is a common hobby amongst millennials nowadays. If you are looking for some exquisite location to stay in, here is our listicle of the best hotel apps. You can plan your trips and book your stay places with the best hotel apps. Best hotel apps also help you compare the best hotels and choose the best according to your requirements.
If you are confused between the tons of options available out there for the best hotel apps, we can rescue you. Our comprehensive listicle will help you filter the best hotel apps. Before starting our listicle, let's look at some benefits the best hotel apps can yield for the users.
Excited? So, Let's Get Started.
Benefits Of Best Hotel Apps
Compare and choose the best hotels: You can compare between the best hotels available in the nearby location. You can choose filters like facilities, hygiene, price, and reviews before selecting the best hotel. The reviews from the users are handy and can save a lot of bucks for the users.
Plan trips: With the best hotel apps, you can plan trips and book your favorite hotels. You can also look for an outdoor dream destination on the hotel apps. Hotel booking apps offer multiple utilities to the users.
Minimize expenses: You might end up spending more money if you are opting for a local guide or broker to book hotels. Hotel apps cut the brokerage costs and offer the best available prices. You do not need to wander here or there, as all the information is available right at your fingertips.
Best Hotel Apps in 2021
---
Oyo hotel booking app has the world's largest hotel chain. With over 330,000+ hotel rooms in India, Malaysia, and UAE with 12,000+ hotel homes, Oyo became a mandatory inclusion on our list. You can book Belvilla, Oyo Townhouse, Oyo Homes, and Collection O hotel rooms. With the Oyo Wizard membership plan, you can avail of the exclusive deals.
Pre-booking gives an extra 20% discount to the users. You can make easy payments via Google Pay, PhonePe, and Debit/Credit cards. The app also allows you to cancel the bookings without any penalty. You get real-time alerts on hotel bookings and the best deals. The app has more than 50 million downloads and 600K ratings, making it the first choice.
Related: Best Translation Apps
Standout Features:
33,00+ Hotel rooms
Pre-booking discounts
Cancel bookings without any penalty
---
Trivago brings millions of hotels from hundreds of hotel booking sites. You can compare the various aspects of the hotels and choose the best that suits your needs. The app offers hotel booking for holidays, professional purposes, and last-minute deals. There are numerous reasons which make Trivago one of the best hotel apps.
You can discover hotels at the best prices and avail of savings from hotels worldwide. Out of the hundred booking sites on Trivago, you can save money to enjoy your vacations. Trivago also provides a Trivago rating index to check the reviews and ratings of the users.
Related: Best Meal Planning Apps
Standout Features:
Trivago rating index
Hundreds of booking sites
Millions of hotels worldwide
---
You can book hotels, flight deals, and rental cars on the Priceline app. The app offers the best hotel based tailored for your requirement. With the Priceline app, You get personalized recommendations of the best available nearby hotels. Priceline app is associated with leading online brands such as Bookings.com, Agoda, and Kayak.
You can search for the hotels via filters like city, address, and point of interest. The app also offers all the reservation and booking details right at your fingertips. The interactive interface of the app makes it more appealing for the users. The VIP Priceline members can avail 60% discount on the exclusive hotel booking deals.
Related: Best Scheduling Apps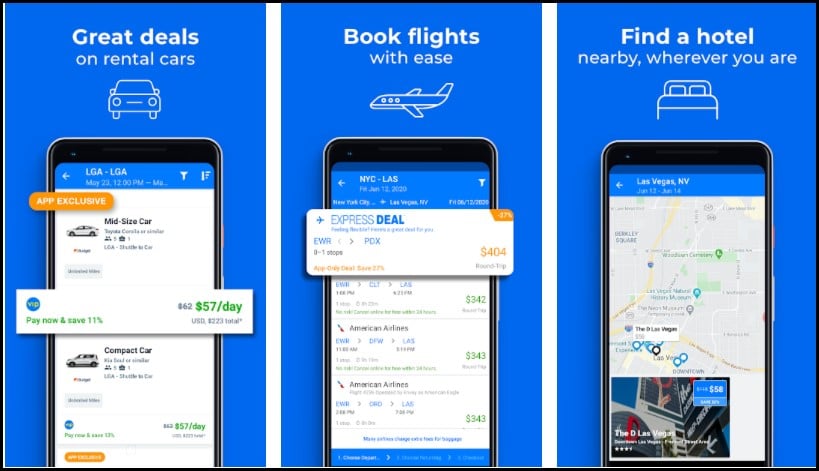 Standout Features:
Personalized hotel recommendations
Reservation and booking details
Book flights and rent cars
---
Hilton Honors is associated with brands like Embassy Suites, Hilton Garden, Hilton Vacations, Curio Collection, and DoubleTree, making it one of the best hotel apps. The app offers a hotel floor plan that helps you choose your room in the hotel. You get 5700 hotels at the best affordable prices.
Hilton Honors also offers free Wifi, late checkout, and no charge when a second guest arrives in your hotel room. With every stay in the hotel, you can earn points and redeem them for free nights. The app can be an ideal choice for business people.
Related: Best Sleep Apps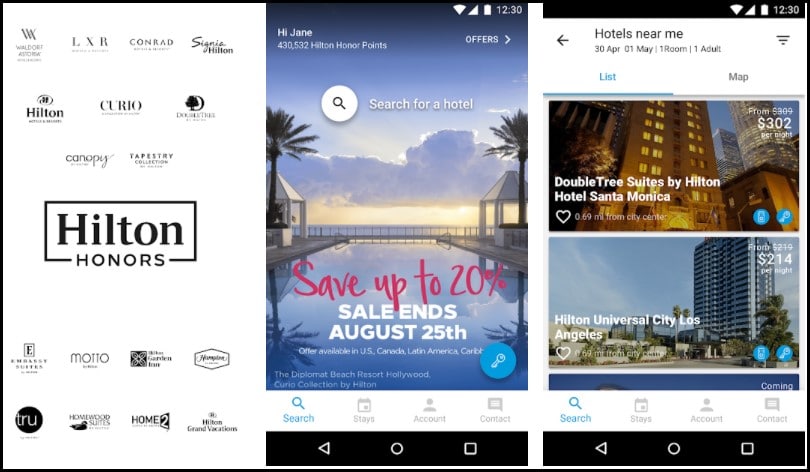 Standout Features:
5700 Hotels
No charge for the second guest
Redeem points
---
Booking.com has 1.5 million+ hotels, motels, and vacation rentals. You can book your hotel in advance or book a last-minute stay. The app offers filters like city, attraction, landmark, and hotel name to look for your hotel room. You can save bucks on booking rooms as the app does not charge booking or credit card fees.
You can avail of daily deals within your budget on the app. The app also does not charge a cancelation fee if you plan to cancel the booking. Reviews by more than 135 million users make it one of the best fasting apps. Bookings.com offers 24/7 customer service in more than 40 languages.
Related: Best Habit Tracking Apps
Standout Features:
Handy search filters
24/7 customer services
No booking charges
---
Apart from hotels, you can book holiday rentals, luxury apartments, resorts, and motels across 1M+ properties. The app comes with the Tonight Local Deal feature that can help you grab last-minute deals. You can book hotels in few taps and save your payment detail for the next booking.
You can see the hotel on the map before booking and read the reviews by verified guests. Hotels.com is also handy if you want to grab the best travel deals. You can filter and choose the travel deal plan that suits your needs. To get rewards, you can collect stamps on each booking and redeem them later.
Related: Best Yoga Apps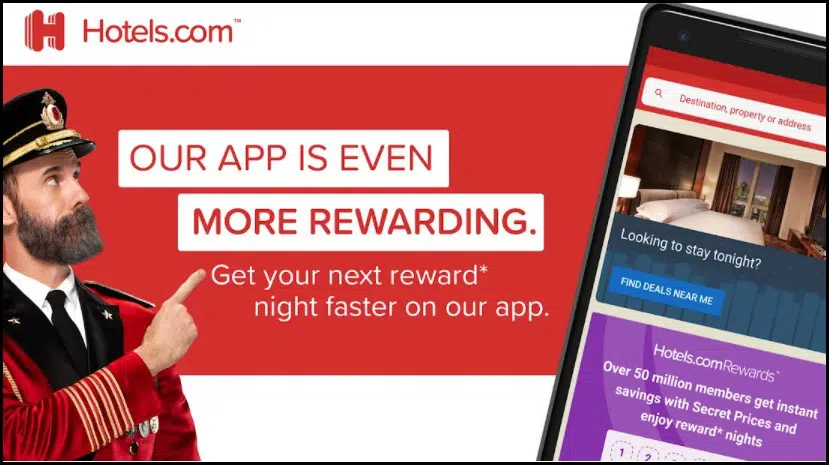 Standout Features:
Tonight deal
Reviews by verified guests
Travel deal plans
---
Expedia provides exclusive deals on the best hotels available at your nearby location. You can views all the booking details anytime, anywhere on the Expedia app. The app gives hotel alerts that keep you updated on the rooms available. You can filter and sort the hotel rooms via price, deals, and reviews.
The app does not charge any cancelation fee when you want to cancel bookings. You can take assistance from the customer support team of Expedia while facing any issues. Besides this, you can view the hotel address information, checkout times, and more on the Expedia app.
Related: Best VPN App for Android
Standout Features:
Hotel alerts
Virtual agents
No cancelation fee
---
Hotel Tonight offers hotel rooms in categories like Basic, Hip, and Luxe at the best prices. All the hotels are screened by the Hotel Tonight to offers its customers the best services. You can avail yourself of last-minute discounts on the empty hotel rooms. With a detailed description of the hotel rooms, you can know about all the essential information.
You can also view the high-quality pictures of every room you will be booking for your stay. The app has a user-friendly interface that can make booking hotel rooms a hassle-free task.
Related: Best Video Editing Apps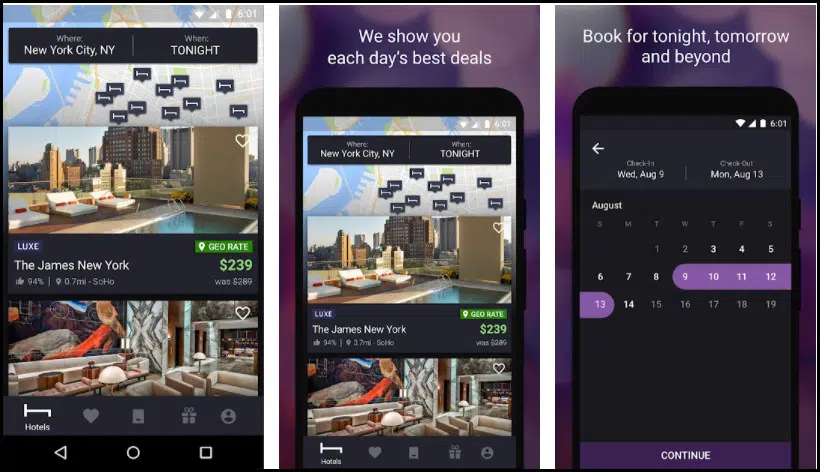 Standout Features:
Multiple categories
Detailed description
Screened hotels
---
Marriot Bonvoy is a leading name in the industry, making it one of the best hotel apps. You can search for the hotels based on your preference or look for a reservation when you arrive. When you book any hotel room via the app, you can avail yourself of a discount. The app offers more than 7000 hotels across different geographical locations.
Some of the Marriot Bonvoy hotel brands include Delta Hotels, Design Hotels, Marriot Executive Apartment, Marriot Vacation Club, Protea Hotels, and The Luxury Collection. The app offers a Mobile Key to your room so that you can easily unlock the room, parking garage, lounge, and fitness center.
Related: Best Password Manager Apps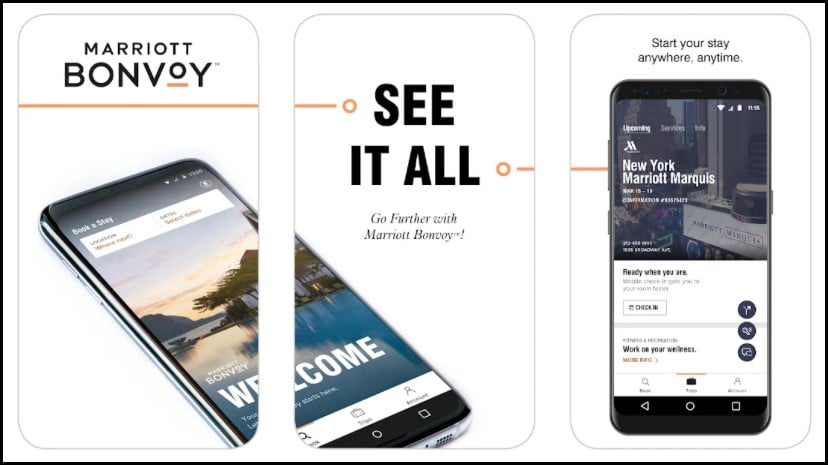 Standout Features:
Mobile Key
30 Popular brands
7000 Hotels
---
Hotel Booking provides some of the best hotels at affordable prices. You can book hotels from top hotel websites for your accommodation. Some popular hotels you can book in this app are Hyatt and Marriot. The app does not charge any booking fees that minimize your cost.
The app compares the hotel from more than 5M millions and fetches the best results for the users. You can view the hotel images, ratings, and details. You can select from the multitude of filters to choose the best hotels at the right price.
Related: Best Coupon Apps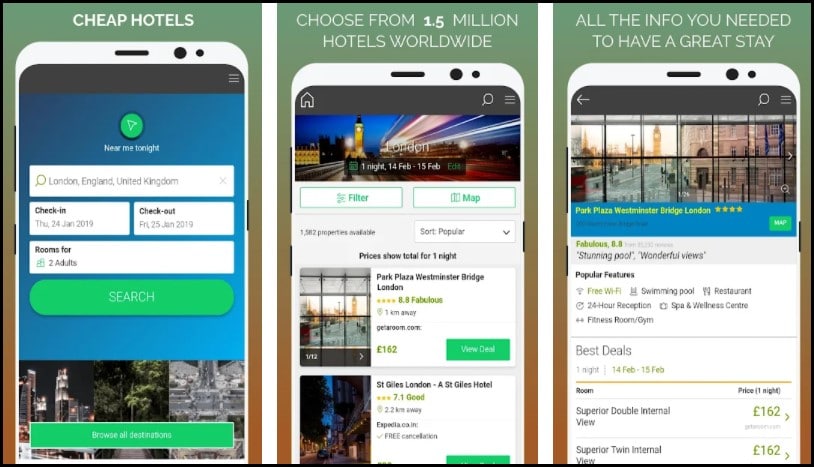 Standout Features:
Multitude of filters
Top hotels
No booking fees
---
You can book hotels, flights, and car rentals on the Kayak app. The app offers flexible booking options tailored for your accommodation needs. With mobile-only rates and exclusive deals, you can discover some of the best staycation places for your holiday. The app has hundreds of accommodation options that you can compare and choose.
You can look for budget hotels or five-star hotels based on your preference. With over 70k locations, you can find the best car rental to reach your destination. You can also use the filters to find the best hotels for your stay. Price alerts ensure that you never miss the best deals while booking hotel rooms.
Standout Features:
Exclusive deals
Price alerts
Budget hotels
---
Treebo offers clean and spacious hotel rooms for vacation, leisure, and business purposes. The app provides hotel rooms for all occasions, and you can check in with your friends. You can make a reservation and check in to your hotel room straight away. The price range of the hotel rooms is affordable, and you can compare amenities, reviews, and ratings.
You can book hotel rooms hassle-free anytime, anywhere within minutes on the Treebo app. It is a user-friendly app as it provides a guide map and landmarks to reach your place safely. You can avail of exciting deals and offers to save some bucks on hotel booking. If you are looking for a multi-utility best hotel app, Treebo is your destination.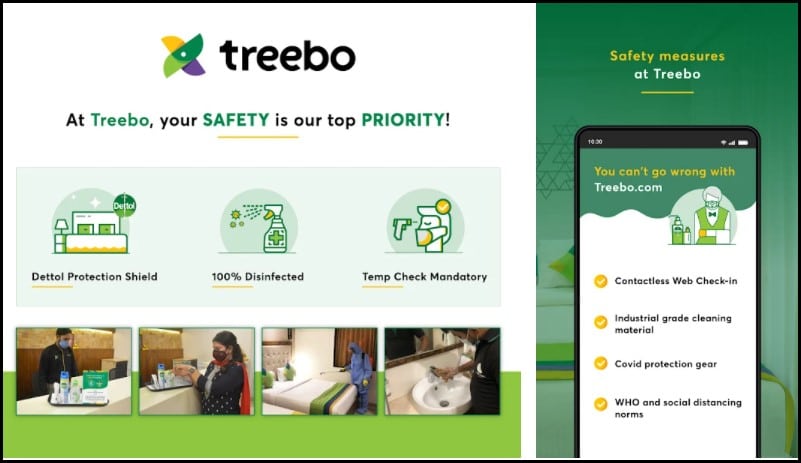 Standout Features:
Sanitized rooms
Easy verification process
Hassle-free booking
---
Final Words
These were some of the best hotel apps you can install to book hotel rooms right away. Besides booking a hotel, you can plan your trips, book car rentals, and discover exciting places. Drop your comment to tell us about your best hotel app from the list. Our top picks on the list are Oyo, Priceline, Booking.com, and Hotel.com. You can suggest some topics in the comments section you want to see a comprehensive article on.
Thank you for reading! Try these out too: