Scheduling each hour of the day can be a diligent task for the corporate people. A personal assistant can help you to manage meetings and appointments for the day. Besides personal assistants, you can opt for virtual assistants, that is, the best scheduling apps. You can install the best scheduling apps on your smart devices and get started.
You can use these best scheduling apps for personal and professional use. These apps can help you set agendas, manage meetings, line up your appointments, and so on. So, if you are looking for a virtual personal assistant, here we have the list for you. Before jumping into our listicle, let's look at the benefits of scheduling apps.
Excited? So, Let's Get Started.
Benefits Of Scheduling Apps
Cost-effective: Scheduling apps are available in free as well as paid versions. The paid scheduling apps are cost-effective that can effectively manage your day. If you have a startup and want to minimize the cost in the initial stages, then the best scheduling apps can be the right choice.
Personal and Professional utility: You can use the scheduling apps for both personal and professional purposes. There are specific scheduling apps for corporate people, while some scheduling apps can be handy for students and beginners. Also, there are hybrid scheduling apps. You get scheduling tools to manage your personal and professional commitments.
Increases productivity: Scheduling apps can be handy when it comes to productivity. You can allot each hour of your day towards completing a task. It helps you efficiently manage the working hours and increases productivity.
Best Scheduling Apps in 2021
---
You can define your services to your clients based on price and duration. Clients can book your services online via your website link on the app. You can also add your Facebook and Instagram page link. The app sends text reminders whenever you miss an appointment. You can take notes of the requests made by your client to build a healthy relationship.
ApponintFix tops our list of the best scheduling apps, thanks to the diversification of features. You can create unlimited appointments and manage them with the help of a flexible calendar. The app allows you to have a day, week, month, and mini-month views of your appointments.
The app also allows you to set recurring or group appointments, making it one of the best scheduling apps. With the Google and Apple Calendar sync feature, you can manage all your professional appointments in one place.
Related: Best Sleep Apps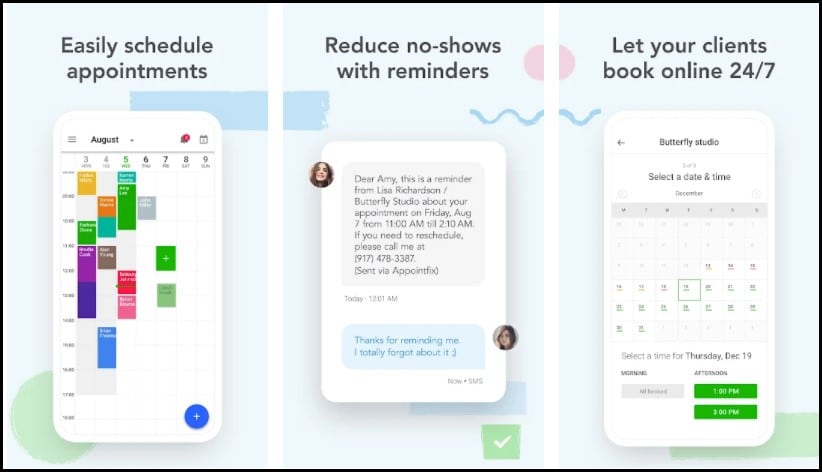 Standout Features:
Flexible calendar
Recurring appointment
Google and Apple Calendar sync
Download This Best Scheduling App
---
Sling app uses a holistic approach towards scheduling, making it a valuable tool for professionals. The app has benefits for managers and can help to streamline the business with efficiency. You can build the employee's schedule in minutes with the Sling app. With the Sling app, you can track the availability of the employee and create shifts accordingly.
You can use the shift alarms to send reminders to the employee of their allotted shifts. The app also allows you to determine the cost of each labor and can help to minimize labor spending. You can use the GPS or IP settings to assign the employees to a specific working location. Employees can get real-time updates about their schedules. You can also export a timesheet to enhance the payroll processing feature.
Sling offers powerful communication features that can help you interact with every member at your workplace conveniently. Employees can set shift reminders to stay updated on their shift timings. The app has a Shift Exchange feature that can help employees replace the shift based on their suitability.
Related: Best Habit Tracking Apps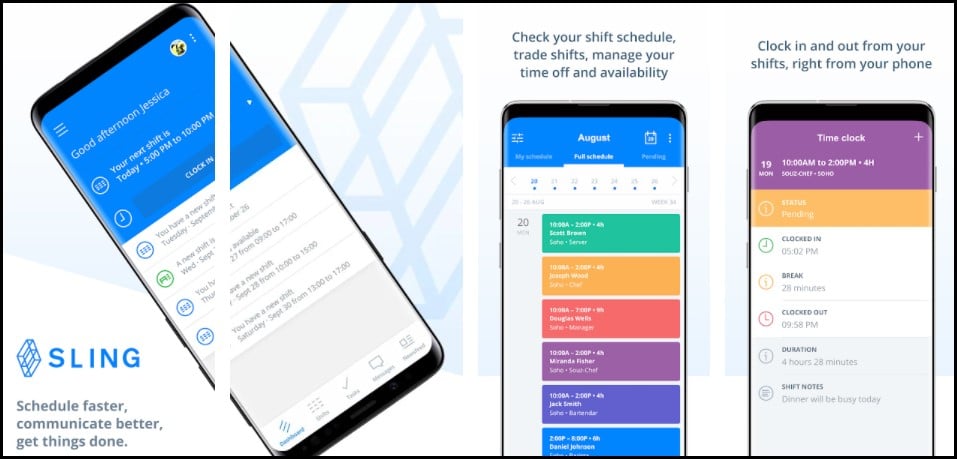 Standout Features:
Optimize labor spending
Make payroll processing easier
Eliminate scheduling conflicts
Download This Best Scheduling App
---
Squarespace Scheduling is a user-friendly scheduling app that can be handy for professionals. With the Squarespace Scheduling app, you can check your real-time schedule and look for the vacant tie to book an appointment. You can customize the appointment type based on your preference.
The app allows you to share scheduling links with your client. You can update your status on the dashboard of the app to update your availability. Manage your client list and notes, thanks to the efficient and user-friendly interface of the app.
Related: Best Yoga Apps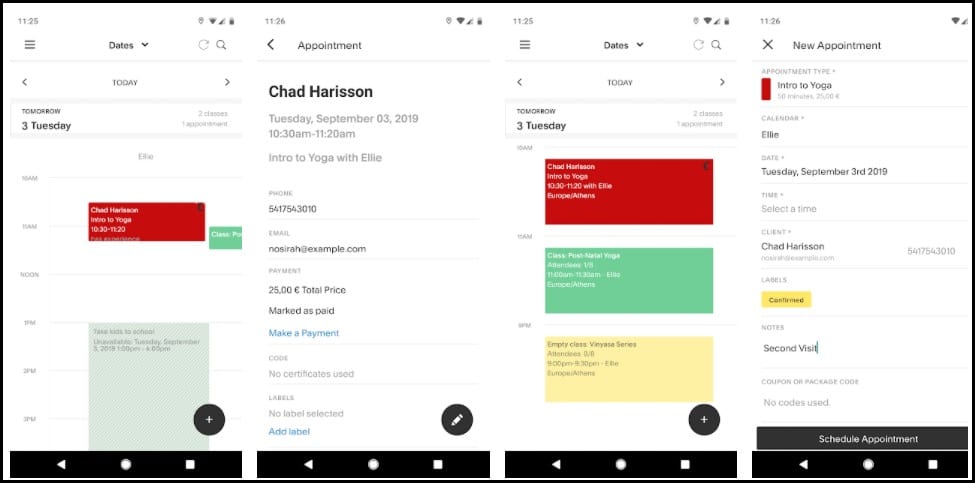 Standout Features:
Customize appointment types
Share scheduling links
Push notifications for appointments
Download This Best Scheduling App
---
Setmore Appointments is a super intuitive online scheduling platform that can help you grow your business. You can book appointments and video meetings conveniently on the app. Besides booking appointments, you can use the app to manage multiple staff calendars in one place. You can also keep a record of your clients right at your fingertips.
The app allows you to add four staff profiles with their calendar in the free version. The standout feature is that the app has 4 Account-level languages, making it the best scheduling app. You can book an appointment through your website or Instagram handle. The premium version of the app offers more valuable features that make it worth trying.
Related: Best VPN App for Android
Standout Features:
Book video meetings
Manage multiple staff calendars
Add up to four profiles
Download This Best Scheduling App
---
Schedulista provides powerful scheduling options that make it an ideal choice for mobile businesses. You can integrate the app with your website and add a Book Now button to your social media handles. Your clients can book an appointment anywhere anytime with the Schedulista app. Clients immediately receive confirmation reminders when they book for your services. You can sync Schedulista with Outlook, Google Calendar, Android, and Apple devices.
You can choose custom colors based on the service you are providing to your clients. The app allows you to create a recurring and overlapping appointment. You can also block out lunchtime and create a custom appointment schedule. 
Related: Best Video Editing Apps
Standout Features:
Calendar customization
Multi-seat booking
Manage multiple staff profiles
Download This Best Scheduling App
---
If you want a user-friendly and one of the best scheduling apps, we have a Calendly app for you. It is a flexible scheduling app where you can create custom meetings and avoid last-minute meet. You can integrate professional calendar tools like Google Calendar, Outlook, and Office 365 for hassle-free scheduling.
The app can detect time zone automatically, making it one of the best scheduling apps. You can also automate tasks with apps like Zoom, Google Meet, Zapier, and more for a seamless workflow. This minimalistic app is a mandatory inclusion in your app drawer.
Related: Best Password Manager Apps
Standout Features:
Calendar integration
Minimal
Automate tasks
Download This Best Scheduling App
---
With enterprise-grade security, Calendar Hero can be one of the best scheduling apps for you. You can arrange automated 1:1 video meetings based on your availability. The app helps you to set custom meetings for video, availability, duration, and more. You do not need to look for the time zone, as the app can automatically detect the time zone and schedule meetings.
The app gives briefings of your daily meetings so that you do not miss anything. You can sync tools like Outlook, Office 365, and Exchange to avoid any double booking. The app allows you to integrate video meetings on apps like Zoom, Webex, and Google Meet.
Besides this, you can invite outside collaborators and schedule an instant meeting. You can also assign a meet to a specific team to discuss something specific and urgent. You can host multiple invitees at a time, making it one of the best scheduling apps.
Related: Best Coupon Apps
Standout Features:
Enterprise-grade security
Invite outside collaborators
Host multiple invitees
Download This Best Scheduling App
---
Time Planner is an optimized time management tool that can help you schedule your day. You can create a schedule according to the different parts of the day modes. The app sends frequent reminders to remind you of the appointments during the day. You can add notes to highlight the points of your meeting.
You can import events from the Google Calendar to line up your appointments accordingly. This multi-utility app can be a handy addition to your app drawer. 
Related: Best Gallery App for Android
Standout Features:
Send reminders
Import events from Google Calendar
Assign color and icons
Download This Best Scheduling App
---
Time Tune is a unique scheduling app that uses the Block Time technique to build your schedule. The app allows you efficiently manage the time to schedule your day. You can use the templates to set timetables and student calendars with the help of the Time Tune app. You can detect the time leaks and eliminate them to enhance your productivity.
Related: Best Calendar Apps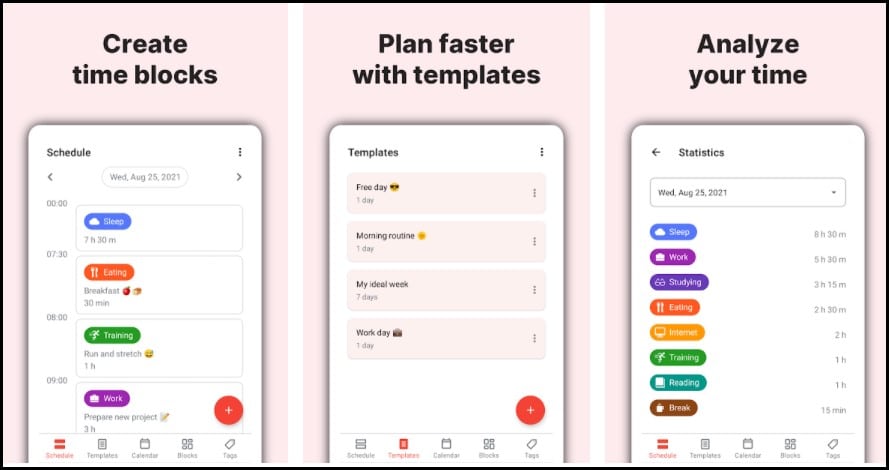 Standout Features:
Time blocking
Valuable statistics
Set timetables
Download This Best Scheduling App
---
The daily Planner app is a feature-loaded app that can be handy for schedule management. All you need to do is enter the 24-hour schedule of your next day, and you are good to go. The app has schedule management features like automatic time totaling, registration of diary and goals, and push notifications.
You can add unlimited schedules and track them via a pie chart. A pie chart will help you better visualize your workflow and stay productive. The app can automatically calculate the time spent on each schedule, with the help of which you can track the areas of improvement. You can also use the listicle to track your scheduling for the day.
The app has 100 color options to choose from while assigning a color to a specific schedule. You can turn on the push notification option to stay up to date with your goals.
Related: Best Real Estate Apps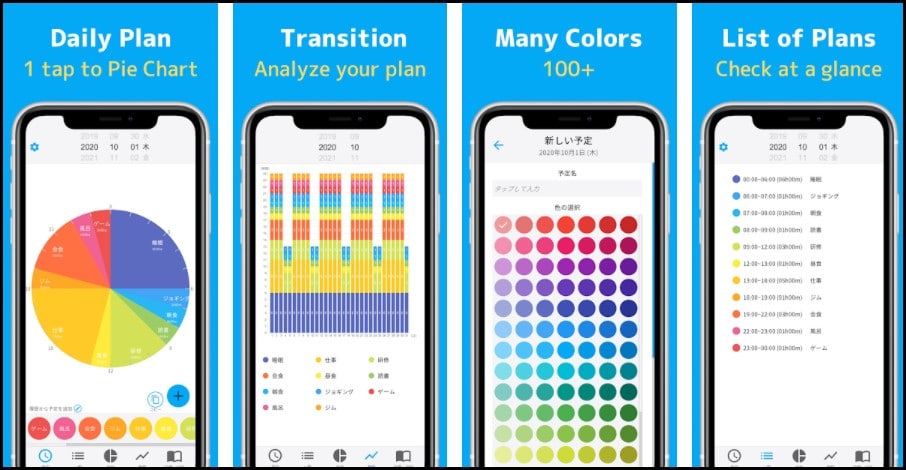 Standout Features:
Visualize schedule via bar graph
Schedule management
Automatically calculate the total time
Download This Best Scheduling App
---
Final Words
Enhance your productivity and fulfill your professional commitments with these best scheduling apps. We hope our comprehensive listicle will help you find the best out of the lot. For professional purposes, we would highly recommend users try Sling, Calendar Hero, and Schedulista. Appoint Fix, Schedulista, and Calendly are other handy apps you can install on your devices for effective time management. Drop your valuable suggestions about the topics on which you want a listicle in the coming time.
Thank you for reading! Try these out too: