Planning your day is one of the crucial things that will help you achieve goals. Best day planner apps can be a handy option if you want to manage and plan your day. To help you plan your day effectively, here are some of the best day planner apps you can try out.
These best day planner apps have various tools that will help you organize your day and stay productive. You can list your tasks and kill them before the deadline with the help of these best day planner apps. Following are some of the reasons we highly recommend you to have day planner apps on your smartphones.
Excited? So, Let's Get Started
Benefits Of Best Day Planner Apps
Keeps you organized: Day planner apps help you organize your day to complete your tasks. You can list all the jobs you need to complete before the day ends. Day planner apps will keep track of all the jobs and will assist you in finishing them before the deadline. 
Increases productivity: With the help of day planner apps, you can organize tasks and improve your productivity. Improved productivity will help you achieve your goals and stay motivated throughout the day.
Time Management: Day planner apps allocate the time required to complete each task. It helps you manage your time efficiently and effectively. Proper allocation of time eliminates overlapping of activities that ultimately results in effective time management.
Best Day Planner Apps For Android
---
My Daily Planner: To Do List
My daily planner: To-do list is a versatile multi-purpose application. You can use it as your daily planner, calendar, to-do list, etc. Hence the application saves you from getting separate apps for different tasks. It has a user-friendly, intuitive interface that lets you efficiently utilize its features with excellent efficiency.
One of the app's most attractive features is its user interface which keeps things simple and functional. The app will let you create folders and add tasks to them. It displays the date at the top while also keeping track of the recurring daily tasks. The benefit of creating folders to oversee the different areas of your life is that you won't get caught up in the stress and miss out on some of it. Creating folders will let you create boundaries. Thus you can pay full attention to different areas of your life such as health, personal development, work, and personal life.
One of the most notable benefits of the best day planner apps lets you create tasks. However, My Daily planner goes a step beyond and allows you to make subtasks. It will open up the tasks for you and focus on the details. The recurring tasks will remove the hassle of running back to the app to perform the identical stuff continuously
Another helpful feature of the app is constant reminders. It's easy to forget a lot of stuff when busy with work and other stuff. You can add unlimited reminders for various tasks to ensure the app has you covered and you never miss out on anything important. The application also comprises a calendar that will let you add tasks and mark all the essential details in advance.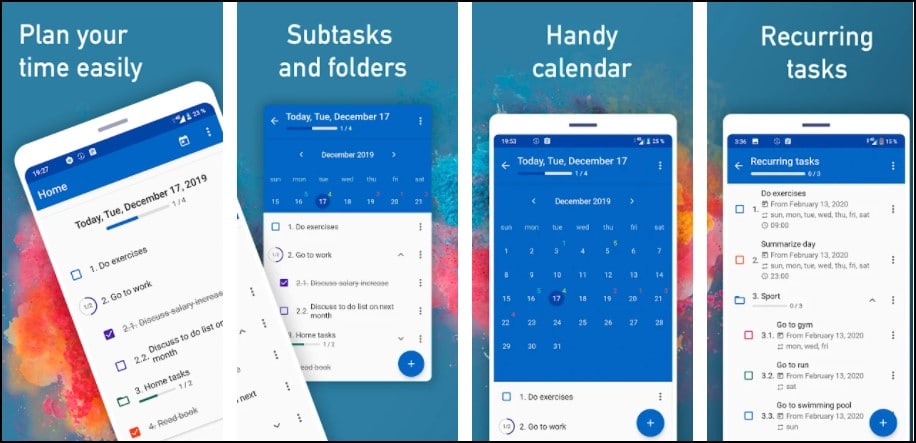 Standout Features:
Efficiently plan your time
Create folders and subtasks
Voice input with tasks
---
Todoist – Day planner app
Todoist has 20 million users and is available on phones, tablets, and smartwatches. The app helps you plan your day and build a productive habit with its interactive features. You can capture and organize tasks on the Todoist app when it pops into your head.
You can compile all the tasks that need to be completed and place them in order of priority. You can set different priority levels based on the relevance of the task. The app sends reminders and due dates so that you never miss the deadline.
You can collaborate on projects with the Todoist app and assign tasks to your team members. The app has personalized productivity trends that will help you stay updated with your progress. You can also integrate tools like Gmail, Alexa, and Google Calendar to manage your projects.
Related: Best Smartwatch Apps
Standout Features:
Priority levels
Personalized productivity trends
Integrate tools
---
Microsoft Outlook – Best day planner app
Microsoft Outlook is a highly rated day planner that equips with productive tools. The app has a customized calendar that keeps you updated with your schedule. The Email inbox management feature eliminates all distractions by only displaying only important messages.
You can use the organizer of the app and share the calendar with your team members to collaborate on any project. The app can effectively manage apps, emails, calendars, and media files in one place. You can also add a schedule from Facebook to watch all your favorite shows and events. This feature-loaded app has all the potential to become one of the best day planner apps.
Related: Best Apps For Secret Texting
Standout Features:
Customized calendar
Collaborate with team
Productive tools
---
TickTick – Day planner app android
You can take quick written notes or voice notes with the help of the TickTick app. The app has a Smart Data Parsing feature that sets the default date automatically. You can set the list of getting Things Done and demolish them one by one. The app sends you frequent reminders to complete your to-do list of the day.
You can classify your to-do list via folder and tags for easy understanding. The app has a built-in timer making it one of the best day planner apps. You can build good habits with the recurring tasks feature to keep yourself motivated. The app also gives the perk to collaborate with your team on any project.
Related: Best Vocabulary Apps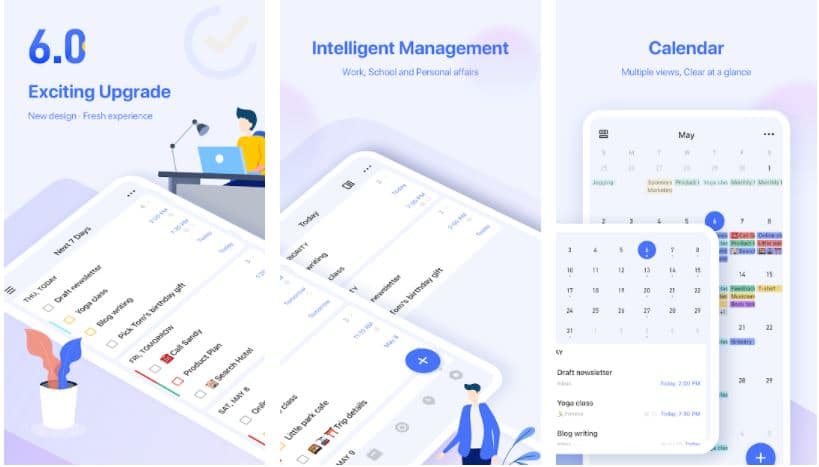 Standout Features:
Built-in timer
Build good habits
Recurring tasks
---
Evernote – Best day planner app for android
Evernote is a multi-tasking app that can be a handy tool for managing your personal and professional life. The app lets you capture your ideas in searchable notes form as soon as it strikes in your mind. You can keep journals of the important events and milestones achieved in daily life.
Besides text, you can add sketches, photos, audio files, and web clippings. All your important documents, memos, journal, and drawings can be scanned and converted into digital form for easy access. You can clip handy articles in the app for later reference.
You can also create separate notebooks to organize your memos, receipts, and invoice. The app can quickly find anything with its powerful search engine. All your notes and important data can be synced and accessed from different devices.
Related: Best Journal Apps For Android
Standout Features:
Multi-utility
Add media files
Create separate notebooks
---
Microsoft To Do – Best day planner app android
Microsoft To-Do is a user-friendly app you can have on your smartphone to plan your day. You can create a to-do list for the things you want to complete throughout the day. The daily planner will suggest tasks based on your daily schedule. You can break the tasks into small easy steps, thanks to the Task Management feature.
You can group the lists together via topic or project for easy reference. You can use the daily organizer with bold and colorful backgrounds to stay updated. The app sends you recurring reminders so you do not leave any task for the next day. You can integrate the app with Microsoft 365 office for easy collaboration.
Related: Best Ridesharing Apps
Standout Features:
Daily planner
Recurring reminders
Break tasks into easy steps
---
Trello – Free day planner app
Trello has more than 35 million users, making it one of the best day planner apps on this list. It is a visually appealing app that will help you organize the day. The app has a customizable board where you can record a to-do list. You can create a list, card, or board of the tasks you want to complete.
You can also record the tasks in offline mode and sync them when you are in the network area. Besides this, you can have a calendar view of your due date to keep in check the deadline. The interface of the app is appealing which users will surely love.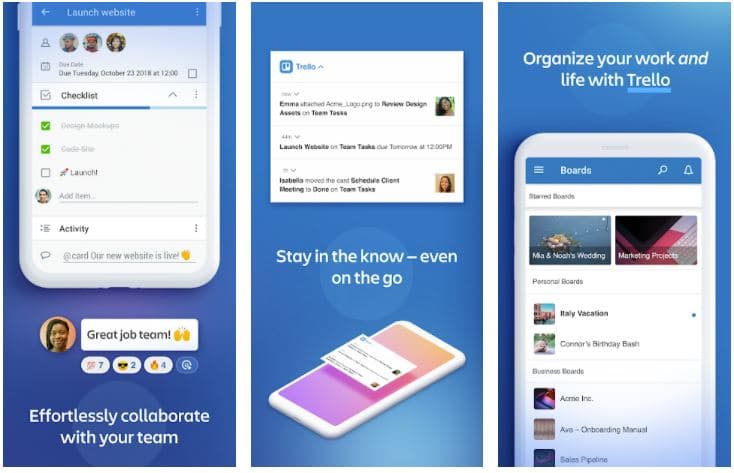 Standout Features:
Customizable board
Calendar view
Visually appealing
---
Any. do – Day planner app for iphone
Any.do app is a minimalistic app that offers you a different calendar view. The app has a daily calendar view, 3-day calendar view, weekly calendar view, and agenda view. You can create and set daily reminders, voice reminders, location reminders, and recurring reminders on the Any.do app.
You can integrate the app with multiple social media apps like Gmail, WhatsApp, Evernote, and Trello. You can share a list and assign tasks to your team members to get things done in time. The intuitive drag and drop feature of the app saves your time and helps you smartly manage tasks.
Related: Best Investment Apps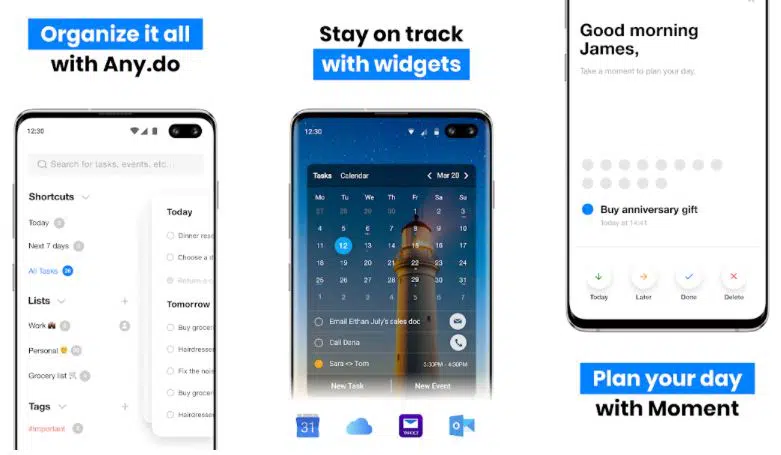 Standout Features:
Different calendar view
Integrate with social media apps
Intuitive drag and drop
---
Notion – App for day planner
Notion is the next app on our list of the best day planner apps. With an intuitive interface, you can plan your day with the Notion app. The app has a simple drag and drops feature that will help you list all the tasks. You can also add media files to the documents and share them with your team. You can collaborate with your team and edit the project at one time.
Related: Best Keyboard Apps
Standout Features:
Easy to use
Collaborate with team
Attach media files
---
Habitica – Day timer planner app
Habitica uses a unique way to organize your day and complete tasks. You can add your to-do list and daily tasks to the app. You can create a custom avatar for each task. After completion of each task, your avatar will be upgraded. Avatar gets updates like armor, pets, and skills.
The interactive interface of the app is one of the key highlights of the app. Besides this, you can develop healthy habits and can earn hundreds of pets. The app is highly rated and you can try it if you are looking for some interesting way to kill your task, Habitica is the option to go.
Standout Features:
Create custom avatar
Upgrade avatars
Earn rewards
---
Google Calendar – Day planner app for ipad
Google Calendar lets you create, manage, and view your tasks. You can assign events to the date and view the calendar in daily, monthly, and weekly views. You can directly sync your Gmail data and look for the dates of important meetings and events. The app has wide compatibility and you can use it with smartphones, tablets, and laptops.
The app lets you schedule a meeting quickly. You can share the details of the meeting via Google calendar. You can also publish the calendar on the web about all the upcoming events. The app is ad-free and free to use.
Related: Best News Apps
Standout Features:
Sync Gmail data
Publish calendar on the web
Schedule meeting quickly
---
Google Keep – Day trip planner app
Google keep can be one of the best day planner apps if you want a simple app. You can create the task list and write them off when it's complete. You can take quick notes and save them for later reference. You can add labels to easily relocate the task when needed. Use the voice note feature when you are in a hurry. The app allows you to add colorful labels to your daily task.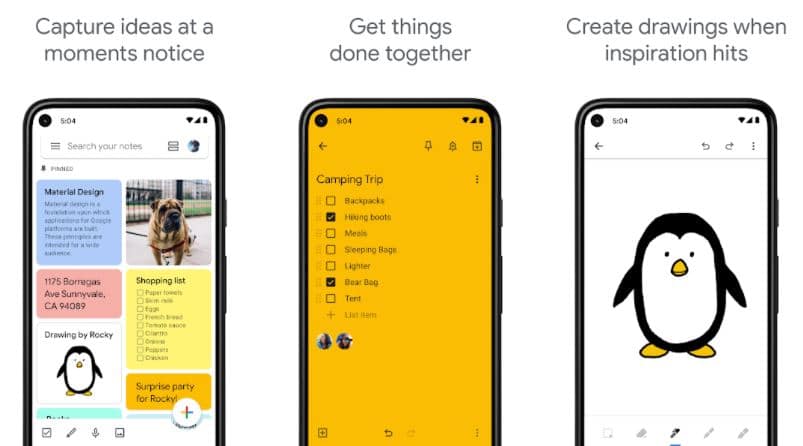 Standout Features:
Add colorful labels
Make voice notes
---
Sectograph – Day planner app for students
Sectograph is an all-around app that can help you to schedule your whole day. Time assigned to each activity will be shown in sector form and before the completion of every event, you get to know about the starting time of the next event.
you can schedule meals, monitor everyday plans, make your timesheet where you can visualize your time. You can also track working hours to take proper rest breaks on time so that you do not get tired. The app can be one of the best day planner apps for you if you are looking to organize your whole day in one place.
Related: Best Dropbox Alternative Apps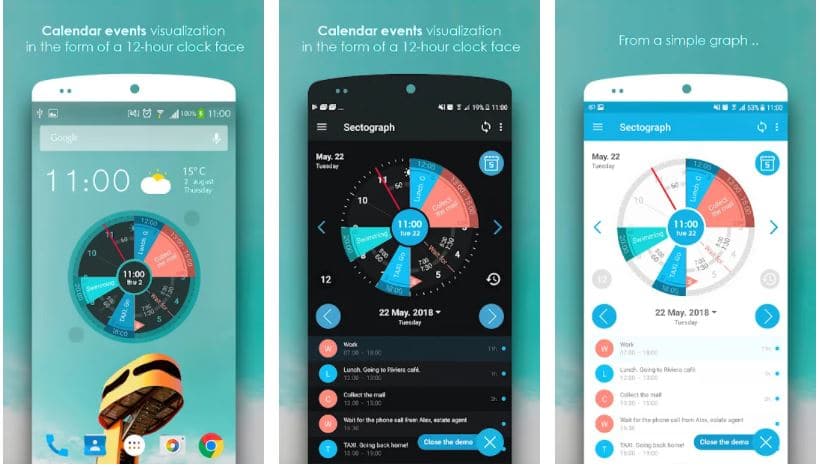 Standout Features:
Schedule your day
Interactive UI
---
nTask – Day planner app for mac
nTask is a multi-utility and one of the best day planner apps for time management. You can create teams and invite them to the group for project completion. Identify important tasks with your team and set them on the priority list. You can collaborate using task comments for better coordination with your team.
You can use the project activity log to track the progress of the project. Set frequency and reminders for your tasks so that you never miss the deadline. Mark off the completed checklist to know the remaining tasks of the day.
Standout Features:
Create teams
Identify important tasks
Task comments
---
Final Words
We hope our listicle of the best daily planner apps will help you hit your goals on time. Todoist, Microsoft Outlook, Trello, and Google Calendar are some highly recommended apps you can install to organize your day. Microsoft To-Do and Google Keep are some user-friendly apps you can use on your smartphones for efficient management of your day.
Thank you for reading! Try these out too:
General FAQ