VPN services are becoming an essential part of web browsing and streaming content from the internet. VPN for computers has existed for a long time but they slowly became available for mobile devices too. VPN services become crucial if you want to access the depths of the internet without being restricted by your Internet Service Provider (ISP). I have constructed a list of the best VPN app for Android devices that will let you access global content while securing your data.
Excited? So Let's Get Started
Do you even need a VPN app?
Yes. It would be a travesty if you ignore the best VPN app for Android in the present day. VPN isn't a useless addition to your app library that consumes bandwidth and system resources. It unlocks the full potential of your network speed while making you completely anonymous on the internet. Android devices are heavily tracked by Google and other installed apps and by using a VPN, you can mask your location and also detect malicious websites, unprotected public networks, etc. I will discuss the advantages of using the best VPN app for Android at length, in the next part.
Benefits of Best VPN Apps
Anonymity: By using a VPN, you are completely anonymous from snooping ISPs and pestering government agencies that steal your confidential data without any purpose. Secondly, you are also invisible to the malicious entities active on the internet, looking for vulnerabilities in your connection.
Data Encryption: Best VPN app for Android encrypts your data and sends it via a secure tunnel. Even if you are connected to a compromised public network, you can access the internet without leaking any confidential information.
Unblocking Geo-Blocked services: Worried about your favorite TV show releasing in one country but not yours. It is frustrating to have to pay for a full subscription but being Geo-Blocked by these streaming services and ISPs. You can easily bypass these restrictions by selecting a server located in that country. For travelers, VPN is effective as they encounter Geo-Blocking frequently.
Threat Detection: Latest VPN services can easily identify bogus websites and applications designed to deceive you and can alert you. They can effectively deter any tracking activity as your actual remains hidden.
Kill Switch: The best VPN app for Android always has an inbuilt kill switch that stops internet connectivity unless a secure connection is established. It is a fail-safe method to keep you protected even when you fail to turn on the VPN or are disconnected from a secure server.
Bypass Speed Throttling: Oftentimes, ISPs throttle your internet speed in certain apps or on the whole connection. A best VPN app for Android can let you bypass Speed throttling and experience the actual speed of your internet connection.
Best VPN App For Android
ExpressVPN
Express VPN is among the top-tier VPN services that money can buy. It is available for almost every device you can imagine, including Android. Express VPN has over 160 servers spread across 94 countries and offers unlimited switching among these servers. It packs all the features of a competent VPN service along with advanced features that are unique to Express VPN only.
Express VPN is one of the best VPN apps for Android that offers split tunneling and personalized DNS services to its users. They do not log your data and also bundle a Kill-Switch within the application to keep you safe at all times. One Express VPN subscription entitles you to unlimited bandwidth and simultaneous usage on up to five devices. Also, they have the best support service that is active round the clock.
Related: Best Cryptocurrency Apps
Standout Features:
VPN split tunneling
30-day money-back guarantee
AES-256 encryption
Conditions
No-fuss 30-day money-back guarantee and concurrent usage on a maximum of five devices
---
Nord VPN
Nord VPN and Expressvpn present a difficult choice as both of them are packed with essential features. Nord VPN boasts of a much larger server density but in only 60 countries. Still, 5000 servers are a lot to choose from and I am sure you will never run out of options. The VPN guarantees no activity or connection logs and has the most Alliance certification. With NordVPN, you get an inbuilt ad-blocker that can eradicate persistent ads while browsing and streaming on your mobile device.
The best VPN app for Android comes with unlimited bandwidth and the option to switch between TCP and UDP protocols. It has a CyberSec feature to protect you from phishing websites and accidentally becoming a part of bot networks. The VPN comes with a Double VPN feature that masks your identity by running each request via two servers. Nord VPN has an overwhelming feature set that covers everything you may need from a mobile VPN.
Related: Best Journal Apps For Android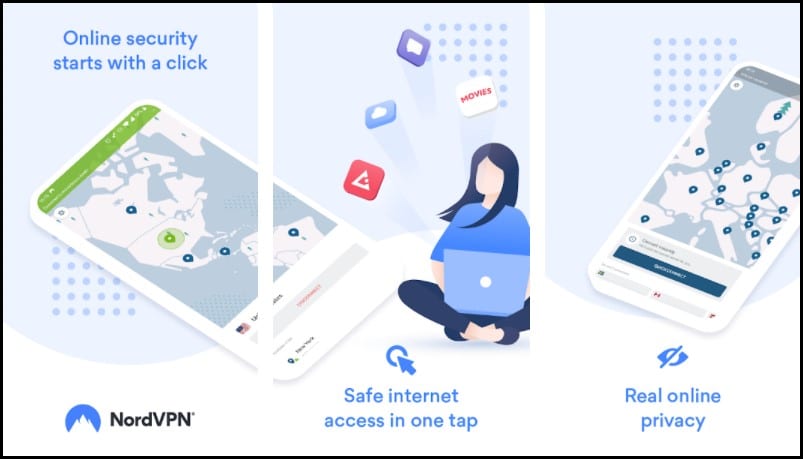 Standout Features:
Double VPN
Split tunneling
CyberSec feature
Conditions
Unlimited bandwidth, 30-day money-back guarantee, and can be used on up to 6 devices.
---
Surf Shark
Surf Shark is among the best choices for a VPN app for android that allows installation on an unlimited number of devices on a single account. Yes! You heard that right. The VPN app isn't frugal in terms of the maximum number of devices that access the subscription. In Surf Shark, you get access to 30+ Netflix libraries that you can access from anywhere across the globe along with an effective ad-blocker.
This best VPN app for Android lets you choose from over 3500+ servers scattered across 65 countries including Hong Kong. You can easily whitelist apps that do not sit well with VPN, like banking apps and delivery apps. There is an inbuilt killswitch that disconnects you as soon as the server connection is severed. Split tunneling and integrated malware blocker are present along with the feature to spoof your GPS application. Support is readily available and your queries will be answered promptly. All of this along with a strict no-logs policy makes Surf Shark among the best VPN app for Android.
Related: Best Apps For Secret Texting
Standout Features:
Kill Switch
30+ Netflix Libraries
GPS spoofing
Conditions
Unlimited bandwidth and devices.
---
Hotspot Shield
Hotspot Shield is a robust VPN service with a military-grade encryption service that actively blocks numerous phishing websites. The UX experience of hotspot Shield is far better than any other best VPN app for Android on our list. Apart from military-grade encryption, you get the reliability of hydra protocol, one of the best security frameworks on the market.
You can easily access any local or global website by connecting with 3200 plus servers spread across 80 plus countries. In the premium version, you get an internet kill switch, 115 plus virtual locations, up to 1 Gbps bandwidth, and a dedicated streaming mode. Hotspot Shield claims to not log any user data and offers a 45-day money-back guarantee if you don't like their services. Also, one account allows you to use it on five devices simultaneously.
Related: Best Investment Apps
Standout Features:
Hydra protocol
Military-grade encryption
45-day money-back guarantee
Conditions
Five devices allowed, 1 Gbps bandwidth, 45-day money-back guarantee
---
Private Internet Access
Private Internet Access is an open-source VPN app for Android that is fairly economical if you compare it with Nord VPN or Expressvpn. Being an open-source product means there are no hidden developmental changes and anyone can look for loopholes and report them. It comes with a powerful ad blocker and malware blocker. Even the UI is super simple and needs one click to activate the VPN. You can also choose to auto-activate.
Popular features like split tunneling, dedicated IP address, protocol switching, and torrenting are supported by this best VPN app for Android. You can connect up to 10 devices on a single subscription and get a 30-day money-back guarantee with Private Internet Access. Customer support appears to be the primary pain point of this VPN app.
Related: Best Keyboard Apps
Standout Features:
Dedicated IP address
Split tunneling
Ad and malware blocker
Conditions
10 devices, unlimited bandwidth, and a 30-day money-back guarantee
Download this Best VPN App For Android
---
Cyber Ghost
Cyber Ghost has significantly improved as a well-rounded VPN service that is also available for Android. This best VPN app for Android comes with an intense dark UI, which is not very pleasant if you ask me. If you can bear the ludicrously dark UI, the features of the CyberGhost VPN aren't so bad either. This best VPN app for Android boasts 7100 servers in more than 91 countries. One more plus point of this VPN is that they have a personal data center.
With cyber Ghost VPN, you can unblock streaming services, use torrent clients and websites, protect your devices, and have the highest possible VPN speed. It has a strict no-logs policy with unlimited bandwidth and traffic. It also has DNS and IP leak protection with AES 256-bit encryption and an automatic kill switch for security. This best VPN app for Android offers a measly 3-day trial and a 45-day money-back guarantee that is the highest among most VPN services.
Related: Best Running Apps
Standout Features:
7100 servers
DNS and IP leak protection
No logs policy
Conditions
Up to 7 devices on a single account, unlimited bandwidth, and a 45-day money-back guarantee.
---
Windscribe
Windscribe is one of the most reliable VPN services that sadly doesn't have the recognition as Nord VPN. Windscribe offers a simple layout in its Android app with the settings hidden under the hamburger menu and location and protocols settings. You can switch between TCP and UDP protocols and also simply turn off the VPN with the big button that is hard to not notice. Switching across different server locations is easy and you can do it without digging deep into the menu.
Windscribe has an inbuilt adblocker and also provides a GPS spoofing feature. You can also activate split tunneling and can then easily select apps that you want to exclude from the list. You can also set the VPN app to activate on startup and can also toggle it on/off in the notification settings. Windscribe offers flexible pricing and even the free version offers up to 15 GB of data.
Related: Best News Apps
Standout Features:
Flexible pricing
Effective ad blocker
Malware tracking
Conditions
15 GB data on one account, flexible plans but limited data
---
Vyprvpn
Vyprvpn is among the few VPN services that can help you bypass the great firewall of china and access global content from the Hong Kong province. Vypr VPN adds an extra layer of security with its NAT firewall and offers a seamless browsing experience with a working adblocker. The VPN has a zero log policy along with a long list of independent audits to prove its statements.
This best VPN for android offers public wifi protection and a kill switch to disconnect your device from the internet. Vypr VPN has a comparatively small server cluster with 700 plus servers in 70 plus countries. Still, it allows 30 simultaneous connections from a single account. It also offers a 30-day money-back guarantee and is fit for accessing streaming services as well.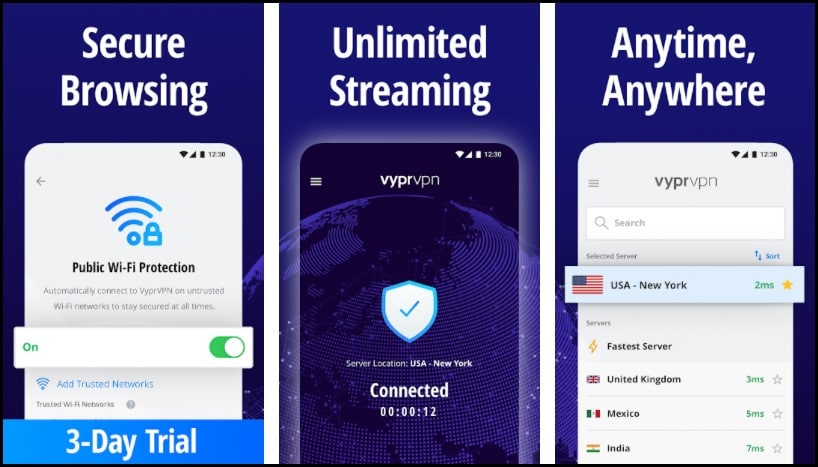 Standout Features:
Works in China
NAT firewall and Kill Switch
Zero log policy
Conditions
30 connections, 30-day money-back guarantee
---
SuperVPN Fast VPN Client
SuperVPN is one of the best VPN apps for android. The application offers numerous features that ensure you get a free VPN service without costs or limitations. The app is straightforward, with an interface that lets you quickly activate it. Furthermore, finding any feature is also a straightforward task as the app simplifies all the steps by providing you access to everything on the home screen.
One of the most notable benefits of the app is that it offers unlimited free time and bandwidth, thus providing some of the fastest servers globally. Super VPN protects your privacy, preventing any 3rd party websites from tracking your online activity. You can also unblock all the geographically banned or restricted websites through it.
The app also doesn't require any registration as all it requires is one click for securing a successful connection. There is no root required, and you can also encrypt the internet traffic. SuperVPN is the choice of thousands due to its top speed, reliability, and the fact that it provides a secure solution to all the requirements. You can connect to multiple servers and securely access various websites.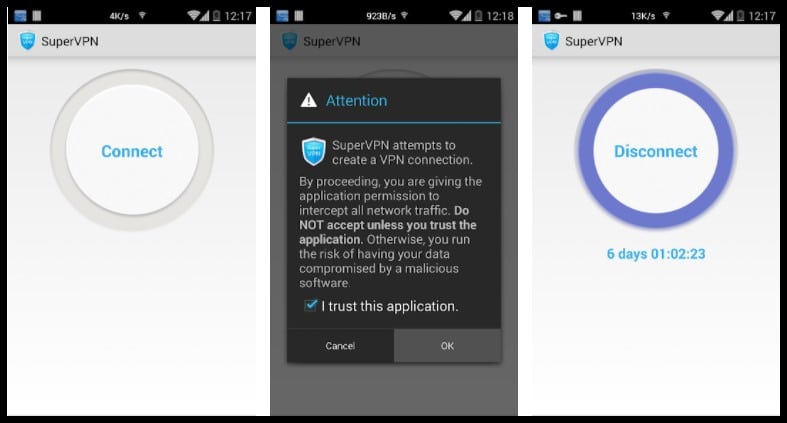 Standout features:-
Protect your privacy
Easy to connect
Unblock banned or restricted websites
---
Tunnel Bear
TunnelBear is a Canadian VPN company that is equally popular for its jovial mascot and robust VPN features when it comes to bypassing geo-blocked content. Tunnel Bear uses AES 256-bit encryption and comes with a feature to protect your data while accessing public Wi-Fi. It doesn't have the latest features like split tunneling and Kill Switch but is among the transparent VPN services. It offers unlimited bandwidth, no speed throttling, and simultaneous usage on up to 5 devices.
Related: Best Unknown Android Apps
Standout Features:
AES 256-bit encryption
5 connected devices
Multiple audits
Conditions
No bandwidth capping, 5 users, and unclear return policy.
---
Final Words
Express VPN and NordVPN remain my two personal preferences for the best VPN app for Android. They do not skimp on bandwidth, have a great return policy, and also block ads effectively. Other recommendations include Hotspot Shield and Private Internet Access VPN for their flexible device usage. Lastly, if you want a cheap yet best VPN app for Android, Windscribe is the right choice for you.
Thank you for reading! Try these out too:
General FAQ
Which is the best free VPN app for Android?
Windscribe is among the best premium VPN services that provide 15 GB of data per month for free. They even have one-dollar plans for specific server locations.
Which is the number one VPN app for Android?
Express VPN is the number one VPN app for Android devices. 
Is there a 100 percent free VPN app?
Proton VPN is a completely free VPN app with an adequate number of servers but average connectivity. 
Why are free VPNs bad?
Free VPNs exist to exploit your logged data and then sell it to advertising firms for targeted advertising. They provide minimal features and often come with advertisement integration and slow bandwidth.