VPN or Virtual Private Network is a common word you have come across if you usually surf through the internet. VPN maintains the anonymity of your internet connection. A VPN can hide your browsing history, IP address, your streaming location, and your web activity.
If you are concerned with your online privacy, then here are some best VPN apps that can help you out.
Benefits of VPN:
Now arises the question about the need for a VPN in your devices. There are numerous benefits that can be listed, we will be telling you some useful benefits of using a VPN or why it is a must-have in your smart devices.
Conceal your IP address – Your IP address can give your physical location access to the intruders and unethical hackers on the other side. That is where VPN comes into action. VPN can conceal your IP address and no one, even the government and unethical hackers can get to know what you are browsing on the internet.
Hide your browsing history – Intruders can bump into many of your sensitive details if they get access to your browsing history. Browsing Details may include the websites you are visiting, files downloaded, and your banking details. Using a VPN will hide all your browsing data, eliminating all the possibilities of intrusion.
To get access to restricted content – This is one of our favorite reason to use a VPN. Online content is restricted due to censorship in your region like

Torrent

is also banned in many countries and that's where VPN comes into play. You can get access to restricted online content that can be unlocked with the help of a VPN.
Get ready to know about some of the best VPN apps that can be used to avail the above-mentioned benefits.
Best VPN Apps in 2021
Nord VPN
Express VPN
Surf Shark VPN
Private VPN
Hotspot Shield
Cyber Ghost
Strong VPN
---
Nord VPN – Best VPN Apps 2021
The app does not track, collect, and share its user's data, and that is what we all want. The app offers you a dedicated IP address that lets you mask all your online activity. You can change the provided IP address to maintain anonymity and online privacy.
Nord VPN is compatible with multiple platforms like a windows device, Linux, Mac OS, and Android device. Nord VPN offers a fast and stable internet connection where you can choose from over 5500 Nord VPN servers across 59 countries. The app conceals your sensitive information while you are online and makes sure that no one can track it.
The app lets you share even large files, thanks to secure P2P servers that conveniently assist you in doing so. By turning on CyberSec you can block ads and avoid malware hosting. You can log in to multiple devices, up to 6 at a time, and manage all your data across different devices.
Nord VPN is an all-around performer that will protect your online presence that makes it the best VPN apps on the list. The app has various paid plans. The 1-month plan will cost you $11.95 while the 1-year plan will cost you $4.92 a month.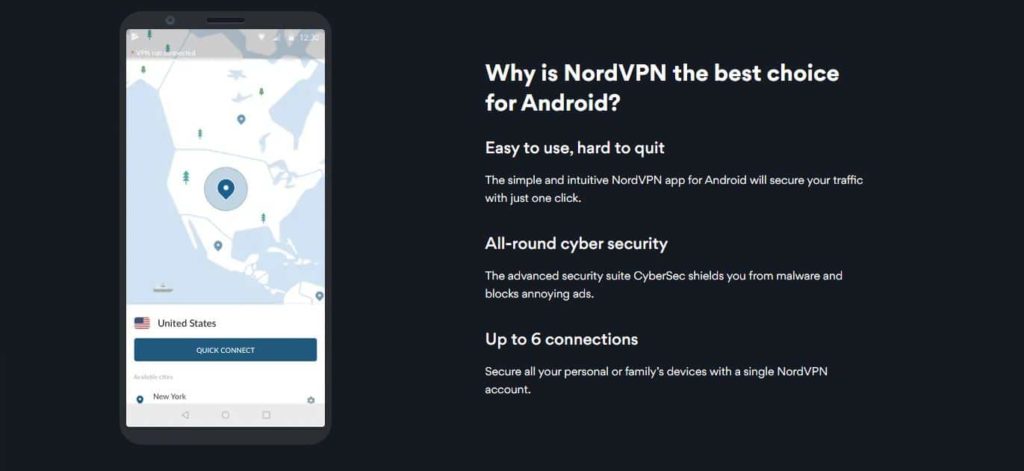 Standout Features
P2P servers to share large files
Dedicated IP address
CyberSec to avoid malware-hosting
---
Express VPN – Best VPN For Windows
Express VPN, the name suggests the quality of this VPN app. The app offers you the power of an unlimited bandwidth VPN at a blazing fast speed. The app hides your IP address and encrypts your network data so that no one could see what you are browsing on your device.
Express VPN is compatible with Android, Windows, Mac, Linux, iOS, and other digital platforms. Access to the restricted Content is one major benefit of the app that makes it one of the best VPN apps. You can unlock the restricted content from Netlflix, Youtube, BBC player, and prime video.
The app is available in 160 locations across 94 countries that cover a wide geographical area. So the location is not a barrier for you and you can access everything from anywhere. You can encrypt every bit of data with the kill switch, split tunneling, and 256-bit AES. You get 3 different payment plans; $12.95 for a month, $9.99 for half a year, and $6.67 for 15 months.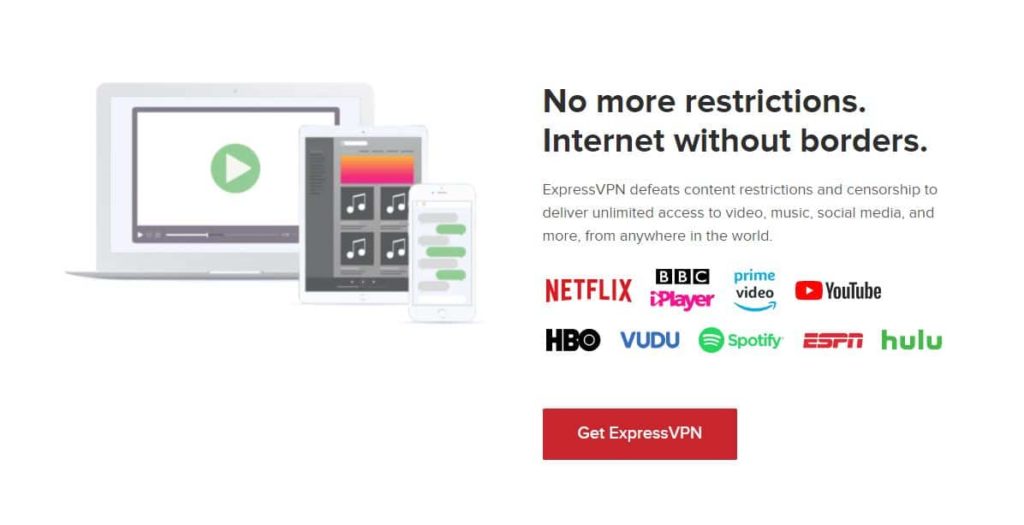 Standout Features:
Available in 160 locations across 94 countries
256-bit AES
Split tunneling
---
Surf Shark – Best VPN for android
Surf Shark is a budget-friendly VPN that could protect your online presence and keep all the online predators away. Surf shark has Torrent-friendly servers that let you make fast P2P downloads. You can make an unlimited simultaneous connection at a time on multiple devices. There are no bandwidth barriers or device barriers.
The app has Kill Switch that will immediately disconnect your internet connection as soon as your VPN connection goes down. Ads are always annoying on VPN apps but that is not the case with Surf Shark. The app has an in-built ad blocker which is developed by CleanWeb to keep away the annoying ads.
The monthly, half-yearly, and two-year plan of the app will cost you $12.49, $6.49, and $2.49 respectively.
Standout Features:
Fast P2P downloads
Kill switch
in-built ad blocker
---
Private VPN is a super-fast VPN service that comes with military-grade encryption. The app has a 2048 bit military-grade encryption that is one of the most secured connections you can get. You can unlock all the restricted content with the help of a private VPN. You can download all the content in high quality at a lightning-fast speed.
The app has a simple user-interface that makes it the best VPN apps on this list. Rather than complex coding to unlock the restricted content, the app has a simple algorithm that lets you download all the content in high-quality. The app has 60 private VPN locations across 100 servers to choose from. You can also get a 30 days trial period to do the quality check of the app.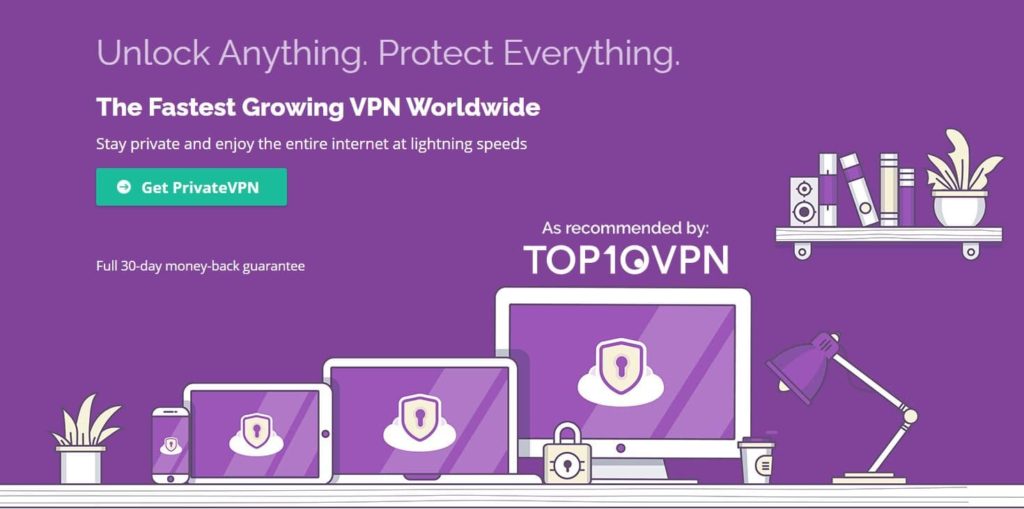 Standout Features:
Military Grade encryption
60 private VPN
Simple user-interface
---
Hotspot shield is the next app on our list that is one of the trusted and fastest VPN services as claimed by the critics. The app hides your online activity from foreign elements and offers you maximum privacy. The app has the largest VPN coverage that is powered by AURA in over 20 countries that include the US, UK, CA, and Japan.
The standout feature of the app that makes it the best VPN apps is that it has in-built malware that keeps you alert about malicious sites and software. The app has military-grade encryption that ensures that none of your data is leaked during the online activity. You can connect up to 5 devices at a time on this app whether it's your smartphone or laptop.
The app offers your 45 days risk-free trial period to use and check the services. The latest monthly plan of $2.99 for 3 years could be a money saver for you if you do so. The monthly plan will cost you around $12.99 while the yearly plan will cost around $7.99 per month.
Standout Features:
One of the Largest VPN coverage
Dedicated streaming and torrenting servers
Server-based location
---
Getting customized servers would be one of the best things that you can get in a Virtual Private Network. CyberGhost is here to make this thing possible. The app recommends suitable servers based on your location. The app has dedicated streaming and torrenting servers to choose from.
You can unlock all your favorite international shows that are inaccessible due to Geo-restrictions. Enjoy all the Web series and sporting events in high quality with CyberGhost VPN without leaving any trace of your online presence.
The app allows you to connect up to 7 devices simultaneously to enjoy secure connections across multiple platforms. The subscription plan of the app are as follows; 895 INR for a month of usage, 291 INR per month for a year subscription.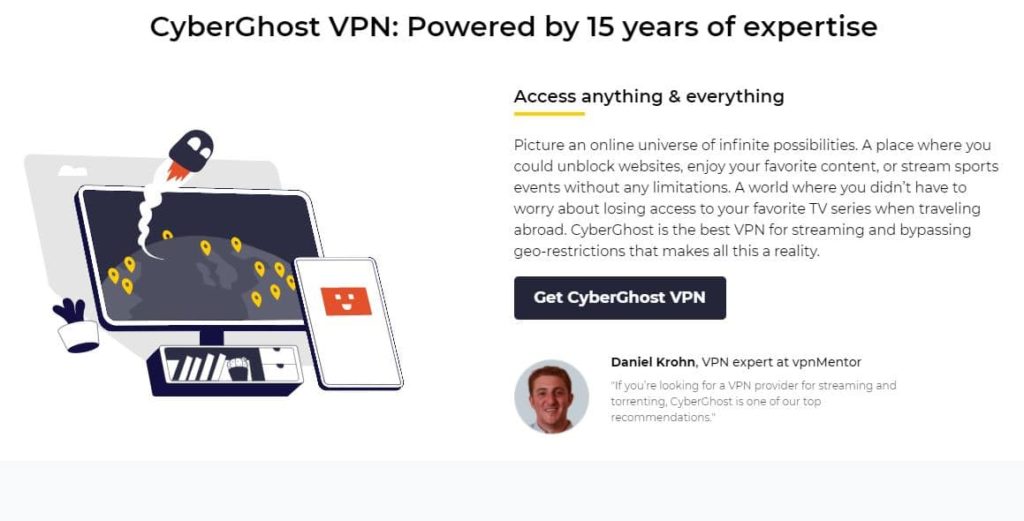 Standout Features:
Customized servers
Connect 7 devices simultaneously
Best available location feature
---
Strong VPN – Best VPN Apps 2021
Powered by Wireguard, a next-generation VPN protocol that promises to deliver the best speed, Strong VPN is the next app on the list. The app is compatible with all platforms that let you access it on any smart device in your pocket. The app has light and dark mode options to choose from.
The app has around 59,500 VPN IPS along with 950+ servers. The app is accessible in 35 countries and 59 cities that lets you access content from every part of the globe. The app has a 'Best Available Location' feature that suggests the best servers according to your location.
You can connect 12 devices simultaneously on this VPN network which makes it the top contender for the best VPN apps on our list. You get 250 GB of secure storage in the subscription plan of the app. You have to pay $10 for a monthly plan and $69.99 for a yearly plan.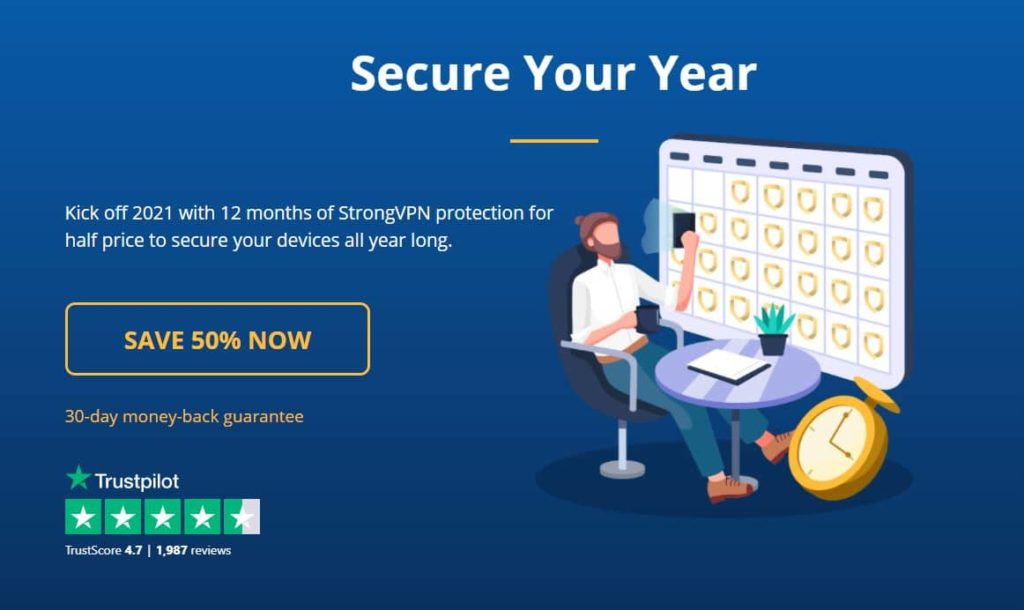 Standout Features:
950+ servers
connect 12 devices 
250GB secure storage
---
Final Words
These were some of the best VPN apps you can choose if you looking for the best VPN. All the app has a free trial period to do a quality check, so make sure to use it optimally. Keep sharing our content so that we come up with more useful content for you in the future.