Writing apps is one of the most useful tools that help to improve productivity and manage your work. The best writing app is one that enhances the overall efficiency and left a positive impression on your readers. To avail of the best writing apps, we have compiled a list of the best writing apps for you.
These best writing apps will help you organize, manage, and save all your written material in one place. These apps will also help you to make your content grammatically sound and appealing to the readers.
Excited? So, Let's get started
Benefits of Best Writing Apps
Grammatical corrections:- One of the most notable benefits of using the best writing app for android is that it ensures minimal grammatical mistakes. Since, during writing, it's common to make mistakes, and when you are suffering from creative mental fatigue, it's also easy to overlook them. It's where the best writing app for android proves to be of great value. You can use the applications to correct punctuation, spelling, sentence structures, etc. Overall, the app will ensure that your work is ready to be published.
Confirms proper order:- The best writing app for android also confirms proper order, which means that you will save plenty of time that you might spend otherwise in correction and evaluation of the work. You can set goals and targets in the best writing app for android, and it will ensure proper order in your work. The app will let you adjust the grammar, punctuation, adjective, and verb usage, etc., as you like.
Improve your grip over the language:- The best writing app for android can help you compose the best content; however, it's equally beneficial to improve your grip over the language.  It's also proved to be a great learning opportunity for the writers who want to build their knowledge and grip over English.
Best Writing Apps For Android
---
Writer Tools
Writer Tools is the best writing app for android with an intuitive user interface and impeccable functionality that will make your life easier and reach your writing goals a lot quicker. One of the most significant features of the app is that it lets you maintain a writing log. The feature allows you to record what you have written and your productivity. You can add notes about the creative procedure and what assisted you during it. Additionally, keeping notes will ensure that you are mindful of any particular detail during writing.
You can also note the progress statistics, and it means that you will keep track of the word count and know exactly when you have finished. If more than one user wants to use the application, you can create various character profiles and track who is writing and how much they have written.
Writer Tools is an excellent choice if you want to write multiple chapters. It will let you order the chapters chronologically, writing a brief description of what is written in the chapter. It will let you fix all the flaws and stick to the point during writing. You can also compose the chapter's in-advance to ensure productivity.
The app will also let you add locations to the chapters and even sub-locations, ensuring that you glide through your virtual world as you create quality content. You can use the Timeline feature to plan the book events chronologically. Additionally, it contains an excellent feature if you develop a fantastic notion during the writing and save it.
Related: Best Step Tracker Apps
Standout Features:
Create chapters and store ideas
Efficient writing
Maintain stats
---
Microsoft Word
You can create documents, blogs, resumes, and letters on Microsoft Word. You can read or edit documents and collaborate with your team to execute a project. The app has useful tools that let you write your content in various styles, fonts, and formats. The app has introduced a mobile PDF editor to read and edit the document on your smartphone.
The created file can be shared and collaborated with your team in one tap. You can convert the word file into PDF format to make it easily readable and editable. You will have complete control over the shared documents where you can track the changes made. The app can be a useful tool for project managers. You can comment on the doc to make suggestions to the team.
Its simple UI and multi-utility make it one of the best writing apps. The basic features are available in the free version of the app while additional features need a premium subscription plan. Make sure that your device has the latest platform that is compatible with the app.
Related: Best Guitar Tuner Apps
Standout Features:
Editing with rich formatting and layout
Share files and collaborate with a few tap
Document editor
---
Grammarly Keyboard
Grammarly will help you to make your content specific and suggest you make necessary changes for better readability. The app will correct your grammatical mistakes by suggesting the best possible alternatives for the content. Based on your writing Grammarly will calculate your readability score.
The app will show the correctness, Engagement, Delivery, and clarity of your content for the readers. You can also download the PDF report of your performance and analyze the areas to improve. This app can be a very good option for professional writers who want to create engaging content for their readers. The best feature of the app that makes it the best writing apps is that it gives you a short clear explanation for the mistakes.
The app will suggest additional writing changes that can be resolved by upgrading to the premium version. The app has different subscription plans for individual users and businesses. Premium subscription includes features like Vocabulary enhancement, Tone adjustments, Formality level, Word choice, and fluency.
Standout Features:
Short, clear explanations for every correction
Advanced punctuation correction
Synonyms
Spelling checker and proofreader
---
Jotterpad
Jotterpad app is a dream come true app for creative content creators who look for useful editing apps. Jotterpad is one such useful app that will help them to pen down their thoughts into a thought-provoking writing piece. It is a plain text editor that is suitable for writing books, novels, poems, essays, drafts, and screenplay.
The app has a beautiful text editor loaded with features to assist you in writing a masterpiece. The text editor has features like a dark theme, Extended keyboard, Snapshots, typewriter, etc that will make writing easy and fun. Remain distractions-free with the neat interface of Jotterpad. 
The app has appealing typefaces and customizable typography that lets "s you create your personal writing space. To know the detailed meaning of a word the app has an in-built dictionary. Your writing piece can be converted into PDF or RTF format and can be shared.
Related: Best Home Workout Apps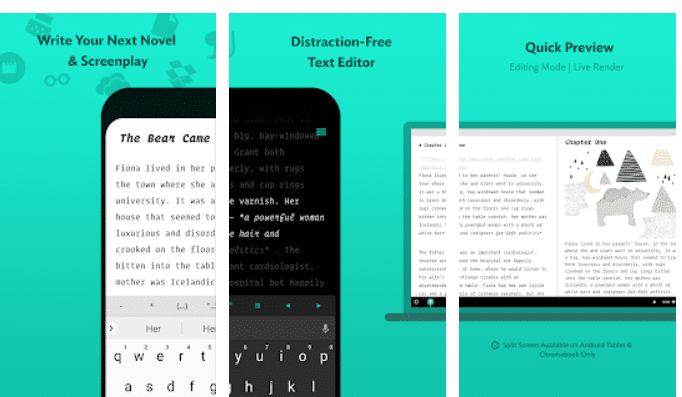 Standout Features:
Beautiful typefaces and customizable typography
Built-in dictionary
Sync with all the cloud services
---
Google Docs
Google docs is a simple writing and editing tool that will help you to create projects and collaborate with your team. You can create documents, edit them, share them, and collaborate with your team on the same document. You can work without any internet connection in offline mode which makes it a favorite for the users.
You can edit or suggest necessary changes that need to be done in the document. Your data is always protected as all your work is autosaved in the app. You can also open and edit the word documents in the app that is a useful feature. The app is free that makes it one of the best writing apps on this list.
Related: Best Weight Loss Apps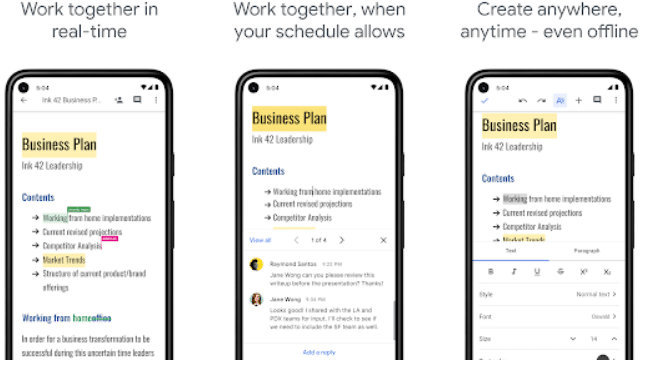 Standout Features:
Useful editing tools
Easy to collaborate with team
Autosave
---
Character Story Planner 2
You might have guessed from the name of the app what it will offer you. If you're planning to develop a story and want assistance from any writing app, this app will be perfect for you. The app offers numerous templates to build your characters.
You can use the app to develop characters, relations, groups, races, and creatures. You can also create an imaginary world of your own if you want to explore your creativity. The app lets you organize your story in a neat and tidy style that will help you efficiently complete your story building. The app can be a handy addition to your productivity apps list. Efficiency and productivity make it the best writing apps for content creators and creative writers.
Standout Features:
Development of characters
Useful templates
D&D planning
---
Pure Writer
We often lose our data due to accidental deletion or forgetting to save the data. This app makes sure that your data is encrypted in case the data is not saved on your device. You can access the data from the historical records of the app to recover your lost data.
The app is a fast plain text editor that lets you effortlessly craft your thoughts into a beautiful piece of writing. The line and paragraph spacing feature enable you to write the clear text that can be easily readable. The app also has a smooth scrolling and collapsible keyboard that further assists you in writing.
The app checks that the content is saved every two seconds in the database and if it doesn't happen it will notify you immediately. The content will be saved automatically during the editing process. The app has a trash folder that will keep a record of your deleted files that can be recovered if you want them again.
Related: Best Sports Apps
Standout Features:
Fast plain text editor
Line and paragraph spacing feature
A protective mechanism to save your data
---
Evernote
Evernote is a multi-tasking app that can be a useful tool for managing your personal and professional life. The app lets you capture your ideas in searchable notes form as soon as it strikes in your mind. You can keep journals of the important events and milestones achieved in daily life.
Besides text, you can add sketches, photos, audio files, and web clippings. All your important documents, memos, journal, and drawings can be scanned and converted into digital form for easy access. You can clip useful articles in the app for later reference.
You can also create separate notebooks to organize your memos, receipts, and invoice. The app can quickly find anything with its powerful search engine. You can set reminders to complete your tasks within the given deadline. All your notes and important data can be synced and accessed from different devices.
Business people can manage plans, create an agenda, keep up with the meeting by taking notes, and plan their short and long-term goals. The app has multiple utilities that make it the best writing apps for every user. The Premium version of the app will give you additional features like Annotate PDF, syncing across unlimited devices, and 10 GB of new uploads every month.
Related: Best Personal Finance Apps
Standout Features:
Create separate notebooks
Scan, digitize, and organize your documents
Set reminders
Attach docs, PDF, photos, and audio
---
Novelist
To write a masterpiece novel, switch to the Novelist app. The app is free of cost without any in-app purchases that let you craft your novel. More than 70,000 writers are already using the app to write their best pieces. You can organize all the puzzles of your novel and arrange them in chronological order to make a perfect story.
In the first stage, you can plot all the important elements of your novel. You can edit, merge, split, and order these elements to make them look appealing. After the completion of the Plot, you can start the Write stage to compile all your scenes in one frame.
Sort and categorize your elements by arranging them in chronological order. In the last stage, you can schedule your novel according to your goal. Your work will be automatically saved on Google Drive.
You can preview your work and make the final editing to make it floor-ready. The app offers wholesome features a novelist might look for that make it the best writing apps.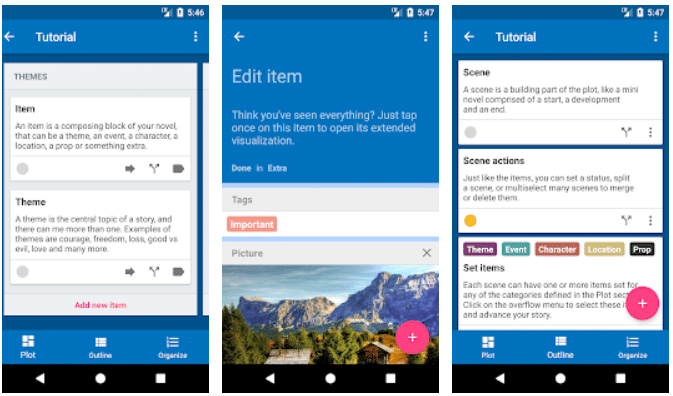 Standout Features:
Book compilation in EPUB, ODT, or HTML format
Rich text editor with the format, counters, and autosave
Insert and review comments in texts
---
Writer Plus
Writer plus is a simple writing app that will assist you in writing notes, novels, poems, essays, and drafts. The app has an Android material UI style that offers efficient performance to the writers. The app has keyboard shortcuts to ease your tasks and save your time.
The markdown format feature keeps your writing simple that can be easily understood by the readers. you can write text in bold and italic format and list them according to your preference. The app also has a night mode theme which will help you work during late-night time. The app is free and you can write in around 10 languages that make it the best writing apps.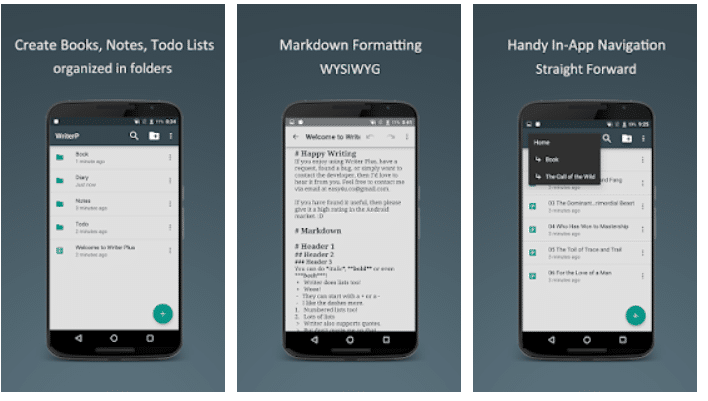 Standout Features:
Markdown format
Android material UI style
Battery friendly
Night mode
---
Writing
This app could be the best writing apps for you if you are a beginner in any field of writing. The app offers you educational articles and videos that will improve your skills and make you a pro in writing. The app offers in-depth articles that are compiled from various trusted sources.
The app will help you to write a book, prepare your college paper, and create appealing newsletters for your business. You will receive a daily article or tutorial which you need to thoroughly go through. If you are interested and feel that the topic of the article thrills you, then bookmark it for later reference.
Spend more time reading the article to better understand the minute details of writing. If you think you are done with reading then take action to implement what you have learned from the tutorials. Repeat this practice to become a pro at writing. The app is free but contains some ads which you need to manage while you are working.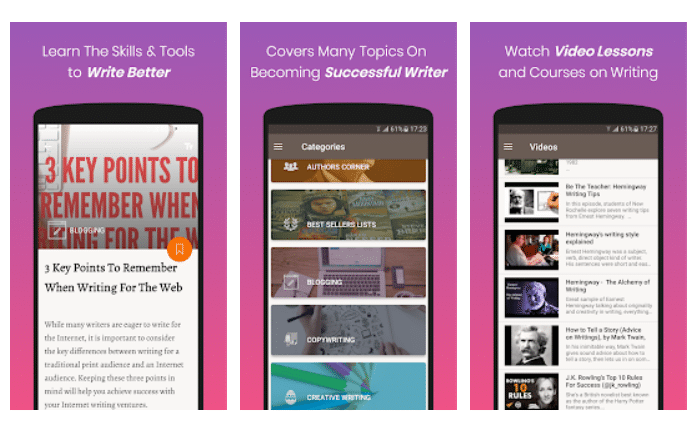 Standout Features:
Daily tutorials
Curative in-depth researched tutorials
Best in improving writing skills
---
Final Words
This multi-utility list of best writing apps is a must-try for every kind of writer. You can use these apps if you are a content creator, Blogger, or Novelist. Show your appreciation by liking and sharing our content so that we keep coming with more awesome stuff for you.
Thank you for reading! Try these out too:
General FAQs
What is the best writing app for android?
Our list above contains a variety of choices that can be labeled as the best writing app for android. However, we pick Grammarly, Microsoft word, and Writer Tools as the best choices on our list.
How can I reach my word count using the best writing app for android?
You can use the best writing app for android to set word counts and goals. It will ensure that you remain motivated and reach your word count efficiently.
Can I use the best writing app for android to write conveniently?
Yes, one of the most significant benefits of using the best writing app for android is that you can download it on your mobile and write it anywhere, ensuring convenience.