Phones have become intertwined with business and education and malicious entities have migrated to the internet to cause menace. Best Spy App for iPhone can help you protect yourselves and your families from many lurking threats and can help you keep track of the ongoing activity in your iPhone. Spying cannot be done without consent, so make sure that you are only using the best spy apps on devices that you have consent or authority for tracking.
I have listed down useful spying apps that go the extra distance to bring as much detail, as possible.
Excited? So, Let's Get Started.
Best Spy App For iPhone
---
mSpy is popular because of its effective monitoring features that enable you to visualize the complete activity of your iPhone. Setting mSpy is super-easy and it does not need to be physically installed on the target device. You just have to input the credentials of the iCloud and it starts monitoring the phone. The app facilitates social media monitoring, message recovery, location tracking, remote blocking of websites/apps/contacts, and even supports screen recording to capture the device activity.
These are not all features that mSpy comes with and there are even features that let you access the calendar, Wi-Fi networks, images, and videos stored on the iPhone. You can access all the activity via the web application on any browser.
Related: Best Free Music App for iPhone
Standout features:
Message recovery
Location tracking
Blocking of websites
Download this Best Spy App for iPhone
---
Mobilespy.at is an equally good spy app for iPhone that needs to be physically installed you the target iPhone. The biggest USP of this best security app for iPhone is that it provides a real-time surveillance view of the target device. You can simultaneously read all the incoming and outgoing text messages, access geo-location, and get notifications in case you miss anything. The service does not log the data that you are tracking on an iPhone and thus ensures complete confidentiality of the device being tracked.
It has an inbuilt keylogger that logs every keystroke by the user, and the app is compatible with all the mobile platforms. You can even wipe the trace of the app from the target device with a single click. It has three pricing tiers and if you are serious about tracking a device, the six-month gold plan is the best in the budget.
Related: Best iPhone Themes For Customization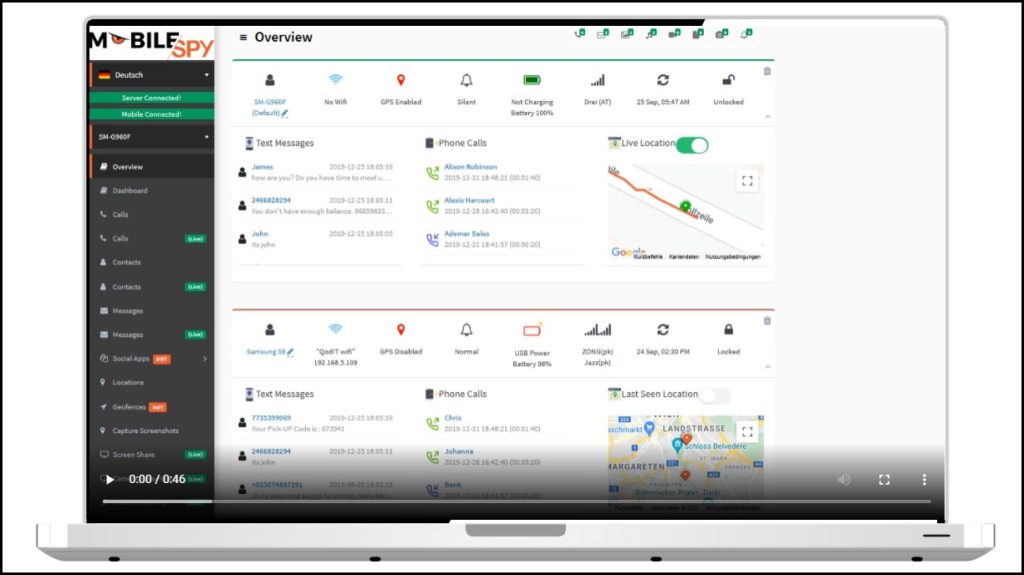 Standout Features:
Remote deletion of app
Available on desktop and mobile phone
Real-time surveillance
Download this Best Spy App for iPhone
---
uMobix offers a plethora of features for a fraction of what other best spy app for iPhone is offering. Anything that you can imagine as a feature is present in this best spy app for iPhone. You do not need to install any application on the target device as the iCloud credentials are enough to enable tracking on the device. uMobix offers a rich feature set that includes a lot of restrictions that can be applied to the target device.
It can come in handy if you want to limit the functionality of the iPhone for your child and monitor their activities. A few effective features include block website, block wi-fi, block device, restrict apps, delete apps, disable messages, restrict calls, an additional app for parents, data storage, etc. It does not require jailbreaking your iPhone to enable tracking on the target device.
Related: Best Camera App For iPhone
Standout Features:
No app installation needed
Restrict apps
Recover deleted messages
Download this Best Spy App for iPhone
---
FlexiSPY is one of the oldest and reliable brands in the spy service industry. It creates spy solutions for devices and computers including Windows and iOS. Apart from facilitating easy installation on your smartphone, they even deliver a brand-new iPhone that comes with the spyware pre-installed and ready to monitor. You can monitor the activity via the dashboard that is available as a web app and also as a mobile application.
FlexiSPY provides a round-the-clock customer care service that can eradicate your doubts and troubleshoot problems in a 24-hour window. The pricing of FlexiSPY is on the higher side but if you compare the feature set, it is a desirous choice for the best spy app for iPhone.
Related: Best Dating App for iPhone
Standout features:
Reliable spy service
Dedicated application for monitoring
Live chat with humans
Download this Best Spy App for iPhone
---
SPYERA is a full-fledged iPhone spy software, but there is a condition that you have to jailbreak the iPhone, in which it has to be installed. The stipulation can be a bit difficult if you want to use this best spy app for iPhone on devices outside your access. Moreover, the repercussions of jailbreaking the iPhone can outweigh its advantages, especially if it is the latest one.
If you are willing to jailbreak the target device, then the app has loads of features that can be used to monitor the target's activity in real-time. You can even hide the app icon to hide its presence in the target's iPhone. SPYERA is an expensive option for a spy application that comes with a 10-day money-back guarantee.
Related: Best Live Wallpaper Apps for iPhone
Standout Features:
Hide all traces of Jailbreaking
cannot be detected by anti-virus
10-day money-back guarantee
Download this Best Spy App for iPhone
---
iKeyMonitor is among the best spy app for iPhone that is free to use. The free version has its limitations but you can simply track SMS, contacts, and geo-locations with ease. There are two versions of this spy app: one which needs you to jailbreak your iPhone and the other which requires no jailbreak at all. The former version supplies all of the features while the non-jailbreak version is limited to a few features only.
It's up to you to decide if you want to jailbreak your device or not, but both options have different spy features available. Notable features include periodic screenshots of the target device, disguising the app as a system application, geo-fencing, and much more.
Related: Best Icon Pack For iPhone
Standout Features:
Periodic screenshots
Free trial with basic features
30-day money-back guarantee
---
XNSPY provides comprehensive monitoring of iPhone devices and comes with jailbreak and in non-jailbreak versions. In new devices, the non-jailbreak version works just fine but does not provide access to monitor conversations on various instant messaging applications. Noteworthy features include geofencing, location tracking, message tracking, contacts tracking, and a web-based panel to monitor all the activity.
It does not supply a dedicated application for smartphones and can only be accessed via the browser. The customer service claims 24/7 availability but the actual customers have experienced otherwise. Apart from these two areas, XNSPY is a competent spy app that lets you monitor both old and new iPhones.
Related: Best Stock Trading Apps for iPhone
Standout Features:
Geo-fencing
Works without jailbreak
Contacts tracking
Download this Best Spy App for iPhone
---
MobiStealth is among the oldest spy software that is now also available for smartphones along with continued support for Windows and Mac OS. MobiStealth offers call and text message monitoring in the basic plan and anything above that requires a monthly subscription. Earlier it required the iOS devices to be jailbreak but now, this best spy app for iPhone can monitor the activity using the iCloud backup. Just a quick installation on the target device is sufficient enough to start real-time tracking.
MobiStealth comes with the usual goodies such as call tracking, location tracking, email, and message tracking, and also few advanced features such as sim change notification, real-time GPS location, remote scrubbing of the traces of spy app if the device is lost. The tracking data is accessible through a web app and it does not have a standalone application for smartphones.
Related: Best Weather App for iPhone
Standout features:
Sim change notification
No jailbreak needed
Remote deletion
---
WebWatcher is compatible with almost every platform that you can think of and offers a great discount if you purchase it for up to 3 devices. This best spy app for iPhone requires one-time access to the target iPhone and no physical access is needed after that. WebWatcher supports iOS devices running iOS version 8.0 and above and can even be used on jailbreak devices. However, it does not require jailbreaking the iPhone prior to the installation of the app.
It can record every activity on the iPhone including deleted messages with their timestamps. It can track the browsing history but is not capable of tracking URLs that were viewed in the Safari browser using private mode. The best part about this app is that its dashboard can be accessed through a web app, and a dedicated application that can be installed on your device.
Standout Features:
Track deleted messages
Track browser history
No jailbreak required
Download this Best Spy App for iPhone
---
Cocospy can be installed on any iPhone in a matter of a few minutes. The only requirement is that the person installing has physical access to their target device for at least five minutes. Cocospy cannot be detected by any app on iOS devices since it's not a hack or jailbreak and uses iCloud backups to source data. It does not have a free trial and the complete feature set require a jailbroken device which is difficult because it voids the warranty of the iPhone. Cocospy is available as a web app and also as an application for monitoring the target iPhone.
Related: Best Video Player Apps For iPhone & iPad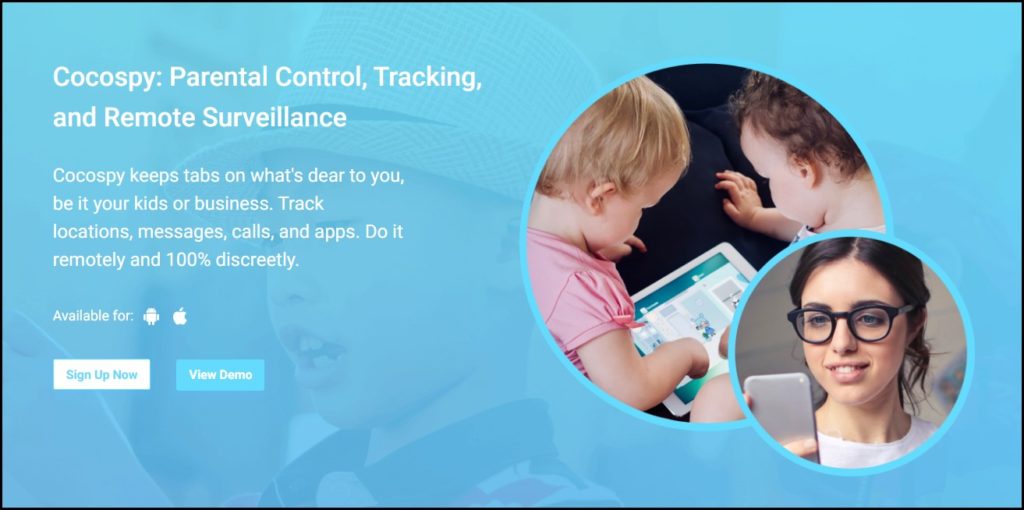 Standout Features:
Easy to install
Mobile monitoring app
Geo-location tagging
---
HIGHSTERmobile is among the few best spy app for iPhone that comes with a one-time fee rather than a monthly subscription. Other spy app for iPhone in our list use the monthly subscription plan that is a little costly for the users. Considering the one-time investment, you get most features on the iPhone spy app that requires one-time access to the phone. The app icon is visible and cannot be hidden.
So, if your target is very particular about their iPhone, this maybe not be the best spy app for tailing someone. Using HIGHSTERmobile, you can easily monitor call logs, location, messages, and even issue commands to the target iPhone. It supports even the latest generation of iPhones including the iPhone 12 line-up.
Standout Features:
One-time payment
No jailbreak
Stealth mode
Download this Best Spy App for iPhone
---
Conclusion
These were my picks for the best spy app for iPhone that you can use to keep tabs on your employees, kids, staff (only with due permission in case of adults. mSpy and SPYERA are two useful spy apps worth your investments. If you are looking for a one-time commitment then HIGHSTERmobile is a viable option.
Thank you for reading! Try these out too:
General FAQ
Can you spy on an iPhone without having access to it?
Yes. It is possible with many spy apps that do not require jailbreaking the iPhone. However, you still have to get physical access to the target device at least once, to successfully install the app on the iPhone.
Do spy apps really work?
Yes. The best spy app for iPhone works like a charm and can bring you every minuscule information from the target device. They do require a monthly subscription and are slightly expensive, so pick one only if spying on someone is really important.
Can I scan my iPhone for spyware?
The best spy app for iPhone is good at masking themselves from the user. You may not able to find them easily but an anti-spy tool can help you find any malicious app or hidden spy app with a deep scan.
What spy apps can be installed remotely?
uMobix, mSpy, MobiStealth, etc can be installed on the iPhone remotely without ever needing the device.