We are now in a digital era where everything is getting digital. We have digital payment, digital learning, and so on. Book lovers are using a paperless method for reading. We will help bookworms to pick out the best ebook reader apps from the options available. We will be presenting you with some free and paid best ebook reader apps that can save your day. Besides reading the ebook, you can also use these apps to view PDF files in different formats.
Excited? So, let's get started.
Benefits of Best ebook Reader Apps
Convenient: You do not need to carry a bag inside which all your favorite books rest. With the help of eBook reader apps, you can download PDF files of your favorite books and start reading them. It makes eBook readers one of the convenient media to read books.
Affordable: PDF format of books is available for free on trusted sites. You can download the PDF version and start reading. The Kindle version of some best-selling books is also available at affordable prices. It saves your bucks and makes it easy to get easy access to your favorite books.
Vast choices: You can get access to an extensive category of books at your fingertips. You can choose your favorite books across different categories and download them on your smartphone to get started. wide
Easily accessible: eBooks are easily accessible and save your time and money. You do not need to wander around here and there to look for your favorite books. You can buy the Kindle or PDF versions of the books from trusted sources.
Best ebook Reader Apps
---
Technology brings plenty of innovation, and it's the cheat code for progressive individuals to build on their knowledge. One such miracle of tech is the best eBook reader app for android, specifically Media365 – eBooks. It will let you carry books conveniently anywhere.
The application provides a platform for readers to find their favorite book and dive into it. The most significant benefit is that it provides plenty of choices and genres; thus, you will likely find something that suits you. Whether it's a thriller or a fantasy, or even a romantic story that you would like to read on a cold night, the extensive collection of the app will have something for you.
The application also provides customization options. Thus you get a realistic feel when reading the book. The app features page-flipping animations, font sizes, and types, screen brightness, eye comfort mode, and dark mode for reading. It will also let you highlight a particular area or create notes, mark inspiring quotes, and ensure you never lose your reading progress.
Another notable feature of the app is that it supports plenty of file formats, thus allowing you to easily import your pdf or EPUB book in up to 32 different formats and read it. Although the app is initially free, you will have to get the premium after the trial period.
The premium version offers unlimited access to all the books in the catalog, an ad-free experience, offline reading mode, a reading aloud feature with intelligent AI-powered text-to-speech technology, and conversion of different book formats. For regular readers, the premium is worth the value and provides an excellent reading opportunity whether you want to extend your knowledge by reading course books or relaxing with your favorite novel.
Related: Best Guitar Tuner Apps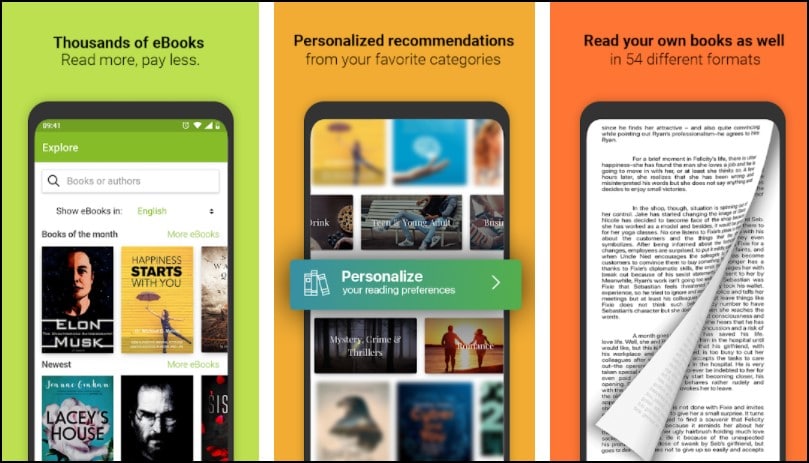 Standout Features:
Wide catalog of books
Supports numerous file formats
Numerous customization options during reading
---
Amazon Kindle is a pocket-friendly library that gives you access to millions of books across different genres. The app offers you more than 7 million ebooks in the fiction and non-fiction category. You can read books in 5 Indian languages that makes it the best ebook reader apps.
You can read books in Hindi, Tamil, Marathi, Malayalam, and Gujarati. You can try the free sample of the book before buying the kindle version. You can customize the text size, font type, margin, and orientation while reading books. The in-built dictionary of the app will help you go through the meaning of new words you came across.
You can track the reading progress and add bookmarks when you are done with reading. You can zoom in on the HD images of the ebooks to get an immersive reading experience. Sync your ebooks on a cloud-based platform across multiple devices for easy access.
Standout Features:
Customize your ebooks
Track reading progress
Built-in dictionary
Translations
---
Google Play Books is a multi-platform compatible ebook that offers you some premium features. The app has a collection of millions of E-books and audiobooks to choose from. You can choose from the ebooks collection available on Google Play.
Before buying, you can preview the sample of the Audiobook to ensure quality. The app has a pleasant dark-themed UI that lets you smoothly go through your books. Create your library of audiobooks on Google Play Books and enjoy favorite stories on the go. It is apparent why this app is one of the best ebook reader apps for Android users.
Related: Best Augmented Reality Apps
Standout Features:
Preview free samples
Multiple-platform compatibility
Switch between dark and light theme
---
Aldiko – Best ebook Reader Apps For Android
Aldiko provides you with a customizable reading experience of your favorite ebooks. The app supports EPUB, PDF formats, and Adobe DRM encrypted ebooks. The night-time reading feature ensures that your eyes do not strain while reading ebooks at night time.
You can adjust the font size, spacing, alignment, and brightness to suit your reading experience. The user-friendly interface of the app makes reading a pleasant experience for the readers. You can add bookmarks and directly jump to a particular section in one click.
You can sort and manage your ebooks by tags and collection for easy access. The app also offers a huge collection of paid and free ebooks to choose from.
Related: Best Home Workout Apps
Standout Features:
Advanced library management system
User-friendly interface
Huge catalog of ebooks
---
ReadEra – Best Offline ebook Reader App
ReadEra can be a good option for those searching for an ebook reader that supports all file formats. The app allows reading books in PDF, EPUB, Microsoft Word, Kindle, DJVU, TXT, and CHM format. You can read books in offline mode and online mode without worrying about the internet connection.
The app automatically detects the book you have downloaded on your device. You can group the downloaded books by authors and series for easy access. Besides, you can sort your books by reading status. The nice color mode and themes of the app ensure that you get a rich user experience while reading your books.
The app can be used on both smartphones and tablets, making reading an easy task for you. You can also read two documents at a time by splitting your screen.
Standout Features:
Supports all file formats
Auto-detection of books and documents
Convenient reading settings
---
Cool Reader – Best ebook Reader Apps
Next up, we have Cool Reader on our list of best eBook reader apps. The app has a simple UI that allows you to read ebooks in multiple formats. The built-in file browser gives you quick access to all your ebooks.
You can add bookmarks on text fragments and export them to the text file. The app has OPDS and online book store support where you can find your favorite ebooks. You can adjust the brightness of the text by clicking on the left edge of the screen.
The app has day and night profiles that you can choose according to your preference. The app supports some of the leading languages that making it a hot favorite for users.
Related: Best Weight Loss Apps
Standout Features:
Read files from the zip archive
Background texture
Paperbook like page-turning animation
---
Wattpad – Best Free ebook Reader
Join the global community of more than 90 million readers on Wattpad. The app offers millions of free stories in more than 50 languages. You can find ebooks in the science, fiction, romance, comedy, and adventure genre. Browse from the popular genres and search for top trending titles to get access to the latest ebooks.
Besides reading, you can write your own story and publish it on the app. You can also start your own free library and save stories for later reading. You can sync your account to read books on your laptop and tablet. The app has in-app purchases which will give you access to premium features.
Related: Best Android Customization Apps
Standout Features:
A community of more than 90 million readers
Browse popular genres
Read stories in a plethora of languages
---
Nook – Best Android ebook Reader
Nook is a free ebook app that gives you an immersive digital reading experience. The app offers more than 75000 free titles which are curated by expert booksellers. You can customize your reading experience with adjustable font styles, page animations, and brightness.
While going through your books, you can add notes, bookmarks, and highlights for later reference. The app can be useful for kids as it contains thousands of interactive picture books. Parents can choose this for their children if they are looking for the best ebook reader apps. You can log in through multiple accounts and share all the content with your friends.
The app organizes your ebook into custom collections that will help you to easily access all the ebooks. The app has Use Article View which lets you read the magazine and article using customized font settings. You get access to a new ebook every Friday that always keeps you hooked with the app. Another standout feature of the app is Android assistive technology that will help blind and low-vision people to read ebooks.
Related: Best Sports Apps
Standout Features:
Download free ebook samples
Over 75000 titles
Interactive picture books
Android assistive technology
---
AlReader – Best ebook Reader Apps
AlReader app allows you to read your favorite ebooks in multiple profiles with interactive UI. The app has 9 tap zones where you can use finger gestures to execute different actions while reading ebooks. The app offers text labeling, quotes, and bookmarks feature that can be added to the ebook.
The app has 3D page animation that offers a smooth and interactive listening experience. It also includes one and two-page modes with an auto switch feature. The app can hold the backlight of the screen for 20 minutes in case of inactivity. The app offers multiple customization options due to which it has earned a spot on our list of best ebook reader apps.
Related: Best Credit Score Apps
Standout Features:
9 Tap zones
Clock behind text
3D page animation
One and two-page mode
---
Overdrive – Best ebook Reader Apps For Students
Overdrive can be one of the best ebook reader apps for students. The app allows you to borrow books from more than 40000 libraries worldwide. You can search for your favorite book by title and borrow it for reading.
This virtual library is available at your service 24/7 and helps you to buy the best and latest ebook. You can sync your library across different devices for easy access. Before using the app you need to have a valid account with a participating library, school, or institution.
Standout Features:
Borrow more than 40000 ebooks
Reasonable prices
Interactive User Interface
---
Full Reader – Best ebook Reader For PDF Files
Full Reader is a multi-functional ebook reader that offers tons of features to the users. The app has a user-friendly interface where you can choose from the light and dark theme options to start reading. The dark theme of the app is efficient and can be best experienced with AMOLED displays.
The app has a convenient way to sort your books that can be easily accessed later. You can create a list of favorites or build your library to get started. You do not need to look for the ebook files as the interactive file explores automatically scans all the supported files. The unique feature of the app which makes it the best ebook reader apps is a built-in translator. The translator supports more than 95 languages.
You can add notes and bookmarks while reading your ebooks. You can also adjust the tone of reading and voice with the help of this app. To easily execute functions, the app has quick access tap zones which you can set according to your preference.
Related: Best Personal Finance Apps
Standout Features:
Tap zones
Widgets and books shortcuts
Built-in translator with support of up to 95 languages.
---
Moon+ Reader – Best ebook Reader Apps
A simple and interactive ebook-reader Moon+ Reader is next on the list. The app has 10+ themes that can be applied according to your preference. You can use 24 customized operations to adjust your reading experience to an optimum level.
The app has 5 auto-scroll modes to scroll down the pages of your ebook. The real page turning effect will give you a realistic experience while reading your favorite ebooks. You can arrange your ebooks by Authors, favorites, and downloads for easy access. The app supports all four screen orientations along with dual page mode for landscape orientation.
The app supports more than 10 file formats which makes it an ideal and best ebook reader app for the users. The app is available in more than 40 languages which is another key feature of the app to look out for.
Related: Best Podcast Apps
Standout Features:
24 customized operations
5 Auto-scroll modes
10+ themes embedded
---
Pocket Reader – Best Android ebook Reader Apps
An intuitive interface, easy navigation, and minimalistic design are some key features you get in this app. The Pocket Reader is a pocket-friendly app that slips that offers 7 elegant interfaces to start reading E-content. The app allows you to customize the home screen with widgets for easy and quick access.
You can adjust the font style, size, color, and brightness according to your suitability. You can also crop the margins to make reading more interactive and distraction-free. The smart search feature allows you to find any ebook stored on your device with a single click.
The app has two-night reading modes that take care of the health of your eyes. The built-in bookstore frequently provides you with the best content so that you never get bored.
Related: Best Free VPN Apps
Standout Features:
Two-night reading modes
Built-in bookstore
Borrow books and periodicals
Smart search engine
---
Final Words
We hope this list of best ebook reader apps will be useful for bookworms. Comment and let us know about your red hot favorite app on this list. Also, suggest some other best ebook reader apps that you think should be there on the list. You can share our content with your friends so that we are motivated to bring more quality content for you.
Thank you for reading! Try these out too:
General FAQs