Augmented reality apps have now become a norm, as more and more AR-supported devices are now being launched in the market. Augmented reality is a kind of virtual reality technology that helps you to virtually feel the real-life environment in front of you. Snapchat is one of the leading apps in AR that allows you to take pictures in different modes with some popular filters.
For instance, you can see flowers falling on your background though, while, in reality, it is not. All these effects are done with digital augmentation overlaid on virtual images.
Recently, apart from camera Augmented Reality apps, multiple AR apps for different purposes have been launched. So, we will be helping you to explore some of the best Augmented reality apps for Android.
Excited? So, let's Get Started.
Benefits of Best Augmented Reality app
Increase Interactions:- The best Augmented Reality App will improve your overall interactions and engagement level, providing you with an impeccable experience. It increases the perspective and overall attraction level with things; thus, you get a taste of innovation and responsiveness from the palm of your hands.
Best for travelers:- The best-augmented reality app will also take your travel experiences to a new level since the application illustrates the invention combined with reality. The application is an excellent choice since they are convenient and provide functionality.
Exciting and Engaging:- One of the most significant advantages of the best-augmented reality app is incredibly engaging and exciting. Their user interface makes it even better and ideal for various outdoor situations. Furthermore, many people adore it because they tend to be attractive at the top of unique.
Best Augmented Reality Apps
---
Civilisations AR
Civilisations AR is the best-augmented reality app for students and learners that want to educate themselves about history. The implementation of AR in education is one of the best ways to simplify complex tasks and make Applications like Civilisations AR is one of the reasons that AR is establishing itself as an essential part of the modern education system.
The app will allow you to view the artifacts with historical importance or from a particular ancient era. However, the most important thing is that it uses the imagination and power of AR to deliver the experience; thus, learners can closely view a mummy or a pyramid. Furthermore, the app will also let you listen to history and important events.
Although the app doesn't contain significant historical events and objects, it still contains 30 different ones from different epochs and civilizations. The application will let you view all of these in a reality-like 3D rendering experience by only using your phone. Additionally, you can also check our other features, such as narrations and x-ray views, which will unveil the secrets such as the origins and background of these global social treasures.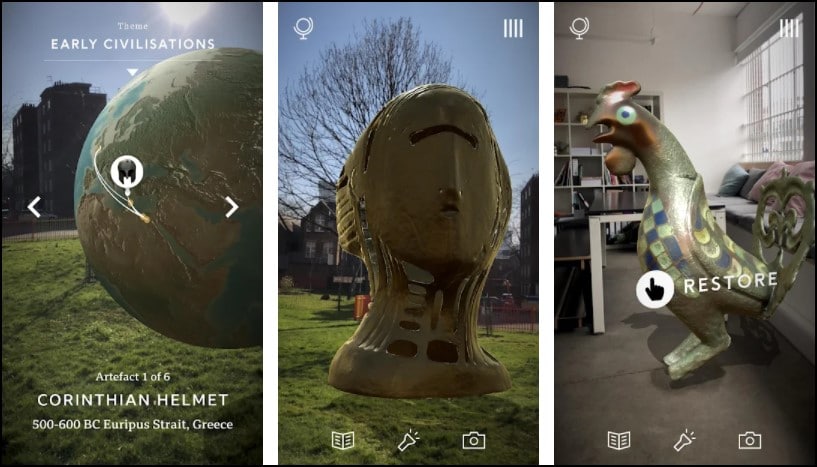 Standout features:
View up to 30 historical artifacts
Narrations of historical events
3D illustrations of the objects
---
Snapchat – Best Augmented Reality Apps
We will be starting our list of Augmented reality apps for Android with one of the most popular names in AR technology. Snapchat is a social media platform where you can connect with random people and can send them every update by sharing videos and photos. The app is best in capturing catchy pictures in some versatile filters that can augment your biometrical features. The app is recommended for extroverts who love to be socially active.
Related: Best Apps For Secret Texting
Standout features:
Snap map
3D Bitmoji
Create your Filters
---
Google lens – Best Augmented Reality Apps Android
If you are stuck in an unknown location and you are finding it difficult to know the address of your location or you are finding it difficult to understand the notes which your friend has shared, then Google lens can be your perfect savior.
With the help of the Augmented reality technology of Google lens, you can Explore new places around you while traveling, scan and translate the text in easily understood language, Find the perfect furnishing design for your home, and do much more useful tasks.
The app comes with a simple UI and you can easily perform all the above tasks with ease. The app is free to download and you can avail all the features without paying anything.
Standout features:
Explore places
Scan & translate text
Scan codes
---
DoodleLens – Best Augmented Reality App
Doodle lens is a fun AR app that helps you to create some cool animations, stickers, and other stuff with the help of its editing tools. It is easy to create these animations, all you need to do is just draw something on paper and capture a picture of that drawing with this app. After you capture the picture, you can create animations with the help of a frame-by-frame creator or can turn the picture into an interactive 3D character, scenes, and stories.
You can also copy and paste images of any quality or format and turn them into cool animations. You can share your created animations, scenes, and stories on all social media handles. It is a paid app for which you need to pay around $2.
Standout features:
Doodle editing & effects
Advanced doodle copier
AR scene creator
---
GIPHY World – Augmented Reality Best Apps
GIPHY World is one the largest library of free Gifs, stickers, and memes. The app contains some amazing animations and colors that will help to create GIFs and memes.
The AR technology will give your GIFs a 3D look and would make them look more attractive. You can create gifs of Marvel and DC characters and some other cartoon characters.
Related: Best Vocabulary Apps
---
Houzz – Best New Augmented Reality Apps
If you are planning to move to a new home and you are finding it difficult to figure out about the furnishing of your house, then Houzz is a perfect Augment reality app for you. It is an E-commerce app that offers you to use visual match technology to check which furniture will be best suited for your new place. You can also use the sketch feature to annotate directly on photos with the help of this app.
The best feature of this app is "View in my room" which comes with AR technology to fit a product and virtually feel how your new home with fresh interiors and furnishing look like.
Standout features:
Sketch feature to annotate and draw
20 million high-resolution photos of home interiors
---
View ranger – Best Augmented Reality Apps For Travel
View ranger is the next Augmented reality apps for Android that would be loved by travel freaks. With the help of the Skyline feature, You can capture augmented images of more than 9 million peaks, lakes, and places. The app comes with adventurous features that include premium maps of the world and let you capture aerial and satellite images. 
Apart from this, the app has a GPS map that helps you to track your route. You can also add offline maps that can be viewed in offline mode. Most of the features of the app are free while some are paid.
Standout features:
Free Worldwide Maps
Trail guides
GPS navigation and stats
---
Google Translate – Best Augmented Reality Apps Android
Google translate, one of the best app for real-time translation that can translate anything with ease. You can translate between 103 languages by typing. The app supports multiple languages and you can translate them by taking a picture of the text and within seconds the text will be translated into your language.
The app is one of the best-augmented reality apps with the help of which you can translate bilingual conversations in real-time in 43 languages, import text photos for high-quality translations in 50 languages.
The best thing is that you can also translate 59 languages in offline mode without any internet connection. You can also bookmark and save translated words and phrases that can be later used for future reference.
Related: Best Journal Apps For Android
Standout features:
Cross-device syncing
Instant camera translation
Translate bilingual conversations
---
IKEA Place – Best Augmented Reality Apps For Home
IKEA is another app that can be handy for you if you are planning for a new home. The app helps you to precisely measure the dimension of your room and can decide the proper placement of all the house accessories.
This app will also help you to purchase the furniture with accurate measurements so that it perfectly fits in your room. With the help of this app, you can digitally place objects inside the room and can get a rough idea about how your new home looks like after furnishing.
---
Ingress – Best Augmented Reality Apps For Gamers
Ingress is an augmented reality app designed for gamers. Ingress turns your world into a virtual game where you can conquer portals. You can connect with players all over the world and collaborate and strategize with them to capture your portals and fields.
The game genre is Sci-fi which makes it more interesting for gamers. The game has 2 modes, you can evolve mankind by choosing the Enlightened mode or you can choose the Resistance mode and save the world. The app has some in-app purchases while some other features are free to use.
---
Roar – Best Mobile Augmented Reality Apps
Roar is an augmented reality app that is mainly targeted towards Brands, Retailers, and marketers but is not only limited to that. With the help of the Roar app, you can scan any product and will get a similar virtual image on your device alongside other details of the product.
The app can be very useful for retailers as they can easily scan and sort their products. In terms of customer benefit, you can scan the label or packaging of any product and get detailed information and rate the product. The app is available in the free version on the Android platform.
Related: Best Ridesharing Apps
---
Measure – Best Augmented Reality Apps
The measure is a very useful app for household purposes, where you can measure the dimensions of your wall, objects, and furniture. You can simply take a photo of your measurement and place it on your clipboard and approx dimensions of that object will be displayed.
You can measure any plane figure, 3D figure, or any other geometrical shape. The app is quite handy and easy to use. You can point and tap on the object that will automatically adjust and take the measurement of the object. you can avail of the app for free on Android platforms.
---
Holo – Best Augmented Reality Apps For Creation
Holo is a fun app that lets you place virtual holograms in the real world. You can add hologram photos and videos that can be placed arbitrarily on your snap.
The app can create some amazing experiences as there are some cool characters like Spiderman and Einstein which you can use to create photos and videos. The app is free on Android platforms.
---
Seuss's ABC – Best Learning Augmented Reality Apps
The next Augmented reality app for the Android app is Seuss's ABC, which can be a fun and learning experience for the kids. Story mode and Sandbox are the two modes that can be used to teach children.
Story mode displays the English alphabets in chronological order with some fun characters and animations, while Sandbox mode will help you to place a real-life character in the app and create an AR world around children. The children can go to the "chapter select" option and can trace all the alphabets in 3D images. This is a paid app that will cost you somewhere around $2.9
---
Sky maps – Best Android Augmented Reality Apps
Sky maps is an open source app that was originally developed as Google Sky Map. The app is handy in identifying the heavenly bodies which help you to recognize stars, nebula, and planets in the sky. You need to have a compass pre-installed in your device to identify the heavenly bodies.
The app can be fun for those guys who love to make patterns and observe constellations in the night sky. with the help of this Augmented reality app for Android, you can easily identify the constellations.
Related: Best Investment Apps
---
Facebook – Best Augmented Reality Apps Android
Facebook is one of the new apps that is trying its hands-on AR. The app comes with some cool AR filters which can be used to click pictures and share them on your Facebook wall stories.
Facebook AR is relatively new in the AR field as compared to other apps, so we can expect some fun experiments with AR technology in the future.
---
YouCam Makeup – Best Augmented Reality Apps
YouCam Makeup is a popular Augmented reality app that works as a fashion assistant for all the ladies out there. You can get a perfect virtual makeover with the help of this app. The app offers beauty products from some of the popular brands including Maybelline and L'oreal.
Products include lipstick, eye-liner, blush, Hair remover, and some other useful makeup products. You can try all the products virtually with this app and later on buy the product. You can also take a selfie of your virtual makeup and share them on the community page of the app.
Standout features:
Top Beauty Brands
Flawless Skin & Face Editor
Trending Celebrity Makeup Looks
3D Accessories
---
Just a Line – Best Augmented Reality Apps For Creation
A simple app that allows you to draw every kind of shape you want. You can draw 2D and 3D figures with augmented reality technology on any surface. Create a short video of your creative skills and share them on your social media handles.
The app works on AR-enabled devices so make sure to permit the app while installing it. You do not need to pay anything, as the app is absolutely free to download across the Android platform.
---
Inkhunter – Best Augmented Reality Apps
Tattoo lovers, here we are with an app that will help you to create your own customized tattoos as well as use some of the cool tattoo design which is already available in the app.
You can create a virtual Tattoo on any part of your body which will be assisted with the advanced photo editor. You can check your tattoo from multiple angles to make sure that your tattoo design is perfect.
---
Star Walk 2 – Best Augmented Reality Apps For Mobile
Star Walk 2 is an augmented reality app for Android that assists you with stargazing where you can look at the stars, planets, satellites, meteors, and other heavenly bodies. The app can be a useful tool for beginner astronomers, as they can use it with ease. All you need to do is to point your device towards the sky and you will get an instant look at all the heavenly bodies right in front of you.
One of the amazing features of the app is that you can change the time and date by clicking at the right upper corner of the app and you can go backward and forward to see the night sky at that particular date and time. You can also enjoy 3D images of these heavenly bodies.
Standout features:
Deep Space objects
Real-time map of the sky
3D models of constellations
---
The Machines – Best Gaming Augmented Reality Apps
The Machine is a multiplayer augmented reality game, that turns your table tap onto a battlefield. You can also choose any other plane surface to play this game. The game comes in two modes "Core", and "Arcade" modes where you can choose your favorite game.
Your device will act as a viewfinder and you will need to move your table to make necessary moves in the game. If you are not a pro in gaming, then you can first learn in practice mode and then can jump into the battlefield.
---
Sketch AR – Best New Augmented Reality Apps
SketchAR is an app that will assist amateur sketchers to draw some cool sketches. This Augmented reality app for Android puts virtual images on your devices and lets you trace them into a complete drawing.
The app comes with around 400 guided lessons that will help you to draw Anime, Graffiti, and Portraits. The app can also be very useful for professional artists as it is one of the prime tools for Graffiti and Animation creation. The app will only draw on A4 and A5 standard size sheets.
Standout features:
Drawing tutorials step by step
Courses with ​an AR drawing​ lesson
398+ guided lessons
---
Thyng – Best Augmented Reality Apps
Thyng will create an amazing world of Augmented reality around you with its tools. You can create 3D animations, insert animations, and photos in your videos and share them with your friends.
You can share all your stuff on Thyng Tv and all your followers on the app will get instant updates. The app is recommended for those who love to create amazing stuff.
---
Instagram – Best Free Augmented Reality Apps
Instagram, being a popular social media site is trying its hands on Augmented reality technology. The app allows you to take photos and videos in some amazing filters. You can try various cool filters and change yourself into a new amazing character. You can share all the AR videos on your story wall.
---
Augment – Best Augmented Reality Apps For Business
Augment is a mobile app that helps you visualize 3D models. It is an AR-core-based app where you can augment the images in real-time in their actual size. You can view the 3D models and compare them with other models side by side to get the best idea.
You can view all the 3D models in different colors and textures and select the best out of them that will suit your project. Just capture the best augment and save it in your device for later reference.
Standout Features:
View and compare 3D models side by side
View 3D models in different colors and textures
Integrate in real-time
---
Final Words
Augmented reality apps are a whole new and exciting technology that is still unknown by the masses. All the apps which we have mentioned on our list are useful as well as fun to use. These were some of the best Augmented reality apps for Android. Do comment and let us know about your favorite app on our list. You can also comment and suggest some more AR apps you know.
Thank you for reading! Try these out too:
General FAQs