Receiving calls of unknown and unidentified can be potentially harmful. Cybercriminals and scammers are always looking for their next prey. There can be instances where you are busy and receive a call from an unknown number unintentionally. The best caller ID app can be handy in situations where you are in a hurry or occupied with your office work.
You can identify the caller ID, trace its location, state, city, and operator with the help of the best caller ID app. Best caller ID apps can also act as an alternate to the cliche default dialer on your smartphone. Caller ID apps have appealing dialers that offer several customization features to the users. There are countless benefits of having the best caller ID app on your smartphone. Here are some benefits of the best caller ID apps users can utilize.
Excited? So, Let' Get Started.
Benefits Of Best Caller ID App
Real-Time identification: Caller ID apps are capable of providing real-time identification perks to the users. Whether you are busy with your office work or stuck in a crowd, the caller ID app can conveniently fetch results for the users and identify the operators of the unknown numbers.
A Huge database of numbers: Caller ID apps comprise a huge database of numbers across various geographical locations. The app has more than a million database of mobile numbers that can help you identify any number instantly.
Can be used as default dialer: You can use the best caller ID apps as default dialers on your smartphones. Caller ID apps have an appealing dialer layout,

themes paired

with some exquisite features, making them a top priority for the users.
Best Caller ID Apps For Android and iOS
---
Truecaller 
Truecaller app does not need any introduction as it is one of the oldest and leading names in this niche. You get world-class blocking and spam detection in the Truecaller app. The app can identify and block telemarketers, scammers, and frauds to shield you against any harm. The best part is that you get real-time community-based spam reporting. You get a call recording feature to record your call history.
Truecaller helps you backup call history, messages, and blocklist names to your Google Drive account. You can also identify and block unwanted text messages to safeguard yourself from any threat. Besides, you can also use the Truecaller app as a default dialer or chat with your friends and family. Flash messaging is another handy feature users can use in times of urgency to send messages.
Related: Best Guitar Tuner Apps
Standout Features:
Advanced call blocking options
World-class spam detection
Real-time spam reporting
---
Mobile Number Locator
Searching any mobile number and its location is easy with the Mobile Number Locator app. You can identify numbers with ISD and STD codes along with the caller's location if someone is annoying you. The app can help you find state, city, country, and the operation of the unknown number calling on your device. You can search for any mobile number in the world from India, Brazil, Canada, Mexico, Russia, and many more.
The operator identity will flash on the screen while the location is visible on the in-built map of your smart devices. The app maintains a history of your recent search history to verify the unknown number with the current one. This best caller ID app service is accessible even in offline mode.
Related: Best Home Workout Apps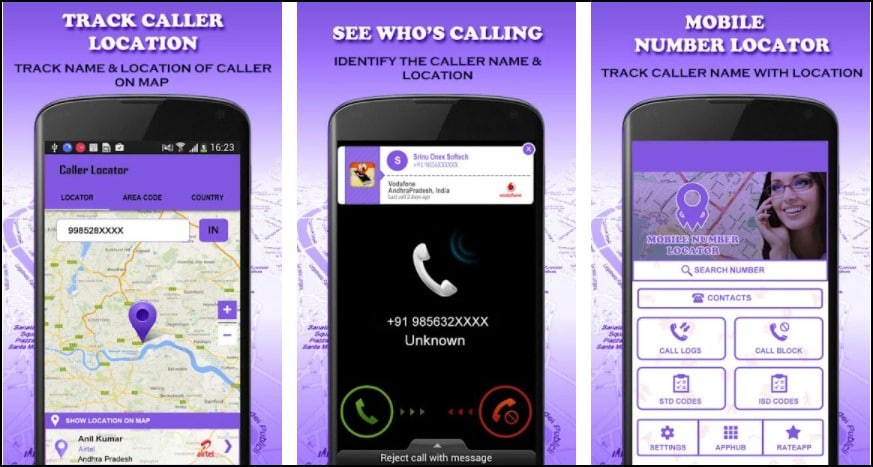 Standout Features:
Can identify operator and location
Location visible on the map
Offline mode service
---
True ID Caller Name 
The True ID Caller Name app specializes in identifying spam, unknown, and fraudulent numbers. It is a number identification tool that can track, block, and manage annoying calls. You can use the Smart caller ID tracker and blocker to identify unknown numbers. The app allows you to block numbers, SMS, photos, and social media information of the unwanted numbers.
You can add the unwanted numbers to the blocklist to permanently remove the number from your call history. The reserve lookup feature lets you find the potential contacts that are calling you from unknown numbers. You can try several themes available on the app according to your preference. Besides this, you can set a contact widget on your home screen to quickly access any contact.
Standout Features:
Can track caller location
Reserve phone number lookup
Several themes
---
Hiya 
Hiya Caller ID & Block offers unique features to the users, making it one of the best caller ID apps. You can conduct a reverse phone search of your contact list to ensure the authenticity of an unknown number. You can send the unwanted numbers directly to the voicemail. Also, you can flag the nuisance or fraudulent numbers that will help your community members.
The app can identify unwanted callers in real-time and send you alerts to stay away from them. If you set Hiya Caller ID as your default dialer, you can recognize the new numbers along with their photos. The design of the app is minimalistic, which will surely appeal to the users.
Related: Best Weight Loss Apps
Standout Features:
Real-time caller identification
Reverse phone search
Flag spam numbers
---
Caller ID
With a worldwide caller ID coverage of over 2 billion phone numbers, Caller ID is the latter app on our list of the best caller ID app. You can track the name and photo of all the incoming and outgoing calls on your device. The app comes with a caller ID search feature that helps you quickly gain insight into the unknown phone number.
You can perform a reverse phone lookup to verify the identity of the unknown numbers from your contact list. It also comes with a call recorder that you can use to record the spammers and online bullying numbers. The top market of the app includes the US, UK, France, Germany, Mexico, Canada, Japan, and many other countries.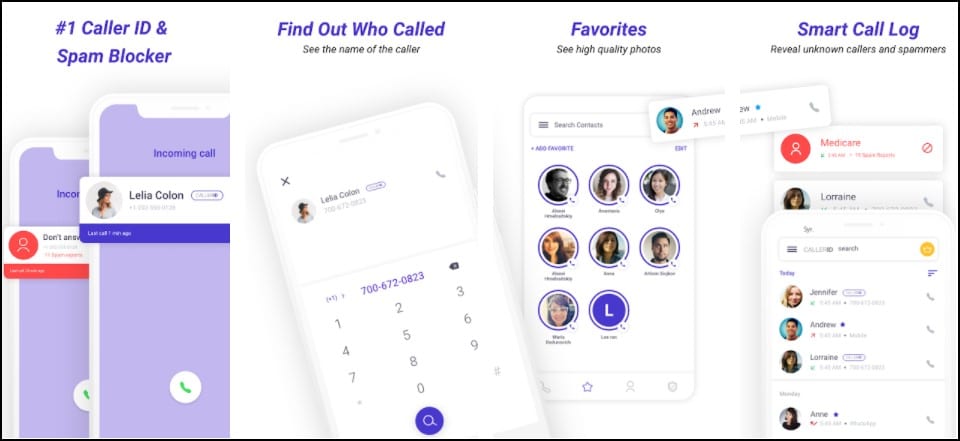 Standout Features:
Caller ID search feature
Call recorder
Coverage of over 2B+ numbers
---
Mr. Number 
A critically acclaimed app, Mr. Number can be the ideal choice for the best caller ID app. You can intercept private numbers or telemarketers and send them to voicemail. You can help the community members by flagging spammers and telemarketers. Also, you can block a number and pin code of a specific location to avoid unwanted calls. For further assistance, you can browse the comments section to know about the potential threat and spammers.
Related: Best Sports Apps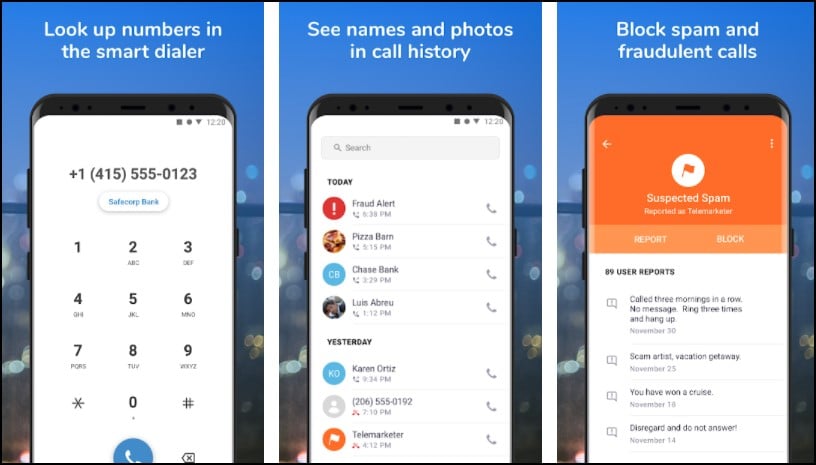 Standout Features:
Intercept private numbers
Block pin code
Browse comments
---
Caller ID (Aunumber)
Caller ID by Aunumber has over 3 million users who use the app to identify unknown numbers. You can find the caller ID, name to identify it as spam, scam, and telemarketing number with the help of the Caller ID app. The caller ID app keeps track of every incoming and outgoing call on your device to track the identity of the unknown callers.
You can add the unknown callers to the contact blocklist to protect yourself from any harassment and threat. It can also filter the unanswered calls to reveal the true identity of unknown numbers. You can run a phone number lookup search to identify unwanted numbers. Besides caller ID, the app provides handy features as a default dialer, making it one of the best caller ID apps.
Related: Best Credit Score Apps
Standout Features:
Detailed information of the caller
Smart search history
Number lookup
---
CIA – Caller ID and Call Blocker
CIA or Caller ID and Call Blocker app support integration with multiple data sources like Google Places and Facebook. The app gives spam warnings of 1M+ spam numbers available on the database of the CIA app. It can identify any strange number in real-time and assist you in taking the necessary actions. You can identify the name, address, and business information of unknown numbers.
You can take smart call actions to mute, reject, and block the unidentified numbers on your contact list. This best caller ID app offers handy number identification to the users for personal and professional purposes. You can buy the in-app purchases to avail of the exclusive features of the app.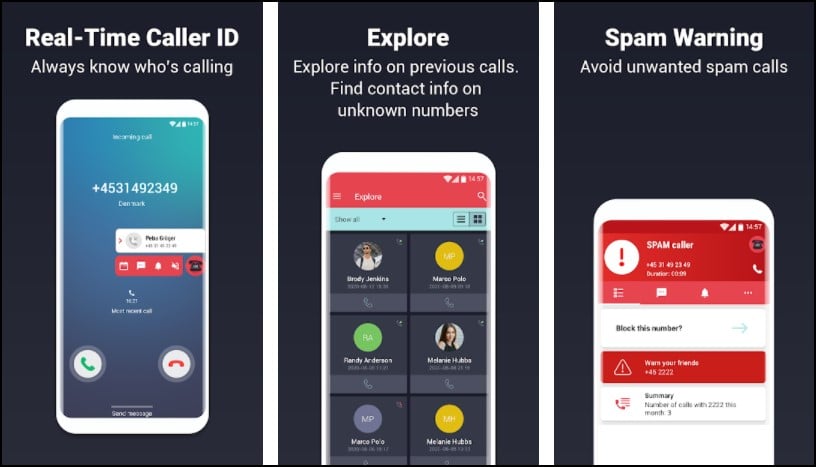 Standout Features:
1M+ Spam numbers
Smart call actions
Real-time identification
---
CallApp 
CallApp is a call recording and caller ID app that provides a plethora of blocking features to users. You can block, flag, and get to know in detail the unknown numbers. The app comes with an identity callers page where you can also look for the Facebook picture of the spam numbers. You can conduct a phone number lookup and reverse search to intercept the unknown numbers. One feature in the latest update of the app is Personalized Calling Analytics. It helps you know about your calling patterns.
The app has an Automatic Call Recording or ACR feature that lets you record calls in a high-quality. Also, the CallApp is capable of automatically blocking unknown numbers that can be potential threat numbers. You can customize and manage your address book conveniently with the CallApp. 
Related: Best Personal Finance Apps
Standout Features:
Identify callers page
Reverse search
Personalized calling analytics
---
True Mobile Caller ID 
You can identify spam numbers, Telemarketers, Unwanted callers, Blocked numbers instantly with the True Mobile Caller ID app. It can help you search caller details using phone numbers and track the location with the GPS locator. You can also track your day-to-day locations on your device with GPS or Google Maps. Also, you can use the app in offline mode when you are facing connection issues. 
Standout Features:
Identify spam and telemarketers
GPS locator
User-friendly interface
---
Final Words
These were the 10 best caller ID apps we have compiled for the users who want a permanent solution for unknown numbers. All apps on our listicle provide varied features to the users. TrueCaller, Mobile Number Locator, True ID Caller Name, and Hiya Caller ID app are highly recommended app for users. You can also mention your pick of the list in the comment section below with your valuable suggestions.
Thank you for reading! Try these out too:
General FAQs
Is CallApp better than Truecaller?
CallApp and Truecaller both are suitable in their own ways. If you are looking for accurate identification of numbers, you should opt for CallApp. CallApp has an accurate caller ID recognition technology that can fetch the best results for the users
Is Hiya app any good?
With the passage of time, Hiya app has expanded its services. Now it can accurately recognize and provide detailed information on unknown numbers. The app analyzes 3 billion numbers monthly that making it a top competitor to be the best in this category.