Vehicles are a vital part of day-to-day life. We use vehicles to go to our schools, offices, or any distant place. Knowing the mileage of your vehicle will help you determine your travel and expenses. To track your mileage, we are coming with a listicle of the best mileage tracking app. Our list of the best mileage tracking apps is ideal for personal and commercial purposes. You can use the apps to keep track of monthly fuel expenses.
Besides tracking mileage, these apps will also help you in the monthly maintenance of the vehicle. Numerous options pop up when you search for the best mileage tracking apps. Out of available mileage tracking app options, we have compiled a comprehensive list that will help you choose a suitable and the best mileage tracking app.
Excited? So, Let's Get Started.
Benefits Of Best Mileage Tracking App
Swift claim reimbursement: Mileage tracking apps not only track the mileage but can also be handy in claim reimbursement. Best mileage tracking apps come with a mileage calculator that can calculate the miles of your business trip. You can then generate a claim receipt and submit it to the finance department for swift reimbursement.
Ideal for cab drivers: Cab drivers who are a part of Ola, Uber, and other services can use the best mileage tracking apps for convenience. Drivers can easily track the route along with the mileage with the help of mileage tracking apps.
Fulfill legal compliances: Companies must meet the IRS legal compliances to take benefit of the mileage deductions. The companies must keep detailed records of the business trips and mileages to meet the legal compliances, and that is where best mileage tracking apps become vital.
Best Mileage Tracking Apps For Android & iOS
---
MileIQ
Maximize your HMRC tax returns and save time with the MileIQ app. With over 3 billion logged-in users, HMRC can be the ideal choice for the best mileage tracking apps. It is an automatic mileage calculator that can accurately calculate the mileage log. You can categorize your trip as personal and business to meet the HMRC guidelines.
You can switch between the personal and business drives with a swipe gesture. Also, the distance tracker runs in the background of your device to constantly track the mileage. The app can estimate mileage deductions based on parking fees, road toll info, and vehicle data. You can export the mileage data to your device and forward it for reimbursement. Also, you can get reimbursement claims for mileage associated with sales and calls.
Related: Best Guitar Tuner Apps
Standout Features:
Automatic mileage calculator
Export mileage logs
Estimate mileage deductions
---
Triplog
Triplog is a simple, flexible, and powerful best mileage tracking apps that offer varied services to business owners, employees, Freelancers, independent contractors, and so on. The app keeps track of every mileage situation, whether it's personal or business. It comes with an accurate GPS and six unique mileage tracking options that ensure you never miss a mile. The app supports calendar integration that will help you plan your business drives.
The app provides an optimized map view to enhance the mileage tracking process. Features like multiple-stop route planning, daily driving overview, frequently traveled heatmap, and real-time fleet tracking makes this app stand out from its peers. You can upload your paper receipts for swift reimbursement or scan the fuel receipts with the OCR text recognition. The app can help you save a lot of bucks as it has already helped users save $7200 annually. You can also generate hassle-free tax reports to save time.
Standout Features:
Six unique mileage tracking options
OCR text recognition
Generate tax reports
---
Fuelio
The Fuelio app can track mileage, fuel consumption, and costs of your travel. It can track your fill-ups, gas costs, fuel economy, partial fill-ups, GPS location to determine your monthly fuel expenses. The app also supports bi-vehicle tracking, making it one of the best mileage tracking apps on the list. You can track vehicles with two tanks like Gasoline and LPG tanks.
The app provides statistics of total fill-ups, costs, and average fuel economy incurred during the month. You can measure the distance in kilometers and miles and volume in liters, US gallons, and imperial gallons. You can also track the statistics via interactive charts. The app sends reminders when your vehicle needs fill-ups.
Related: Best Home Workout Apps
Standout Features:
Bi-vehicle tracking
Provides statistics
Send reminders
---
Hurdlr
Hurdlr app can track mileage, expenses, incomes streams, and tax deductions. The app has an auto-start and stops function that tracks the business mileage. It can automatically categorize the drive as personal or business that helps you determine expenses and reimbursements. You can stay organized with the tax reports and expense reports.
With real-time tax rates and reminders, you can fulfill your business financial obligations within the deadline. The app comes with a battery optimization feature that enables heavy usage without draining your battery. Hurdle app is ideal for 1099 deductions for Uber & Lyft Drivers,
Freelancers Small Business Owners Self-Employed Entrepreneurs, and Real Estate Agents. The premium version of the app is available at a $99.99 yearly plan.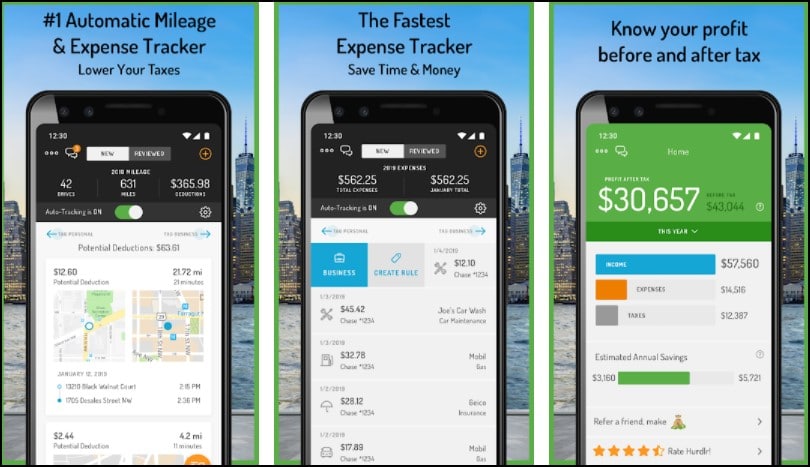 Standout Features:
Actively tracks business mileage
Real-time tax estimates and reminders
Instantly find tax deductions
---
Everlance
Everlance can be the best mileage tracking app for companies, employees, freelancers, and independent contractors. The app can save tax, time, and track expenses conveniently. GPS mileage tracking can track the mileage and filter it via work, personal, and location categories.
You can upload photos of bills and claims to get swift approval. It can also manage your revenue and expenses when you connect your bank cards. The app can customize the mileage expense in PDF format, and you can share it with others. The app is in the development stage and seems promising. You can get an admin dashboard if you opt for the premium version of the app.
Related: Best Weight Loss Apps
Standout Features:
Automatic trip detection
Receipt capture
Mileage tracking details and classification
---
Quickbooks
Quickbooks has over 4M+ downloads and can be an ideal app for small business owners. The app comes with an automatic mileage calculator that can calculate the mileage of business trips. You can categorize the travel under the business category to get maximum tax benefits.
You can forecast cash flow over 90 days and assign funds for business and payroll taxes. The app provides data-driven insights that you can consider while making vital business decisions. It has a business dashboard where you can keep a check on the cash flow. Also, the app has an invoice generator that can create invoices in multiple currencies.
You can customize the invoices by adding logos, colors, and custom fields. By connecting your bank accounts with the Quickbook app, you can view your profit and loss reports. Quickbooks offers bookkeeping services and business insights, making it the best mileage tracking app on the list.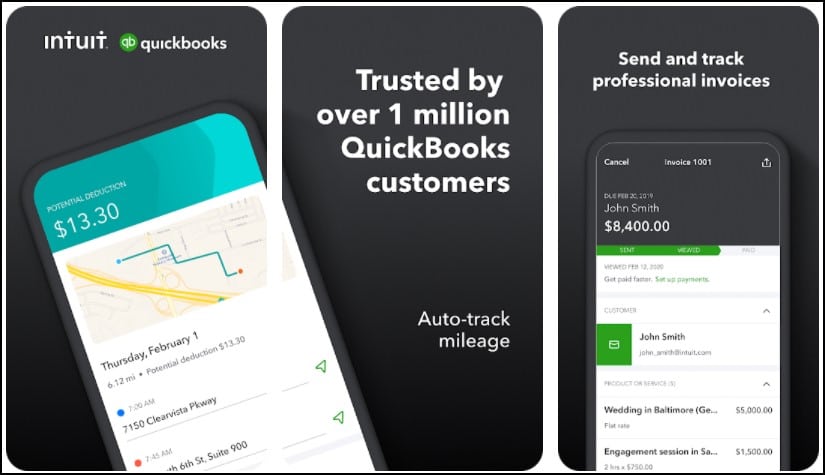 Standout Features:
Mileage calculator
Data-driven business insights
Multiple currency invoice generator
---
Mileage Log (MyCarTracks)
Besides mileage tracking, you can use the Mileage Log app to track the location of vehicles. You can track mileage and share your real-time location with the Mileage log app. The app can help managers to assign a job, manage drivers, and view the progress. You can also set service schedules and reminders for the monthly maintenance of your vehicle.
You can download a printable mileage log book and IRS-compliant report in PDF format. All your mileage data is safe in the cloud storage, and you can sync it across multiple devices. This best mileage tracking app encourages safe driving by giving driving scores. You can track the mileage of two vehicles in the free version of the app. For more than two vehicles, you can opt for the premium version.
Related: Best Sports Apps
Standout Features:
Real-time location sharing
Preventative maintenance scheduling
Download printable logbook
---
SherpaShare
Ridesharing drivers of platforms like Uber and Lyft can use the SherpaShare app from our list of the best mileage tracking apps. The app is the first choice for thousands of ridesharing drivers, business travelers, freelancers, and others. It can automatically track mileage with your device's in built-GPS.
You can classify your trips with a customizable purpose to yield maximum tax deductions. The customized trip categories help you track your expense reports. The app provides detailed trip information to the users, making it one of the best mileage tracking apps. You can connect with the community members to get answers to work-related queries.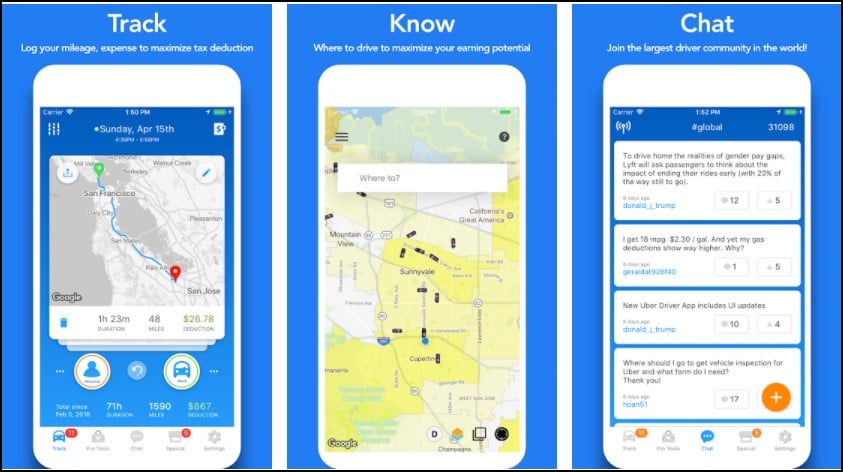 Standout Features:
Easy classification of trips
Connect with community members
Customized trip categories
---
Simply Auto
Simply Auto is a mileage tracking and car maintenance app that provides valuable services. You can track your mileage, car services, service reminders, and car expenses with the Simply Auto app. Track all your trips accurately and categorize them as personal, business, and other categories via the Simply Auto app. You can capture and upload the receipts for fill-ups and services for reimbursement.
The app records the distance of business trips and suggests mileage deductions to avail of benefits. All your data is instantly stored in the cloud backup and can be accessed from any device. You can also generate automated reports with this best mileage tracking app.
Related: Best Credit Score Apps
Standout Features:
Mileage deductions to help you during tax season
Generate automated reports
Instant cloud backup
---
Xero Expenses
Xero Expenses app provides handy features to small enterprises. It simplifies the process of reimbursement and employee claims, making it one of the best tracking apps. You can scan and submit the claim receipt, and the app will auto-approve the expense in one click. The app provides real-time insights and assists you in making quick business decisions.
The app has a map that can help you track your mileage and submit the travel claims for swift approval. Xero expenses app has an OCR technology that can extract relevant transcriptions from the claim receipts. Employees can submit claim expenses in any currency.
Related: Best Personal Finance Apps
Standout Features:
Automatic receipt transcription
Track your mileage
Approve claims in one click
---
Final Words
With this, we will be wrapping up our list of the best mileage tracking apps. These 10 were some of the best mileage apps we have diligently listed on our list for the users. We hope you will find our list helpful, and if you do so, do share it with your friends. MileIQ, TripLog, and Hurdlr can be the optimal choice for small and medium enterprises.
Quickbooks and Xero Expense will be the ideal choice for independent contractors and freelancers. Do drop your valuable comments and suggestions in the comment box below. You can also mention your picks on this list of the best mileage tracking apps.
Thank you for reading! Try these out too:
General FAQs
How do small businesses track mileage?
Small businesses now opt for digital methods to track the mileage. Apps like Hurdlr, Quickbooks, and MileIQ provide a diverse feature to the business to manage their mileage and reimbursement process.