Technology has evolved enormously in the past few decades, and now it governs nearly all phases of our daily lives. Thousands of inventions stem from innovation that has positively improved our overall lifestyle. However, there is one often undermined side of popularity, and it's in the form of brain training combined with entertainment. Studies have shown a gradual rise in the overall IQ, and applications such as the Best trivia app have played a vital role.
You might have watched who wants to be a millionaire and wondered what you would do if you were in the contestant seat. Well, if you are a learning enthusiast that constantly looks for ways to train your memory and brain, the best trivia app will be an ideal choice for you.
The idea behind trivia is simple; it's designed like a quiz show to test your knowledge over different topics. The benefit of having the best trivia apps is that you can compete in different categories while building your knowledge and testing your existing one.
Therefore, the best trivia apps are a great way to keep yourself entertained while also ensuring you are going through a mental training program. There is one typical concern, the play store is overloaded with choices in the category, and let's face it, we don't want to get involved in the hassle of testing. The answer? Our list of the best trivia apps that you will find on the play store.
Excited? Let's get started
Benefits of the Best Trivia Apps
Entertainment combined with knowledge building:- One of the most significant benefits of the best trivia apps is that it allows you to keep yourself entertained while also building your knowledge in the background. The apps offer plenty of levels that will help you learn while also providing you an opportunity to compete with your friends.
Ideal for building long-term memory:- Jim Kwik, in his book Limitless describes a beneficial way of building your long-term memory through games like trivia. The best trivia app will provide you with three to four possible answers to every question. When you guess the correct answer, you retain it for long-term memory.
Adds a competitive spirit: – Another handy benefit of the best trivia apps is that it adds a competitive spirit to the players. We don't want to lose out, and since the apps let you compare the score with other players or friends, this awakens a competitive spirit that can be crucial to memory and knowledge building.
Best Trivia Apps for Android
---
Jeopardy!® Trivia TV Game Show
Jeopardy is one of the best trivia apps for android with massive popularity and following. The game provides you a golden opportunity to test your knowledge about the game show as Alex Trebek will take you on a world tour from LA to London and Tokyo. An exciting and attractive part of the game is that it will allow you to travel the world unlock new cities and countries that you can complete winning rewards.
The game will provide you with a brain training prospect to compete in 2600 different categories. Hence, you are never bored or run out of options to play in the game. Some of the most popular categories include science, history, Oscar winners, see you later, popular fiction, the 90's, along a lot more. Another attractive feature of the game is that it challenges your friends as you compete for different rewards.
Many of the questions you will find in the game are related to the class Jeopardy TV show, and the game intends to create a similar atmosphere. There are also themed events that often take place, which will let you compete with other players, and the winner with the most points claims special rewards. You can unlock different power-ups and eventually increase the odds in your favor.
The game's competitive nature lets you challenge your friends and family, climb at the top of the leaderboard, take part in events and tournaments, ensuring it always stays interesting. Overall, the game is an excellent choice to play offline.
Related: Best Budget Apps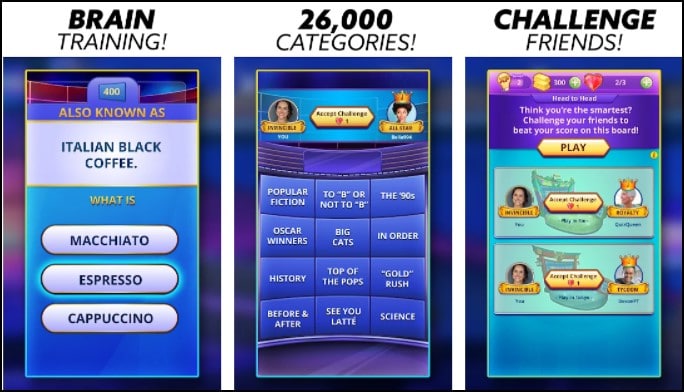 Standout features:-
Compete with other players
Participate in events and tournaments
Brain training game
---
Trivia Time: Multiple Choice Quiz
If you love competing against your friends, Trivia times can be the ideal means of doing it. The application can improve your knowledge while challenging your friends and family, thus making it one of the best trivia apps as it offers a fun and addictive experience.
Trivia time allows you to test your knowledge about different topics by making progress in unlocking new levels. The questions will cover different topics such as people, sports, brands, celebrities, places, music, etc. The game revolves around multiple-choice questions; however, some helpful cues will make it easier to figure out the correct answers.
You can log in with Google or Facebook to register your score and compete with family or friends. The trivia game is an excellent way to stimulate the brain. If you know a particular category, the app will provide you with an opportunity to select it and test your knowledge of it. The game also updates consistently to add new levels, thus ensuring you never run out of choices and options.
Related: Best Route Planner Apps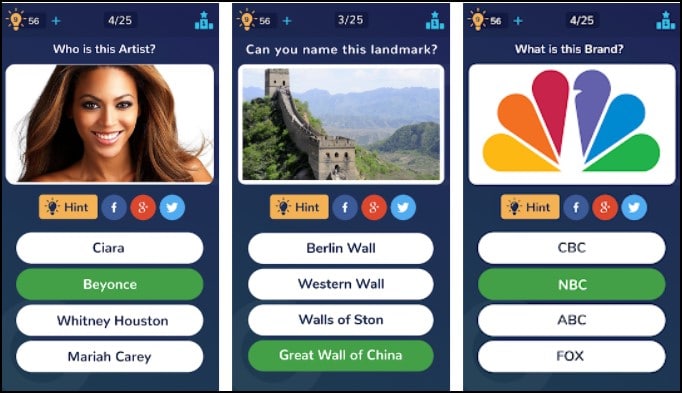 Standout features:-
Different trivia categories
High-quality graphics
Consistent, timely updates
---
TRIVIA STAR Quiz Games Offline
Trivia star is an exciting game without cost for quiz heads and people who love a knowledge test. The game initially starts with some easy levels and eventually becomes hard. A significant reason why trivia star makes it to our list of the best trivia apps is that the game provides an exciting experience combined with the thrill and equally serves as a brain training exercise.
It contains up to 60+ different categories, including animals, sports, music, TV shows, science, brains, sound, etc., that you can choose. The game gives you a chance to beat the clock and answer as many questions as you can. The more answers you guess, the better your reward will be in the game. You can get daily bonus coins which help get free hints to an answer.
Trivia Star offers 1000+ levels of the quiz; thus, you get to answer more than 10,000 trivia questions. IT is the perfect brain training game that you can play online or offline and anywhere. The game interface is also pretty attractive and will give you a premium feel as if you were competing in a game show.
Related: Best Keto Apps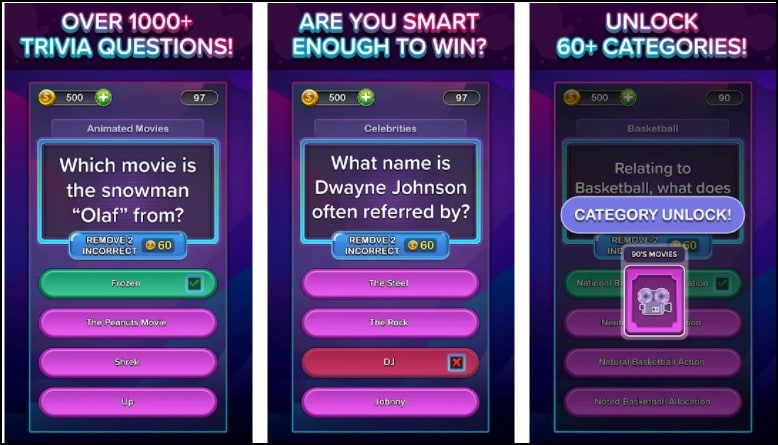 Standout features:-
60+ different categories
1000+ levels and up to10,000 questions
Attractive interface
---
Trivia Crack 2
Trivia crack 2 is one of the best trivia apps out there, and it's because the app is designed to provide you with plenty of brain testing options in the form of different exercises. The game introduces new modes, including a one-on-one time attack mode known as the Tower challenge. You also get more daily tasks and challenges, which allow you to compete against your Facebook friends and random oppositions, thus providing you with a chance to showcase your knowledge.
Trivia crack two will let you compete and collect crowns. It later presents weekly competition results, and the top 20 players with the most crowns are rated on positions. The higher the rank, the better the prize for you. The game offers plenty of categories, including movies, TV shows, artists, books, and a lot more. There are general question categories: entertainment, science, sports, geography, and art.
You can collect characters as your progress through the game as you compete in themed characters that mirror the trivia categories. You can now collect even more characters based on the question theme. The app is free-to-play, although you will encounter plenty of annoying ads. A paid membership will cost you around $4.99 per month as it not only removes ads but also offers more perks like limitless lives, discounts, and special packs.
Related: Best Manga Apps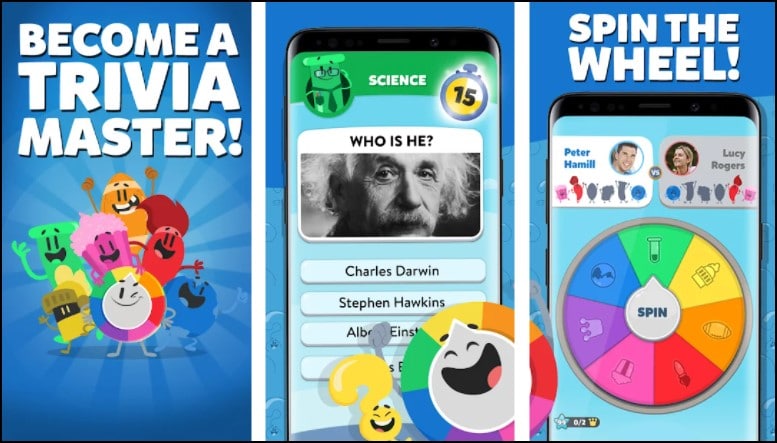 Standout features:-
Customization options such as collecting wheels and characters
New game modes
Compete with other players
---
Millionaire Trivia: TV Game
Who wants to be a millionaire is one of the best TV shows, and we have all imagined what it would be like to participate as a contestant. You can put an end to curiosity by downloading Millionaire Trivia, which is one of the best trivia apps you can find on the Play store. The game's interface is similar to what you used to see on the TV.
The game begins by asking you simple and easy questions as you eventually progress to the hard ones. The idea behind the game is identical; the more questions you answer, the better reward you get. You can opt for one of the classic lifelines, which includes asking an Expert, 50:50, and Asking the audience or flip the question. You can also build and train your group of experts with unique attributes, regardless of whether it's English to mathematics; the expert can help you out.
The game allows you to compete for points as you build your way up to the leaderboard spots. You can also opt for the in-app purchase to create the bankroll or get mystery boxes. The game is also available for offline play; thus, you can enjoy it regardless of wherever you are.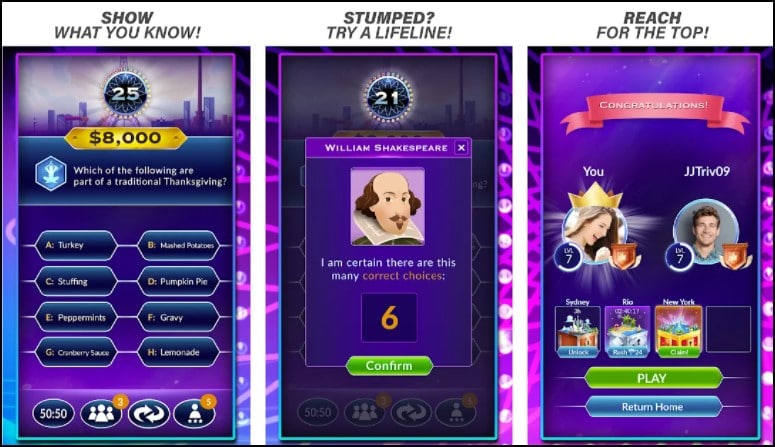 Standout features:-
Create a team of experts
Collect coins and climb onto the leaderboard
Unique offline mode
---
TRIVIA 360: Single-player & Multiplayer quiz game
If you are looking for the best trivia app that lets you play in the single-player mode and provides you the chance to compete in multi-player quiz games, Trivia 360 is the best choice. It is an excellent brain game as it provides you a pure boost through various IQ challenges and addictive thinking opportunities.
Trivia 360 is also an excellent choice if you want to awaken the competing spirit inside, as its multiplayer mode will let you play against other users. The game divides the competition into three rounds, and the player who gets the correct answer wins. The single-player mode will let you play the game free without any limits. Besides being a fun game, it also presents a great chance to build your knowledge by covering various topics. There are different categories for the quizzes, such as flag, landmark, geographic riddles, etc.
The game also maintains a leaderboard that lets you register all-time top scorers, best weekly scores, and 24 hours top ones. Apart from the multiple-choice questions, you also get certain True or false ones that add a unique touch to the game. Overall, the game is an excellent combination of excitement and mental training, making it an ideal companion during free time.
Related: Best Dog Walking Apps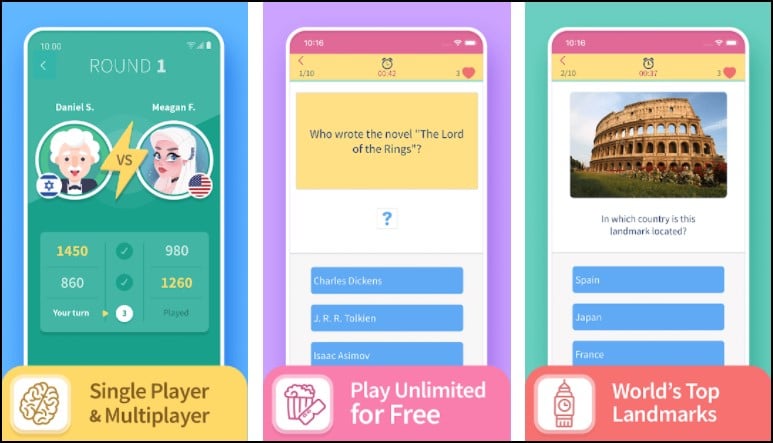 Standout features:-
User-friendly interface
Access the leaderboards and compete with other players
Different categories of quizzes
---
PopcornTrivia
If you love watching movies and films and want a game that lets you test your knowledge with it, Popcorn trivia is the best trivia app for the purpose. The game will let you challenge your fellows or host a game show. The most significant benefit is choosing from various movies across various genres. The game will let you earn ranks as you climb from a crew member to a studio head.
The game is most suitable for movie lovers, and as you can expect, it doesn't offer a lot of categories. Instead, what it does provide are questions from movies across numerous genres; thus, you find the ones that interest you. The questions are created from cinephiles to ensure they depict your movie knowledge.
The interface of the game is also quite interesting. It allows you to choose whether you want to compete in a single-player or multi-player mode at the start. Eventually, you will unlock new arenas and customization options as you progress.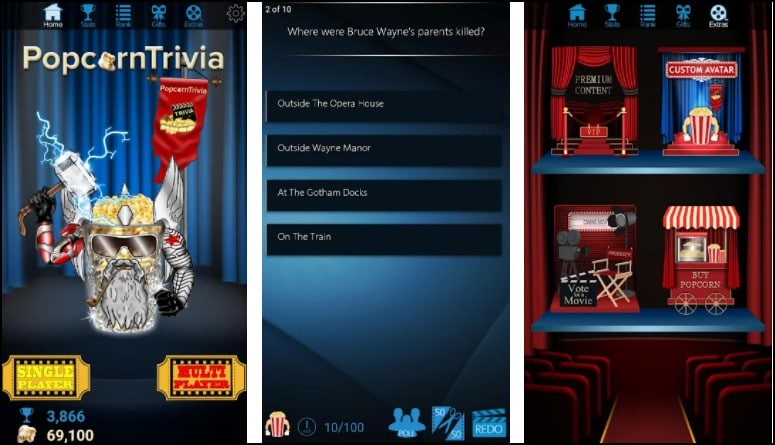 Standout features:-
Test your movie knowledge
Select movies from different genres
Single-player and multi-player modes
---
Final Words
We have created and presented a list of the best trivia apps you can find on the play store. All of our selections above will ensure you enjoy an impeccable experience filled with exciting entertainment, and above all, help you in brain training. Although all the choices have thousands of users, ensuring the game has the correct categories to match, your interests make sense. Our top picks in the category are Jeopardy!® Trivia TV Game Show, Millionaire Trivia: TV Game, and PopcornTrivia.
Thank you for reading! Try these out too:
General FAQs
What is the best trivia app?
The best trivia apps intend to replicate the experience of your favorite gaming show, providing you with a source of entertainment and knowledge. Our list above contains plenty of choices; however, our top 2 recommendations are Trivia TV Gameshow and Millionaire Trivia.
Is the best trivia app free?
Yes, a lot of the games are free to download and play. Although, they do offer in-app purchases that get rid of the annoying ads and let you enjoy in-game perks.
What is the best trivia app for movie lovers?
For movie lovers, the best trivia app is Popcorn Trivia. The game will let you answer movies' questions and let you choose different genres.