If you want to live a healthy and happy life, exercise is one of the core components. Burning calories and developing your muscles to get stronger can help you build an impeccable lifestyle. The development in science provides us with discoveries relating to nutrition and working out. It emphasizes how you work the muscles in particular ways to make them stronger. Technology also plays a significant part in it by conveniently compiling the years of research, making it accessible to anyone. The best gym workout app can be your ideal fitness companion, and you can use it to get several health benefits.
Since there are various physical activities you can perform in the gym. However, it's also important to note that performing the wrong ones can damage your muscle, and a bad posture can strain your spine or back, which can have severe health impacts.
Whether you want to perform cardio or build muscle and stronger bones, it's essential to go through the workouts strategically. You need to perform exercises with the correct posture and follow a particular routine to ensure optimal results.
Whether you are a beginner or an expert, there is an excellent probability that you can benefit from the best gym workout app. It helps create and track exercise routines and ensure correct posture. There is one problem: the Play store contains so many options that it's challenging to find the one that suits all your requirements. Nevertheless, you don't have to worry anymore as our list of the best gym workout apps will help you out.
Excited? So, Let's Get Started.
Benefits of Best Gym Workout Apps
Discover exercises:- Research suggests that if you keep performing the same exercise continuously, your body eventually gets used to it and stops showing results. Therefore, you need to ensure that you constantly incorporate new exercises in your routine for extreme results. It can get challenging to research on the internet, and even if you do, carrying it to the gym is also a hassle. The best gym workout app provides ideas and small tutorials on performing the exercise and targeting the particular muscle group.
Customized plans:- If you are a beginner, one primary concern you encounter is the lack of a workout plan. Since not all of us might afford a personal trainer and the YouTube videos may not be tailored for you, the best gym workout can provide an excellent solution. The applications usually offer beginner workout plans that focus on progressive overloading and can help you get stronger as you gradually increase the intensity of the workouts.
Utilities:- Another benefit of the best gym workout app is that it also offers utility tools. It includes a BMI calculator, fat calculator, nutritional tracker, calories calculator, and protein calculator. You can use these tools to create the perfect meal routine or track your progress to illustrate the results clearly.
Best Gym Workout Apps For Android
---
Fitvate
Fitvate is one of the best gym workout apps on the Play store. It's a multi-purpose application that you can use for different purposes. This app Is the desired choice of thousands because it can provide you with various features, from providing a workout routine to getting you started, making it the right choice for novice users and more experienced ones. Fitvate is the ideal personal trainer and gym companion to carry on your fitness journey.
Exercise is essential, but stretching is another essential aspect of your workout routine. It helps loosen up the muscles and prevent muscle discomfort and overload suffering. Fitvate contains a separate section that specifically targets stretching. It contains different stretches for the chest, back, legs, triceps, forearms, biceps, etc. The best part is that once you click on a stretch routine, the app provides you the exact method of doing it, the area it targets, and how long you should perform it.
The application contains a massive collection of exercises, and it also categorizes each one of them based on the muscle group. For instance, if you want to train legs, you can open the legs tab and provide all the related exercises. The app also provides details on how you can perform it correctly and maintain the posture, the muscle it targets, the repetitions, and a small tutorial to get a clear view. If you want to perform the exercises at home, you can swipe to the home exercises section for the muscle group, and the app will provide you with multiple choices for it.
The most significant feature of the app is the customized workout plans. Although, the app suggests plenty of plans that include full-body workouts for beginners that can last four weeks, weight loss workouts, etc. You can also search for the perfect workout to suit all your requirements, and it will require you to add your goal, exercise level, weeks, and days each week, thus finding one accordingly. The app is free, but its premium will genuinely unlock all the pro plans, provide you a 24 hours guidance support, and create an unlimited plan which makes it a value for the money.
Related: Best Guitar Tuner Apps
Standout features:
Categorizes workouts based on the target muscles
Tutorials for each workout
Create workout plans as per your needs
---
Pro Gym Workout
Pro Gym workout is another notable mention on our best gym workout app list. It is another app that can be your ideal gym companion and helps you train all muscle groups. The app is simple and contains an interactive, user-friendly interface that quickly ensures you get all the features. It's a huge benefit since you can open the app and quickly navigate the exercises you want.
Once you open the app, it will provide you with different tabs for each muscle, along with exercises that explicitly target it and help you grow. For instance, once you open the abs tab, it will load all the exercises, including crunches, dumbbell side bends, hanging leg raises, etc. All of these exercises will help you build stronger and better abs.
However, that's not it, once you decide to perform the exercise, you can click on it, and the app will provide you a short tutorial on how you can perform it with the correct posture, the body part it targets, a short description on how to perform it and notes which contain set and repetitions, the ideal dumbbell weights, and comments.
You can also get bodybuilding plans; although it does offer a free three-month bodybuilder workout plan that can help you get started in the free mode, you will have to get the premium to unlock others. You can either get the entire premium package and unlock all the plans or spend some money and unlock the particular one.
The application also provides a dedicated section to provide tips, including different informational articles. The topics of the articles may include nutritional, recovery, maximizing results, and health benefits of different vegetables. Another valuable feature of the app is the utility tab; it contains a BMI, Protein, Fat, and a calories calculator, which are all tools that can assist you in creating the perfect meal plan and routines.
Related: Best Home Workout Apps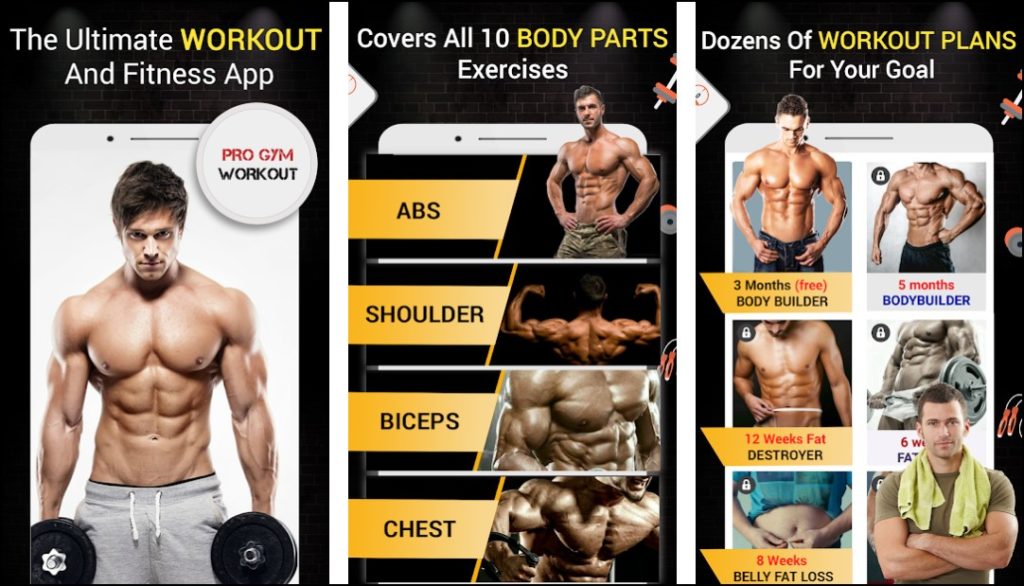 Standout features:
Find the ideal workout plans
Access a variety of exercises for different muscle groups
Get different utility tools for assistance
---
Gym Workout Planner
If you are looking for weightlifting plans that will help you gain muscle and increase strength, Gym workout is an excellent choice. One of the best gym workout apps provides plenty of diversity and helps you achieve your dream physique. The app is suitable for Intermediate and beginner levels as it contains workouts designed by experts while keeping the different body types in mind.
The app will let you set a workout goal that includes a Fat off muscle on, Skinny to muscular, get into shape quicker, and the female athlete. The plan is created explicitly targeting the weaker muscle and helps you build strength as you move up, thus ensuring that it doesn't overload muscle or increase the risk of an injury.
The app will help you reach the advanced level; it starts with beginner workouts and slowly builds your way up. Additionally, it also tracks the workouts you have completed.  You can track all the reps you have performed along with the weight of your lifts to ensure you have a clear track of it to reflect on your progress. A gym workout planner will also provide informative articles for you that will help you enhance your knowledge relating to working out and bodybuilding.
Related: Best Weight Loss Apps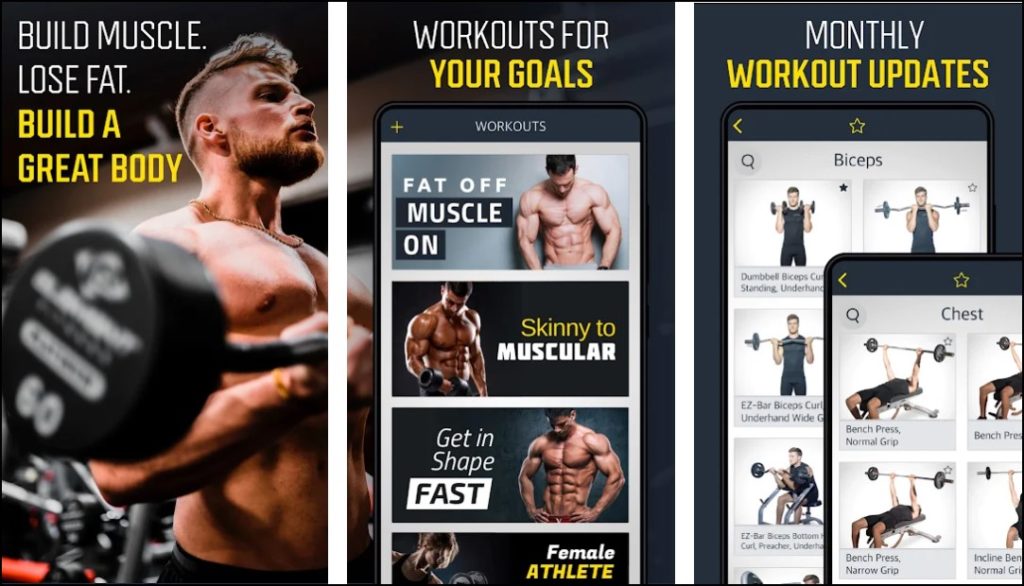 Standout features:
Build your core strength from beginner to intermediate level
Lose muscle quicker by strategically designed workout plans
Educate yourself about nutrition and exercises
---
JEFIT Workout plan & Gym Log Tracker
JEFIT Workout plan is an exceptional choice for people who want a portable trainer, providing a clear roadway to unlock their true potential and achieve their dream physique. It provides a fitness program database for free to help you remain fit and ensures you keep seeing results. It features multiple programs that will help you slowly build strength from beginner to advanced, including powerlifting, weightlifting, and bodybuilding.
One of the most significant features of the app is its workout tracker and planner. The app will let you plan out the workouts, including sets, weights, reps, and RMs, to ensure you can subconsciously act on it and don't waste time working out. It also provides you with detailed stats and figures that will help you understand recovery and the different target muscles of your body. You can also record progress as you work out more often and opt for progressive overloading.
Another notable feature of the app is that it provides a planned mix. You can add the muscle groups you want to target along with the equipment available, and the app will provide you with all the exercises you can perform. The workout plans are also consistently updated with more than 1400 exercises to provide options. It also features customized plans with different fitness goals in mind, and you can choose to embark on any one of them.
Standout features:
Plan and track your workouts anywhere
Up to 1400+ workout variations
Understand your body and its recovery
---
Fitness & Bodybuilding
If you are searching for an application that will help you in the gym but don't want any extra features that will make it complicated, Fitness & Bodybuilding is a great choice. It is a part of our best gym workout app list because it offers plenty of simple user interfaces that make it easy to navigate. Although still provides excellent functionality, ensuring you don't miss out on any particular features.
The app will provide you with all the options conveniently. It features different exercises categorized into different muscle groups, and you can train anyone based on your interest. For instance, if you want to train biceps, you can open the biceps category, and the app will display all the exercises for the muscle. The application will provide you with detail on performing the exercises with the correct posture and a short description. You can also maintain weights, repetitions, and performance stats to know your actual physical state.
Fitness & bodybuilding also offers other features such as choosing the workouts based on your interests (i.e., bodybuilding, fitness, and powerlifting) and how many times you will perform it (two, three, or four days each week). You can also follow a particular workout routine or create a custom one depending on your interests. There is even a history section to view all the exercises you have performed.
Related: Best Sports Apps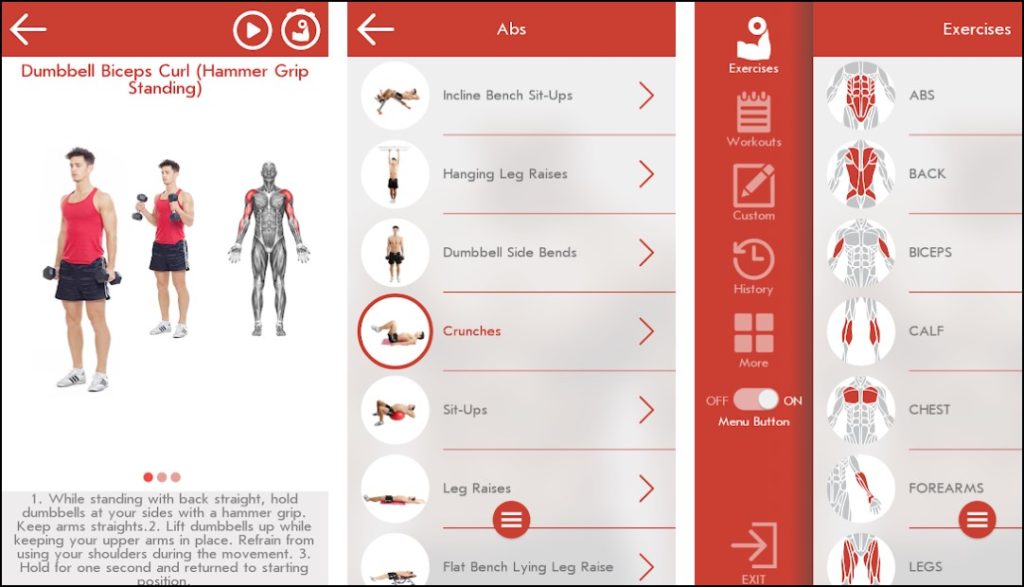 Standout features:
Discover different exercise variations
Follow a tailored workout routine
Create a custom exercise routine
---
8fit Workouts & Meal Planner
8fit workouts & meal planner is one of the best gym workout apps that provides you with a lot of versatility. It's a multi-purpose app that lets you choose from various exercises and provide healthy meal ideas. You can choose from more than 200 workouts, including different categories such as HIIT, Pilates, Strength, etc. The app will provide you with a short tutorial for each exercise to ensure you are performing it correctly.
It also features up to 800+ healthy meal ideas and helps you find the one that interests you the most. Since there are plenty of options available, it will also certify that you never get bored of eating the same thing repeatedly.
One of the most significant features of the app is that it provides Step-by-step guidance for performing each exercise. It includes a setup timer and the type of exercise you need to perform, along with a short-timer for completing it. Overall, it's a complete app that offers the two most important things to achieve the dream physique.
Related: Best Credit Score Apps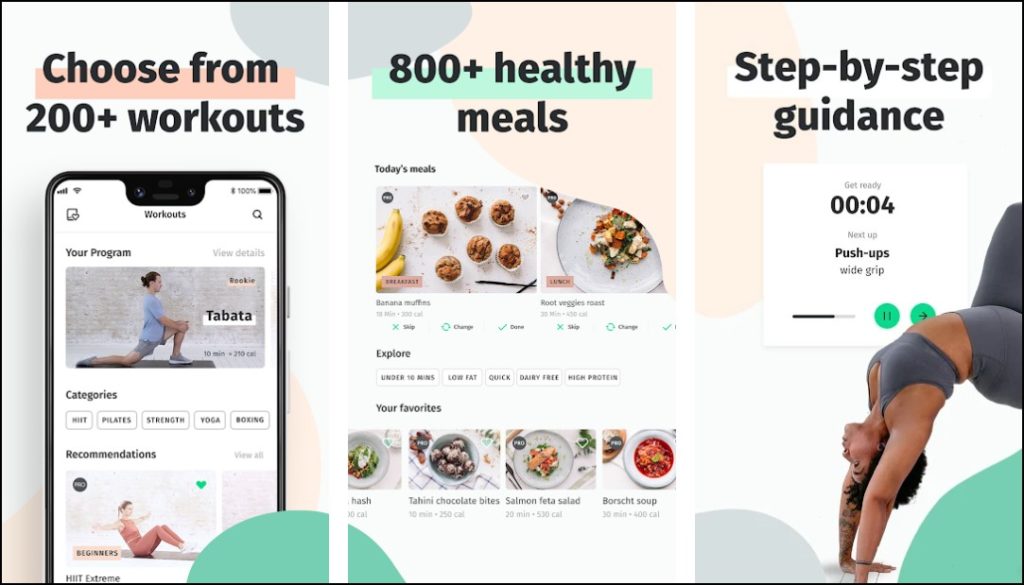 Standout features:
Choose from 200+ workouts
800+ healthy meal options
Step by step guidance for each exercise
---
Final Words
We have described some of the best gym workout apps that you can find on the Play store. Although there is more than one choice on our list, these entire apps share exceptional functionality combined with convenience. If you want to find the best gym workout app for yourself, you will have to keep your priorities in mind and choose accordingly. Our top picks in the category are Fitvate, Pro Gym Workout, and JEFIT Workout plan & Gym Log Tracker. The three apps are more versatile, making them ideal for a wide category of individuals.
Thank you for reading! Try these out too:
General FAQs
What is the Best gym workout app?
The two best gym workout apps on our list are Fitvate and JFIT workout plans.
Will the best gym workout app provide me with tutorials?
The best gym workout app will provide you with a short tutorial with each exercise that will show you how to get the perfect posture while performing the exercise
Are Gym workout plans free?
Although the best gym workout app will provide you with free plans, they are more suitable for the general category and may not show optimal results. Instead, getting one explicitly tailored to target your requirements is the best choice and will provide you with better results.