Technology over the past decade has evolved as we now have gadgets that we could once only dream of. The main aim of innovation is simple to make our lives convenient and more entertaining. The curiosity has led humanity to discover and create marvelous inventions. Among many other wonders, the formation of cameras and photos competes for the top spot.
The once deemed impossible idea is so streamlined that nearly every mobile now contains a camera. Taking pictures is now a stress-free task, and the best photo sharing apps have also simplified it across different platforms. Photos are everywhere, from personal to business usage. You might get up now and discover several of them around you. However, the idea of capturing photos shares significance with sharing. We often take photos of our friends, family, or loved ones on our mobile and then send them.
The best photo sharing apps will allow you to instantly and conveniently share pictures with anyone. It makes the entire process of shifting the files onto a USB before delivering them to the recipient less complex. Instead, you can now share photos efficiently by only investing a few minutes into the process. Nevertheless, sharing photos is now an effortless task, but choosing the best photo sharing apps can get rough. Mainly because the abundance of choices on the play store might leave you scratching your head and doubting your choice.
The solution? Our list below contains some of the best photo sharing apps for android. The choices will help you make up your mind and find the best one for your usage.
Excited? Let's get started
Benefits of Best Photo Sharing Apps
Convenience:- One of the most significant reasons many people opt for the best photo sharing app is convenience. Whether you want to share hundreds of photos with anyone personally or showcase your photography skills by sharing them with other photographers, the best photos sharing app will provide you with plenty of features to do it.
Preserve the picture quality:- One of the primary reasons you don't want to share your pictures through digital messaging apps or other such means is because it can massively impact the picture quality. The pixel breakage is a significant problem, and to ensure you deliver the pictures in the best quality and resolution, the best photo sharing app is the right choice.
Photo storage:- Another notable use of the best photo sharing app for android is that many of these will provide you with a storage place. Since we don't want to create a mess by leaving our photos everywhere, categorization makes it easier to access any picture instantly and saves mobile memory. Some of the best photo sharing app provides a photo storage feature that makes management a lot easier.
Best Photo Sharing Apps for Android
---
Google Photos
Google photos are one of the best photo sharing apps, and it's also one of our top picks in the category. It's one of the complete applications on our list that will provide you with plenty of features from storage to sharing, making it an impeccable choice. The app is popularly regarded as the best choice for better organization and accessible sharing features.
The app will let you categorize all the photos in different albums. You can name the albums your like to ensure you have all the pictures of the same category sorted in one place. If you store photos using Google play, they will remain there until you delete them; thus, you have a lower chance of your memories being lost. The app provides a secure backup option for all the videos and pictures that ensure you have them available to you for years without any threat of losing out.
Another significant advantage of Google photos is its categorization. The app will allow you to save all the faces in the photo, mark the location where it was taken or sort it by objects. The benefit of it is that you can instantly find any photo by simply searching for it.
In terms of sharing, Google photo is a reliable choice. The app will let you conveniently share photos on your social media platforms or to any trusted contact through phone number or email. You can also add a short description with the photo if you share it with anyone. You can select a bunch of photos and share them with the app.
The application also offers a valuable photo editor that offers plenty of editing tools. Other app features include a quick print option that will send the directions to the connected printer. All the photos that you share or store in Google photos will be secured and protected under the official privacy policy of Google.
Related: Best Budget Apps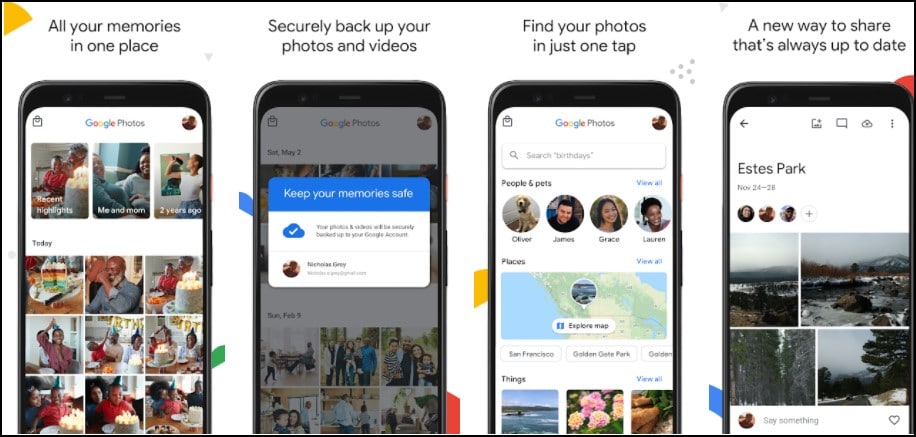 Standout Features:
Provide storage space for saving photos and videos
Quickly share photos in various ways
Ensures security of the pictures
---
FamilyAlbum – Easy Photo & Video Sharing
If you are searching for the best photo sharing app that will help you store memories and let you share them with other members, FamilyAlbum is the ideal choice. The application incorporates various features that promote photo storage and sharing among different family members.
One of the most notable features of FamilyAlbum is its organization. Since the app is ideally designed to provide families with a digital album for storing memories, the app lives up to the expectation by sorting each memory with date and year. You also get reminders for the picture after a year. The app automatically organizes all the photos and sorts them by month.
The best part is that you can also create separate albums for all your children, and the app will track their age and sort photos accordingly. For socializing, the app provides an exclusive feature of creating private albums. You can provide access to the private loop to friends and family, so they get notified whenever you upload a new photo or video.  
The app also offers unlimited storage, ensuring that you can store plenty of photos without worrying about anything. A significant feature is that you can get a photobook created and delivered at your doorsteps with all the photographic and video memories. Sharing photos using FamilyAlbum is another effortless task. You can easily send them to anyone using their email or share them on your social media accounts. Overall, for personal usage, this app is a great choice.
Related: Best Route Planner Apps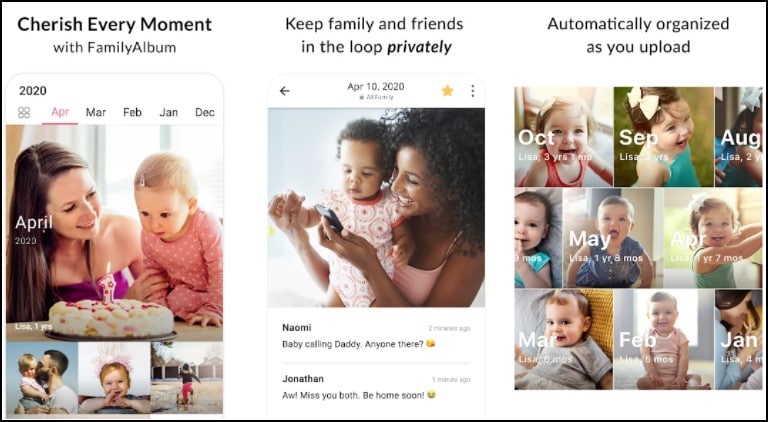 Standout Features:
Create private loops and share them with your family
Unlimited storage space
Convenient sharing options
---
500px – Photo Sharing & Photography Community
500 Pix is our third top pick in the category. The app is one of the best photo-sharing apps for accessing a premier community with mutual interests and social networking with other photographers. Since engaging with other aspiring photographers will increase your creativity, slowing you to generate many more ideas, the app features more than 15M creative from up to 195 different countries.
One of the most significant features of the app is that you can apply for a photography license through the app, which will allow you to earn money for your creations. Since you can share any app with a short description, title, keywords, location, and category, the app will allow you to create a profile. You can also follow other photographers and creators; thus, viewing their creations can generate new ideas for yourself.
There are also plenty of quests that you can complete and earn money. Every quest is a great way to challenge yourself and win thousands of dollars in prizes. Creating a photographic portfolio will allow you to pursue a career in photography. The app will also let you discover curated content based on your choices. If you want to share personal photos of your family, you can create a separate private album through the app and only share it with a few people.
Related: Best Keto Apps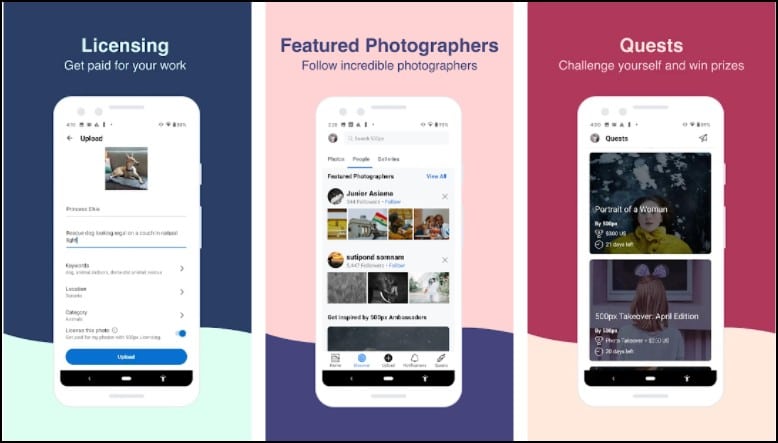 Standout Features:
Challenge yourself by competing inquests
Create a photographic portfolio
Discover featured photographs
---
Photo Transfer App
Photo transfer app is the best photo sharing app for transporting photos from your computer to android and vice versa. Often, we find ourselves in situations where it's difficult to transfer photos and videos from one platform to another, especially if we want to ensure no pixel breakage. The application will let you conveniently and quickly transfer, backup or share pictures and videos.
The app's benefit is that you can quickly transfer more than one photo or video by selecting all of them. The send and receive feature will equip your phone with the ability to share photos on your laptop instantly, and if you want to get it printed, you can connect the printer with the laptop. Therefore, the entire printing process will only take a few minutes.
The photo transfer app is suitable for the android-to-android transfer of photos. You can also use it for transfer between laptop and android or share photos on Android and iOS devices. The two significant benefits of having the app are that you only require an internet connection combined with the app on both ends to share photos. Furthermore, the sharing process is entirely secure and straightforward, ensuring your photos aren't leaked or shared with anyone else.
Related: Best Manga Apps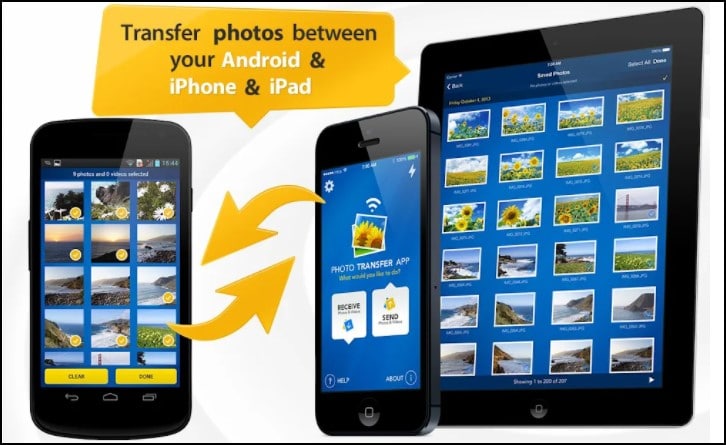 Standout features:
Transfer photos and videos between different devices
Easy to use the app
Send multiple photos simultaneously
---
Dropbox: Cloud Storage Space
Although technically, Dropbox is not a classic application for the task, it still makes it onto our best photo sharing app list. The reason is simple, and you can use it for sharing photos and storage. Hence, it does offer a similar functionality despite offering other features. Dropbox is a popular choice with more than two million downloads because it offers a secure and quick way of sharing and storing photos.
Dropbox will let you upload and transfer any pictures videos on the cloud and share them with anyone you like. You can also use it to sync and back up videos, photos, and other files to the cloud storage while accessing them with multiple devices. The advanced sharing feature makes it easy to share it with any group of people, whether for a small family purpose or a large group of friends.
The backup feature is a massive benefit since you can preserve your memories without worrying about losing them conveniently. You can also view or share the files from any device with the login credentials of the Dropbox account; thus, it's a versatile choice. The app can be programmed to back up photos into Dropbox automatically. Thus, you never have to worry about anything. Another benefit is that you can san documents through Dropbox by only using your android. All the files uploaded into or shared by Dropbox are organized, secured, and protected by a Pincode.
Related: Best Dog Walking Apps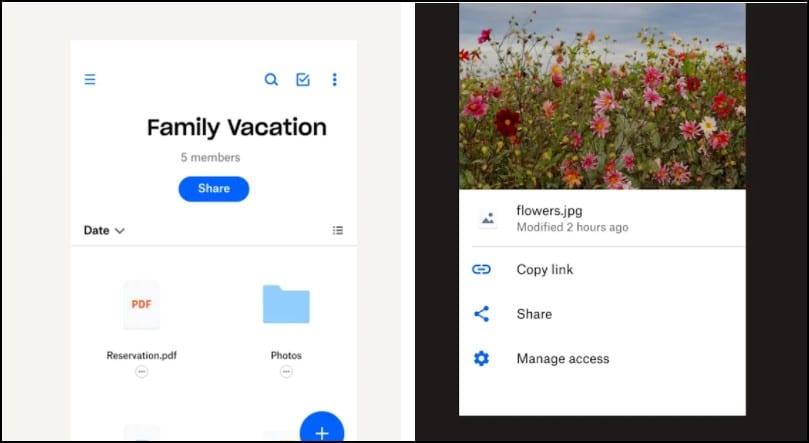 Standout features:
Multi-purpose app
Backup your files and videos
Protect your pictures with a Dropbox password
---
Amazon Photos
Amazon photos are another reliable choice and one of the best photo-sharing apps for prime members. The app provides numerous features to store, share, and print pictures in high-resolutions, thus preserving your favorite moments. If you are a prime member, you get access to unlimited photo storage for a lifetime, along with free prints delivery. If you aren't a member of Prime, then you get 5 GB of full-resolution storage space for both photos and videos.
The features of Amazon Photos are numerous, and you can enjoy a lot more than a regular photo-sharing app. The app will provide you with a storage space of 5 GB, and the best thing is that you can preserve the full resolution of your images. The app will let you view the photos and memories n Fire TV and Echo Show instead of limiting it to mobile and laptop.
The app's back up photos, and video feature can turn on to automatically save pictures into the Auto-save settings. One of the most significant features of Amazon photos is that you can enjoy various amazon app features, which means the app is compatible with the Alexa app. You can try saying "Alexa, show me morning photo" and all the relevant photos.
If you want to share photos with your friends and family, you can create a private group with a comment section while putting different albums into it. Your allowed contacts will access the particular albums and use them conveniently. The app also offers search, auto-save, re-live memories features that make it easy to navigate. Additionally, the app also prioritizes the security of the photos and videos.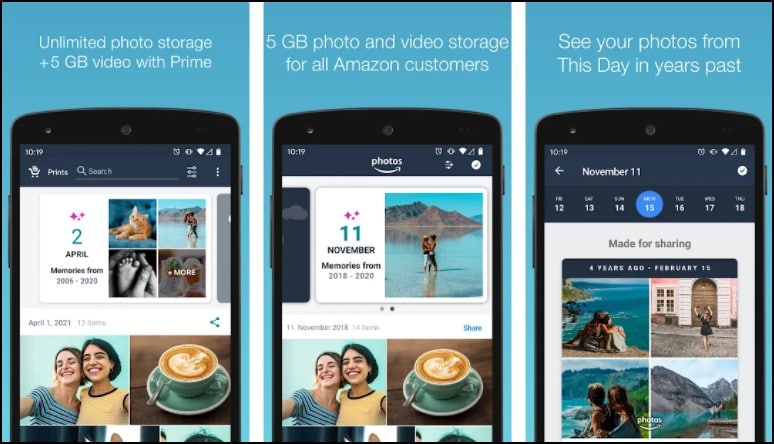 Standout features:
Store and share photos easily
Compaitable with Alexa app
Ensures the privacy of the photos
---
Final Words
We have created an extensive list above of the best photo sharing apps. Although we have listed some of the best choices on our list to serve you, it's also important to note here that we aren't limited to only one choice. Therefore, it's your responsibility to keep your preferences in front and choose the best app per your choices. We recommend Google Photos, Family Album, and 500px as our top 3 picks in the category.
Thank you for reading! Try these out too:
General FAQs
What is the best photo sharing app?
There are plenty of choices in the best photo sharing app list. If you want an app for storing and sharing photos, Google photos are ideal. If you want an app for personal usage, Family album is the right choice. If you are searching for an app to showcase your creativity and socialize with other photographers, 500px might be the best-suited choice for your purpose
Is the best photo sharing app free?
Many of the features that these apps offer are free, including limited storage space and sharing capacity. However, if you truly want to unlock all the premium features, which also include unlimited sharing and storage capacity etc. opting for the paid version is the ideal choice
What is the best photo sharing app for Amazon prime members?
Amazon Photos is the best choice for Prime members. The app will provide you with countless features that make it easy to print, store and share photos.