In the past few decades, humanity has attained new heights that were once deemed impossible. Innovations in technology and medical sciences have entirely evolved the quality of our lives. The modern digital world is better equipped to help us develop mentally and physically while also providing state-of-the-art medical treatments. The viruses, diseases once responsible for killing the masses, are no longer contagious due to massive developments. However, technology and science also combine to provide you with impeccable study experiences, and one such great addition is the best anatomy app.
For medical students, human anatomy is one of the most challenging subjects to tackle. Due to the complexity of human bodies and the unavailability of always available practical demonstration, it is difficult to memorize and learn about the different organs, bones, etc.
There are significant benefits of getting the best anatomy app on your device. The applications provide a clear and accurate image of different parts of the human body, also labeling it properly to ensure students get a detailed illustration. It provides medical students with an ample opportunity to get some hands-on virtual yet practical experience.
However, when it comes to choosing the best anatomy app, it might leave you confused. As an essential part of the anatomy is precision, the best anatomy app should ensure you have all the right learning instruments. It's where our list of the best anatomy apps helps you find the perfect tool.
Excited? Let's get started
Benefits of Best Anatomy Apps
Learning opportunity: – One of the most significant benefits of the best anatomy apps is that it provides you with an excellent learning opportunity. The apps will provide you with a precise arrangement of bones, veins, organs, and muscles. Furthermore, all of the parts are correctly marked, and there is also detailed information available for different body parts.
Virtual hands-on experience: – One of the significant concerns about the human body is that it isn't always accessible. The best anatomy apps will benefit from a real-time 3D experience that provides you with a good look and a clear image of the insides. Furthermore, the apps also provide high-resolution photos of different features that detail anatomy.
Convenient: – The human body contains many parts, and thus, it's impossible to provide you with a clear image with a description of all of them. The best anatomy app that you can easily download on your android device can carry and study wherever and whenever you want. Therefore, these applications are a lot more convenient compared to the traditional learning methods.
Best Anatomy App
---
Head Atlas
Head Atlas is one of the best anatomy apps, and it's also one of our top picks in the category. The app provides an already vast and constantly growing tools library useful for neuroanatomy learning. The app also provides a dashboard for news and other beneficial resources for medical students. The idea behind is the app is straightforward yet with an exclusive touch; it combines Augmented reality and a complete 3D Atlas for conveniently studying neuroanatomy on your Android devices.
The app offers a detailed description of human skulls. It contains 250+ labels combined with description that makes it easy to recognize various parts of the human skull, but there are also short descriptions available for each one. The app provides three primary tabs at the bottom, including skull bones that contain a clear view of all the bones and a short description, a tab for the nervous system, and a separate one to understand the vascular system.
For a more detailed insight, the application offers more than 2400+ hotspots in the isolated mode of the app. There is also a sectional view in the Head atlas that lets you view the coronal, axial, and sagittal parts of the neuroanatomy. The exploded view lets you discover the complete skull through a broad view.
The most exciting feature of the app is augmented reality. It lets you explore the structures with AR, thus developing a thorough understanding. Head Atlas will also provide you with 3D anatomical models of the brain.
Related: Best Budget Apps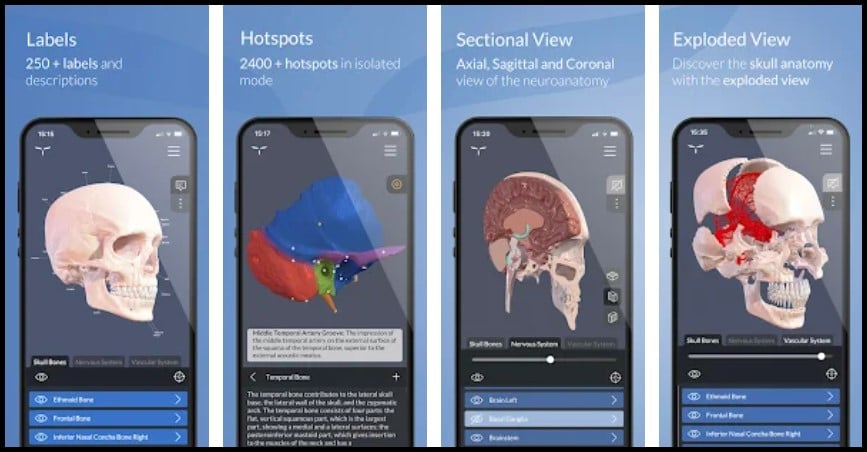 Standout features:-
3D anatomical models
AR strucutres for nerves and brain
Efficient user-interface
---
Anatomy Learning – 3D Anatomy Atlas
Anatomy learning is another excellent application to study nearly all human body parts. It is one of the best anatomy apps for more diverse knowledge since it isn't explicitly suited to a particular organ or body study. The app offers a real-time experience in an entirely 3D environment for studying and understanding the human anatomy by using an advanced, intuitive 3D interface that's functional and convenient.
The app lets you rotate different models at various angles that quickly zoom out and in whenever you want. You can also remove the structures to expose the various anatomical structures underneath them. From a learning perspective, this app is another excellent choice. It offers a 3D location quiz that lets you test your knowledge about the subject.
Anatomy learning also lets you change between various anatomy systems. There are demonstrations of female and male reproductive organs in the app. A significant beneficial feature is supporting different languages, including Japanese, Spanish, Russian, Portuguese, French, etc.
The various content of the app includes bones, reproductive organs, ligaments, urinary, joints, digestive, muscles, respiratory, muscles, sense organs, circulations in veins, heart and arteries, peripheral nervous system, and the central nervous system. Thus, the versatility of the app makes it a great choice.
Related: Best Route Planner Apps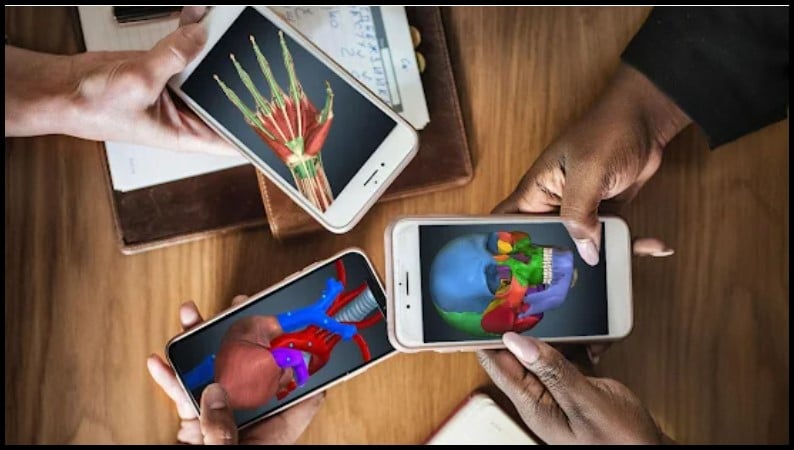 Standout features:-
Versatile app to cover all parts of the human body
3D location quizzes
Rotate the models to different angels
---
Gray's Anatomy – Anatomy Atlas
Nearly every medical student has watched the popular TV show Grey's Anatomy and drawn inspiration from it. However, our Gray's anatomy is a little different. It's one of the best anatomy apps you can find, and it's one of our top picks. While Grey's anatomy can motivate you to be a doctor, this app can provide you with a knowledge system that will help you learn about different body parts.
The app offers plenty of features. One of the most notable is the user-friendly intuitive interface that makes it easy to navigate and access available information. The app also provides an offline mode to study without an internet connection, and you can Zoom out or in at images to get a better, enlarged view. You can also find images quickly through the search tool of the app.
The app offers an anatomy system that includes Skeletal System, Sensory System, Muscular System, Integumentary System, Nervous system, Lymphatic system, Cardiovascular system, reproductive system, respiratory system, etc., urinary system, digestive system, and endocrine system. Furthermore, you can also find plenty of anatomy positions in the application. It includes the skeleton system, pelvis, and perineum system, head position, abdomen position, neck position, thorax position, back position, and upper limb.
Other app features include medical quizzes to retain long-term memory, a reliable and efficient medical dictionary, muscle anatomy, and anatomy atlas. It is one of the most efficient choices that provide you plenty of benefits at the top of being a pocket-sized medical student guide.
Related: Best Keto Apps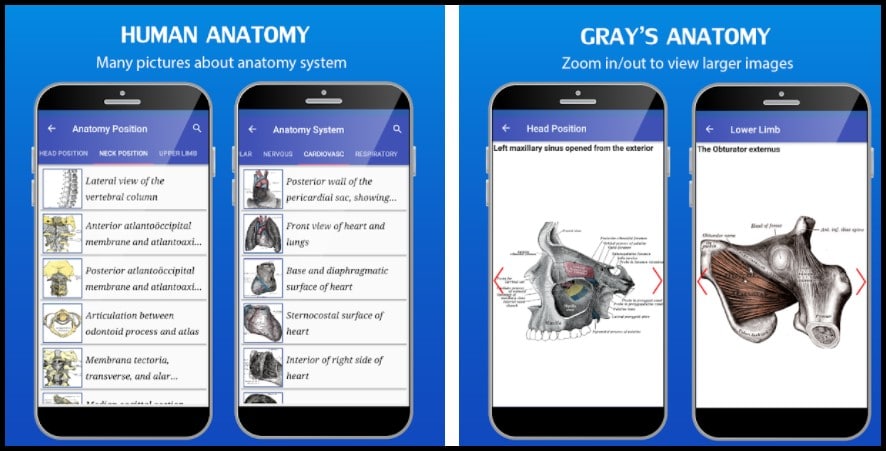 Standout features:-
Numerous anatomy system
Medical quizzes
Muscle anatomy and medical dictionary
---
Complete Anatomy 2022
Complete Anatomy 2022 is another detailed app with plenty of features that make it a revolutionary educational app. It offers plenty of complete and comprehensive human anatomy models with numerous interactive structures in 3D. It may include a dissectible human heart with its live functions and beating view.
The app also offers a unique dissection course on the abdomen and spine that aligns with Gray's textbook series. It also provides an Atlas of more than 700 screens inspired by Gray's family Textbooks. A unique feature is a radiology which lets you view radiological images in contrast with intuitive 3D models.
One significant reason which makes the app an excellent choice for medical students is because it provides a clear demonstration of various body functions. It includes muscle motion, the origin and insertion mapping, bone surface, landmark mapping, nerve tracer, blood supply tracer, the twelve-layered system, and the bone structure. The benefit of it is that you can build your in-depth knowledge of anatomy.
Complete Anatomy also provides up to 28 microscopic anatomy models with an Augmented reality mode for devices compatible with it. The app incorporates over 1500 clinical videos on dentistry, cariology, fitness, orthopedics, and ophthalmology for more informative purposes. There are also courses available on various topics delivered by experts such as Clinical correlates, Point of care ultrasound, human anatomy, etc.
Related: Best Manga Apps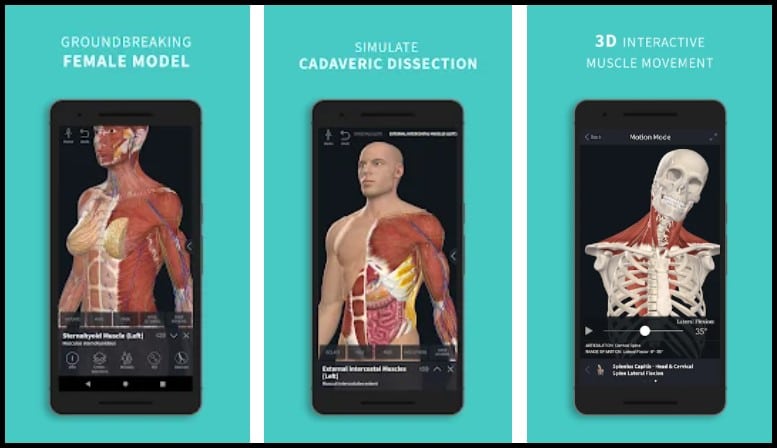 Standout features:-
Numerous human anatomy models
more than 1500 clinical videos on different topics
Atlas of more than 700 screens
---
3D Bones and Organs (Anatomy)
If you are searching for an app that specifically targets the anatomy of bones and organs, 3D bone and Organs is an excellent choice. Many people consider it the best anatomy app for medical students. It offers a free 3D experience to learn anatomy through positioning using an advanced, intuitive touch 3D user interface. The app is entirely free without any in-app purchases.
The application will let you rotate the models at different angles while also letting you zoom in and out of them while navigating the human body. The app's valuable feature is the virtual dissection that lets you remove the muscle layer to reveal the anatomical structures underneath it. The app incorporates a 3D location quiz to test your knowledge, so you are always aware of your understanding of the subject. Since the app offers various anatomy models and systems, an ON/OFF switch lets, you change between different systems.
You can also load and save a particular view of the human body. There is also detailed information available from Gray's anatomy textbooks and Wikipedia to provide background knowledge on each study part. Audio pronunciation for every bone is also available to make things easier.
In terms of the content, the app features a 3D skeleton with all the bones in the body, 3D ear, 3D ligaments, 3D urinary system, 3D muscles, 3D reproductive system, 3D respiratory system, the nervous system of the brain, and the heart circulation. These are all the topics that you can effectively study with the app.
Related: Best Dog Walking Apps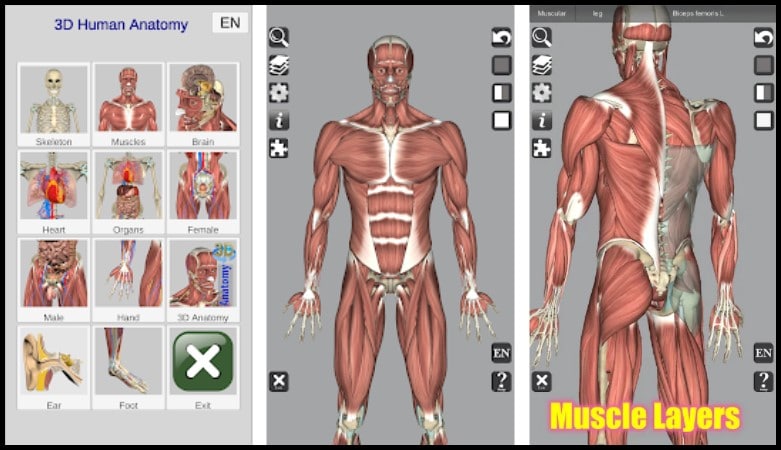 Standout features:-
Quickly rotate the models while navigating through it
3D contents available for different parts of the body
3D location quiz to test your knowledge
---
My Muscle Anatomy
My muscle anatomy app is the best for students who specifically target different muscle groups. The application will let you rotate to a complete 360° while conveniently zooming and moving the camera around different realistic 3D models. The application provides an intuitive, user-friendly interface to scroll through different features. Some of the app's main features offer muscles, ligaments, and skeletons.
The app lets you move through different muscle groups, and if you come across one that you would like to study, you can tap on it and get information. Five main ways you can view the muscles include isolate, fade, hide, fade others and hide others. These features will allow you to view the models from different perspectives, thus giving you precisely what you want.
Other app features include an x-ray mode, animation mode, search options for finding particular muscle groups, audio pronunciations for various anatomy terms. You can also draw and write on the screen or share the created screenshots with anyone. There is also an info panel and realistic 3D models of men and women.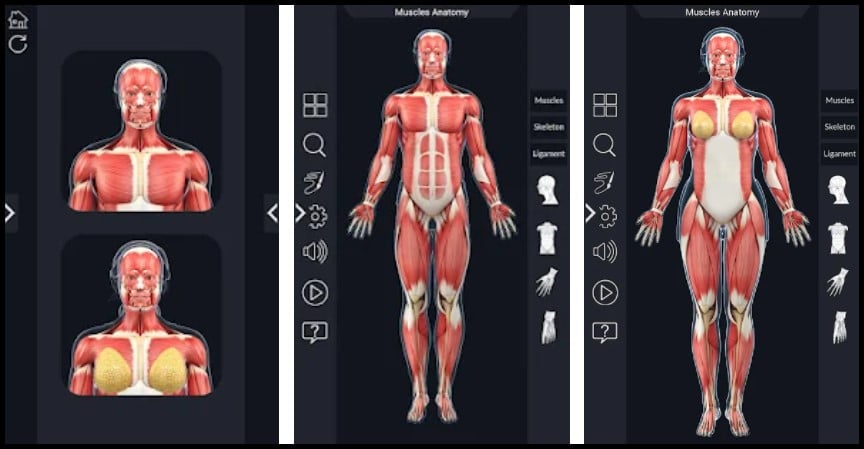 Standout features:-
Ideal for studying different muscle groups
X-ray and animation mode
Search and pronunciation modes
---
Final Words
Studying human anatomy is one of the best essential parts of studies for a medical student. Having the best anatomy app on your device can add convenience, allowing you to learn anywhere and anytime you want. We have listed some of the best anatomy apps above with a description of their feature and what they offer; now, the final decision on choosing one of the above relies on you and how you intend to use the application. As per our recommendations, Our top 3 picks in the category are Head Atlas, Gray's Anatomy – Anatomy Atlas, and Complete Anatomy 2022.
Thank you for reading! Try these out too:
General FAQs
What is the best Anatomy app?
The two best anatomy apps are Gray's Anatomy – Anatomy Atlas and complete anatomy 2022. They provide a wide range of features to help you understand anatomy in great detail.
Is the best Anatomy app free?
Several choices on our list are free to download. You can get these on your mobile device without paying anything; however, some of them might offer in-app purchases to unlock particular features.
What is the best anatomy app for neuroanatomy?
The best app for neuroanatomy is Head Atlas. It specifically targets the working and structure of the brain, allowing you to develop a complex understanding of it.