Playing games that improve your critical thinking are worth your time. Puzzles, Sudoku, and Quiz games are some of the best games that can improve your critical thinking skills. But chess tops this niche of games when we talk about mastering thinking and analytical skills. Virtual best chess apps are now preferred by the masses to strengthen their analytical skills. There are tons of best chess apps available that users can benefit from.
Online best chess apps has many advantages as it comprises virtual players from across the world. You can compete with the best players based on your playing skills. Also, you can learn from scratch and make a strong foundation for playing chess with the best chess apps. There are lots of professional virtual coaches available that can help you groom and polish your skills. Without any further ado, let's deep dive into our listicle of the best chess app. Before getting started, let's look at some benefits of best chess apps.
Excited? Let's get started
Benefits Of Best Chess Apps
Learn from experts: You can learn the best moves and tricks to overcome your opponent from the experts. The app has professional coaches and experts that will help you learn the basics of the game while sitting at your home. You can start from scratch and build a strong foundation of chess that will help you compete in local and international events.
Compete with a pool of players: You can virtually connect with players from across the world and challenge them. It will help you gain experience of competing in tournaments and chess events. Also, you can interact with the virtual players and learn some useful tips and tricks to improve your game.
Best Chess Apps For Android
---
Chess.com
Chess is one of the most interesting games. Everyone wants to learn and play this game. Now easily play chess with chess.com. Chess.Com has more than 10 million users. Play chess online with 60 million players all over the world. It has 150,000 tactics puzzles which improve your chess rating. You can browse hundreds of chess articles from authors, coaches, and trainers. It will help you gain an in-depth understanding of the national and international chess events.
You can play a real-time chess game with virtual players with a duration ranging from one minute to 30 minutes. The app has more than 950 chess variants making it one of the best chess apps. You can also schedule daily games to learn and improve your game. The app has hundreds of high-quality video tutorials that can be a great helping hand for every chess player. Also, you can analyze your performance with the detailed stats of your progress. The app has an active community member of 38 million with whom you can chat and share your ideas.
Related: Best Budget Apps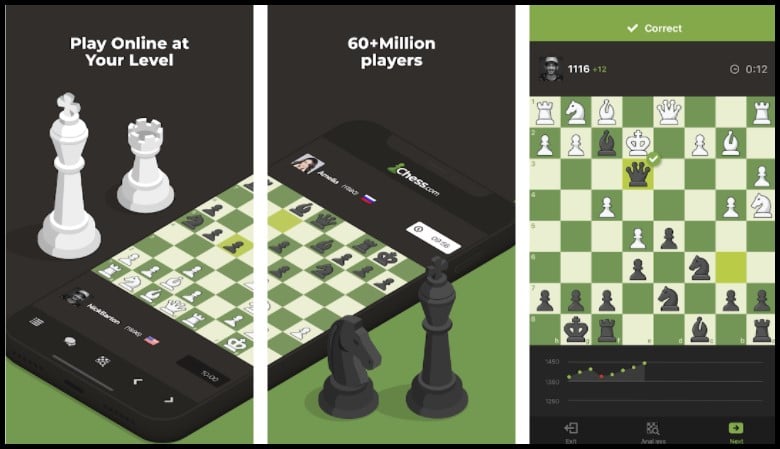 Standout Features:
Join tournaments with thousands of people
Over 15,000 unique puzzles
Specific themes in learning modes
---
AI Factory Chess
Earlier, people loved to play chess with friends, family, and relatives. Time passed and now they don't have time. But some people still love to play this game. Now they just need to download Al Factory Chess on their phones and then they can play chess whenever they want or wherever they want. This is the free chess app on Android. This best chess app also teaches you how to play. It also shows a recommended piece to move, which helps you to avoid simple mistakes. This app is designed for both tablets and phones. You can also choose between a large selection of 2D and 3D modes to play.
Related: Best Route Planner Apps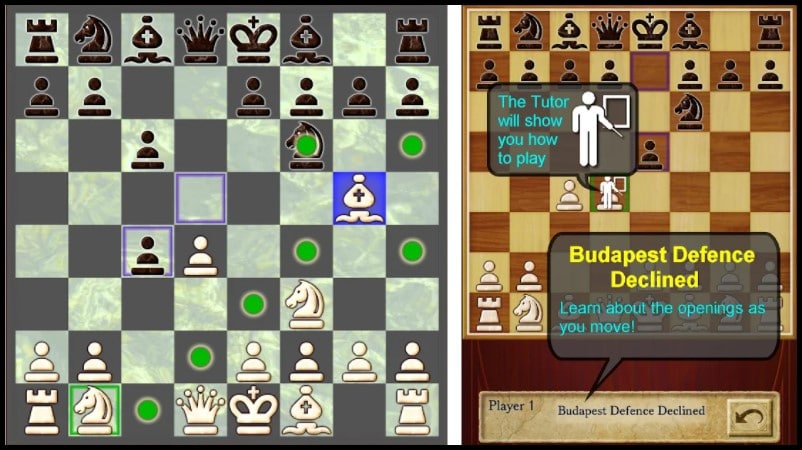 Standout Features:
12 play levels
Chess states, timers, hints and handicaps
Casual and Pro modes
---
Chess For Kids
Chess for kids is best for kids or beginners to learn chess easily. Learn chess with unlimited fun. This best chess app is perfect for all skill levels. This app is free to play. Just download this app and start to learn. The app has a tricky puzzle that will help to shape your skill. You can play with kids all around the world. Your kid will learn everything from the basic rule.
Learn different puzzles and videos with this best chess app. All these things are free for gold members. Most importantly your kids cannot chat or add someone as a friend with anyone without parents' permission. So parents have total control. Chess is a brain game and needs full attention. This chess game teaches your kids to be focused.
Related: Best Keto Apps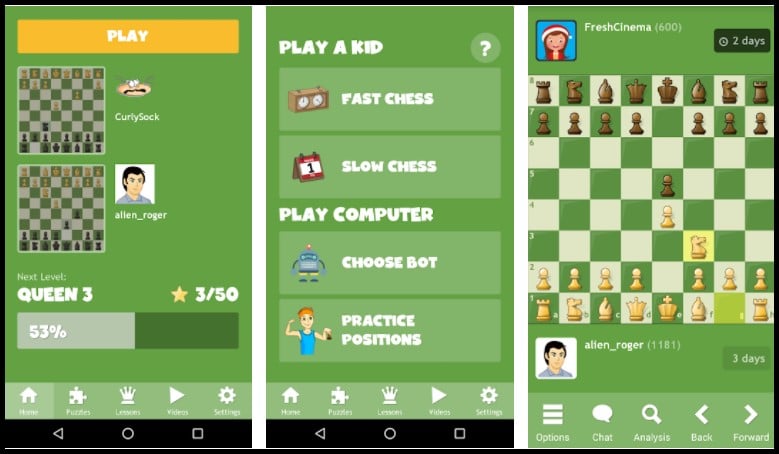 Standout Features:
Watch kid-friendly videos to improve your game
Thousands of tricky puzzles
Ad-free – means unstoppable enjoyment
---
Chess Royale
Play online chess with millions of people all around the world with the Chess Royale app. Chess Royale has 5 different modes. Now you have a chance to develop tactics, strategy, and memory with this best chess app. This app is just perfect for any level from beginners to pros. You can use your tactics to finish the game in 5 min. You can also participate in fast chess games with random players from anywhere in the world.
You can participate in chess tournaments and complete achievements. You are given only one minute to think and win the game to improve your thinking and develop your strategy. Chess time attack is faster than the opponent. In a fast chess game, the winner will be the one who has more chess pieces on the board after the minute expires. Challenge yourself, make a goal, beat your own goal, and become a great chess master with this best chess app.
Related: Best Manga Apps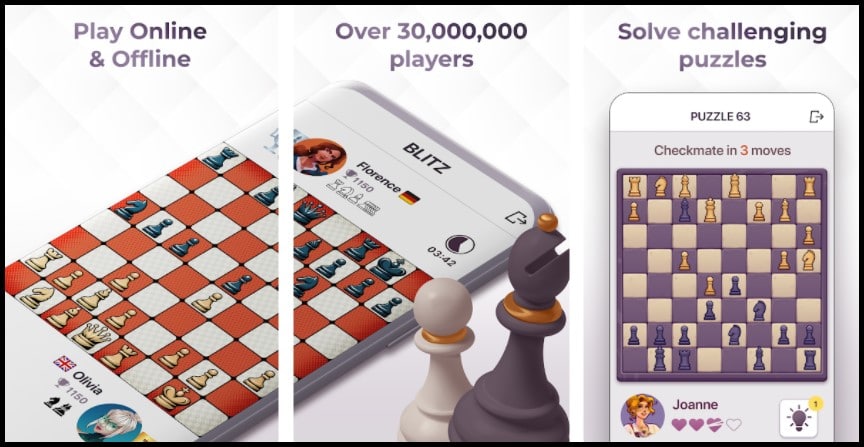 Standout Features:
Challenging puzzles to improve your game
Take Chess lessons
Review your matches
You can track your progress
---
Liches Free Online Chess
Play chess both online and offline with the help of liches free online chess app. Build your love for chess. This best chess app is free to play. Play different modes in this app like- bullet, blitz, classical, correspondence chess, and more. The app has more than 150,000 users. You can also see your game stats. Also, you can find, follow, and challenge players.
It has many variants, available online and offline. Like- crazy house, chess 960, king of the hill, three-check, antiques, atomic chess, horde, racing king, and more. This app is designed for both tablets and phones. The app is free without ads and is an open-source platform. The app has server computer analysis with move annotations and game summary. It has an endgame tablebase explorer. This app will suggest the best moves to move your piece.
Related: Best Dog Walking Apps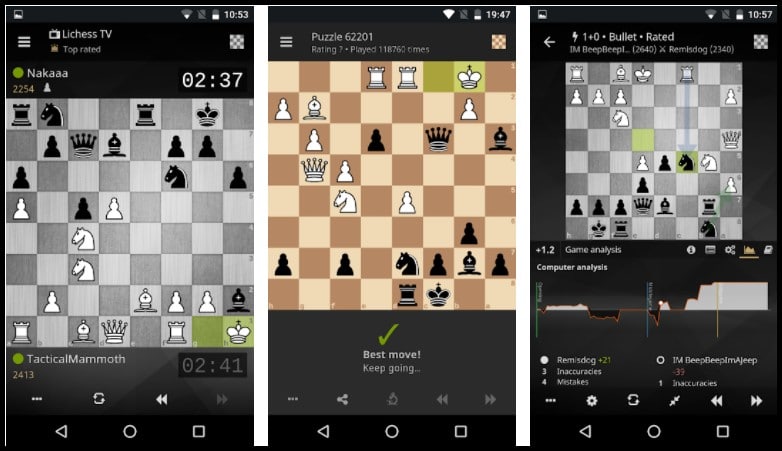 Standout Features:
See your game stats
Unlimited opening explorer
Play with a computer offline
80 different languages available
---
Club Chess Offline
Club chess offline gives you the full experience of the chess club. You don't need the internet or anything to play this game. You can play it offline. This best chess app is the most popular chess game of 2022. You just need to install this chess game app on your phones and devices and then you can enjoy this app whenever you want or wherever you want.
If you want to learn chess or need any help in that, club chess offline is the perfect app for you. The board game offers you 8 different levels of difficulty. You can also use the hint feature if you are stuck somewhere on this game that will surely help you. Use the undo feature to remove your mistake. You can try that move again and improve your game. You can play with 2D and 3D pieces in this best chess app.
Related: Best Weight Loss Apps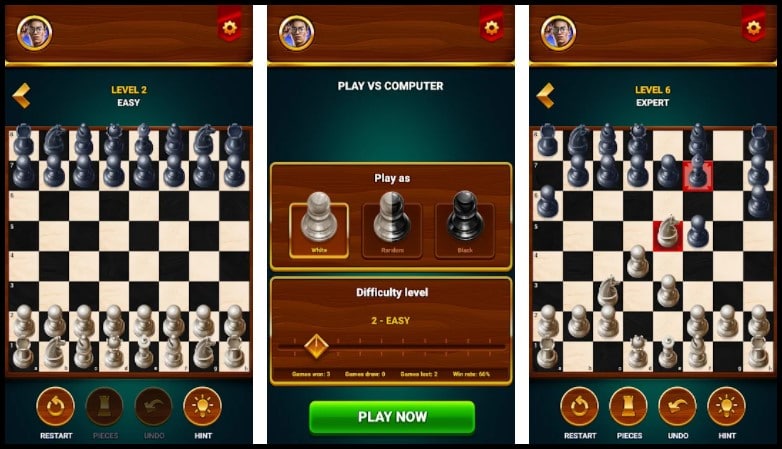 Standout Features:
Undo move option
High-quality graphics
Game stats
8 different levels of difficulty
---
Shredder Chess
Have fun with learning. Get the most successful chess program ever with shredder chess. The app has an adjustable playing strength, making it one of the best chess apps. It has more than 1000 built-in chess puzzles. Analyze with shredder and solve chess puzzles. It also offers you the usual shredder standard for your pocket. This app will work on both devices, tablets, and phones. You can load and save games and also save your name, date, etc.
This app keeps track of your performance and offers advice if needed. You can also adjust the shredder's playing strength. Shredder is also able to mimic the play of a human chess player with any playing strength. It also has a coach which watches your moves and warns you. If you are about to make a mistake or if you are about to play the wrong move.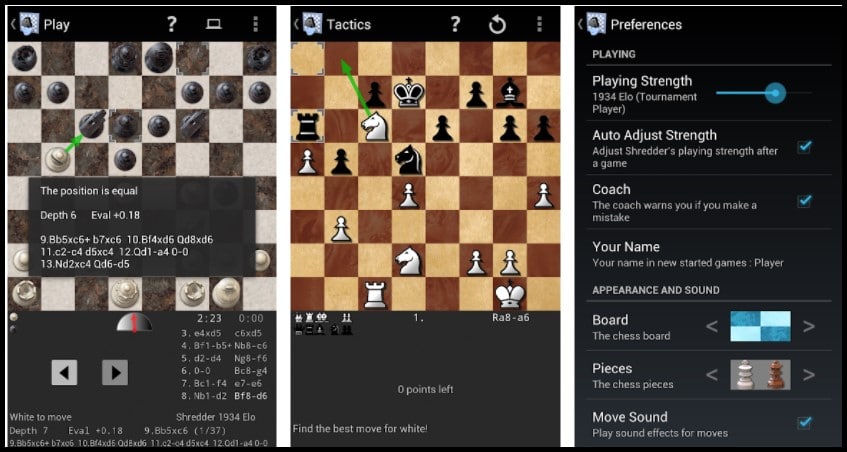 Standout Features:
1000 built-in chess puzzles
Coach, To show your mistakes
Different types of chess boards and pieces
---
Chess Clock
A chess clock is the best chess app for Android. You can now replace your chess clock with this free timer. This app is very easy to use. The app has a large button for easy use and play. This app will work in landscape and portrait mode on all devices. This app will surely become one of your favorite apps in no time. You can even play this game offline if you want. Clock pauses automatically in this app if the app is interrupted. 60 min game. A glance at the clock shows your current stage. This app also supports multiple-stage time control. The game duration is up to you and you can adjust based on your preference.
Related: Best Home Workout Apps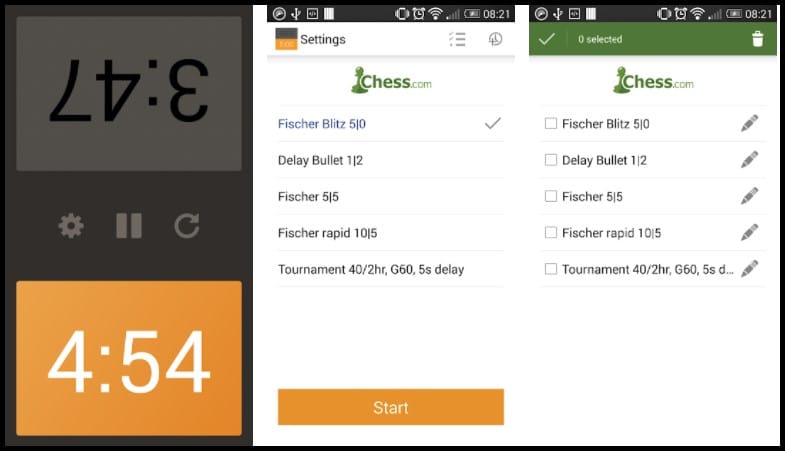 Standout Features:
Block pause features
Pleasant sound
Time's up alert
---
Magnus Trainer Chess
Improve your chess skills with many chess champions with the Magnus trainer Chess app. A better and more interesting way to learn a game of chess. It has interactive lessons with Magnus Carlsen, the world chess champion. You get unique training from chess experts in this best chess app. This app is free but has more and more benefits for paying members. Play against Magnus at any age from 5 years and up.
Each mini-game has dozens of levels. It has modes for beginners to pro. Everyone is going to use this app. The Magnus training app has been featured in fast companies, The guardian, VG, and more. Caters to beginners and advanced players alike. You can get different subscriptions for Magnus trainer they offer, like- a 1-month subscription, 12 months subscription, and lifetime subscription.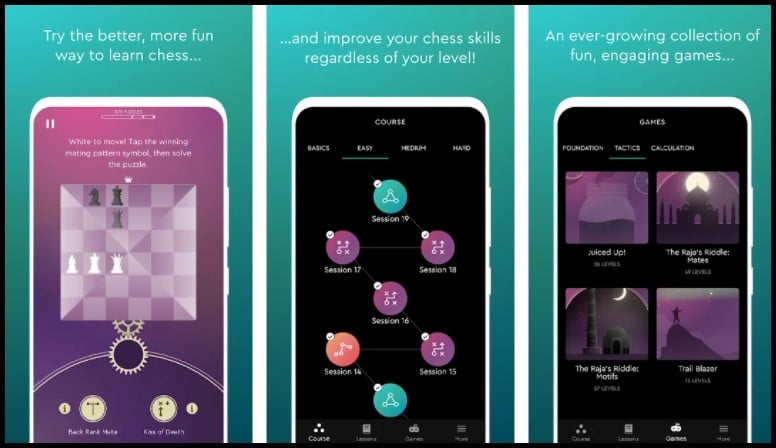 Standout Features:
Chess lesson to learn how to play
Unique game design and essential chess skills
Many different modes
---
Dr. Wolf Chess
Now you can learn chess while playing with the Dr. Wolf Chess app. Beginners are also going to love this game and play chess easily. You can understand everything from step-by-step lessons and friendly coaches. Now learn to win with the help of Dr. Wolf chess. In this app, coaches will play with you and explain to you everything and every little detail. Also good for intermediate players. You can learn all new skills every day with every coach, making it one of the best chess apps. This app is free for 3 games.
It also points out your good moves and warns you about your bad moves. Also at times, they suggest you consider a move. You get unlimited help or hints and unlimited undo. Also unlimited access to the lesson library. Plus, you can ask a question at a critical moment. This game's library has twenty-five lessons in Dr. Wolf's unique style. You can play with Dr. Wolf no matter if you have a subscription or not.
Related: Best Guitar Tuner Apps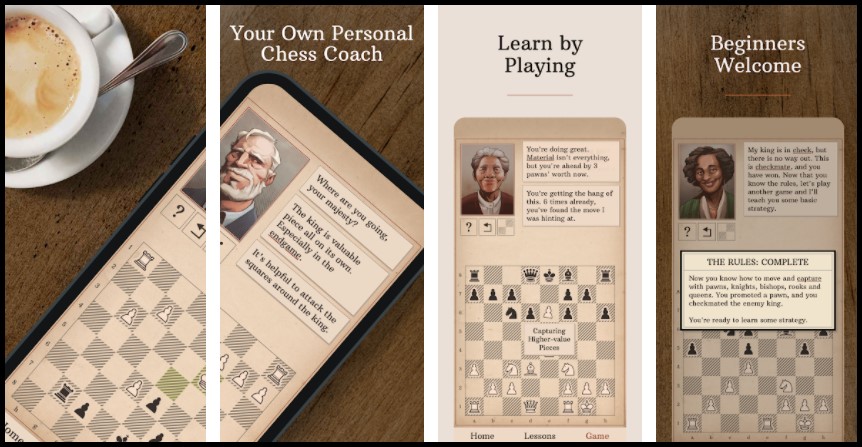 Standout Features:
Your chess coach
Lessons, step by step
Perfect for beginners
---
Final Words
These were the 10 best chess games you can install on your devices and start playing. Each app has its own benefit and you can pick your best based on your learning level and preference. Our top picks of the list are AI Factory Chess, Chess Royale, Club Chess Online, and Magnus Trainer chess. Chess for kids app can be an ideal option if kids want to start trying their hands on the incredible chess game. Dr. Wolf Chess app can be a good option if you want to improve your skills in the professional domain of chess. Do mention your top picks of the list and suggestions that will help us to deliver optimized and improved content.
Thank you for reading! Try these out too:
General FAQs
Is Chess good for the brain?
Yes, playing chess moderately can be healthy for the brain. It can help you develop critical thinking and analytical skills that can prove useful in other domains of life. Make sure you are not playing the game excessively or consuming most of your time in playing it. It can affect your mental health and can disturb your daily schedule if played excessively.
Is Dr. Wolf Chess app a good choice?
Yes, the Dr. Wolf Chess app can be a good choice for beginners and professional players. Beginners can enjoy the free version in the initial stages of learning. After completing the initial learning stage, users can opt for monthly and annual subscription plans.