Linux is an open-sourced operating system whose popularity is on a constant rise. Although web-based emails are the trend as you can easily access them from a web browser, many users prefer an email client. For each platform, there are different applications, such as on Windows; there are clients like Thunderbird and Microsoft outlook. On iOS and Android, there are apps such as K-9 Mail and Nine. The main question that arises is the best email client for Linux?
Although there have been quite a few releases on Linux over the years, only a handful of email clients have offered comparable features to windows and others. However, one major benefit is that most of the best email clients for Linux are free. Thus you can try them conveniently.
A major benefit of a Linux email client is that if developers don't like a feature, they can edit the source code on Linux, thus creating their version and releasing it so you can download it. It has resulted in some exclusive email clients for Linux that you can try.
However, the major concern remains as to how you can find the best email clients for Linux. This article will create a list of the best email clients for Linux; whether you seek a GUI (Graphical user interface) email client or the command line one, you will find something on our list.
Excited? So, let's get started
Best Email Clients for Linux
Thunderbird
Thunderbird is one of the best email clients for Linux, and it's extremely popular among users. The app provides plenty of benefits, making it an excellent choice for a wide user base. The app is both free and open-sourced, and it was initially modeled to suit the Mozilla Firefox internet browser. You can perceive the idea from its tabbed email interface, which lets you keep various emails open simultaneously for quicker reference.
For users that are recently making a shift from Windows, Thunderbird would be easy to use as it offers almost a similar user experience and interface. Furthermore, it also comes with strong theme support and ships with the light and dark themes as the standard ones.
One significant feature of Thunderbird is that it offers a quick filter toolbar, an advanced search tool designed to help find particular email groups. Thunderbird offers a tool with a neat timeline graph that demonstrates the number of emails you've received over a particular period. It also lets you arrange the incoming emails from different accounts into the smart folders using filters. Another notable feature is the online storage providers, which instead of attaching a large media file to the email, upload the file on the storage and share the link.
Thunderbird also offers more than 1500 add-ons that help you modify or change the functionality of the email client to fit your requirements.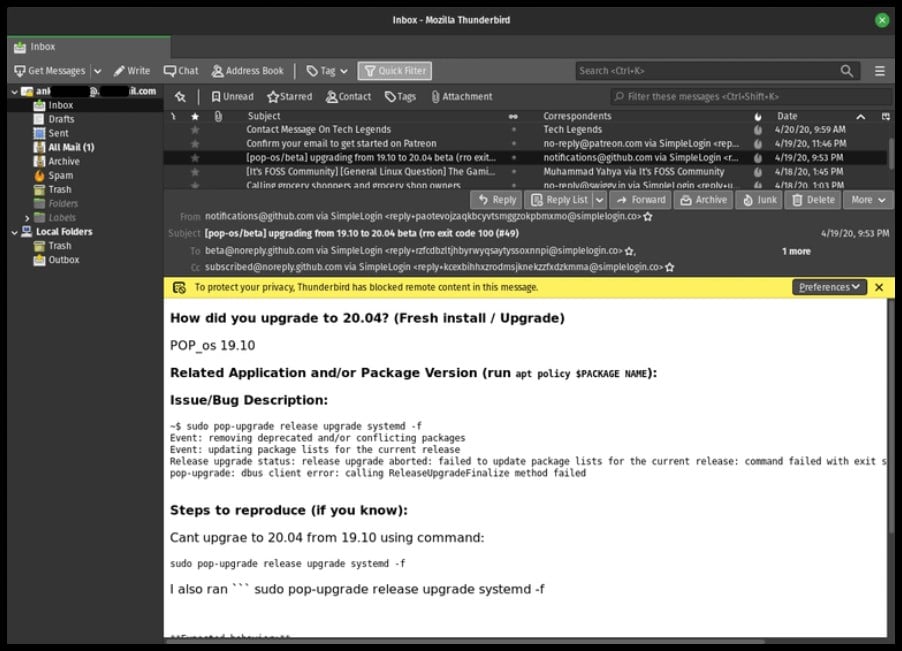 Standout features:
Easy to use interface
Quick filter toolbar to find email groups
Online storage provider for easier sharing
Download This Best Email Client For Linux
---
Evolution
If you are a GNOME desktop user searching for the best email client for Linux, Evolution is an excellent choice. It is an open-sourced email client that GNOME designs; however, users of other distros can also benefit from it.
With the simple wizard, you can easily set up Evolution with other online services such as Gmail within seconds. You can also use Evolution with other proprietary email clients, including Microsoft exchange, Kolab, Novell GroupWise, LDAP, WebDAV, etc. However, a significant benefit of Evolution is that it offers more features than a regular email client. You can also create task lists and manage a calendar, contact list, and memos. You can use all these features combined to benefit from the email accounts such as Outlook and Gmail. It also offers an RSS plugin for aggregating Atom feeds and RSS.
Evolution is a more multi-purpose choice, and for people looking for an app that can provide the benefits of an email client and a manager, this is a natural selection. It provides folders and filters which offer custom virtual folder support for every filter and query. There are plenty of advanced security and privacy features with the S/MIME & PGP encryption. You can install various plugins to enhance its functionality of it.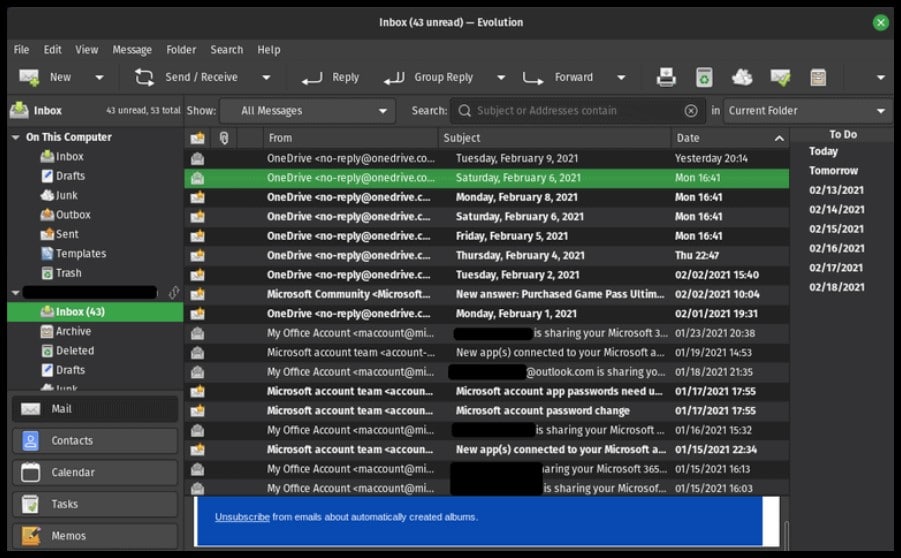 Standout feature:
Efficient Privacy & security features
Contact management
Set up Evolution with other popular services like Gmail
Download This Best Email Client For Linux
---
KMail
For the KDE-based Linux distros, KMail is the best email client for Linux, and it's also the default choice. It means that it offers excellent integration with the KDE desktop environments and other applications, adding to the functionality and benefits. For instance, receiving a meeting invitation over the email client will be detected automatically and sent to the KOrganizer calendar. At the same time, KAddressBook handles the auto-completing of the email address.
KMail offers a template system that allows you to automate the writing. It has a powerful filter system as well as mailing list management. A huge benefit is that KMail can automatically detect hotel reservations or pending flights and feed them into the KOrganizer. Additionally, it will let you pair KMail with notable spam checkers such as SpamAssassin and Bogofilter.
There is one downside to KMail: it doesn't support Microsoft Exchange, thus limiting its usefulness in certain environments. However, it does provide end-to-end encryption by the integral OpenPGP. If you are not a user of KDE distros, you may need the installation of various components to operate KMail, which may occupy a lot of disk space.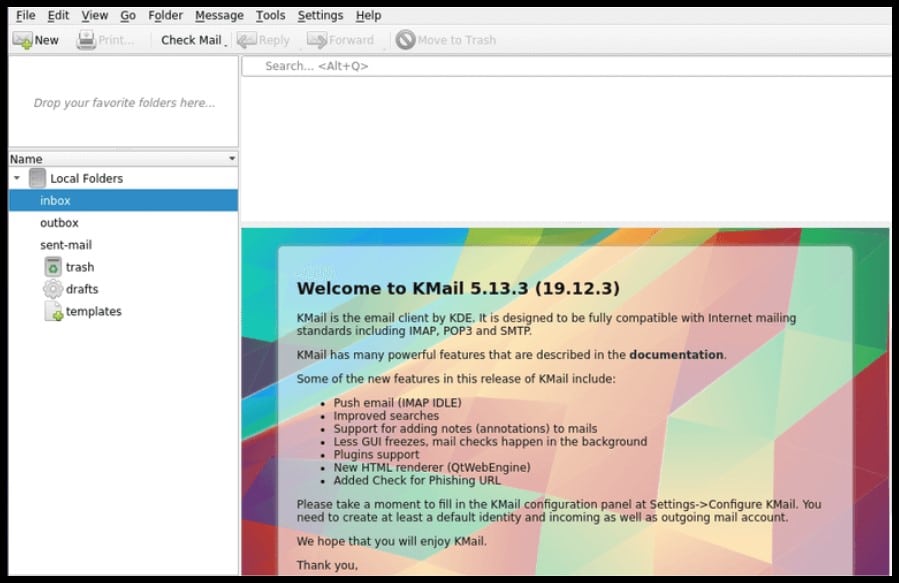 Standout features:
OpenPGP end-to-end encryption support
The ideal choice for KDE based Linux users
It supports the Spam checkers
Download This Best Email Client For Linux
---
Blue Mail
Blue Mail is a popular email client for Android, iOS, Windows, and MAC. In 2020, it became available for Linux users as well. It quickly established itself as one of the best email client for Linux that provides features and an attractive appearance. The modern look combined with the stylish themes, colors, and menus puts it ahead of the certain clunky interface that we often use on Linux. It also comes with an in-built dark mode.
The app provides a unified email inbox approach that lets you import all the email accounts and appear as one inbox. It also supports POP3, IMAP, Exchange, and other protocol support. Blue Mail also offers plenty of features that focus on the smart organization of your inbox. The clusters organize conversations and people into a collection. You can define a group of people with the group's tool, providing each name and a photo to recall them easily. It supports a people mode that only displays the emails from people hiding other unnecessary distractions.
The email client isn't open-sourced, which gives the idea to many people that are not suitable for them. Although it does come with certain problems now and then, if you can overcome them, it's a great email client that provides solid functionality and is suitable for many Operating systems.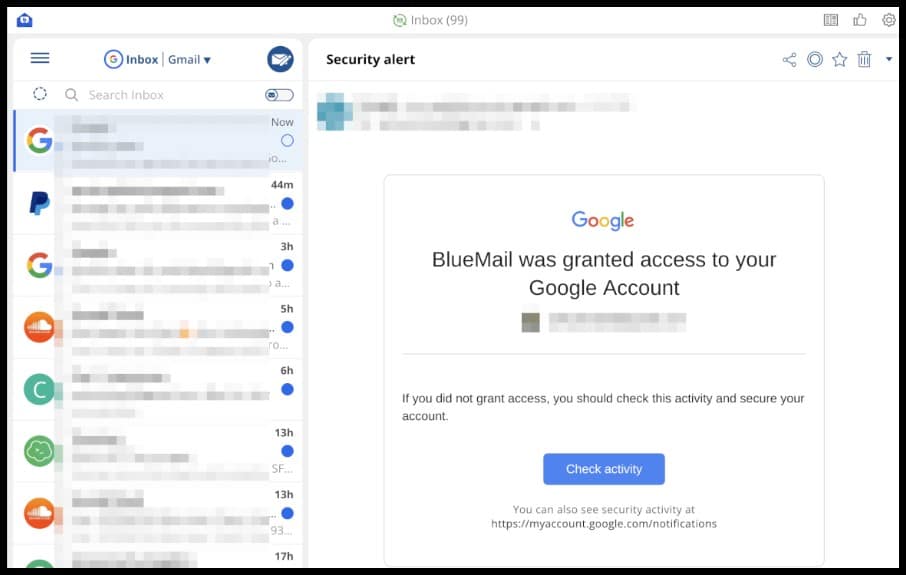 Standout features:
Attractive user interface
Unified Inbox
Easy to use
Download This Best Email Client For Linux
---
Geary
Nearly all of the best email clients for Linux that we have mentioned on our list require a comparatively modern machine to operate successfully. However, if you are working on an older piece of hardware, then a lightweight email client such as Geary is a great choice. It is an open-sourced software part of the GNOME desktop environment project. It intends to provide quick and simple functionality primarily for the GNOME desktop, but you can also download and use it for others.
Although Geary may not provide extra features such as a calendar and smart contact management, the email search options are all rudimentary. Although the feature is in development, it doesn't support labels either. Apart from it, Geary provides a smart and attractive interface that gives a modern appearance better than some more popular choices like Evolution.
Geary aims to keep the email simple as it doesn't consume many resources. If you like using a GUI email client but you want a choice without all the extra address books and calendars, then Geary should be a priority.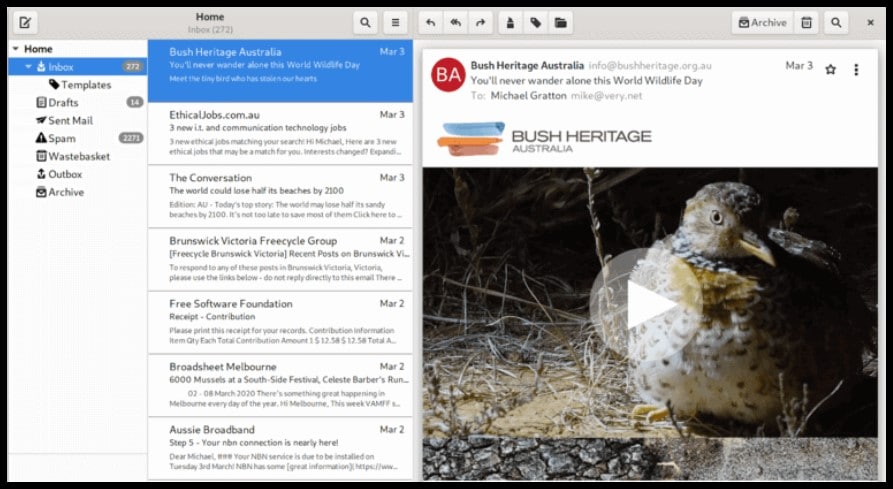 Standout features:
Suitable for older machines
Lightweight choice
Attarctive user interaface
Download This Best Email Client For Linux
---
Sylpheed
Sylpheed is another lightweight app, and it's a versatile choice that you will most likely find on all platforms. It's ranked as one of the best email client for Linux due to the efficient and simple functionality that makes it suitable for plenty of purposes. The software uses the three-panel display, which resembles outlook express and is preferred by many users.
The email client is written in the C programming language, and it mainly focuses on functionality and performance. Some email clients will naturally crawl and become slower if your inbox is constantly bombarded with thousands of emails. Sylpheed, however, works brilliantly despite the loaded. It rarely crashes, even if you are managing thousands of emails simultaneously.
It also offers certain other features, including automatic junk mail control, email filtering, supporting, and encryption of the emails through GnuPG. You can also use email filters to get particular types of emails and external commands which will assist you in automating the workflow. Although, there is a downside: it has limited HTML email support.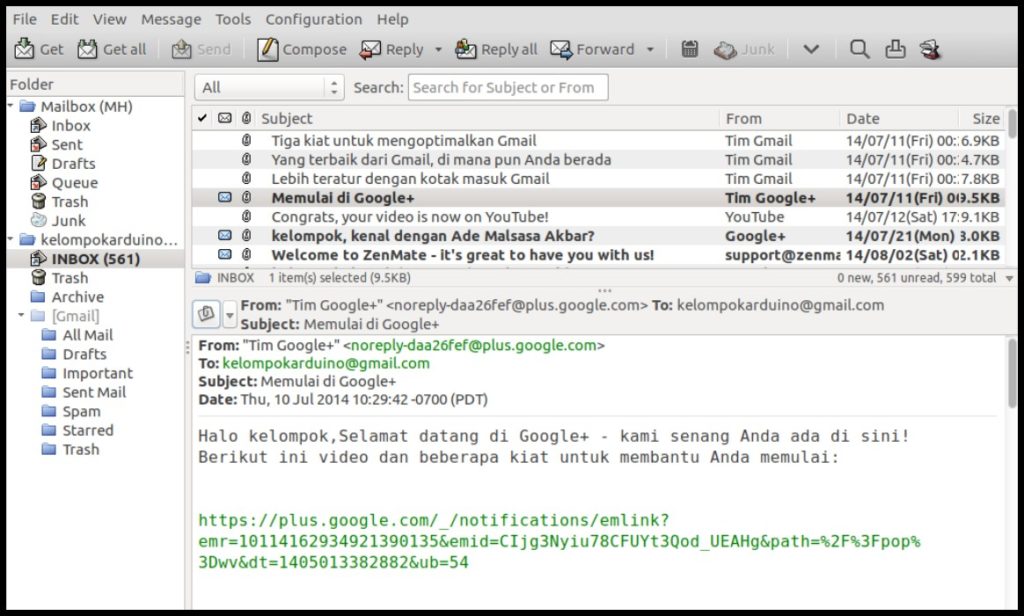 Standout features:
Dated UI
Uses certain deprecated APIs + GTK
Ideal for use with thousands of emails
Download This Best Email Client For Linux
---
Claws Mail
Claws Mail is another exceptional choice on our best email client for Linux list that provides a lightweight and fast functionality. It's an Open-sourced app that uses GUI, and it shares a similar DNA to Syllpheed. However, the approach it takes is not exactly similar. Claws Mail adds more features and thus aims to be less minimalist than other choices, eventually supporting the newer authentication methods. It supports iCalender, RSS, and the Atom Feeds by using plugins. It also supports the Inline PGP as well.
Claws Mail is popular for the useful plugin system. It offers nearly 30 plugins along with 30-odd command-line scripts that you can use to enhance its functionality. It may include a mail archiver, PDF viewer, and the HTMP email viewer. Although Claws is a little tougher to set up, the modular approach ensures the core codebase remains small while still offering all the features you may require.
Additionally, it offers around 40 different themes that you can install to upgrade the app's icons instead of drastically changing the interface.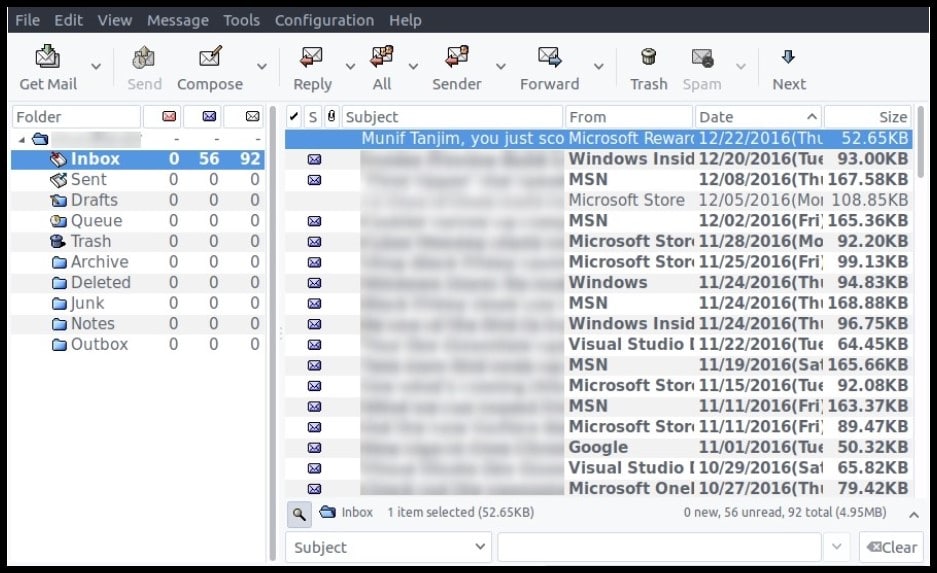 Standout features:
Lightweight and quick
Plugin the theme architecture
Efficient interface
Download This Best Email Client For Linux
---
Mutt
Mutt is the best email client for Linux that suits users looking for a command-line client. Often, the fancy UI's might not be the best choice. If you want to use the console to check and send emails, Mutt is a great choice. You can easily install it on your device. It also offers color support. Once you are familiar with the interface, the emails' entire sending and receiving process is uncomplicated.
The software is based on an ELM client; however, it's developed a lot recently as it now provides some of more latest features in the mailing list, message threading, colors, and the MIME/PGP. It's also a customizable choice and lets you create key binds and macros so you can quickly work on the emails. It also incorporates other features such as email searching by regular expressions, delivery status notifications (DNS), and an email tagging system. Mutt is a small software that you can easily install and uses low resources.
Although, Mutt and other command-line email tools aren't suitable for everyone. However, it could be an impeccable choice for experts who use the console a lot.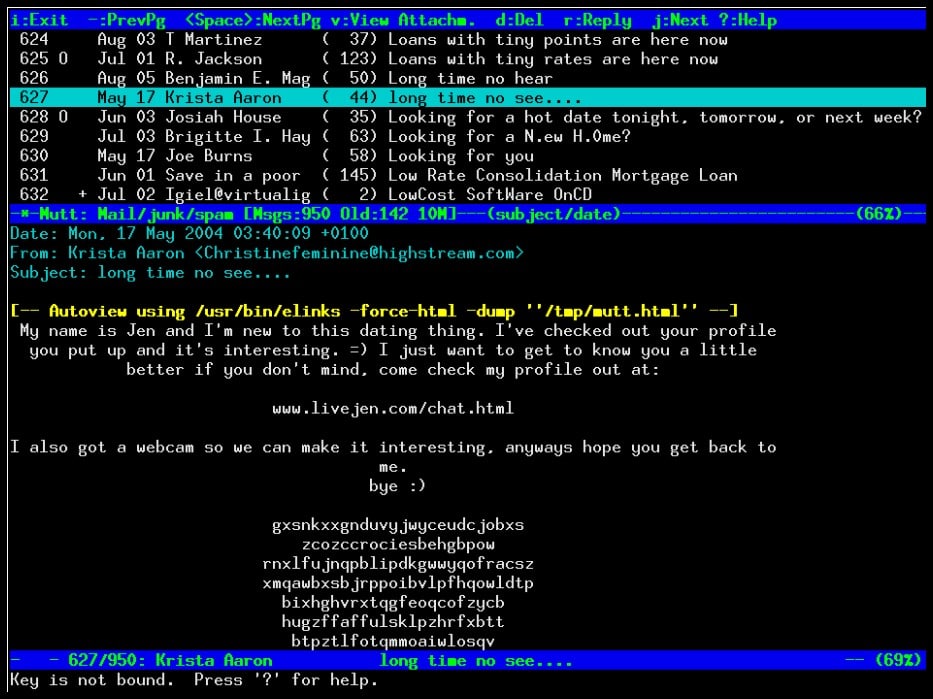 Standout features:
Easy to navigate command-line interface
Better customizations
Highly configurable
Download This Best Email Client For Linux
---
Final Words
Finding the best email client for Linux falls to the preferences and requirements of the users. We aim to simplify the task for you by providing an insight into all the popular choices in the category. It now depends on you to rationally decide based on the information that we have provided above. We recommend Thunderbird, Evolution, and Mutt as our 3 top picks in the category.
Thank you for reading! Try these out too:
General FAQs
What is the best email client for Linux?
The two best-open-sourced email clients for Linux are ThunderBird and Evolution. You can use them to provide all sorts of functionality and usage efficiently and conveniently.
What is the best email client for Linux to use with plenty of emails?
The best email client for Linux for this purpose is Sylpheed. It will allow you to handle thousands of emails at once reliably.
Is the best email client for Linux free?
There are a few choices in the category that are entirely free. However, you may also find some of these requiring you to buy a premium after the trial, so not being entirely free.