When living in a demanding and busy world, it's easy to lose track of time, tasks, and important events. On a personal level and work perspective, our days are loaded with remembering plenty of things. Thus, if you have a hectic routine that involves meetings, appointments, and doing chores around the house, you might need some of the best reminder app for iPhone. Since technology and innovation makes it possible to download apps that you can benefit from in your daily lives, thus it makes sense to utilize all the possible options. One particular mention of tackling the overwhelming task of remembering everything is the reminder apps on the iPhone.
Reminder apps are a popular choice for personal and professional usage because they help redirect the subconscious mind. The apps will send you a reminder at a particular time and date through an alarm or other set method.
The most significant advantage of downloading the best reminder app is the boost in your productivity. As Cal Newport in his book, Deep work suggests a strategy that includes scheduling several work minutes. The strategy will ensure that you are aware of the work you are doing, and thus, you focus on it while keeping track of the time, which confirms you finish the task in time. Constant reminders are also a proven means of increasing business efficiency.
If our argument above has convinced you that a reminder app will change your life for the better, the next step is to head to the app store. However, searching the best reminder app for iPhone isn't easy. Since all apps come with different features and interfaces, choosing the one that satisfies the best tag can be challenging. It's where we come into play with our list of the best reminder app for iPhone. The apps on the list are selected after careful analysis of functionality and convenience.
Excited? So, Let's Get Started.
Benefits of Best Reminder app for iPhone
Increased productivity: Whether you are using the best reminder app for personal usage or office work, one thing that it guarantees is better productivity. Since you are mindful of the time and the work that needs to be done, you can adjust your pace accordingly. Furthermore, it can also remind you to buy the groceries on your way back home.
Schedule essential tasks: You can use a reminder app to schedule all the important dates and tasks you need to perform in a given week or a month. The app will remind you of the particular day and time to execute the task.
Detailed reminders: We sometimes might remember the task but forget the exact due dates. Thus, you can set a reminder to provide you with a bit of rubric that details the task to confirm you don't forget a particular detail.
Best Reminder App For iPhone
---
Apple Reminders
Apple Reminders is an official built-in app, and for loyal users that prefer a simple yet functional design, it is the best reminder app for iPhone. The app will make it easier for you to remember all your tasks during the day. Whether you are working on a job project or you need to take care of some personal tasks, Apple Reminders has you covered.
You can create different lists through the app. The benefit is that you can categorize all your projects and thus add tasks to them separately. Once you have a separate list, you can add reminders to it.
Adding reminders is another effortless task as all it requires you is to press a button. The next thing is to sort the reminder based on date, time, location, and priority level. The advantage of setting the priority of a particular task is that it adds a bit of exclusivity to the most important things you need to do. Once you have it all in place, you can select the list to add the reminder into. Apple reminders remain a fan-favorite simple yet beneficial reminder app.
Related: Best Navigation App For iPhone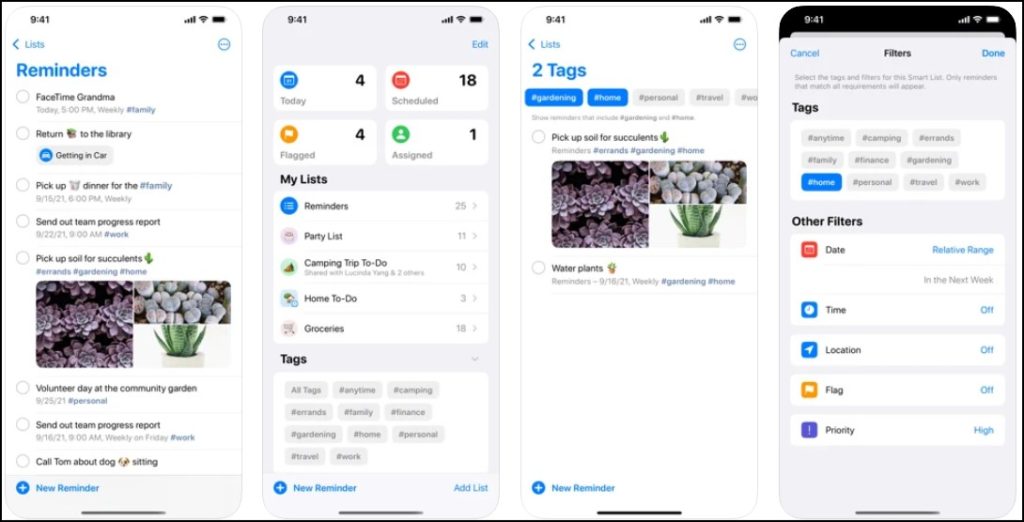 Standout Features:
Create multiple lists to manage different projects
Easy and simple interface
Shows all the scheduled tasks for today and the future on the home screen of the app
---
To-Do Reminder with Alarm
Another prevalent choice on the best reminder app for iPhone list is the to-do Reminder with Alarm. Although the app looks simple with a very straightforward user interface, it excels in functionality.
Once the app loads, you will see four categories on its home screen: Today, Tomorrow, Next 7 days, and Later. The benefit of this is that you can create reminders and put them under one of these categories. The app will also show you the active and the completed reminders to save you the hassle of sorting it.
An exciting feature of the application is that it will allow you to add special days such as birthdays or your marriage anniversary and set a reminder. It will let you wish your friends and loved ones right on time for their special day. It also comes with a location reminder that will let you check your precise position with data from the past seven days.
Adding a reminder to the app is also a straightforward task. You can start by adding a title and later add other details such as date, time, alarm time, repeat interval when you want to be reminded, and even a picture. Once it's all done, the reminder will show up under the today category. You can swipe right to either mark the reminder complete or delete it.
Related: Best Photo Collage App For iPhone
Standout Features:
Simple and efficient interface
Add detailed reminders
Schedule Special days such as the birthday or anniversary
---
BZ Reminder
Although BZ Reminder might not be the application with countless features, it is the best reminder app for iPhone for people that prefer a minimalist design. Despite not being the fanciest apps out there, it still incorporates some handy features.
The app has an attractive interface that is extremely easy to use. It will let you color-code all the reminders you add to ensure that you can easily differentiate between them and sort your tasks on priority. A benefit of the app is the repeat task feature that will let you set the timers for things that you need to do daily. Furthermore, it also has a call reminder which will let you schedule calls for the upcoming day.
The app also has a birthday reminder and a calendar. All the reminders that you enter are marked on the calendar to quickly view them and remind yourself of anything important that you need to do.
Standout Features:
Easy to use
Schedule repeat tasks and call reminders
Calendar format for easy viewing
---
Google Keep
Google Keep is among the big fishes and one of the best reminder app for iPhone. One of the significant reasons why it's so popular is because it offers diverse functionality. You can use the app to save notes; thus, you will never have to carry a notepad to take care of essential things.
You can create notes through the app by entering their title and description before putting a reminder on it. You can add various details to the reminder, including when you want the reminder (alarm time), whether it is for your home or work, choose a time and date, and select the exact place.
Another beneficial feature is the location-based reminders of the application. It means that if you have a reminder to visit a particular place, the app will remind you about it once you are in its vicinity. Furthermore, you can also add input through images, text, and even audio. All of the aspects that it provides are at the top of a simple and easy-to-use interface suitable for all users, whether you are an experienced one or a complete beginner.
Related: Best Free Video Editing App For iPhone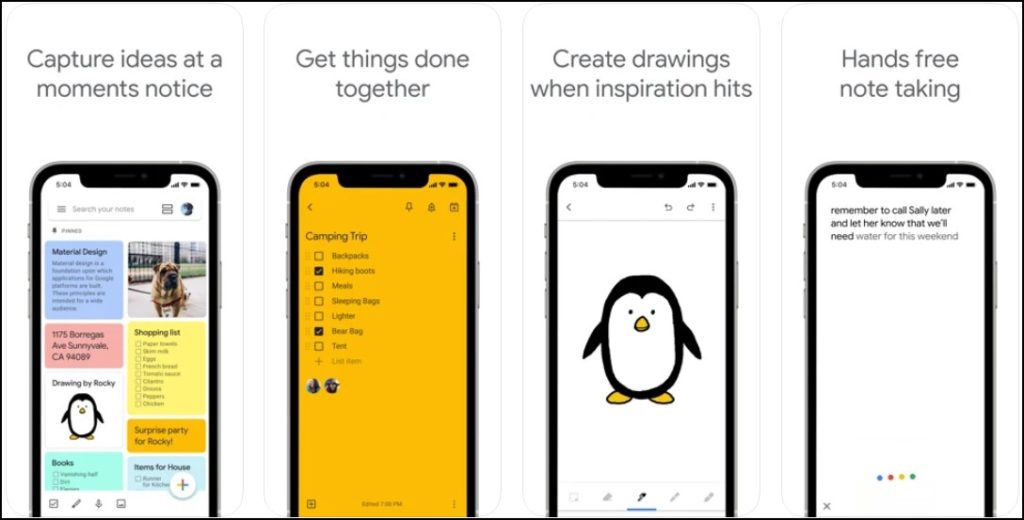 Standout Features:
Add detailed reminders to notes
Easy to operate user interface
Audio, text, and images input
---
Microsoft To-Do
Microsoft To-Do offers a lot more than a traditional reminder app which makes it an excellent choice. It is the best reminder app for iPhone for people that want an application loaded with intelligent features.
The app is an intuitive task management tool that will help you manage routine tasks, from scheduling all your responsibilities and imposing a reminder. The benefit of having a reminder on all the tasks is that they ensure you are mindful of them and take note of the time you spend completing it.
You can use various features of Microsoft To-Do, such as sub-tasks, periodizing tasks, and intelligent suggestions, which further boost your creativity. You can also set detailed reminders such as mentioning the date, time, and location of them. Thus, Microsoft To-do combines excellent functionality and plenty of features with reminders to provide you with a versatile application that will take care of everything and boost your productivity.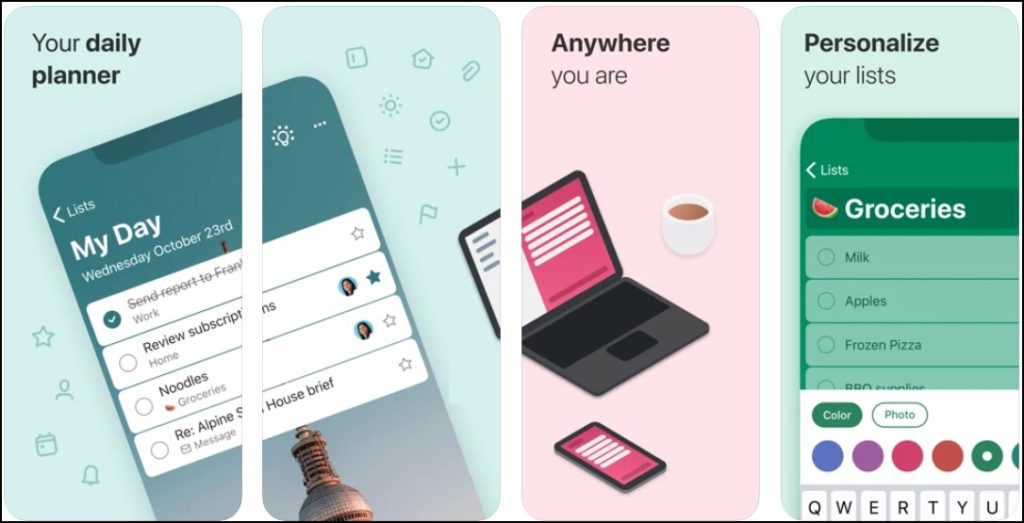 Standout Features:-
Personalized of lists
Daily Planner and reminder
Synchronize with other apps
---
Reminder with Voice Reminders
If you are searching purely for a reminder app, then Reminder with Voice reminder is the ideal choice. It is the best reminder app for iPhone when it comes to voice reminders. It will let you create reminders instantly while also supporting recurring ones.
A significant feature of the app is its very straightforward user interface. It shows all the reminders you have set on the home screen with their status (active, snoozed, or canceled). You can set daily, weekly, monthly, and even yearly alarms through the app. There are daily alarm reminders such as the one for wake-up time, which ensures you reduce constantly setting alarms.
The voice reminder feature is also an exciting one. You can pick a song or record your voice and use it as the reminder sound. The benefit of using your voice is that you can set a recording emphasizing the importance of a particular task to ensure you never lose motivation. It shows all the One-time reminders, recurring reminders, wake-up alarms, voice reminders, music reminders, and the calendar on the home screen, so you do have to do a lot of scrolling.
Related: Best Call Recording App for iPhone
Standout Features:
Voice reminders
Basic user interface
Add a one-time or recurring reminder to save effort
---
Due Reminders & Timers
Due Reminders & Timers is a paid application that provides exceptional functionality. Although you will have to pay $6.99 for it, it is the best reminder app for iPhone when it comes to features and thus provides value for the money.
Due's most notable aspect is its simple yet elegant interface. It contains all the reminders that you have set for the day on the home screen. An advantage of using the app is that it will show you all the reminders that you have scheduled for today, tomorrow, and the next seven days, so you can expect what's coming. it also provides a reusable timer option which means you won't have to set the same reminders everyday
Adding a reminder is also a stress-free task. You have to start by adding a title to the reminder, followed by the date and time. Additionally, you can set the alarm on it and use the natural data parsing with customizable preset times to instantly set all the due dates. It has a quick snooze button, although the app constantly reminds you of the actions you need to perform until they are completed.
Related: Best Free Scanner App for iPhone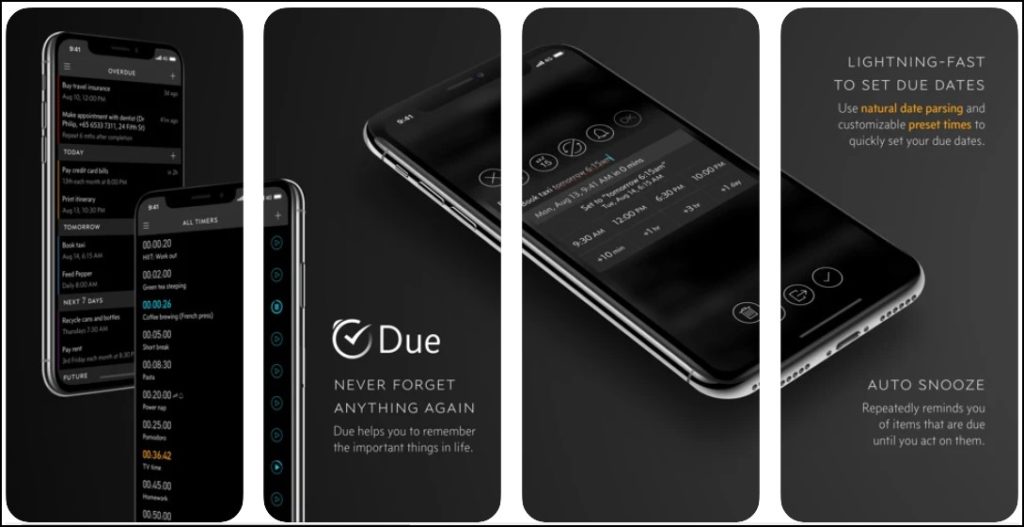 Standout Features:-
Elegant and features packed user interface
Auto Snooze option
Recurring timer settings
---
Fantastical 2
The final selection on the best reminder app for iPhone list is Fantastical 2. The application is loaded with numerous features and also has a beautiful interface. Although the app is primarily a calendar app, it also offers excellent integration with reminder applications.
Fantastical 2 is an excellent choice since it lets you view the entire schedule for the upcoming week or month. It means you will also see all the reminders you have added for the upcoming period. You can also create new reminders through the app.
The customization options of the apps make it more exciting and provide it with an edge over its competitors. You can also use it to get weather updates and time zones. Furthermore, Fantastical 2 remains an excellent choice for planning your daily tasks. Thus, its functionality isn't limited to reminders; but instead, it's a pretty versatile application. If you want one application for all your needs, this is it.
Related: Best Photoshop App For iPhone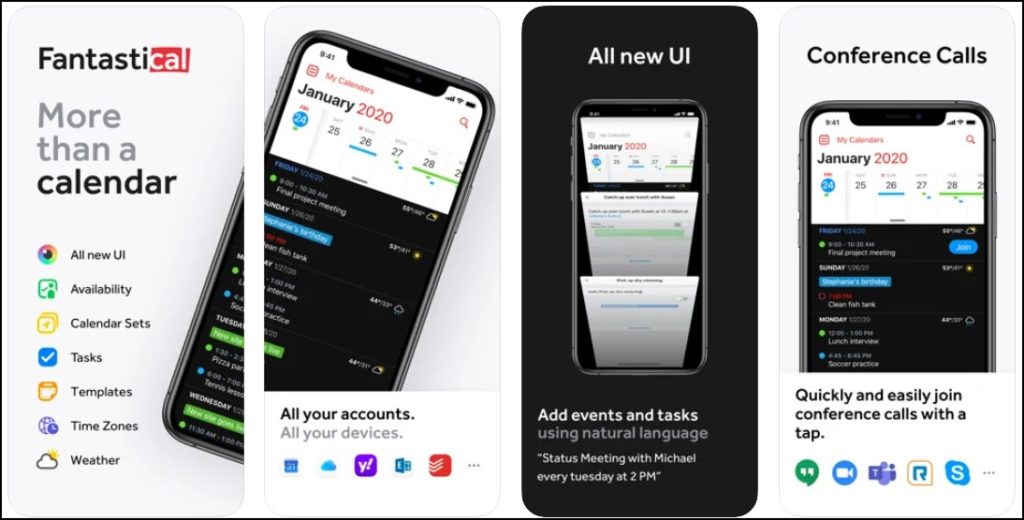 Standout Features:
Calendar sets
Weather updates
Easy to create reminders
---
Final Words
Our list above mentions the best reminder app for iPhone. All the selections and choices we have listed above have been chosen after careful analysis of the functionality. If you are confused about which app you should download, the best way to find the best choice for you from our list is by clearly defining your priorities. As per our recommendations, Due Reminders & Timers, To-Do Reminder with Alarm, and Microsoft To-Do are the best choices that offer versatile usage.
Thank you for reading! Try these out too:
General FAQS
What is the best reminder app for iPhone?
There are many choices, and the best one depends on the expectations of the user. However, the popularity of To-Do Reminder with Alarm and Microsoft To-Do is second to none. Thus they remain user-favorite choices.
Is the reminder app for iPhone free?
No, not all the reminder apps are free. However, you will still find many of them that offer excellent functionality without any cost on the App store.
Can I get a reminder to notify me through an Alarm?
Yes, most of the reminder apps will remind you through an alarm. Although we have confident choices that offer a voice reminder, you can either set a music clip or your voice recording as a reminder.