Smartphone brands like Vivo and Oppo have revolutionized the industry with their futuristic camera specs. The advanced camera in the smartphone led to an increase in photo editing and selfie apps. There are tons of best selfie apps out there on multiple OS platforms that you can install on your smartphone.
But users only want the best that can serve multiple purposes. This list of best selfie apps will do that for you. Our list has diverse apps that will help you capture amazing selfies and transform them into appealing images.
Excited? So, let's get started.
Note
This list is not based on any preferences, this list is basically a compilation of some of the best and most popular Android selfie apps that you can try right now and we also update this list at an interval of every 3 months.
Best Selfie Apps For Android 2021
FaceApp
Retrica
Snapchat
Youcam Perfect
FaceTune 2
Cymera
Candy Camera
Perfect 365
B612
A Color Story
---
FaceApp – Best Selfie Editing Apps
FaceApp is a highly rated app that offers appealing filters and AI-based photo editing features. The app has 60+ photorealistic filters that will transform your pictures into Instagram worthy edits. With the help of AI filters, background effects, and amazing editing tools you can edit every small detail of the image.
To enhance your facial features the app allows you to remove acne and blemishes, enlarge or minimize facial features, and smooth wrinkles. You can also adjust the hair volume to add more appeal to the image. You can also record videos using various filters and edit them to add to your Instagram story feed.
The app also has some fun features to offer to try your hands on. You can try the aging filter, weight filter, swap faces with your friends, and morph your images with your favorite celebrity. Girls can try the hot and trendy makeup filters to see which trending makeup suits their face and personality.
Most of the features of the app are available for all and you can access them easily. To avail of some additional benefits, you can make in-app purchases.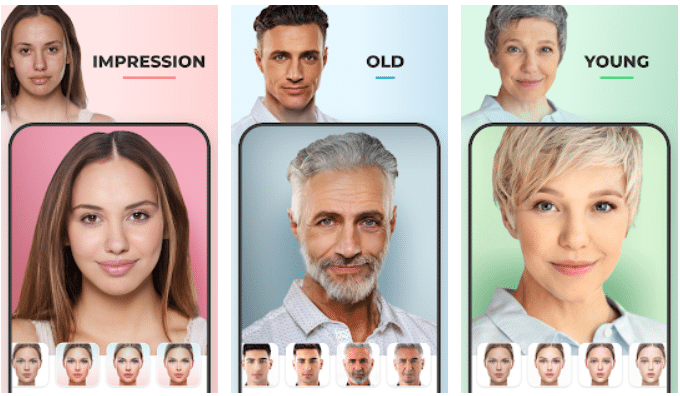 Standout Features:
More than 60 highly photorealistic filters
Total control of temperature, saturation, and more
Live-action editing
weight filters
---
Retrica – Best Selfie Apps
Retrica is a common selfie app that we all have used to capture our beautiful moments. The app contains loads of exciting filters to choose from. The app has more than 190 filters to try your hands on. Every filter is unique and enhances your background and facial features.
You can add a timestamp, text, and create a collage of your pictures with Retrica. You can also interact on the community page of the app and share your pictures with them. If you are looking for a simple and best selfie apps, then Retrica could be your ideal option to go for.
To get access to more amazing live filters you can make in-app purchases. Live filters are one interesting feature that you can try as each live filter has a unique character that you can fit into.
You may also like to read Best Photo Editing apps for iPhone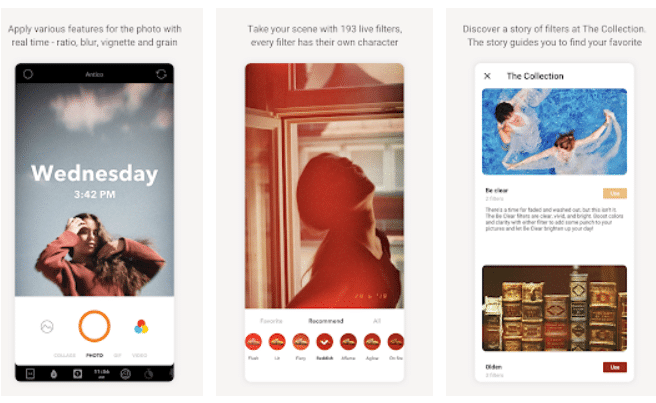 Standout Features:
190 filters
More than 190 live filters with unique characters
Easy to use
useful editing tools
---
[yarpp]
---
Snapchat – Best Selfie Filter Apps
From taking snaps of every moment to keep your friends updated to capture astounding pictures, Snapchat does all for you. A single tap will capture an image with the selected filter while the long tap will start recording a video. The app offers lens and new filters every day so that you are not bored with the old stuff. With over 1 billion downloads the app has secured the next spot on our list of the best selfie apps.
Not satisfied with a lens and want to create your personalized lens to match up your mood. You can also chat and make video calls on Snapchat to stay in touch with your friends. You can watch the story feed of your friends and other community pages of your interest. Apart from this, the app has a curated feed that is based on your interest and search history.
Standout Features:
Customized lens and filters
Free Cloud storage
Curated feed
3D Bitmoji
---
[yarpp]
---
Youcam Perfect – Best Selfie Apps For Android
YouCam Perfect is an overall performer that will help you take selfies, edit them, make a collage, frame them, and add background effects to your image. You can remove blemishes and wrinkles from your images, Whiten your teeth. remove red eyes, and much more.
Compile in selfies in the form of a grid with the help of versatile frames of YouCam Perfect. Use a magic brush to add a magical touch to your pictures. Object remover makes it one of the best selfie apps on the list. The app has an intelligent object remover that removes all noise from the images. Highlight images with the help of the blur feature to focus on the subject of the image.
All the basic selfie filters and editing tools are accessible in the free version of the app. Upgrading to a premium version will give you access to an ad-free editing experience, unlimited object removal, and remove watermarks feature.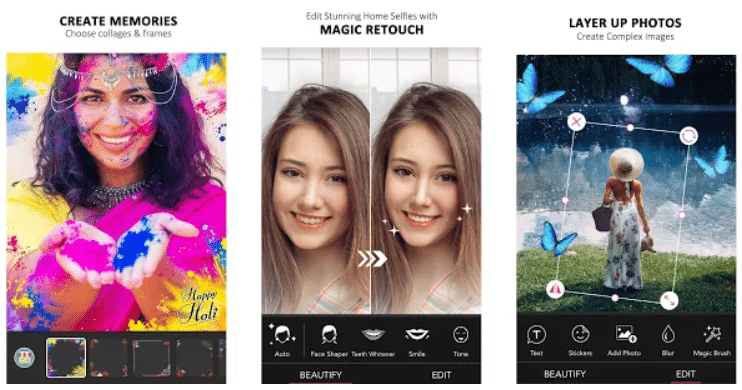 Standout Features:
Collage, Frame, and Effects
Magic brush and layers
Photo background and object remover
Cloud backup
---
FaceTune 2 is a compilation of retouching filters that can upgrade your images to the next level. The app has various correction tools that will add perfection to your selfies. The app has dozens of vibrant glowing filters that will assist you to capture your glamour.
You can reshape your facial features, crop and blur them to remove noise, and get the desired image. You can also use makeup brushes to add elegance and beauty to your images. You have to face some annoying ads in the free version that can be removed by upgrading to the premium version.
You may also like to read Best Augmented Reality apps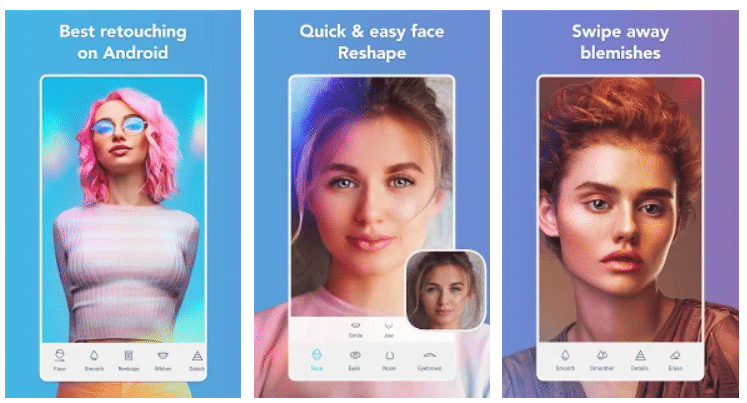 Standout Features:
Makeover Tools
Image Correction Features
Airbrush your skin to get a softer look
Makeup brushes
---
Cymera – Best Selfie Apps For Android 2021
Next up we have Cymera on our list of best selfie apps. The app has hundreds of amazing beauty selfie filters that are handy in capturing beautiful moments. The unique feature of the app is that it contains filter packages for selfies, nation flags, air shapes, vintage-feel, and pastel colors.
The app has 7 different lenses and a silent mode that is perfect for every mood. You can combine up to 9 photos and create a beautiful grid. You can adjust your body feature with the help of the body shaping feature. Then you have quick editing tools to adjust the resolution, brightness, and saturation level of the picture.
The app is available in numerous locations and supports more than 10 leading languages. You can also organize and share your photos on the various social media platform.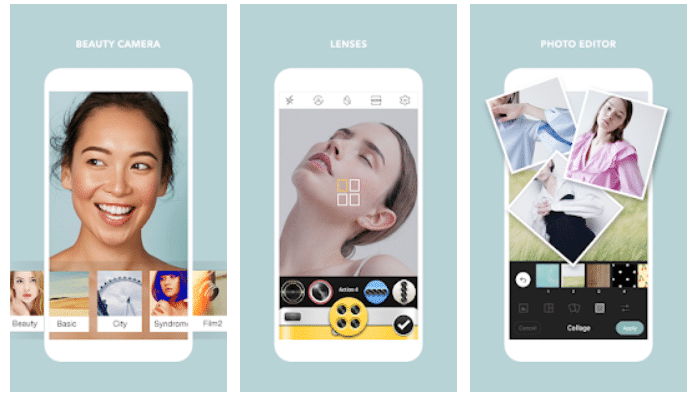 Standout Features:
Fast Editing Tools
Retouch or Adjust Photos
New body shaping feature
More than 10 Language Support
---
Candy Camera has additional features that other selfie apps do not offer. The app has a diverse range of filters to choose from that will always keep you hooked up with the app. The real-time filters of the app make sure that you look beautiful while you are capturing your moments.
Apart from the diverse filter, the app has beauty functions to enhance the image. Beauty function includes lipstick, blush, eyeliner, mascara, slimming, and whitening features to enhance the picture. The app has a sticker for every occasion and season that can be applied to your photos. The silent camera feature makes it one of the best selfie apps and you can capture pictures anywhere anytime.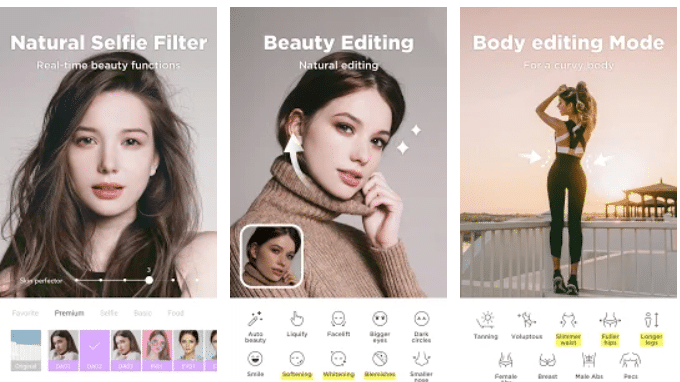 Standout Features:
Stickers for every season
A Diverse range of filters
Beauty Functions
---
Perfect 365 – Best Selfie Editing Apps
The best Virtual makeup up, Perfect 365 is one of its type app that is crafted to enhance the look. The app has more than 20 makeup and beauty tools that will help you to customize your look. You get more than 200 pre-set trending hot styles to spice up your selfies.
You get access to make up video tutorials from YouTube from your favorite make up artists. Get daily makeup and fashion tips to improve your make up skills. The cutting edge face detection feature makes it the best selfies apps on the list. This feature helps to make accurate placement on your face.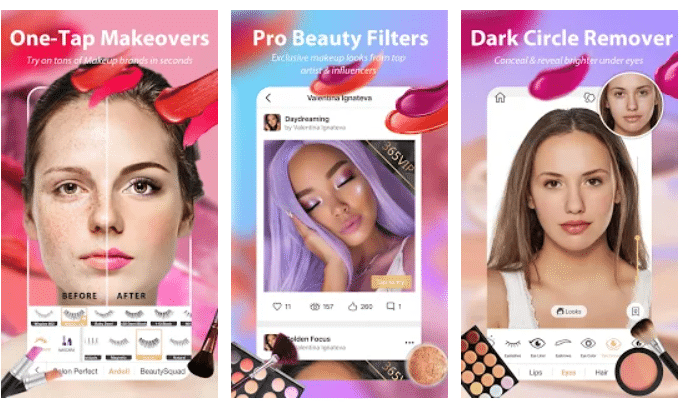 Standout Features:
Daily makeup and fashion tips
Subtle touchup features
More than 200 pre-set Hotstyles
Unlimited custom color options
---
B612 – Best Selfie Apps
B612 is another versatile selfie app that is popular amongst the masses. The app has a huge collection of stickers and high-quality filters which will add a touch of elegance to your images. Take beautiful selfies or create high-quality music videos and make your feel presence on the social media platform.
The app has AR stickers that can be used to enhance your social presence. You can take fun boomerang videos and play them at different playback speeds. To match up your ideal face, the app has easy to use slider feature to match up every face type. Real-time beauty effects will help you to take flawless images.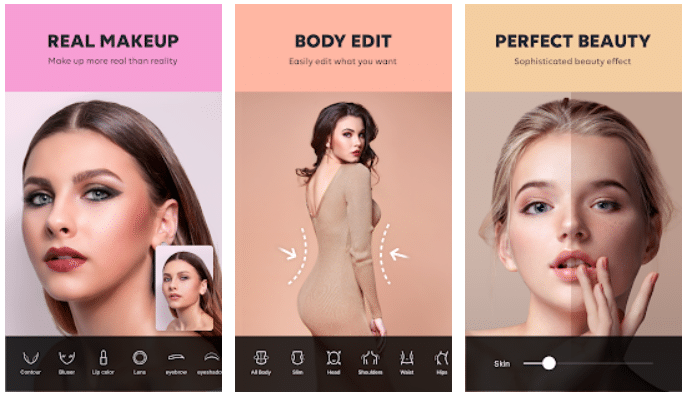 Standout Features:
1,500 diverse stickers
Immaculate filters to suit your taste
Real-time beauty effects
Dynamic music videos
---
[yarpp]
---
To keep up with the trend, A color Story can be a good choice for you. The app has the latest editing styles and colors that can be used to beautify the images. The app has more than 400 attractive filters and more than 120 movable tools. The useful editing tools will help you to polish every aspect of your image to make it look attractive. You can upgrade to the premium version of the app to get some latest exclusive features.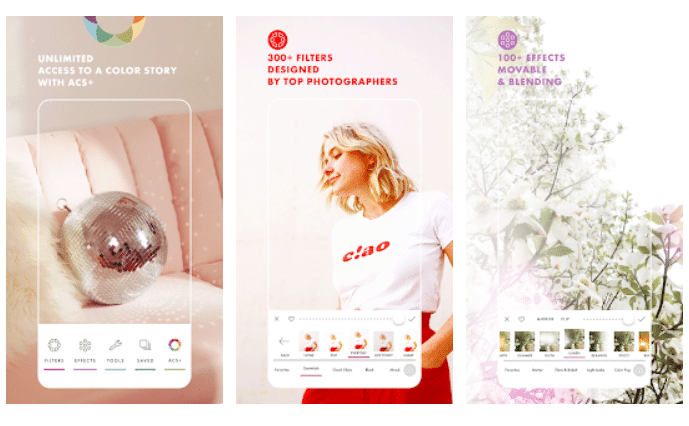 Standout Features:
Over 400 carefully crafted filters
over 120 movable effects
Instagram grid preview + planning
---
Final Words
We hope our list of best selfie apps will help to choose the best from hundreds of options available. Do not forget to like and share our content so that we are motivated to produce more quality content for you.
FAQ
Which are the best selfie editing apps?
FaceApp
FaceTune 2
YouCam Perfect
Which are the best filter selfie apps?