People's online security is vulnerable to get attacked by intruders in many ways. Pop-up ads, fraud calls, or malicious links redirect you to a malware page that can cause harm to your device.
To protect your online privacy from cyberattacks, you can opt for these best antivirus apps. These apps will help you to protect your device from intruders and keep it free from malicious files.
Excited? So, let's get started.
Why do we need an Antivirus?
Many people do not take the threat of Antivirus seriously and end up caught in the web of attackers. Check out the following points to know why you must have the best AntiVirus apps on your devices:
Protection from cyber attacks
Your device is vulnerable to several virus attacks like viruses, Trojan Horses, Spyware, or cyber-attacks like Phishing and hacker intrusion. Antivirus makes sure that all the files in your device are virus-free and will not be a threat to your security. An antivirus eliminates all the possibilities of your device's security.
Block unwanted ads and websites
Often you might have seen that spam notifications arrive warning you about the virus presence in your device. There are fake ads that pop up on random websites that are planted to cause harm to your device. Antivirus blocks these ads and websites that have the potential to harm your device.
Enhances your device performance
Downloading files from unknown sources or inserting a USB drive to transfer files to your device slow down your device's performance, and the presence of a virus could be the reason for it. For this purpose, Antivirus software scan all the files to remove the viruses and enhance the performance of your device.
Your online privacy is always a favorite thing to exploit for hackers and fraudsters. Antivirus software keeps notifying you about the threat a website could have for your device while visiting it. It keeps in check that your privacy is protected from online cyber-attacks.
Best Antivirus Apps For Android 2021
Avast Antivirus
Avira
Kaspersky Mobile Antivirus
Bitdefender
McAfee Mobile Security
AVG Antivirus
ESET Mobile Security
Norton 360
Dr.Web Security Space
Mobile Security and Antivirus
---
With over 100 million downloads and a rating of 4.7 on the Google Play Store, Avast Antivirus has topped our list of best antivirus apps. Avast is one of the most popular antivirus software that has been preferred by users.
The app has an Antivirus Engine that scans for every kind of virus threat like Spyware, Trojan, and Malware. The Antivirus Engine scans all the files and links to make sure there is nothing to worry about. The app has a Junk cleaner feature to remove junk and residual files that will enhance the performance of your device.
The app has a Photo vault that will encrypt your media files with a PIN, pattern, or Fingerprint password. The app scans and blocks all malicious websites to avoid the invasion of harmful links and URLs. If you are using public wi-fi, scan it with Avast Antivirus and enter safely into the wi-fi zone.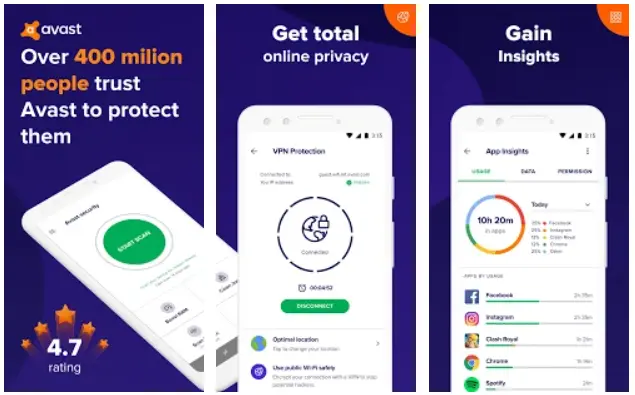 Standout Features:
App insights
Web shield
Wi-fi security
Antivirus engine
---
Avira – Best Antivirus Apps For Android
Avira Antivirus Software offers you varied protection services that will keep your device safe from virus attacks. Avira has a super light scanner and cleans that scans, blocks, and removes malware, spyware, and viruses. The app has a system optimizer that frequently cleans up your device's memory.
Avira has also integrated its VPN services that will allow you to unblock and access the geo-restricted websites securely on the web. The app has Identity Protection features that protect all your confidential information from getting leaked. The app also shows you which apps are accessing your sensitive data to keep an eye on them.
The app has an intuitive UI and provides overall protection to your device. The VPN provided can be used at school, home, or your work. The app is available and accessible in more than 10 languages including English, German, French, and Dutch. The premium version of the app will give you access to additional perks.
You may also like to read the best VPN apps for Android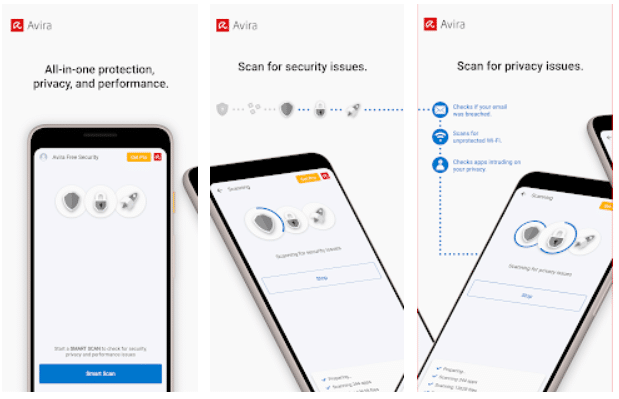 Standout Features:
Virus Scanner and Remover
Disk Scanner and Memory Optimizer
Phone Locator & Tracker
Network Scanner
---
With over 50 million downloads, the next app on the list is Kaspersky Mobile Antivirus. It is a free and easy to use Antivirus software that wholly protects your device from every harm. The app acts as a virus cleaner that instantly detects and blocks malware in any of the apps, links, and files on your device.
The app does a thorough background check of all the apps installed on your device and detects possible malware, phishing, and spyware that could cause harm to your device. The app also has a Find my phone feature that will help you to find your lost or stolen smartphone. You can also turn on an alarm and remove all your personal information and data to save your device from intruders.
Kaspersky has an App Lock feature that protects all your personal and financial information with a secret code. The app also blocks harmful websites and links when you are browsing the internet on your smartphone. It is one of the powerful and best antivirus apps that offers you varied services and protection.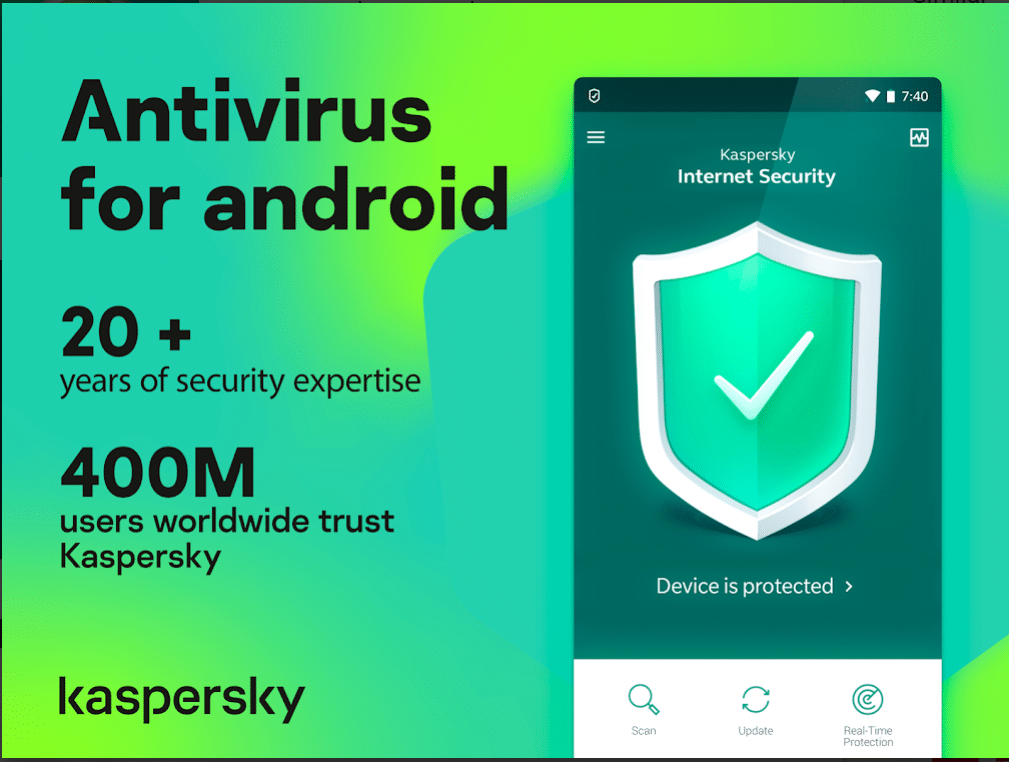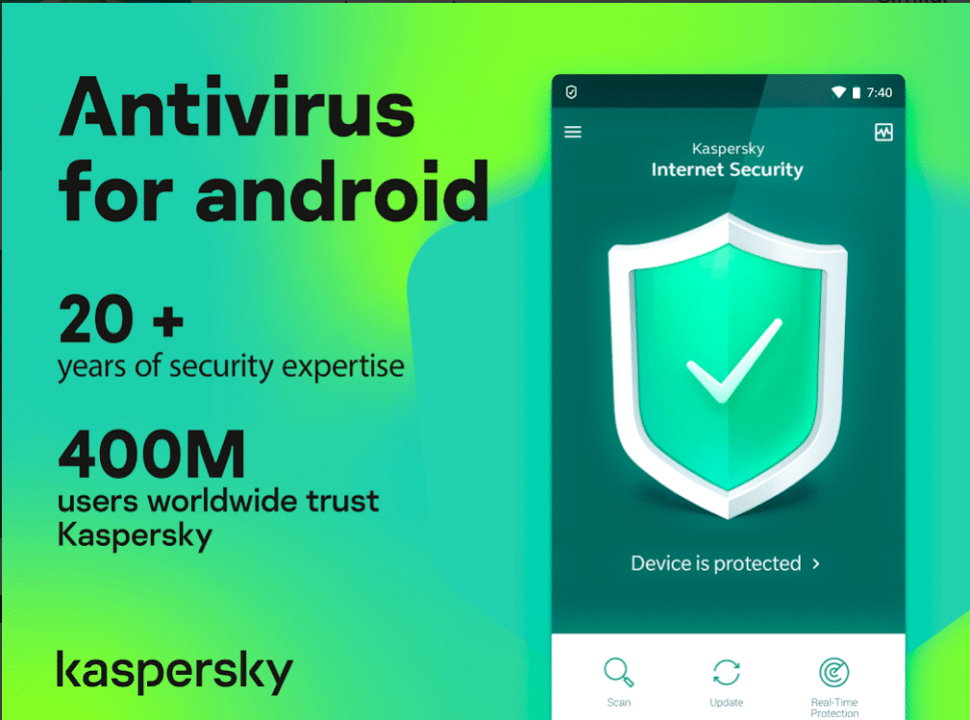 Standout Features:
Background check to detect harmful files
Find my phone
App lock
---
[yarpp]
---
Bitdefender mobile security and antivirus is a popular antivirus app that has been topping the charts for many years. It is one of the most advanced and best AntiVirus apps that has an advanced security system against malware and viruses. The app comes with a Malware detector that alerts you about all the threats.
Protect your online privacy with the Bitdefender VPN that gives free 200 MB traffic per day. You can unlock all the restricted content in your country and get access to multiple virtual locations. The app has an Autopilot feature that gives insights into your device's security.
You can check whether your Email and account details are protected or not by running a check with Bitdefender Mobile Security. The fingerprint sensor support ensures that no unwanted or third party has access to your personal information. The app also detects harmful content from popular websites and keeps you updated with potential threats.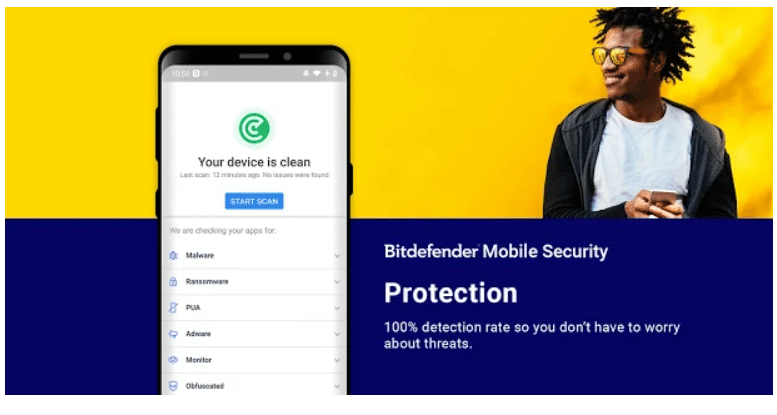 Standout Features:
Web protection
Anti-theft
Fingerprint sensor support
Account privacy
---
McAfee is another popular name in the Antivirus industry that offers useful tools to tackle online threats. The app offers you everything that you need to keep your device intact. The app has a Spyware detector, Wi-fi scanner, and mobile security features that are handy in removing all the unwanted foreign elements.
The app comes with phone performance optimization tools like battery booster, memory booster, and phone cleaner to retain the speed of your device's RAM and enhance the performance. The app alerts you when you visit any malicious website and protects you from becoming a phishing victim.
The spyware removal feature makes sure that you are away from the reach of frauds and hackers. The app offers a free wi-fi scanner to check and verify the security of the network. The Plus version of the app comes with all the standard and basic features that you look for in the best Antivirus apps.
You may also like to read the Best Android Themes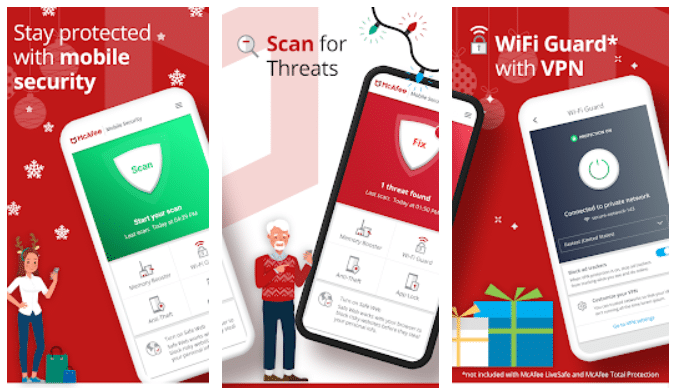 Standout Features:
Safe web
Backup contacts
Antivirus app scanner
---
AVG Antivirus – Best Mobile Antivirus Apps
AVG antivirus is an all-around protector that offers some useful tools to handle spam and attacks. With AVG Antivirus you can scan apps, games, and files to remove all the malicious content. The app scans the websites you have been visiting and alerts you about the threats that might affect your smartphone.
The app has VPN protection that lets you maintain anonymity while browsing the web. The app immediately sends you a photo via email if anyone is trying to break into your private stuff. This can be of the best Antivirus apps if you are looking for something simple and useful.
The app gives you a detailed insight into the permission you have given to the app installed on your device. These app insights will provide you a first-hand detail about the time you are spending on your device. You can also discover various privacy issues that you might face in the coming time.
You can extend the battery life of your device by turning off the battery-draining setting. The app also allows you to wind up the background tasks and apps to improve the performance of the device.
Standout Features:
Insight into the permission level of installed apps
Boost speed by killing tasks
Power save to extend battery
Discover potential privacy issues
---
ESET Mobile Security offers you the best solution to your online privacy and protects you from ransomware, adware, phishing, and other threats that your device is vulnerable to. The app does real-time scanning of your device to check the overall health
It gives you security reports of the health status of the device and advice you to make the necessary changes. The app offers a 30-day free trial period to do a quality check of the app. The premium version of the app will give you access to some exclusive features which are worth giving a try.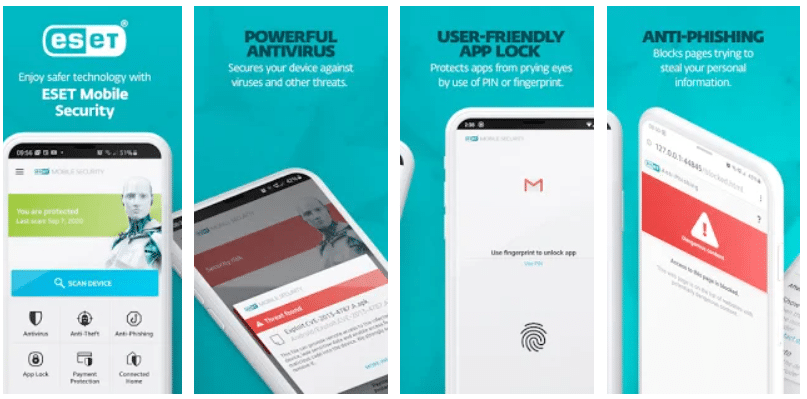 Standout Features:
Real-time scanning
Activity log
Security report
---
Norton 360 – Best Paid Antivirus Apps
Norton 360 offers you bank-grade encryption that is enough to make it the best antivirus apps. The app can be your perfect partner to tackle all the cyber threats and keep your device safe. All your personal information is protected with a secure VPN that makes it impossible for intruders to break into your privacy.
The app constantly monitors the latest OS updates to discover any possible loophole that can be used by cybercriminals to breach your privacy. The app also runs a security check in the dark web to make sure that your personal information is not circulating there.
The app scans every new app and checks whether it is safe for your device or not. The app also runs a quality check on the existing apps and keeps you updated about the threats that may arise. The app provides a 14 day trial period after which you can switch to the premium version.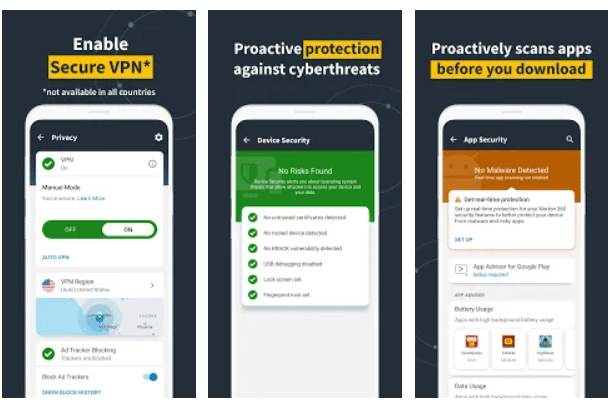 Standout Features:
Secure VPN
Web protection
Wi-fi security alerts
Device security
---
Dr. Web Security space runs a real-time scanning check on your device and detects unknown malicious programs. The app then moves all the detected files to the quarantine points and restores them. The app restricts and blocks the unwanted internet sources that could become a threat to your device.
The app has a convenient widget on your home screen that keeps you updated with the health status of your device. The apps are blocked on the base of subject categories that effectively filters the harmful content out of your device. The app blocks the unnecessary access apps ask for during the installation to maintain your privacy.
The app is battery efficient and will consume less battery to improve your device's performance. You can access the basic features of the app without paying anything. The app has in-app purchases that will give you access to additional features.
You may also like to read Best Android Launchers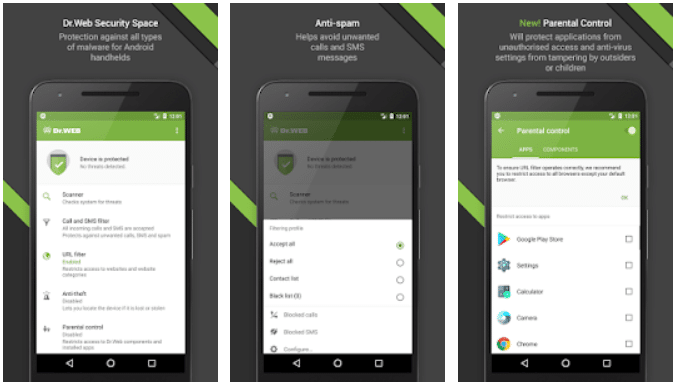 Standout Features:
Password protection
Detailed statistics
Informative widget
Restrict access to unwanted internet sources
---
Mobile Security and Antivirus offer protection by detecting the malicious apps on your device. The app scan URL you are accessing and block dangerous sites to keep your device safe from external threats. The app also scans t the links you are receiving in your text and Whatsapp messages to make sure that they are safe to access.
Pay Guard Mobile ATM makes it the best antivirus apps. It safeguards you from the banking and financial scams to which we all are vulnerable. The app has a vulnerability scanner that warns you of the apps that can be exploited by the hackers to sneak into your private details.
Besides this, the app has lost device protection, system health check, app manager, and app lock feature that can be used to secure your device.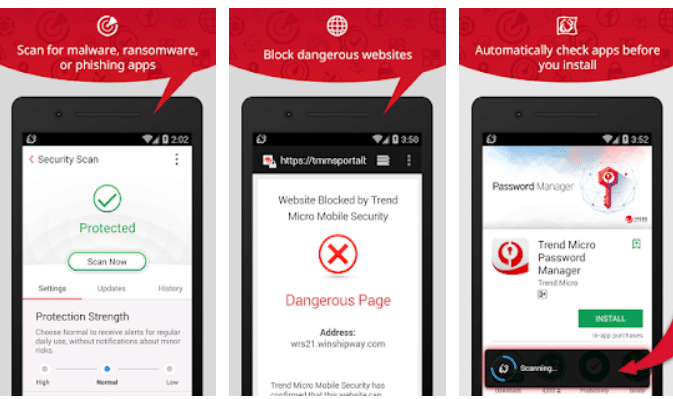 Standout Features:
Privacy scanner
Safe surfing
Vulnerability scanner
App manager
---
Final Words
With this, we will be wrapping our list of the best antivirus apps. Download these apps and protect your device from viruses and cyber-attacks. Do share this list with your friends to make them aware of some of the best antivirus apps they can use on their smartphone.
[yarpp]
FAQ
What are the best Antivirus and Malware security app?
Avast Antivirus
Norton 360
McAfee Antivirus
What are the best Antivirus apps for mobile?
AVG Antivirus
Avast Antivirus
ESET mobile security