We all want a break from the social media presence for some time to refresh our minds. But, we are also concerned about our friends and family. We want to stay connected with them all the time. For that purpose, you can try out the best texting apps. Texting apps provide you with the offline messaging option to stay connected with your loved ones.
Texting is also the best option to take a break from the online presence. It is one of the best options to improve your personal life and enhance the overall productivity of the day. Before diving into our listicle of the best texting apps, we would like to enumerate some benefits for users.
Excited? So, Let's Get Started.
Benefits Of Best Texting Apps
Offline communication:- Messaging apps are the best source of offline communication. You can exchange messages, MMS, and media files without any internet connection. Also, offline access to such services minimizes distraction and helps you

improve productivity

.
Privacy:- There is a high degree of data breach possibility on social media apps it is not the case with texting apps. All your messages are safe with high-grade security. You can freely exchange messages and media files with the texting apps.
Add multiple recipients:- Messaging apps also provide the perk of adding multiple recipients at a time. If there is a multimedia message you want to share with many receivers, you can do it with the texting apps.
Best Texting Apps For Android
---
You can replace your stock Android texting app with the Chomp Messages app. It is a highly customizable app that offers tons of valuable features to users. The app has 10M+ users, the reason being the plethora of features it provides. You get features like Passcode lock, Schedule SMS, Text snippet, Quick reply popup, and SMS blocker.
You can customize the screen color, font style, notification LED color, ringtones, and vibration patterns. The app has more than 3000 latest Android and iOS emojis you can use while sending texts. You can also add a signature to your text which ensures the privacy of the message.
Related: Best Anime Apps For Android
Standout Features:
Passcode lock
Highly customizable
3000+ Android and iOS emojis
Download This Best Texting App
---
Goole Message is a user-friendly messaging app that can be handy for chat and messaging. The app automatically sorts the messages into categories for convenient messaging. You can also send voice notes to the receivers with the Google Message. The app has some handy chat features, making it the best texting app on our list.
With built-in spam detection, you are safe from every kind of spam and online danger. You can also access the Google Assitant directly into your chat to search for anything quickly. The app has a powerful search engine to look for your files in the conversation.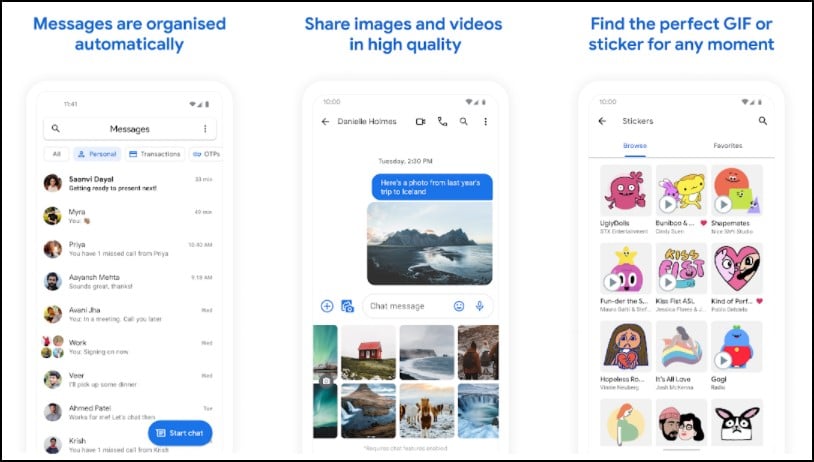 Standout Features:
Automatically sorts messages
Google Assistant access
Powerful search engine
Download This Best Texting App
---
You can choose from the multiple theme options on the Handcent Next SMS app while texting. Also, you can switch between the LED notifications according to your mood. The app is capable of sending high-quality MMS files. With the help of the Popup window, you can instantly reply to the messages. This feature-loaded app may end your hunt for the best texting app.
The app is also compatible with the desktop and laptops that you can use to send and receive messages. The free cloud backup storage of the app makes it easy for you to manage all the conversations in one place. You can create groups and send messages to multiple people at a time. To have an interactive chat, you can choose from the hundreds of emojis.
Related: Best Photoshop App For iPhone
Standout Features:
Popup window
Appealing themes
Free cloud backup storage
Download This Best Texting App
---
Microsoft Corporation has given some of the best productivity tools to the users over the years. SMS Organizer is another valuable tool that has multi-utility for the users. The app can organize tasks and send automatic reminders of events. The recent update of the app introduces the Live Train Schedule feature.
The Live Train Schedule feature helps users to keep track of the PNR status of their train. Also, you can keep track of bank account and wallets on the SMS Organizer in one place. You can use the dark theme of the app if your battery is draining. It is a clutter-free best texting app by Microsoft you must try.
Related: Best Pedometer Apps For Android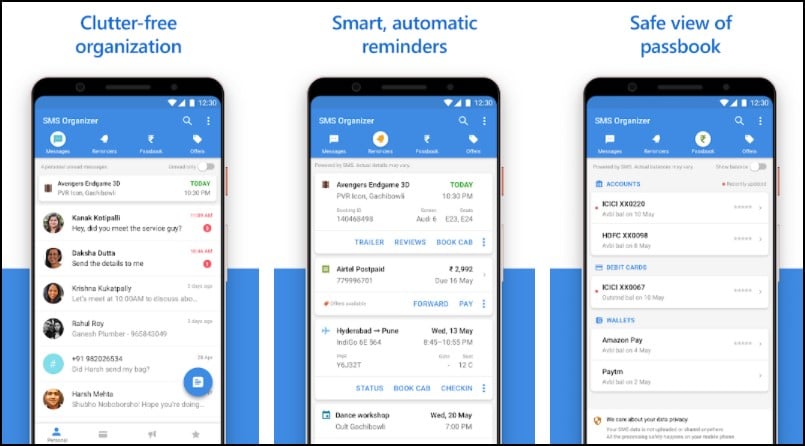 Standout Features:
Clutter-free organization
Discover offers from SMS
Live train schedule
Download This Best Texting App
---
Beautiful, super-fast, and intuitive, Textra SMS is the latter app on our list of the best texting apps. The app has over 180 material design themes that would be excellent for giving a refreshing new look to your stock Android messenger. It can also compress the audio and video files to make them shareable with other users.
You can try 21 text sizes and font options to send and receive messages. The bubble styles of texting are customizable, and you can choose from hundreds of options available. You can buy the in-app purchases to unlock the exclusive features of the Textra SMS app.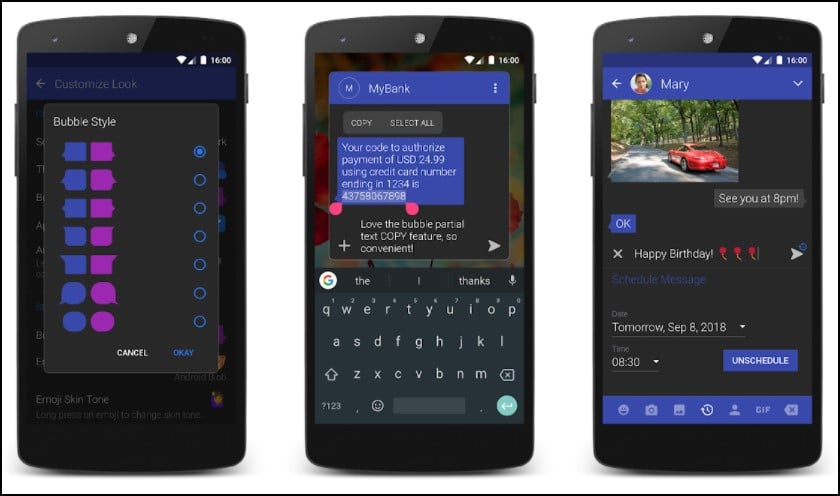 Standout Features:
180+ Material design themes
21 Font types
Customizable bubbles
Download This Best Texting App
---
Here is one of the most secured apps on our list that will take care of your privacy. You do not need to register with the mobile number as it provides you with an 8-digit ID to access this app. All your messages and files are end-to-end encrypted, and you can hide your private chats. The app is handy for voice calls, Group video calls, and messaging. You can know the identity of the user by scanning the QR code.
It also protects your status message so that no one is tracking your activities. You can also limit users who can see your update. All your data are stored in your internal storage, not on the app, making it more secure. One additional feature this app provides is to do polls and have feedback about your chats. It is a paid app where you need to pay somewhere around $3 to use the app. The above being said, it is apparent why it is one of the best texting apps.
Related: Best Free Scanner App
Standout Features:
Anonymous instant messaging tool
Highest Encryption strength
Conduct polls
Download This Best Texting App
---
Moving further, QK SMS is an ad-free, clutter-free, and open-source best texting app you should prioritize in your checklist. You can choose from the millions of color options to design your conversation theme. Also, you can assign separate colors to each conversation. The MMS feature lets you share audio, video, stickers, and emojis with your friends.
The app has a great visual appeal, thanks to the night mode option. You can integrate the app with Should I Answer app to identify the spammers and block them right away. If you are a procrastinator, you can use the voice assistant to send messages to your loved ones.
Standout Features:
Open source and ad-free
Millions of color themes
Voice assistant support
Download This Best Texting App
---
Mood Messenger is another customization-rich best texting app. The app has thousands of background wallpaper that you can assign for each conversation. You are in complete control of the overall look of Mood Messenger, making it an ideal alternative for the stock Android messenger.
You can customize the color and shapes of message bubbles, font styles, background, themes, and notification sounds. Instinctive and predictive writing makes it the best texting app. The app suggests words and emojis according to your writing pattern. You can share your real-time location with loved ones while you are outdoor.
Related: Best Fasting Apps For Android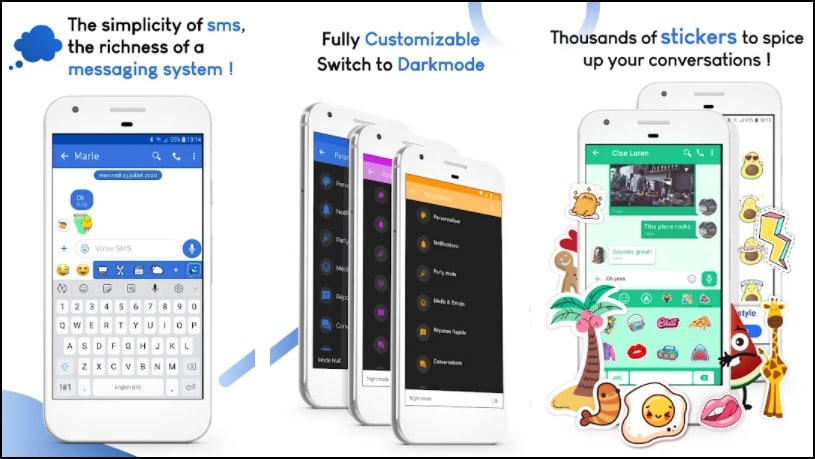 Standout Features:
Thousands of background wallpaper
Predictive writing
Share real-time location
Download This Best Texting App
---
For an ultimate texting experience, we have Pulse SMS for you. The app comes with a unique design and fluid animations which instantly appeal to the users. You can protect private conversations with a password. The app suggests quick replies based on your chat, which is a handy feature for busy peeps.
Also, the app provides replies based on contacts, keywords, and vacation modes, making it user-friendly and one of the best texting apps. You can create a Pulse SMS account to save all the messages securely. One unique feature of the app is Delayed Sending, which lets you edit or cancel the text. Weblinks are also viewable on the Pulse SMS app.
Related: Best Meal Planning Apps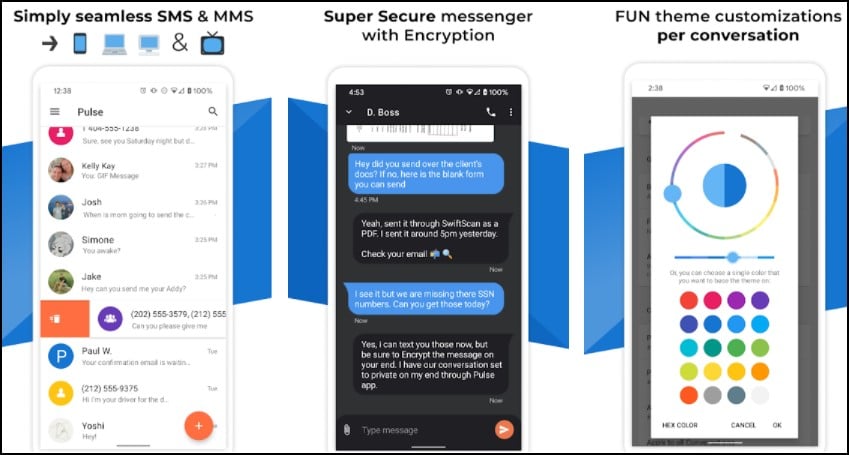 Standout Features:
Password protection
Delayed Sending
Keyword-based replies
Download This Best Texting App
---
Protected messages, self-destructive messages, and other security benefits are some key standouts of Signal private messenger. Developed by a popular Non-profit organization, Signal Foundation, whose main aim is to protect the breach of user's data.
It is an open-source system that protects the files you send and receive. The screen security feature of the app will not allow the second party to take screenshots of the chat. Signal Messenger is free and easy to use with a buttery-smooth UI that makes it one of the best texting apps.
Standout Features:
keeps your conversations secure
Completely independent
Enhanced audio and video quality
Download This Best Texting App
---
Final Words
We are wrapping up our comprehensive list of the best texting apps. We hope our listicle will be valuable for you if you are looking for an alternative to the stock Android messenger. Textra SMS, Chomp Messages, Handcent Next SMS, Google Messages are our top picks of the list. Do drop a comment and let us know about your favorite picks on the list. Your valuable suggestions are a booster to our digital growth, do not forget to mention them, if any.
Thank you for reading! Try these out too: