What is DerpFest OS ?
DerpFest OS is a brand-new custom ROM that is based on Android 10 and I have been using thing ROM for quite some time now. I got to tell you that, its smooth as butter and its quite responsive too. Unlike other ROMS, it has unique features that I will be telling in a moment and why you should start using it as a daily driver.
DerpFest OS Features List:
Smooth UI – Optimised to give you buttery smooth experience on your device.
Customisations – Equipped with loads of customisations so that you can tweak.
Pixel Experience – Provides a Pixel-like UI including the Google apps and Pixel exclusive goodies such as wallpapers, icons, fonts and more.
Weekly Updates – Updated regularly, bringing you new customisations, features and the latest security patches.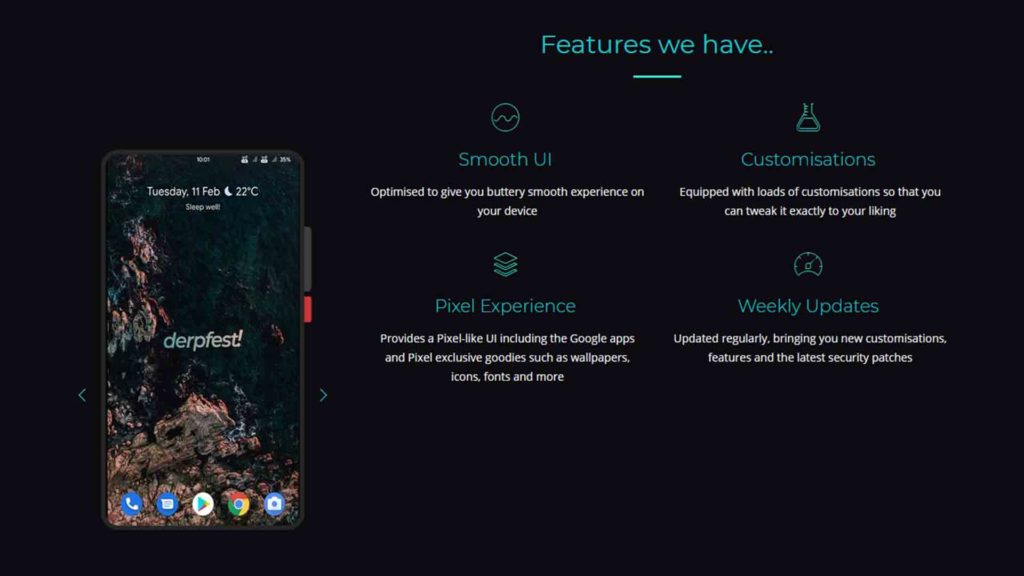 DerpFest OS Rom – Review:
After booting the Rom for the first time. When you unlock the screen, it would take you to the new launcher, unlike other Custom Roms which uses Pixel's stock Launcher, DerpFest uses a third-party launcher called Lawnchair.
This launcher is highly customizable and believe me you can change every aspect of your UI and homescreen. You can change the Look of the interface by using Icon Packs, Colors, Grid Styles & More.
Like Pixel Launcher, it comes with the Google Feed section. So, swiping to the right reveals the google cards section and as usual normal functionalities like swiping up from the bottom reveal the app drawer. Swiping down anywhere within the home screen reveals the notification center & quick toggle section, its Pretty Much the same way we used to do with Pixel launcher.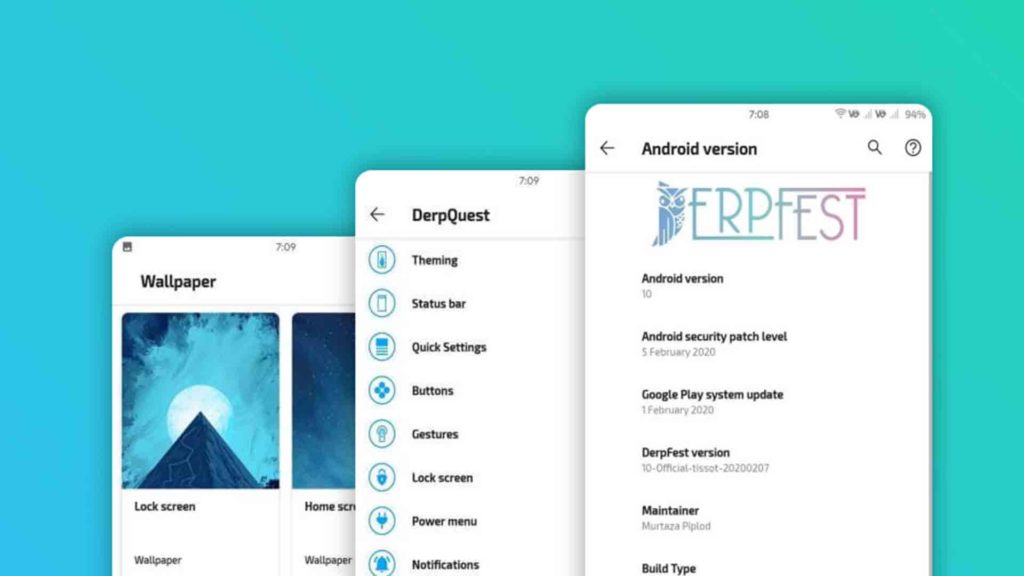 Now, let talk about the Core changes to the user interface. This ROM brings a blur effect to the various elements of UI. If you will take a look at the notification bar, whenever you access the Notification Center, you get to see a gorgeous blur effect at the background which differentiates the way how it looks compared to the stock version.
Also, the app switcher seems to be redefined the way it looks in stock Android. The blurred background gives a stunning look to the app switcher as well.
DerpFest OS also provides brand new quick Toggles that are preinstalled out of the box. Within the quick tile section, you can access more toggles like Caffeine, sensors, gaming mode, sound search, screen stabilization, focus mode and more. It also comes with an Android 11 feature Called FPS counter. This toggle is limited to only a few devices at this moment. FPS counter is a new setting that shows the refresh rates of the screen.
DerpFest OS – User Interface & Customization
Like other ROMS, this OS gives more options to customize the user interface to improve the usability. Within the settings you will see an option called DerpQuest. This setting holds a space for advanced options which indeed helps in customizing the user interface.
For instance, I can use themes setting to change the style of toggles, icon shapes & accent colors. There are few preset of accent colors that are pre-installed & use it according to your fancy. Apart from that, you can customize the lock screen, Power menu, notifications, system animations & more.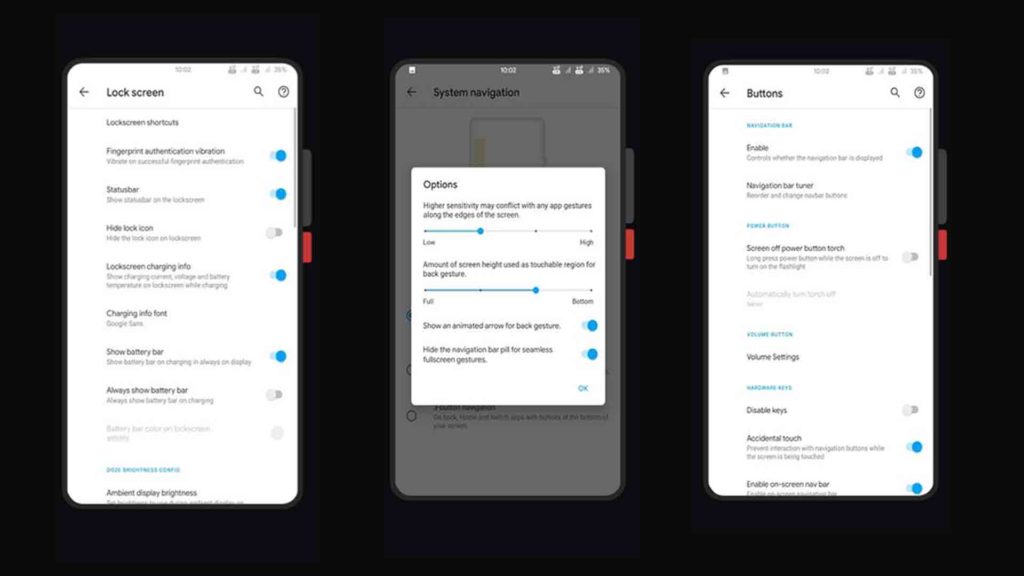 This ROM comes with a OnePlus screen recorder. But it didn't seem to be working as intended. Due to android 10 limitations, screen recording with system audio is still a glitch and you have to rely on the microphone to capture the audio from games. For gamers, this would be a bummer.
One of the biggest things about this ROM is the consistent weekly updates. The official website gives information about how they update the ROM every week by releasing patches, fixes & software updates. This way you can blindly use this ROM if your concerns are about software support.
DerpFest OS – Performance and Battery Life
As for this review I have tried DerpFest OS on Redmi K20 Pro and believe me the performance was unbelievable. Everything you through at it handles like a boss. When it comes to heavy Games LIKE PUBG, this Rom handles the game in high settings very easily without any frame drops.
But one thing I would like to mention, while gaming on K20 Pro I didn't notice any stutters or lag. But when it comes to Poco F1, initially the gameplay seemed to be leggy, but after few minutes, I got decent frame rates without any issues, meaning the gaming performance is not consistent as of now.
Like performance, Battery backup is also the next level. I do get 6 hours SOT (screen on time) on Redmi K20 Pro & 6.30 hours on Poco F1.
DerpFest OS – Cons
Touch Lag – I have noticed that on some devices like the Poco F1, you may face touch lag issues. It doesn't seem to be responding properly which is sort of annoying. Probably, the touch drivers aren't updated. Keep in mind, these are very minor touch issues you would encounter while typing and scrolling. Again, this won't bother using this ROM as your daily driver.
Default Camera – Like other ROMS, the developers of this ROM have included the Stock camera, which is ugly to take pictures & videos. It's not at all great to use it as a default camera. This is not the case with K20 Pro, you will get a stock MIUI camera instead of GCAM, and it's far more superior than the stock camera.
Volume BUG – All Android 10 ROMS are suffering from the Volume BUG issue. Let's say, you are watching a video and you got interrupted by a call, after hanging up the call, you will notice the audio goes to mute when you resume the playback of video. The same goes for Ringtones, Notifications & call volume.
So, these are some of the cons, that I have noticed. Keep in mind, these bugs may not be persistent forever and developers will fix it in future releases. Apart from that, normal functionalities Like WIFI, Bluetooth, Volte, UPI apps like Google Pay, wide Vine L1 certification works fine without any issues.
Conclusion:
So, what do guys think about it? Should you install It. I would say this ROM is buttery Smooth on high-end devices and considering the fact, the level of support it receives from developers is astounding. The weekly updates made me use this ROM for one more month as my daily driver. Let me know what do you have say about DerpFest OS.
How to Install DerpFest OS?
Now if you're interested in installing this, here is a step by step installation guide. You Can Install Viper OS from any stock or custom ROM. This process requires a clean installation method. So, backup your important data. I'm not responsible, if something goes wrong, proceed at your own risk.
Pre-Requisites:
Downloads:
Installation Guide:
Download all the files from the above links & place it in to your SD Card / Internal Storage
Then, On Your Current ROM, Sign Out from Google Accounts, Remove Lock Screen Passwords, Pins, Fingerprints. This helps us clean installation hassle free, else you may run in to any encryption issues.
Then Backup your Data to your Computer or Laptop.
Now Boot in to TWRP (Use Specific Key Combination)
Perform clean install, if you are coming from different Rom Wipe -> Advanced Wipe -> System, Data, Cache, Dalvik/Art.
Then Install ZIP – Select "DerpFest Rom" Zip Files and flash it.
Once Its Done, Go Back TO Home – Wipe – Format DATA – type "YES" to remove encryption (WARNING: This will wipe the entire internal storage so I assume you have backed up your data)
Reboot & Enjoy
Video (Review) – DerpFest OS
You May Like to Read: