What is Ubuntu 20.04 ?
Ubuntu 20.04 is the next LTS release. It brings a lot of improvements, bug fixes, brand new features like Linux kernel 5.4, Native ExFat Support, Dark theme, New Wallpapers, Experimental ZFS, AMD Driver support, Snap App Store, Gnome 3.36 & More. It is the upcoming big release from canonical & it is expected to release in April 2020.
So, What's New in Ubuntu 20.04 & how it is different from Ubuntu 18.10 LTS in terms of visual improvements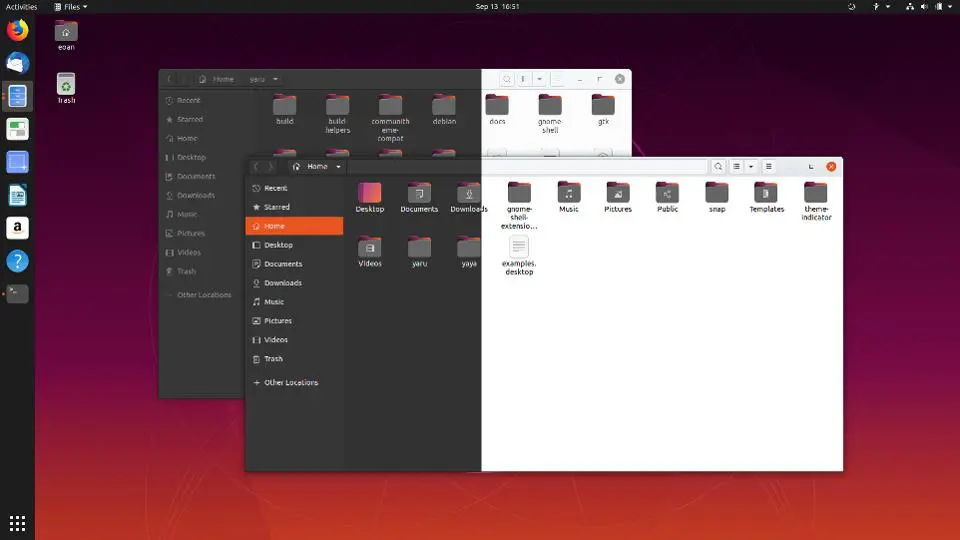 It looks completely different, from icons to themes everything looks much more refined. The code name of Ubuntu 2020 is set to be as Focal Fossa, a mascot of the wild animal. Ubuntu 2020 brings a brand-new wallpaper to the system.
Now, setting a wallpaper is straight forward, meaning you don't get an option to choose a wallpaper for home screen & lock screen. Whenever you select the wallpaper, It will be applied for both home screen & lock screen. Let's head towards the expected changes which we can see in this Ubuntu update.
Ubuntu 20.04 Release Date
Testing week: January 9, 2020
Feature Freeze: February 27, 2020
User Interface Freeze: March 19, 2020
Ubuntu 20.04 Beta: April 2, 2020
Kernel Freeze: April 9, 2020
Release Candidate: April 16, 2020
Final stable release of Ubuntu 20.04: April 23, 2020
Ubuntu 20.04 New Features:
Dark Theme
The much anticipated dark mode has been included in Ubuntu. It comes preinstalled with YARU light & dark themes. It will have a different look compared to the previous versions. Inside settings -> Under the appearance section, you get a toggle switch that would let you switch between light & dark themes.
The dark mode is the most requested feature and finally, you get to taste it in ubuntu. Keep in mind, this doesn't seem to be a system-wide dark mode, it works perfectly with the stock preinstalled applications, but in some areas, it wasn't implemented as it should be.
Snap App Store
Ubuntu 2020 comes with the brand new App Store called snap. Keep in mind this is not a new app sore. It is the same ubuntu software store as currently shipped and still, it is based on GNOME Software. It is just packaged as a snap application.
New Linux Kernel 5.4
Ubuntu new release comes with the latest generic Linux kernel 5.4 & it brings a lot of hardware support to the OS. The new kernel supports the ExFAT file system out of the box. Basically, Microsoft FAT file system doesn't allow transferring files bigger than 4GB. To overcome this Limit, Microsoft developed the EXFAT file system to store much bigger files.
The all-new Linux kernel now supports EXFAT natively after Microsoft open-sourced it. This way your Linux can read & Write ExFAT drives without the need of installing any package. Along with ExFat file System, kernel 5.4 supports AMD Radeon graphics, newer intel chipsets, lock down modes for enterprise systems that offer next-level Linux security& other features include fixes for windows gaming via Wine or proton API.
ZFS Support
The love or hate ZFS file system is now having an improved support in Ubuntu 2020. Ubuntu is the first mainstream Linux distribution to introduce oracle's ZFS as root in 2019. This will probably make Linus Torvalds unhappy! But still it's a popular file system & 2020 edition is having An improved support for ZFS
Python 2 upgrade
It time for Python2 to stay rest in peace. After dropping the support for Python2, Ubuntu 2020 will no longer support Python 2 & you will have to rely on the latest python 3. As of now, the development build seems to be having the latest python3 installed out of the box.

Other Minor Features in ubuntu 2020, include the latest gnome 3.36 which brings fewer enhancements to the system. And, the affiliated app link to amazon has been removed. The lock screen now looks super fresh. The background wallpaper will have a blur effect and this way it looks simple & elegant.
Conclusion:
These are some of the brand new features that I have noticed in this build. I hope, when they roll out the stable release, we will get to see more features & improvements. Ubuntu 2020 is going to be a long-term support release meaning it will be supported for up to Five Years.
You May Like to Read: