What is CrDroid Android 10 Rom?
CrDroid is a Custom Rom known for its speed, and now it has become more powerful with its new update. The new update of CrDroid 6.0 based on Android 10 brings new features, enhancements & improvements to the system.
So, in this article I am going to Review the CrDroid Custom Rom Based on Android 10 and also, I will be showing you a step by step guide to install this Rom on your supported Android Devices.
CrDroid Android 10 – Review:
First thing first, this rom comes with a pre-installed custom kernel known as Optimus drunk, which is actually amazing with android 10 & helps running the whole system lag free. It also comes with the latest android 10 security patch level which is good to see.
Features List:
Optimus drunk– Upstream stable kernel
Arm-v8a optimizations
Over-the-air
AOSP (Android Open Source Project) Camera
crDroid File Manager – File manager based on Amaze File manager
crDroid Home – Revamped and customized launcher with Google now integration
crDroid Settings – Our own chamber of secrets with below customization settings
Visualization toggle
Media cover art toggle
Battery info toggle
Face auto unlock for recognized trusted faces
Fingerprint authentication vibration toggle
Default UI & Launcher:
Now, when it comes to launcher, you will get the default quick step launcher, which is super-fast compared to pixel launcher. It helps to launch the applications much faster and it does support the android 10 system wide navigation gestures.
We all know, android 10 brings a system wide navigation gestures, which completely eliminates the need of on-screen software keys. These gestures are so cool to use in android 10 & it increases the speed of navigation throughout the system with few swipes.
Swiping Up, from the bottom centre with in any app, will take you to the home screen. And Swiping from Bottom Centre & holding up for a second will brings the app switcher.
Now, what about the back gesture? With the elimination of back button, now you no longer see any back button. All you need to do is, swiping from either left or right within any application, will take you one step back.
I mean, seriously these navigation gestures are damn smooth in this Rom, when It get compared to any other android 10 custom ROMS.
Performance:
Now Talking about the Performance, As I told you, this is one of the fastest android 10 custom rom which delivers a butter smooth android 10 experience on your device. From big apps to small apps, it Handles the tasks without any hiccups.
I did also play big games like call of duty, PUBG and the gameplay was so smooth without any frame drops.
Multi-Tasking:
Multi-tasking in android 10 has been taken too par. Swiping, either left or right from the bottom centre will quickly help to switch between multiple apps seamlessly. These navigation gestures are sort of murky & won't work properly with other android 10 custom ROMS.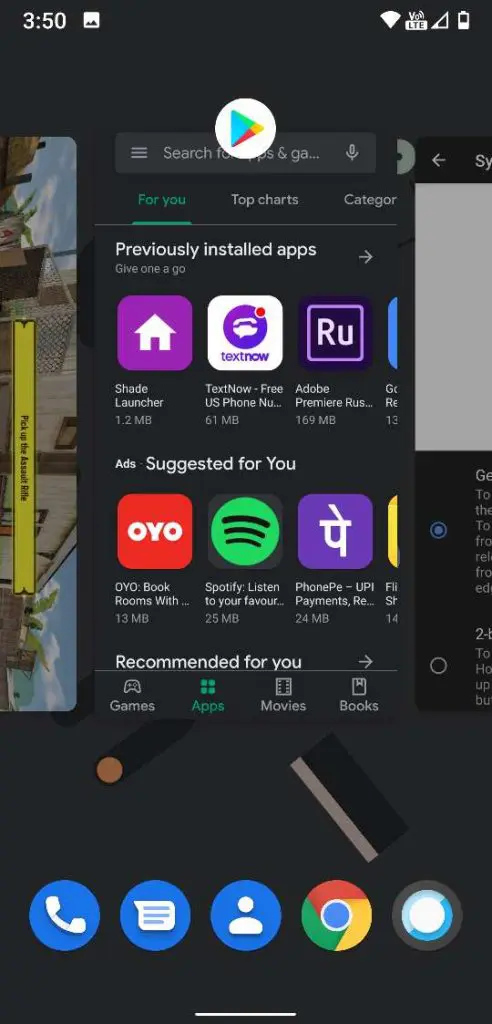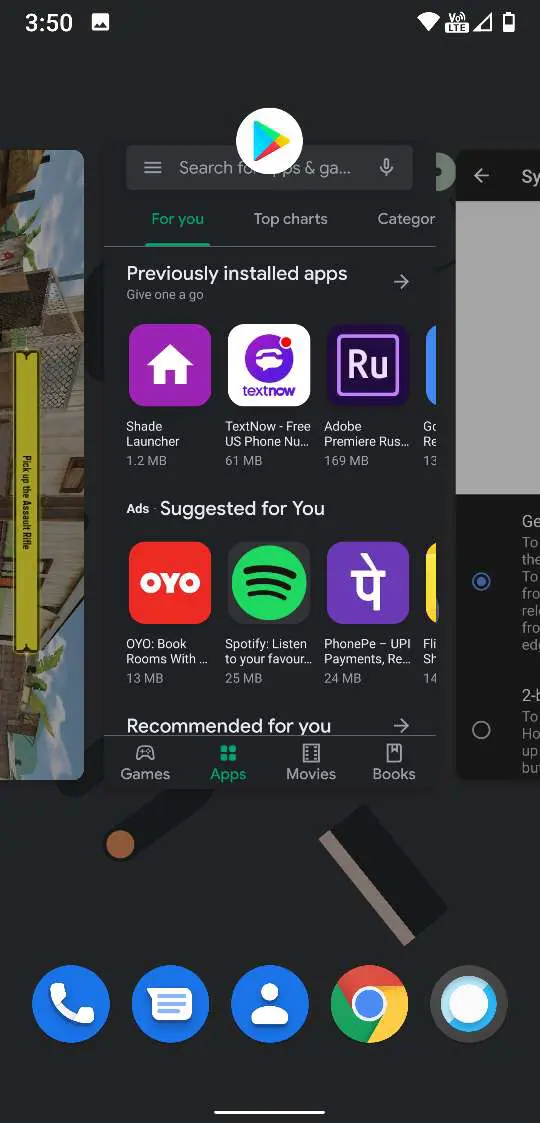 To, enable these gestures, head over to settings -> System -> Gestures -> System Navigation & change it to the gesture navigation.
CrDroid Setting:
This rom also comes with some core settings that helps to customise your android 10 system so easily. For example, you can add more options to restart menu which lets you quickly boot into system, recovery and boot loader, without the need of using volume keys.
As of now, only few options are available & we can expect to see more options, will be added in the future builds of this rom.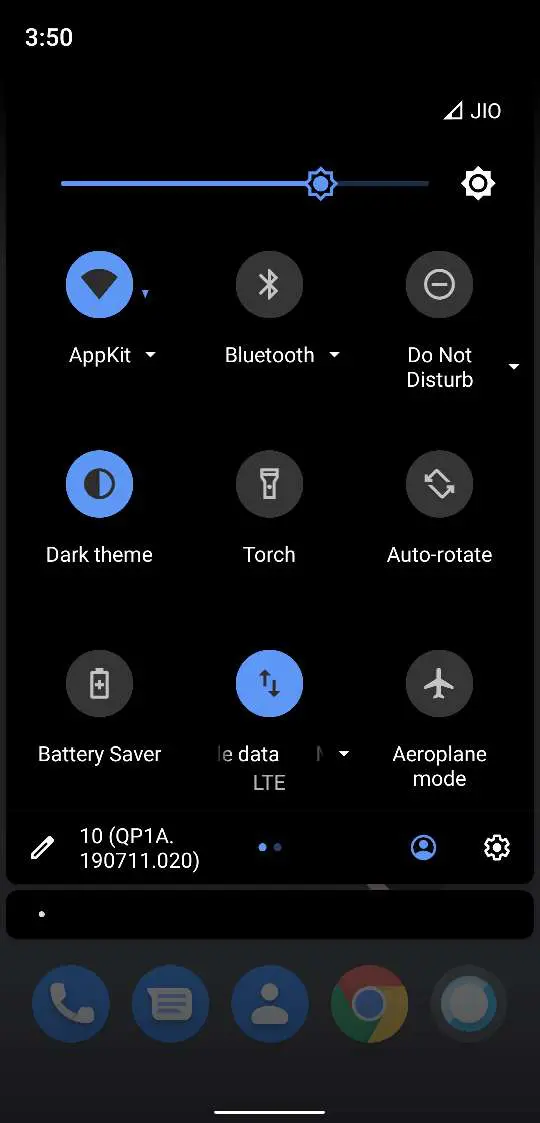 Now, when it comes to dark mode you can now toggle the dark theme from the quick tile menu without going in to settings. This works with some third-party applications like google news, google photos, Shazam & more.
Battery Life:
When it comes to battery Life, I would say I am getting about 4+ hours of Screen on time. Again, these statistics are sort of absurd at this moment and I will keep sharing my SOT usage on YouTube community page.
Bottom Line:
Overall, I would say this rom is meant for gamers & currently it is the best android 10 custom Rom which you can install on your supported devices. In future you can see more devices will be supported by this rom.
How to Install CrDroid Android 10
Now if you're interested in installing this, here is a step by step installation guide of CrDroid 6.0 based on android 10.
Let's Start.
You Can Install CrDroid from any stock or custom ROM. This process requires a clean installation method. So, backup your important data. I'm not responsible, if something goes wrong, proceed at your own risk.
Pre-Requisites:
Downloads:
Installation Guide:
Download all the files from the above links & place it in to your SD Card / Internal Storage
Then, On Your Current ROM, Sign Out from Google Accounts, Remove Lock Screen Passwords, Pins, Fingerprints. This helps us clean installation hassle free, else you may run in to any encryption issues.
Then Backup your Data to your Computer or Laptop.
Now Boot in to TWRP (Use Specific Key Combination)
Perform clean install, if you are coming from different Rom Wipe -> Advanced Wipe -> System, Data, Cache, Dalvik/Art.
Then Install ZIP – Select "CrDroid ROM" then choose Add More Zips – Select – "Gapps" and "Disable Force Encryption" Zip Files and flash it.
Once Its Done, Go Back TO Home – Wipe – Format DATA – type "YES" to remove encryption (WARNING: This will wipe the entire internal storage so I assume you have backed up your data)
Reboot & Enjoy
You may also like to read: