Android users can access many useful apps via the primary repository of apps, the Google Play Store. But there are some top-rated, undiscovered Android applications that aren't in the store, despite having an impressive set of features. Even if they're accessible, they don't appear in all the recommended categories.
Google Play Store is the only place to find the top Android apps; however, due to its lengthy approval process and strict policy, numerous great apps are left out and unavailable for Android users.
That's why I've searched and shortlisted some of the best secret apps for Android that are worthy of the spotlight.
Excited? So, Let's Get Started.
Best Secret Apps For Android
---
Overdub
If you love fun and entertainment, Overdub is an excellent choice. The app presents an amusing idea that allows you to create unique and short parody videos. The entire concept of the application revolves around the notion that you can develop personal greetings and pranks, which celebrities voice. Let's say you would like Elon Musk to wish your best friend on his birthday but let's be honest, the chances of that happening are pretty slim.
Instead, you can get Overdub and create a short, fun video of it. When you open the app, it directly asks you to type in your friend's name, who you would like to create personal greeting videos, and then your name and select your gender. Once you enter all the details, the application will take a while to process and create videos.
The app's user interface is relatively straightforward as it presents three tabs at the bottom: discover, create, and profile. The discover tab consists of short clips of famous personalities and celebrities with voiceovers. The best thing is that it allows you to replace search with your desired message. However, that's not it; although it comes with a default message, you can customize it per your demands.
Once you enter the message, tap on create and it will generate the video clip, which you can easily save or share. You can swipe down and discover plenty of other clips. The design tab will let you review a library of different clips you can choose to modify. It offers a third tab called profile which allows you to manage everything, thus making the app an effective clip manager.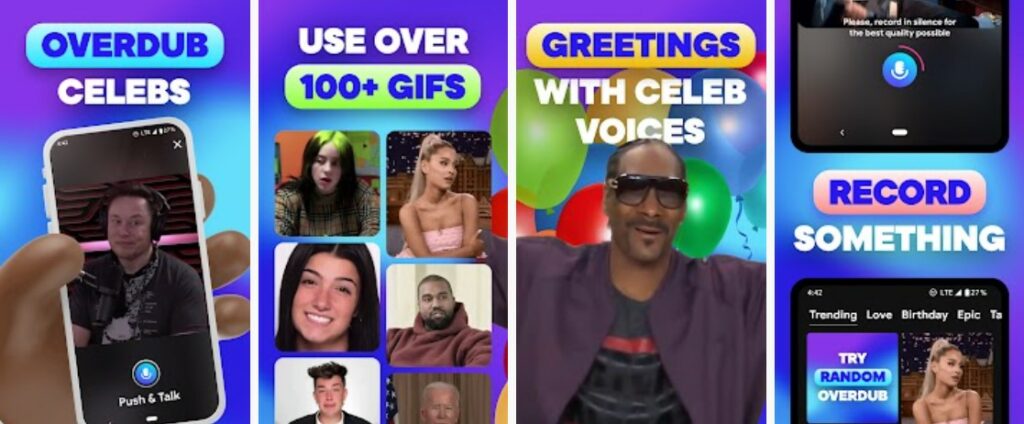 ---
Guerrilla Mail
Humans are social animals, and as they say that your network is your net worth. However, we often meet all sorts of people during our daily engagements. Emails are one of the most efficient modes of communication, and an awkward situation arises when you have to share your email address with someone you don't trust.
It is where Guerrilla Mail comes into play and provides you with relief with its disposable email address. You can share it with anyone you don't want to access your original email address, and the best part is that you can read any email, tap on a confirmation link or even reply using it.
Another significant benefit of the app is that it prevents your inbox from being flooded with spam messages as they are zapped and never really reach your email address keeping it clean and safe. Although the app will require an in-app purchase to send emails, it's a great choice to keep your primary email address private, secure and free from all unnecessary filling.
The application's user interface is simple and precise; it allows you to read messages and easily compose new ones when required. You can delete any messages or keep them at the top.
---
Skip Ads: Auto-skip video ads
Whether you are watching a video or simply enjoying surfing different websites, interruptions are a significant nuisance, and there isn't much worse than the unwanted noise of the ads that catch our attention. That is why we have this amazing app known as Skip Ads which is a simple tool that will let you automatically skip ads on the most popular video streaming platform Youtube.
When watching content online, the advertisers get a golden opportunity to feature one of their ads in the videos, which, although it annoys the viewer, benefits the creator. However, this app is an excellent choice to auto-skip them without worry. Particularly the YouTube Ads which pop up during a video are some of the most annoying ones, and this app is a great relief. You can also enjoy both a Day and Night mode while using it.
---
Ungoogled Chromium
Google Chrome is undoubtedly the star in the web browser industry. However, at times Google Chrome's services might seem unnecessary, like its privacy implications; you can get Ungoogled Chromium instead, which is a drop-in replacement and eliminates the dependency on Google web services to a great extent. Although retaining the default chromium experience, it offers specific features to enhance control, privacy, and transparency (nearly all require manual enabling and activation).
The significant difference between Google Chrome and Ungoogled Chromium is that the latter replaces many services that Google relies on to track usage. Even the safe browsing feature of Google is disabled to ensure no communication with the company. Although if you do want a similar type of protection, you can rely on various extensions like the uBlock Origin
Some significant features of Ungoogled Chromium include disabling Google Hosts's detector, URL tracker, Cloud message and Safe browsing features, etc. It also forces all the pop-ups to open in tabs, adds an Omnibox search provider, "No search," to allow efficient disabling of searching, clears all cookies on quitting by default, and does not set the zone identifier on the downloaded files.
Other notable aspects include replacing the web domains in the source code with the non-existent alternatives, which end in qjz9zk, stripping the binaries from the source code, a process called binary pruning, etc. Overall, it is an enhanced version of Google Chrome which you can get if you are concerned about your privacy or want a better user experience.
---
Bridge – Mirror Notifications
We live in a world today that has combined technology with convenience. However, managing all the devices when you have more than one can be painful and exhausting. The best way to deal with the situation is to download an application that can combine all the devices, thus providing you with the latest alerts and notifications from all the sources in one place.
The Bridge is the chosen one for it. As the name suggests it bridges Android devices and computers together in a single location, and what's even better is its extensive compatibility and easy-to-manage UI.
The app will let you manage all your devices and efficiently select the ones you can mirror notifications onto. It supports end-to-end encryption, battery-charged notifications, clipboard sharing between devices, and much more.
However, one concerning idea can be that if you did end up mirroring all the notifications, it might flood your device with notifications from all the apps. Still, Bridge comes with a solution as it will let you limit the apps you want to mirror from via app settings and privacy controls.
Overall, the app is an exceptional choice for effective management and lets you receive all the notifications on each android device, so regardless of what you have available, you will always know what's going on. It does not end here.
Fortunately, the app also lets you reply, delete, like, and do much more with it. It preserves a notification history so that you never miss out on anything while you are in a rush and offer light and dark theme support for notifications.
---
Vi Music
If you are a music enthusiast and are searching for a free YouTube music app alternative, then Vi Music is the answer that will let you stream music directly from YouTube Music without paying a single dime.
Since Vi Music is a client of YouTube Music, you will get access to nearly all the library of songs on YouTube. Furthermore, you won't even need an account to access the songs.
All you have to do is find the song through the search feature and play it. You can insert the song into a playlist and start a radio. The overall user interface is clean and ensures efficient functionality.
The features of Vi Music are immense, and it efficiently offers nearly all the features you might desire in a music app. It offers background playback and cache audio chunks to support offline playback. Thus, this app will have you covered if you don't have an internet connection.
The search feature is efficient and lets you search for songs through a playlist, albums, and artist videos. You can bookmark any of them to listen to later. It provides an option to import playlists while you can also display, fetch, and edit the song's lyrics or synchronized lyrics.
Some other useful features it offers are a skip silencer, sleep timer, android auto, audio normalization, persistent queue, and a lot more.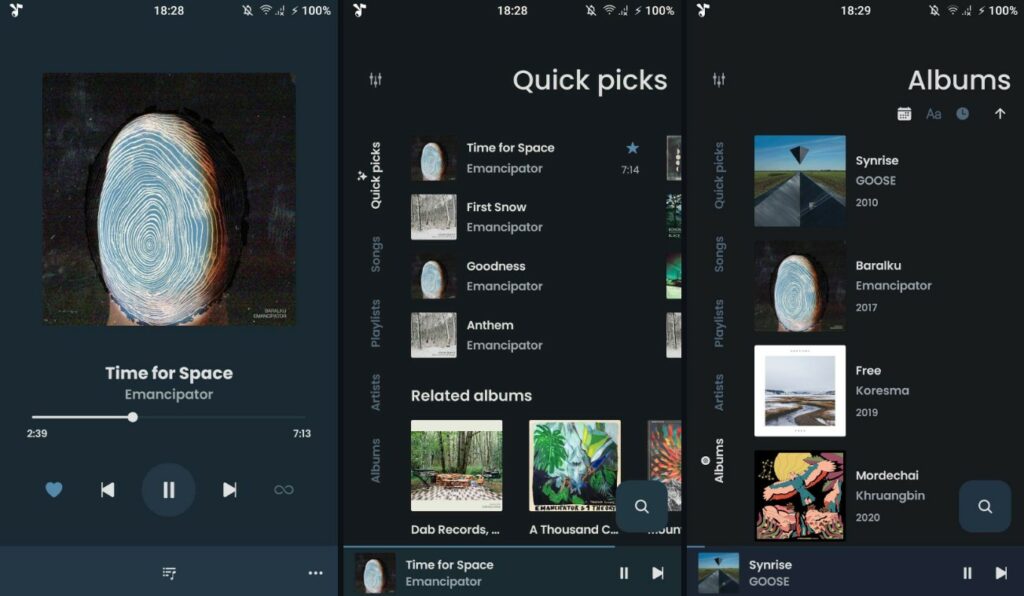 ---
Super Status Bar
For Android users, customization is at the heart of keeping things appealing. I recently stumbled upon a very useful app called Super Status Bar. The app is an excellent choice that allows you to add a whole new dimension to the boring status bar while adding new functionality.
It will help you make the status bar much more useful than it normally is, thus providing you with quick access features. You can customize everything, such as the color, styles, and other extra settings.
The super status bar app adds style to the status bar icons, which makes them more attractive. Furthermore, you can also rely on the quick brightness and volume control features. It will let you change the brightness and volume of the device by simply swiping at the top of the screen instead of opening the notification and then going through the regular process. The status bar gestures allow instant feature control, which makes the app an effortless choice.
You can get a preview of new notifications inside the status bar, so you are always aware of the latest updates. The Status bar gestures will let you easily open up the feature menu, quickly double-tap to sleep, access settings, and open apps. It is a great choice if you want to style up your status bar with different icons, layouts, and colors or even apply different icon styles like iOS.
The super status bar app will let you double-tap at the top and capture a screenshot. Some other features include a battery bar, additional status bar notifications, and compatibility with notches.
---
XSCamera: Record Privately
XSCamera is one of those apps that should be on your device's app list because you never know when you might need it. If you come across a strange sighting that needs to be captured in your device as proof but don't want to notify anyone, then the XS Camera is an ideal choice.
When you start the app, it runs in the background and uses the camera and microphone to start recording. The benefit is that you can continue using other apps; it will keep recording in the background. Another advantage of the app is that you can keep the recordings secured and schedule a recording which is an excellent feature.
The settings menu will let you set different presets, for instance. It will ask whether you want to record through your back or front camera and the video quality. It also offers plenty of privacy apps that you can change depending on your requirements.
It also comes with a custom app lock screen which will add another layer of protection and protect you against exploitation. The recording management is also quite efficient and easy with the app as it contains a separate directory to allow quick access. The background recorder is an excellent choice for different purposes, and considering the world we live in today, it is something that should always be on your device.
---
Hide Chat Name
Whether you are out in public or have someone around that likes peeping into your device, hide chat name is a game-changer app for privacy-centric users. Often when we are around our friends or family, some things should remain private, and this application will assist you.
The app is straightforward and offers a clean user interface that provides quick and efficient access to all the features. You can tap on the customize option from the home screen, which will direct you to the main feature of creating a fake chat name.
It is fun as you can create a fake chat name, and you can also add a particular profile picture to match the fake profile. It even provides an option to add status for the user, such as online, typing, or empty. After you are done with the settings, tap on start and provide the required permissions, and you are good to go.
You can hover back to WhatsApp and continue chatting with your friend, although this time, you will be accompanied by a floating circle (created by the app). Pressing the small floating circle button will change the entire chat appearance to the fake profile picture, name, and status. You can also hide the chat name and profile picture completely; thus, the other person sneaking into your device's screen will only see a blank picture without a name.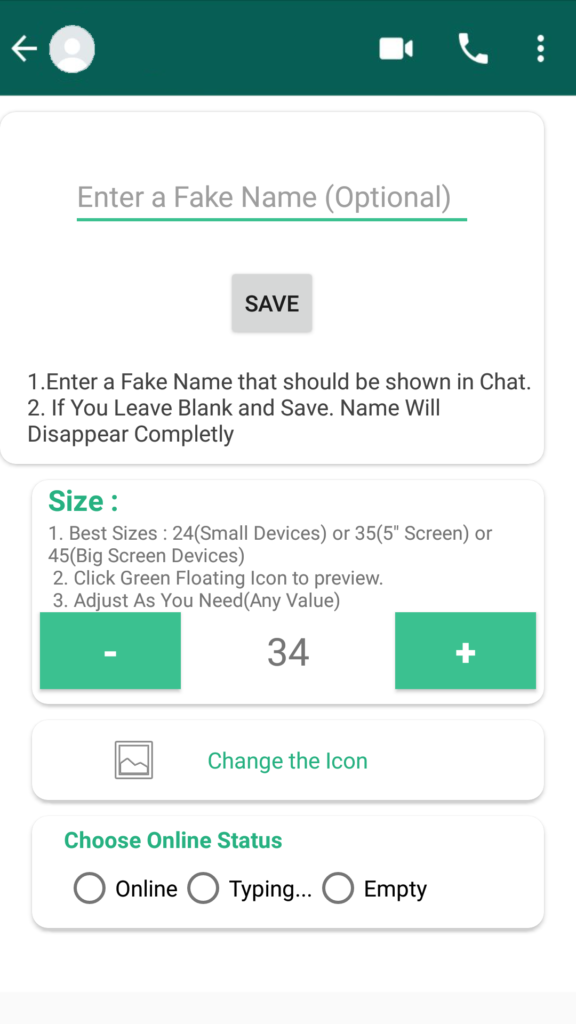 ---
TM WhatsApp
TM WhatsApp is what the normal WhatsApp app could never be. Tons of app updates have introduced lesser control of your WhatsApp account, so by using TM WhatsApp, you can get access to multiple hidden/unique features on WhatsApp.
The best part is that it increases the amount and size of media content that you can send via WhatsApp. You can send bigger size videos, and images and send 100 documents in one go. It is a perfect solution for business owners and team leaders who have to manage and share multiple documents on a daily basis.
But that's not the end of TM WhatsApp features. You get granular control over messages, chats, and status and can copy the status of your contacts in the app. If you find WhatsApp to be too distracting while you work, you can cut-off internet access for WhatsApp and work in peace.
The best feature is group stats which lets you see other participants' activities, filter messages, see the active status, and a lot more. Moreover, TM WhatsApp can run along with any other WhatsApp application or account on your device, which makes it the best possible WhatsApp mod.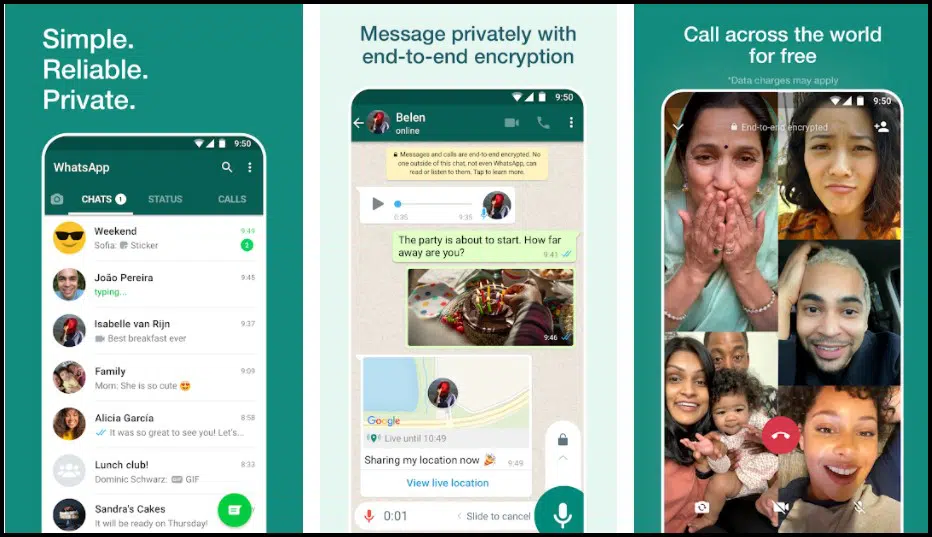 ---
SpotiFlyer
Next up we have SpotiFlyer, nowadays streaming music is the new standard but still, there are audiophiles who prefer offline music listening, and if you are one of them then this app is for you. SpotiFlyer basically lets you download Albums, Tracks, and Playlists from Spotify, YouTube music, etc with just one click.
So, let's say you have your favorite playlist on Spotify and don't want to download each track one by one, in that case, you just have to copy the link of the playlist and just past it on SpotiFlyer and there you go, you will have all your songs downloaded with just a click.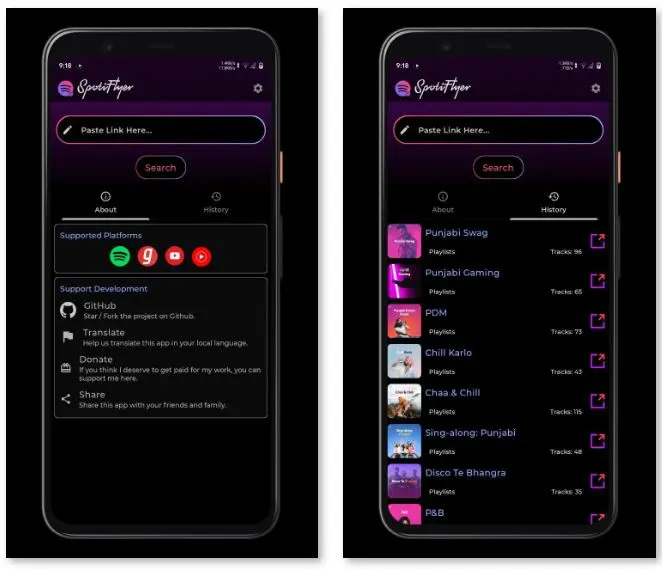 ---
Instander
Next up we have Instander which is basically a third-party version of Instagram with tons of amazing features that you won't find in the official Instagram app. Now there are 2 versions of this app one is the cloned version that you can sideload while keeping the official Instagram app, meaning you can run two instances of the same app.
The other version is the original version for which you have to uninstall the official app, now it's up to you as it works both ways. Now once you install the app, the first thing you will notice is that it looks exactly like the official app meaning you will be familiar with the UI and features.
But when you go to the Instander settings menu you will find some additional features such as you can easily enabling the download option for stories and video, you can also disable ads and analytics, there is also a quality improvement setting that will let you improve the quality of reals, photos, stories, etc.
You can also long-press on the images to zoom in on them which is quite handy, in my experience, this is by far the best third-party Instagram client app and you should definitely give this a try.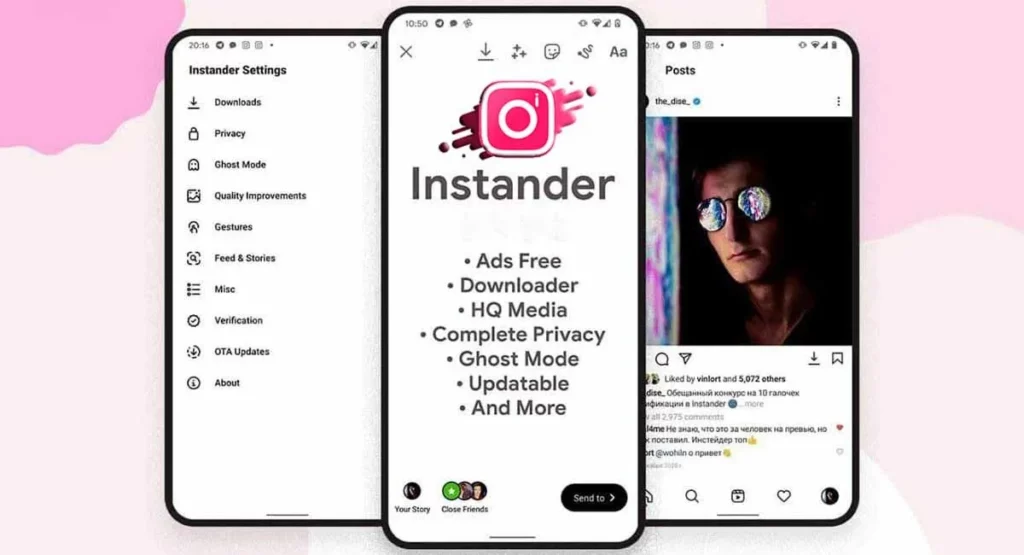 ---
Kiwi Browser
Google Chrome is one of the most popular browsers, and a significant contributor to its massive hype is its extensions. However, the problem is that they are only available on the web. You can get the Kiwi Browser app if you want access to those extensions on your Android device.
Kiwi Browser is a chromium-based browser, meaning you will get all the features you will find in Google Chrome. It is also a privacy-centric browser that is quick and efficient. You can also use it as your daily driver, and it won't disappoint you.
If you open the browser and search for Chrome extensions, you will access Chrome's web store, which will let you search and choose the extension of your choice. Tapping on "add to chrome" will let you add the particular extension to the Chrome browser for free.
Some other features of the Kiwi Browser include a tab switcher, night mode, and translation in up to 50+ languages. It also includes certain developer tools which let you inspect certain web pages. Finally, the browser incorporates many privacy features to ensure safe browsing.
---
Final Word
So, this was the end of our list of best secret apps, you can try your favorite apps from the list and can comment below to let us know about your experience. You can also suggest to us some other apps which we might have included in our list.
Thank you for reading! Try these out too: