AI apps are sailing toward unprecedented success in the vast ocean of technological wonders. They've become a big hit! It all began with creating AI images, but now they've expanded to other things like chatting and searching.
We have shortlisted some of the best AI apps for Android you can try now. They'll give you a taste of what AI can do and maybe even surprise you!
Excited? So Let's Get Started!
Best AI Apps For Android
---
Prequal
Prequel is an extraordinary photo filter app that takes your visual content to a new level of aesthetic appeal. With its vast collection of presets and filters, it offers a handpicked selection of trendy effects that will make your photos stand out from the crowd.
Prequel's impressive array of AI photo filters and effects is undoubtedly one of its most noteworthy attributes. From the beloved and popular Kidcore, VHS, and Indie Kid filters to the mesmerizing Dust, Teal, and Grain filters, this app provides a plethora of options to enhance your social media content.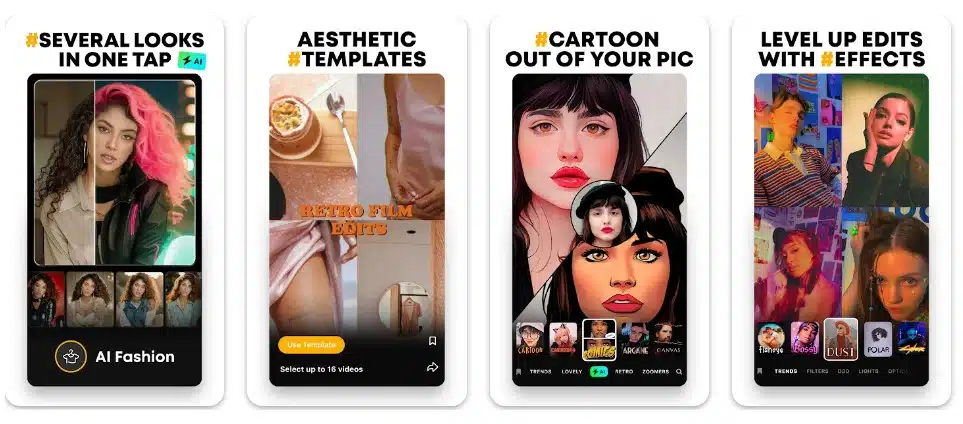 Unleash your creative potential and mesmerize your audience with stunning visuals guaranteed to make a lasting impact. Prequel goes beyond mere filters and effects, providing an extensive range of advanced adjustments and editing tools for each filter and effect.
This enables you to tailor your photos to achieve flawless perfection meticulously. With precise color correction and the ability to fine-tune each element, you have the power to make your edits truly unique and tailored to your style.
---
Microsoft SwiftKey AI Keyboard
Microsoft's renowned third-party keyboard app has now integrated its powerful Bing AI chatbot, providing users with instant access to AI-generated answers and advice right at their fingertips.
With SwiftKey's keyboard open, you'll notice a convenient blue Bing icon above the keyboard on the left. By tapping this icon, a submenu will appear, allowing you to choose how you want to interact with the Bing AI. You can opt for the AI to perform an internet search for your query or engage in a chat-like conversation, where the AI directly provides answers and suggestions.

The beauty of SwiftKey's Bing AI integration is its ability to adapt to your preferred tone. It goes beyond providing plain answers by offering alternative ways to phrase your typed statements. Whether you want your messages to sound friendlier, funnier, or more professional, the AI chatbot can assist you in refining your conversation style.
---
ImageChat: AI Computer Vision
Immerse yourself in the extraordinary world of computer vision with ImageChat AI, an exceptional app that breathes life into your images. Capture or load an image from your gallery; this app works magic. Powered by the extraordinary 'ImageChat-2' model, it provides a unique and immersive experience.
Once you upload an image, be amazed as the app engages you in a chatbot-like interface, describing every intricate detail. It's like conversing about the image, unlocking its secrets, and unraveling its story. But that's not all. ImageChat AI shines in describing even the most scenic images. It brings picturesque views to life with accurate and vivid descriptions.
Enjoy a seamless and ad-free experience with absolute freedom as you explore the limitless possibilities of ImageChat AI, all at no cost to you. However, signing up is required to unlock all the app's features, ensuring you get the most out of this captivating app.
---
Clipdrop
Are you tired of spending hours manually extracting objects from images? Look no further than ClipDrop, this groundbreaking Android app that has revolutionized the world of picture cleanup with its remarkable AI-powered capabilities.
One of the most impressive features of ClipDrop is its real-time object recognition and extraction using advanced AI algorithms. With this app, you can point your camera at an object, and the app will instantly recognize and extract it with astonishing accuracy.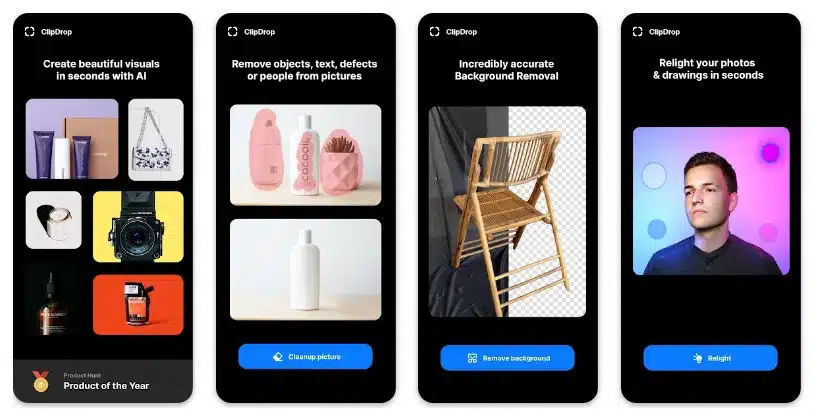 With a simple click, ClipDrop unveils one of its most powerful features: effortlessly removing backgrounds. This remarkable functionality saves you time and effort, eliminating the need for complex editing processes to achieve seamless background removal. This functionality is particularly useful for graphic designers and photographers who often need to separate objects from their backgrounds.
Even if you're new to photo editing or design, ClipDrop's intuitive user interface makes it incredibly easy to use. It truly democratizes the power of AI-based image extraction and manipulation, allowing anyone to achieve professional results effortlessly.
---
One4walls
Are you tired of the lackluster wallpaper adorning your device? Embrace the extraordinary with One4Wall, the revolutionary app that effortlessly transforms your screen into a mesmerizing visual masterpiece. With a vast collection of stunning, AI-generated, and hand-edited wallpapers, One4Wall has everything you need to make your homescreen and lock screen as beautiful as possible.
With over 240 free wallpapers and over 1000 premium wallpapers, this app offers diverse options. The free wallpapers collection is updated weekly, while the subscription-based collection is updated daily with a new wall. And for those who want the best, the Premium collections feature some of the most stunning and unique wallpapers available.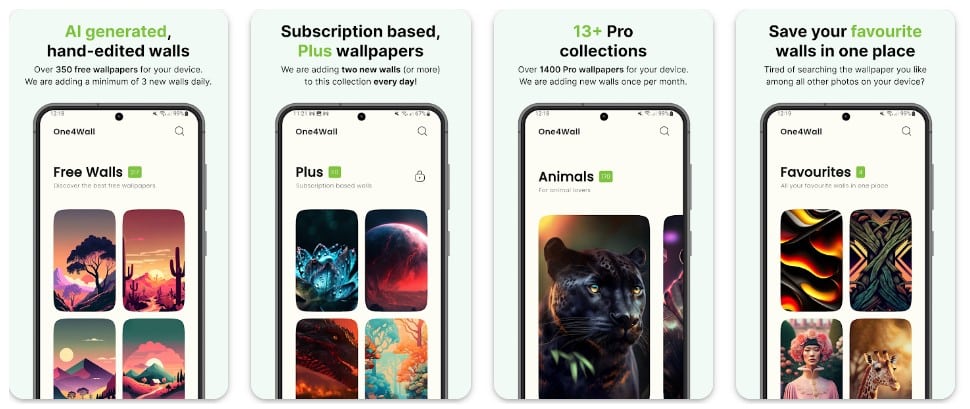 What sets this apart is its use of the latest AI technology to create mesmerizing, truly one-of-a-kind wallpapers. And unlike other wallpaper apps, every wallpaper in this app has been carefully hand-edited to ensure it's the perfect fit for your device.
The app features five tabs on the bottom to help you navigate the vast collection of wallpapers, easily see your favorite ones, and check your settings with just one click.
---
Socratic by Google
Feeling stuck with your schoolwork? Look no further than Socratic, a remarkable learning app infused with Google AI, which is here to help you navigate your high school and university studies. By simply posing a question, this app harnesses the power of AI to locate the best online resources for you, ensuring you grasp the concepts you're grappling with.
One of the most striking features of this app is its ability to provide helpful results in various formats. Whether you prefer using your voice or camera, Socratic effortlessly connects you to many online resources, allowing you to understand and conquer any problem.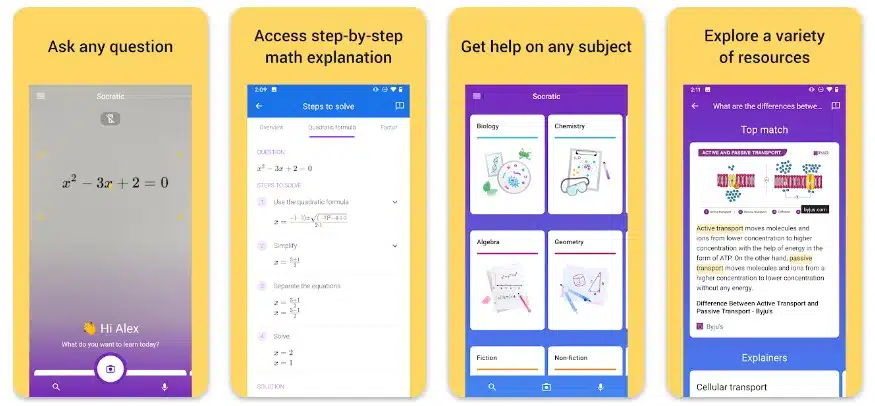 Imagine having everything you need to learn a subject conveniently accessible in one place. This offers just that! Within the app, you'll find various resources, including videos, step-by-step explanations, and more.
It encompasses a diverse array of high school subjects, from Algebra, Geometry, and Trigonometry to Biology, Chemistry, Physics, History, and Literature. Rest assured. The app continues to expand its offerings, with more subjects on the horizon. This ensures you have a versatile companion to support you across multiple disciplines.
---
CleverType
Bid farewell to awkward typos, grammar blunders, and ineffectively communicated messages as CleverType steps in, the unparalleled AI Keyboard driven by ChatGPT. This revolutionary typing solution will transform your typing experience forever. With CleverType, you can access a wide range of writing options powered by ChatGPT, enabling you to communicate flawlessly with smart and efficient assistance.
Seamlessly integrated with ChatGPT, CleverType offers unparalleled functionality. It empowers you to generate contextual suggestions effortlessly, receive intelligent responses, and obtain quick answers to your inquiries, all from within the app, eliminating the need for external searches or interruptions. This integration unlocks advanced features, guaranteeing polished and professional messages and documents.
CleverType empowers you with its Intelligent Grammar Correction capability, effortlessly rectifying grammar, spelling, or punctuation errors while you type. This ensures that your messages and documents are consistently flawless, saving you the hassle of manual proofreading. Enhance your communication with CleverType's Contextual Message Tone feature and seize complete control of your conversations. Customize your tone to match the occasion, whether a formal and professional setting or a more casual and conversational atmosphere.
Effortlessly express emotions and sentiments, enhancing the engagement and authenticity of your conversations. CleverType goes beyond language barriers with comprehensive multilingual support. Effortlessly facilitate smooth communication across borders by effectively communicating in over 30 languages and seamlessly switching between them.
---
Wrapping Up
The progress of Artificial Intelligence has taken us to remarkable heights, evident in the plethora of AI apps now available on the Google Play store. Here, we presented our hand-picked selection of the best AI Apps for Android, poised to elevate your device's user experience. If there are any noteworthy AI apps we might have missed, we eagerly await your valuable suggestions in the comments below.
Thank you for reading! Try these out too: