Android is an open platform that allows users to customize many aspects of their smartphone experience. One of the most important and visible aspects is the homescreen and app launcher, which displays the icons and widgets on the screen and lets users access their apps.
While Android devices come with a default launcher, users can switch to third-party launchers, which offer a range of customization options and additional features. Some of the most popular launchers include Nova, Pixel, Lawnchair, and Niagara.
However, there are also lesser-known launchers that are worth exploring. These unique Android launchers offer innovative features that might not be available on popular launchers. These features may include gesture-based navigation, automatic theming, and advanced customization options. By using these launchers, users can take their Android experience to the next level and have greater control over their device's appearance and functionality.
Best Unique Android Launchers
---
Jarvis Scifi: Epic Launcher
If you're a fan of sleek, cutting-edge designs and crave a futuristic experience for your Android device, look no further than Jarvis Scifi: Epic Launcher! This 3D home launcher effortlessly combines style and functionality, offering a unique interface with hi-tech wallpapers and impressive design.
Upon installing the launcher, I was immediately captivated by the futuristic design it introduced me to. The Jarvis screen effect is visually stunning, making me feel like a tech-savvy hacker. The attention to detail in creating a fictional, immersive atmosphere is commendable and adds a touch of magic to daily smartphone usage.
One of the most impressive aspects of this launcher lies in its vast customization possibilities. It offers an extensive selection of sleek Android themes and cutting-edge technology wallpapers, presenting me with many options.
Furthermore, the launcher provides an added layer of security by allowing users to hide and lock apps, ensuring that their data remains safeguarded and private. The 'Smart Folders' feature is a game-changer, streamlining the app organization process. Categorizing and sorting apps became a breeze, and locating the apps I needed quickly was incredibly convenient. The launcher's smooth icon animations and icon pack options enhance the polished feel.
Overall Jarvis Scifi Launcher is a must-have for users seeking a visually captivating and futuristic Android home launcher.
---
Modern Theme Launcher
Modern Theme Launcher promises a delightful and convenient Android experience with its impressive collection of 50+ free themes and a wealth of features. This lightweight launcher is fresh air designed with passion and expertise, offering users various customization options to suit their moods and preferences. Despite its lightweight nature, the launcher runs smoothly, ensuring a seamless user experience without compromising functionality.
The collection of colorful, modern, and smart themes demonstrates the developer's love and passion for design, allowing users to give their phones a fresh and virtual look every day. With 200+ vector wallpapers to choose from, users can further personalize their devices to their heart's content, and they also have the option to apply wallpapers from their gallery.
Furthermore, this launcher includes widgets for the clock, weather information, memory analyzer, music player, and battery, adding utility and convenience to the home screen.
Security-conscious users will appreciate the integrated App Lock feature, and organizing apps becomes a breeze with the folder feature, allowing users to convert icons into folders.
---
Launcher for Mac OS Style
Launcher for Mac OS Style brings the elegance and functionality of a desktop computer to your Android device, providing a unique and stylish experience inspired by the iconic macOS. With its user-friendly design and various useful features, this launcher allows you to customize your Android with a look and feel reminiscent of a Mac OS.
One of the standout features of this launcher is its built-in File Manager, which offers seamless access to a File Explorer. Users can effortlessly create folders, cut, copy, paste, move, share, and manage their files as they would on a desktop computer. 
The Start Menu brings convenience to the forefront, presenting Android applications in stylish tiles for easy navigation. With a straightforward press-and-hold gesture, users can effortlessly create shortcuts for their frequently used applications on the desktop.
The Taskbar, reminiscent of macOS, provides access to the most important apps and functions. Additionally, the Action Center serves as a notifier center, keeping users informed about application and system notices, similar to the experience on Windows 11. This launcher elevates the Android experience with desktop widgets, clock widgets, weather widgets, and RAM info widgets. 
Overall, this launcher brings Android devices a refreshing and sophisticated desktop experience. With its smooth and intuitive design, the launcher is an excellent choice for users who want to transform their Android interface into a Mac OS-inspired environment.
---
Ace Smart Launcher
Ace Launcher truly lives up to its name as a top-rated launcher that empowers Android users with complete control over their home screen. This feature-packed app offers a delightful experience with its extensive customization options, intuitive gestures, and robust privacy features, making it the go-to choice for personalizing your Android device.
It offers a vast collection of themes and fonts, allowing users to transform their phone's appearance to reflect their unique style and taste. Whether you prefer a minimalistic look or a bold and vibrant interface, Ace Launcher has something to cater to every preference.
The integration of gestures is a game-changer, enabling users to launch apps quickly and efficiently. Accessing your favorite apps becomes a breeze with just a swipe or tap, enhancing productivity and convenience.
Ace Launcher's app drawer takes organization to the next level with its section index and smart search functionality. Locating apps is a seamless experience, and categorizing them into folders adds an extra layer of order and ease of access.
In conclusion, Ace Launcher is the ultimate Android home screen customization tool. With its decadent array of themes, fonts, gestures, and privacy features, it caters to both aesthetics and functionality.
---
Kvaesitso
Kvaesitso is a hidden gem among Android launchers, with its sleek design, unique features, and unparalleled customization options. As an open-source launcher, it brings a refreshing approach to organizing your Android device and offers a delightful user experience that sets it apart from other popular launchers.
The standout feature of Kvaesitso is its versatile search bar. Unlike traditional launchers, this search bar goes beyond finding applications and enables users to search the internet using Google, Play Store, or YouTube. The added convenience of using it as a calculator further enhances its utility, providing users with a one-stop solution for various tasks.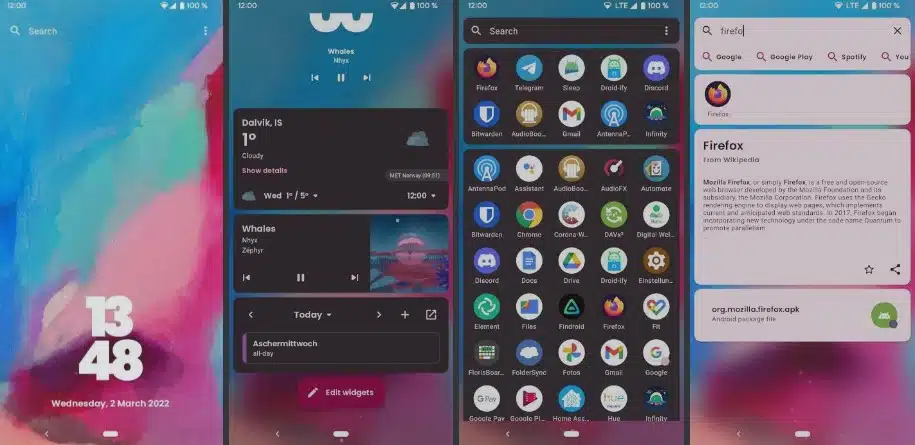 A quick swipe up from the home page reveals a selection of useful widgets that display the weather, control music, and showcase upcoming calendar events, among other functionalities. This smart and accessible widget integration makes it a breeze to stay informed and multitask efficiently.
Kvaesitso truly shines with its impressive level of customization. Users can effortlessly modify the launcher's appearance with icon packs, icon shapes, and style, allowing them to curate a unique and personalized look for their device. The option to hide the status bar also provides a clean and minimalist feel to the home screen.
Overall, Kvaesitso is a remarkable Android launcher that excels in functionality and aesthetics. Its user-friendly interface, abundant customization options, and the convenience of a multifunctional search bar offer a distinct and enjoyable user experience.
---
Win 11 Launcher
Win 11 Launcher is a fascinating app that seamlessly merges the aesthetics of Windows OS with the functionality of Android. With its fast, clean, and energy-efficient interface, this launcher allows users to experience the look and feel of Windows 11 and Windows 10 on their Android devices. If you're tired of the typical Android User Interface and want a refreshing change, this launcher might be just what you need.
One of the standout features of this Launcher is its versatile File Manager. Users can efficiently manage their files with options to Cut, Copy, Paste, Rename, and even Zip/UnZip files. The ability to create folders and shortcuts further enhances organization and accessibility.
Customization is key, and this launcher delivers with its Themes feature. Users can enjoy a customizable experience by choosing from various theme colors, bringing a unique and personalized look to their Android devices. The integration of Android apps in stylish tiles provides a Windows Phone-like experience, making navigation between apps a visually appealing and enjoyable experience. This launcher is a commendable app that delivers a seamless blend of Windows and Android experience.
---
Pie Launcher
Pie Launcher stands out as the epitome of simplicity and intuition, offering a refreshing approach to decluttering your Android home screen. With its unique pie menu, this launcher streamlines app access and minimizes distractions, making it an excellent choice for users seeking efficiency and ease of use.
The most striking feature of Pie Launcher is its innovative pie menu. With a single press and hold, a ring appears around your finger, displaying a selection of your most frequently used apps. Swiping in the direction of the desired app opens it, adding an element of fun and convenience to app navigation. The simplicity of this feature makes it incredibly user-friendly, allowing users to access their favorite apps effortlessly.
For quick access to less frequently used apps, tap on the home screen to bring up the complete app list. The straightforward design makes locating and launching any app easy, enhancing the overall user experience.
While Pie Launcher's simplicity and efficiency are its defining strengths, some users may need to catch up on other launchers' advanced features and customization options. However, this launcher is an ideal choice for those seeking a clean and distraction-free experience. Pie Launcher excels as a simplistic and intuitive launcher designed to streamline app access and minimize distractions.
---
Neo Launcher
If you are tired of looking at the same home screen and want to spice things up, Neo Launcher provides a solution in the form of a unique Sci-fi-themed Android launcher that has become the center of attention for Android users. This unique Android Launcher comes with a futuristic interface that sets it apart from other launchers.
Among several others, a striking feature of Neo Launcher is its customization options. The launcher allows the users to efficiently personalize the home screen by selecting from a wide range of icons, widgets, and themes. It lets users customize the app drawer by coupling their applications, sorting them in folders, or adding tabs. The high level of customization lets the users develop a unique interface that reflects their particular preferences and style.
Another exceptional feature of this launcher is its performance. It is designed to be fast and lightweight, ensuring it doesn't affect the device's speed. Furthermore, it has an intuitive and straightforward user interface, making it easier for users to navigate various features and assemble everything effectively.
Neo Launcher will let you switch between the hi-tech futuristic world look and the classic appearance. You can enjoy the excellent sci-fi fantasy home screen or the overall appearance of the home screen.
---
Flow Launcher
If you want to stay at the top of your game in the demanding world we live in today, you will have to act decisively and ensure maximum productivity. Thus, having a productive centric launcher is crucial. It is equipped with a minimalist design and an intuitive user interface, making it a popular choice among Android users and an excellent choice for beginners.
Flow launcher has several valuable features, but its quick search functionality is one standout choice. The launcher offers a search bar at the top screen, allowing the users to search for contacts, settings, apps, and more in real-time.
Another exceptional feature is its customization options. This unique Android Launcher let the users customize their home screens with several wallpapers and themes. It allows the users to adjust the layout and icon size or create a custom app group for quicker access. Furthermore, it goes a step beyond and offers several gestures which allow the user to instantly execute actions such as opening the app drawer, launching specific applications, and accessing their notifications.
Some other features of the app include a powerful clipboard manager, an app manager which allows users to uninstall efficiently or backup apps, a battery monitor, and a file manager to manage all the folders. Although, there is one thing that might be a turn-off for some users: the app requires purchasing a premium version to unlock all the features. However, the free variant is still sufficient for many users.
---
Computer Launcher
If you want a desktop-like feel on your smartphones that can enhance the look of your smartphone. This unique Android Launcher would be a good option to try if you are looking for something unique and appealing. The launcher gives you a Windows 11 theme impression at first look.
You get some stylish-looking tiles on your home screen that can easily be customized. You can press and hold the icons to change their location and create easily accessible shortcuts. The app has an Android-style menu where you get access to useful widgets like Clock, Weather widget, and RAM info widget.
The launcher has a built-in File browser that will help you to manage the files stored on your internal storage. The launcher also comes with built-in Zip support that allows you to compress your files in various formats. Most of the features of the launcher are available in the free version of the app, while the premium version will give you access to other additional perks.
---
Edge Card Launcher
Accessing all the features can boost your productivity, particularly if you often encounter several daily tasks. Hence, your search for the most productive launcher might end with Edge Card Launcher. This unique Android Launcher will let you conveniently access your favorite contacts, apps, settings, and actions from anywhere. It is an overlay launcher with an attractive material design coupled with plenty of delightful animations that can be easily accessed with a single swipe.
It offers a ton of functionality which includes adjusting the volume for music or active phone calls, adding contact and app shortcuts, controlling all features of the media player, turning the flashlight on or off, accessing the notifications shade, switching media outputs to Bluetooth or speakers and effortlessly hovering over to the voice assistant.
The launcher can be easily accessed from any screen. All you have to do is swipe on the edge of the screen or double-tap the screen edge to open it.
Although you must grant the edge card launcher the core permissions to draw the application overlays, you can also rely on several optional permissions if you want full functionality. The best part of it all is that you can customize and curate the app to fill your requirements and demands.
---
Wide Launcher
The wide launcher is another great home-screen replacement launcher. It intends to differ from other choices by providing a wider home screen, 3 times wider, which removes the typical home screen grid and size limitation. You can also have plenty of customization options, including the ability to select décor icons, icon styles, themes, and much more.
The launcher comes with mini-apps known as Applets which provide several functionalities that you can add to the home screen. The wide launcher is free to download and use, so if you want something unique, you should give it a shot.
---
Lens Launcher
If the regular icon alignments and the home screen don't attract you anymore, you can try Lens Launcher. The app is designed to provide a different way of accessing and navigating through the apps on Android devices. Instead of relying on the traditional icon grid layout, Lens Launcher uses a circular lens that displays all the apps installed on the smartphone.
A standout and heavily demanded feature of Lens Launcher is its customization options. Users can select from a wide range of lens sizes and shapes to craft a personalized look ideal for their home screen. You can also use the launcher to customize the size of app icons, making it much more convenient to identify and access your most desired applications efficiently.
Another demanded feature of Lens Launcher is its organizational capabilities. The launcher categorizes the apps automatically based on different types like entertainment, social media, or productivity. It makes it easier for users to access and find their needed apps. Users can also make custom categories and organize everything manually for an even better personalized organization.
Lens launcher also comes equipped with unique search features, making it easier for users to find a particular app quickly. The search bar placed at the top can be accessed by swiping up from the bottom. Users can type the app's name and use the keywords to search for any apps regarding specific categories.
---
Lime Launcher
Although Android launchers are an excellent customization tool, not all of us have the smartphone specifications to deal with the load certain launcher apps possess. Therefore, choices like the Lime Launcher, a lightweight and unique Android Launcher, come into play. It is designed to provide users with an intuitive and straightforward interface that lets them quickly access settings and apps. The minimalist design and user-friendly features make it a great choice among users.
Lime Launcher comes with excellent customization options. The app can customize the home screen with different wallpapers, icon packs, and themes. It also lets users adjust the size and layout of the applications or create custom app groups. You can also use it to execute operations like opening app drawers, accessing notifications, or launching particular apps.
An accurate and efficient search functionality feature provides the users with a search bar at the top, which lets users search for applications, contacts, settings, and more. As users enter their query, Lime Launcher will display real-time results, making it quick, easy, and convenient to find what they are searching for.
Although you might not find the most advanced features that some other Android launchers might offer, the simplicity and ease of usage and the minimalist approach can be an excellent choice for users who want a simple and straightforward yet appealing home screen.
Wrapping Up
These were our best picks for the best unique Android Launchers that will transform your Android device's appearance without slowing it down. Neo and Flow are two distinct yet unique Android launchers on our list that you must try.
Thank you for reading! Try these out too: