MediaTek Dimensity series is stirring a lot of waves due to its sheer firepower that may rule the smartphone segment for the coming months. In a recent leak, by Digital Chat Station, we got to see it beat the Snapdragon 768G in synthetic benchmarks.
MediaTek Dimensity 900 Antutu Benchmark leaked Results
Firstly, the name is rumored to be MediaTek Dimensity 900. The benchmark reveals a pre-production name of the MT6877 chipset. The newest processor is a successor of the older MediaTek Dimensity 820, which shares almost a similar Antutu benchmark score of 440,000.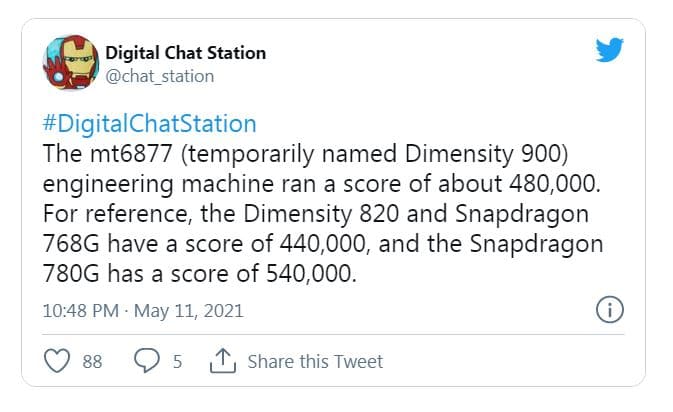 As per Digital Chat Station, the MediaTek Dimensity 900 (proposed name) ran a score of 480000, which is almost 9 percent faster than its predecessor and the Snapdragon 768G. This can be a game-changer for the MediaTek Dimensity series in the budget segment of smartphones that can provide more horsepower to run the games and applications. 
The Snapdragon 768G only scores a measly 440000, comparable to the MediaTek Dimensity 820, and is nowhere near the MediaTek Dimensity 900 processor. MediaTek has already grasped the maximum market share in terms of processors in the global market but still needs to work on making the same impact in high-end flagship smartphones.
Thank you for reading! Try these out too: