OnePlus 8 Design | In the last decade or so the market of smartphones has evolved in a way which nobody would have ever imagined. The evolution was so rapid and subtle that some of the brands which failed to innovate has lagged behind in the market.
OnePlus follows a strict schedule and commits itself to deliver two quality device each year. OnePlus has already officially announced OnePlus 7T in India this September, while two of its devices that is OnePlus 7 and 7pro is available in the market for the last 5 months.
It has become a norm that before the launch of their device there are various leaks and rumours which gives a rough idea about the feature of the product. So, here we are going to discuss about the expected features and specification of the upcoming OnePlus 8.
Excited? So, let's get started.
Design:
Let's start with the design. OnLeaks which is one of the reliable sources of leaks in the smartphone market has a reputation of leaking the phones ahead of their release for instance he shared the iPhone 11 pro design and features 8 months before the release of device, which came out to be accurate.
So, we can rely on his leaks which he has shared in collaboration with CashKaro website. They had shown the expected features or the expected changes which might take place in OnePlus 8.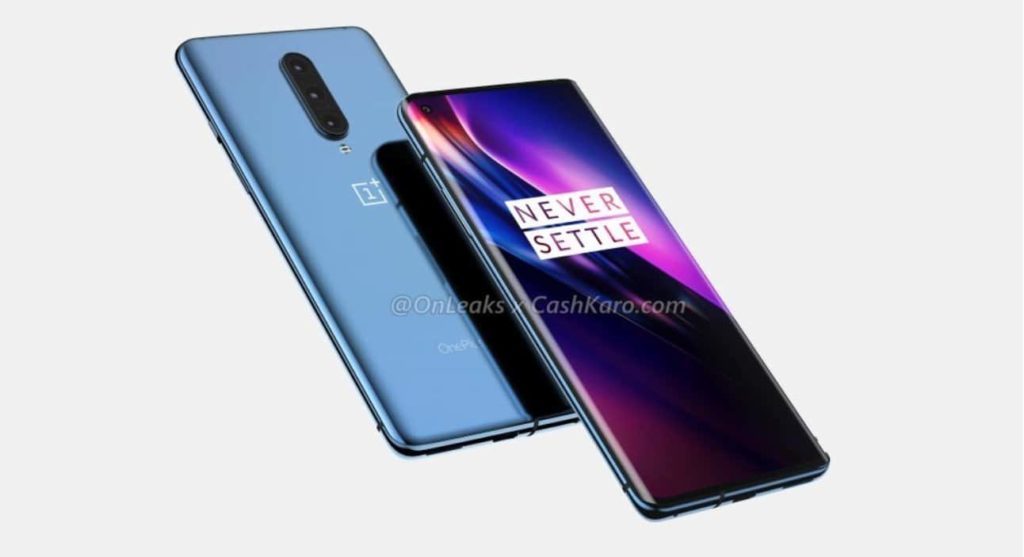 According to the leak the OnePlus 8 will skip the in famous waterdrop notch in favour of a punch hole display cutout at the upper left corner in which the front camera will be situated. It also showcases a curved display which we haven't seen in the core oneplus smartphones.
The back looks pretty similar to the existing Oneplus 7 Pro which is quite expected as oneplus doesn't make major design changes within 2 generation of their smartphones.
Specifications:
Moving towards the specifications, the recent leaks have suggested that the size of OnePlus 8 display will be around 6.5 inches which is quite similar to OnePlus 7T which has a display of 6.55 inches.
The back part of the device looks quite identical to OnePlus 7 pro with vertical stacked triple camera. So, we can see a slight fusion in OnePlus 8 of its predecessors in design.
It is quite obvious that OnePlus 8 will have a 90Hz display tech which OnePlus 7 and OnePlus 7 pro comprised of and the resolution of Oneplus 8 may be similar to earlier devices, that is we can expect a 1080p Fluid AMOLED panel, but still I would hope for a QHD panel as in 2020 this will seem a bit outdated.
Wireless charging has been one of the things from which the users of OnePlus has been deprived of, and in order to satisfy the needs of its customers, brand might introduce this exciting feature.
Though we can't be sure about this change, given that OnePlus has always launched expensive flagship devices but hasn't tried their hands at wireless charging.
In its earlier devices like OnePlus 7 pro the brand has fused the device with 3800 mAh battery which was very impressive and had a battery backup of 18 hours.
We can expect a battery of around 4000 mAh in OnePlus 8 which will be quite good upgradation for the users. OnePlus 8 battery is expected to fully charge the device 20% faster as its earlier devices used to do.
Camera is one of the priorities of modern tech freaks and OnePlus 8 will be no exception. The OnePlus 7t comes with a brilliant triple camera setup, so we can at least expect the OnePlus 8 to come with a triple rear camera setup with improved Portrait and landscapes modes.
With so much innovation in the display technology from its rivals in the market like Oppo and vivo, OnePlus has also decided to rope in with some innovation in their display technology. Its arch rival Oppo have already introduced this scintillating feature of waterfall screen in which we had seen the new touchscreen in action.
OnePlus 8 might also come up with the same feature which will provide an exotic look to its edges with the waterfall effect. Users can expect this addition of fancy new display in OnePlus 8.
OnePlus 7 pro was not up to the expectation of the users, although it has certification and recognition of HDR10+, but it failed on various parameters as the display wasn't that right when you tried to see some high-quality videos.
Also, the video was very dark when it was filmed in broad daylight. So, OnePlus 8 will try to overcome this problem and have a HDR10. We will have to wait till the official launch, about how this change will work in the latest device of Oneplus.
OnePlus 8 Price:
As far as price of OnePlus 8 is concerned we can expect that the device might come up with identical price range as of its earlier devices that is OnePlus 7 and OnePlus 7 pro.
Though, is not explicit yet what will be the price range of the device. We can derive the price of OnePlus 8 by comparing the price range of its previous two devices.
OnePlus 7 costs around 499 to 549 euros which varies on the model you buy, while one plus 7 Pro ranged between 649 to 749 Euros. Keeping in mind these two-price range we can expect that OnePlus 8 might come with the price range of 500 to 800 Euros, assuming that the brand is launching multiple variants of this model.
So, are you excited for the OnePlus 8? What other features you want to see in this upcoming device? Do let us know your Wishlist in the comments down below.
You may also like to read:
Video: