Linux operating systems are an emerging trend that has seen a massive boost recently. The open-sourced nature and great customization enhance your user experience. Many great Linux distro releases have presented you with an operating system curated for your requirements. Since there are always two sides to a coin, the best VPN for Linux can allow you to safeguard your private files.
Certain Linux-based OS is suitable for programmers and system administrators, while others are work gamers, graphic designers, educational purposes, etc. However, there has been a huge upsurge in trackers and other potential online threats. The best VPN for Linux will allow you to establish a connection that prevents web browsers and other sources from accessing it, thus keeping your information secure and anonymous. A few choices also provide military-grade 256-encryption data protection.
Choosing the best VPN for Linux isn't simple because the companies don't prioritize Linux users, and it can put a thorn in your search for the ideal choice. We decided to take things into our hands to provide you with a detailed list that provides plenty of options. It will simplify finding and choosing the best VPN for Linux; thus, you can choose rationally.
Excited? So, Let's get started
Best VPN for Linux
NordVPN
NordVPN is one of the best VPNs for Linux as it's the desired choice of countless users around the globe. Its high-performing software provides its users with many features that make it a top priority list. It is a command-line app that doesn't have a Graphical user interface (GUI), tho it's still quite easier to set up compared to others. You can download RPM packages and Debian from the official websites. The two versions will cover nearly all the popular distros, including Ubuntu, Fedora, Linux Mint, etc.
The VPN contains many essential features, including an anti-malware filter, an automatic kill switch, and an ad blocker. Nord also provides plenty of tutorials to assist you in the setup instructions for the PPTP, OpenVPN, and the IKEv2 protocols.
NordVPN allows around six connections simultaneously, zero-logs policy, and dedicated servers for streaming purposes, P2P to provide added security. You can establish a connection using it and make it work with any websites you like, including Netflix, BBC iPlayer, etc. It offers more than 5200 ultra-fast servers in above 60 countries. Furthermore, each connection is protected with military-grade 256-bit encryption and the IKEv2 protocol features to prevent decryptions in the past sessions, even if they find the encryption key.
Standout Features:
Military-grade security features
Can work with popular streaming services
Faster and multi-purpose VPN
Download This Best VPN for Linux
---
SurfShark
If you are looking for a budget VPN that provides reliable and efficient functionality, SurfShark is an excellent choice. It comes with a command-line app for Linux that will work on Debian and Ubuntu. You can conveniently select any server location from the list and instantly connect to it. It is a great choice for people who want to stream shows while travelling as it can access different platforms securely like Hulu, Netflix, Amazon Prime Video, and a lot more. It also allows torrenting, and the server also does not keep logs.
A significant benefit of SurfShark is that it provides an unlimited number of connections that can be established simultaneously for each account. Thus, although the services are paid, it is a great value for money. It offers more than 3200 servers in up to 65 different countries. However, the only protocols you can use are UDP modes and OpenVPN. It provides excellent streaming speed, and it can unblock a lot of the services without any concern, thus providing an exceptional experience.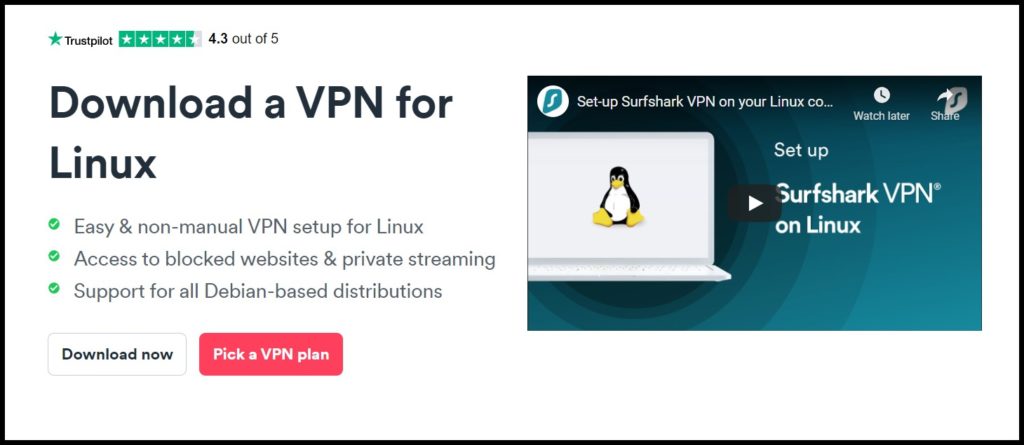 Standout Features:
Can connect with unlimited devices
Excellent security features
24/7 live chat support
Download This Best VPN for Linux
---
ExpressVPN
ExpressVPN is another popular name on our best VPN for Linux list. It operates using a command-line interface instead of the desktop graphical user interface that you can find in Windows and MAC; however, it's still quite convenient to download and manage the configuration files for every server. The list is consistently updated, and the users can efficiently switch between the UDP and TCP over the OpenVPN protocol.
ExpressVPN is a paid service, and its price is fairly higher than some of its competitors, but its functionality and versatility make it a great choice for various platforms. The VPN can efficiently run in some of the most popular Linux distros, including Debian, Ubuntu, CentOS, Fedora, and Kali. The software doesn't need root permission, which is an appreciated feature.
Inside the client, you can list all the servers available to you and use any terminal to connect. The commands are named intuitively so that you don't need to read any additional command sheets or find out what you have to type inside them. Even if you don't like terminals, you can control them through firefox and chrome extensions. ExpressVpn will allow you to choose from the light way and the OpenVPN UDP and TCP modes. The latter is a quicker tunneling protocol to enjoy the top speed.
Standout Features:
Stronger security suite
Quick customer support
Strict no-log policy
Download This Best VPN for Linux
---
Mullvad
Many people like to describe Mullvad as the most private service you can find on the platform, thus making it one of the best VPNs for Linux. It is a great match with Linux as both ensure casual users aren't targeted and their strict privacy policies. A notable feature of the VPN is its unique registration system. It will assign you a random serial number, and you won't even have to enter your email address. Thus, nothing is pointing back at your identity.
Mullvad offers an open-sourced Ubuntu and Debian client with a kill switch for the internet, IPv6 leak protection, and DNS with IPv6 routing. It doesn't keep logs, not even connection ones, and it's quite strict regarding privacy. The VPN can establish three connections simultaneously. It also provides port forwarding for evading firewalls. Although the server selection is limited, it's still quite reasonable.
The wireguard tunneling protocol is a major benefit of Mullvad, which provides the speed you expect. It has a GUI, which is lacking in most competing VPN apps. The split tunneling feature will allow you to exclude particular programs from the VPN connection. Although such a feature is common for other operating systems, Linux VPNs don't usually provide it.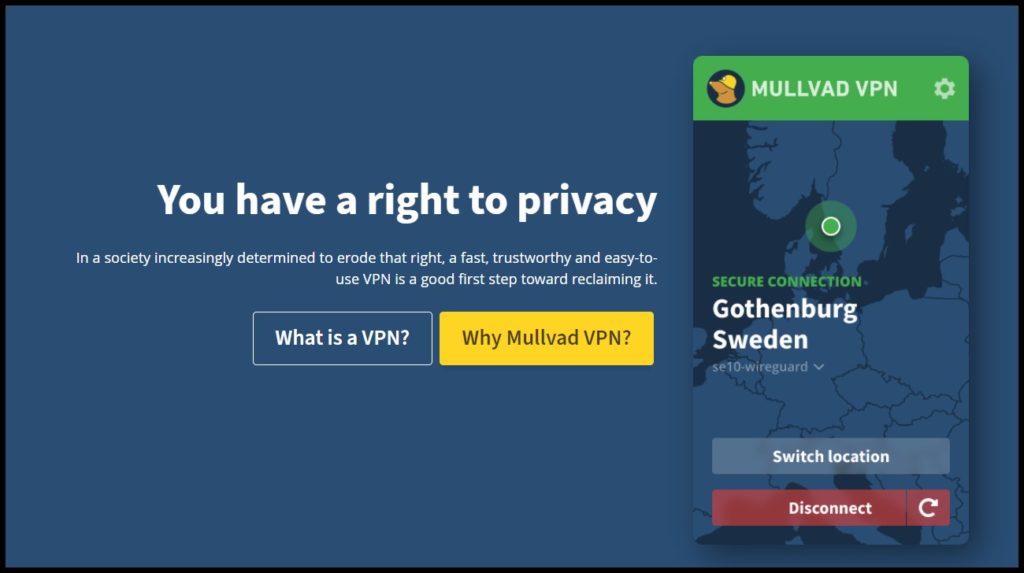 Standout Features:
Ensure complete anonymity
SOCKS5 proxy
IPv6 Support
Download This Best VPN for Linux
---
Private Internet Access
Private Internet access is another one of the titans in the category of best VPN for Linx. It offers a massive fleet with more than 30000 servers across 77 different locations. You can also choose to connect to a different server each time. Its combination with Linux is surprisingly good in terms of functionality. To run it efficiently, you have to download it to the OS and run an installation script. Once you complete the step, the app will be up and running like in macOS and Windows.
Some of the popular Linux distros that it is compatible with include Mint 19+, Ubuntu 18.04+, Debian, and Arch versions. Thus there is plenty of versatility in options you can opt for in terms of distros. Although it covers all the notable distros, you will most likely find a version package that will work efficiently with your machine.
The app offers a graphical interface with plenty of bonus features, including split tunneling. However, to ensure you can completely benefit from you, you will require familiarity with the Linux filesystem basics. In terms of safety, the server is extremely impressive. It uses a military-grade encryption feature to ensure the privacy of your surfing. Added to that are a kill switch and protection against IP leaks. Thus, your real IP address will have more than nine security locks.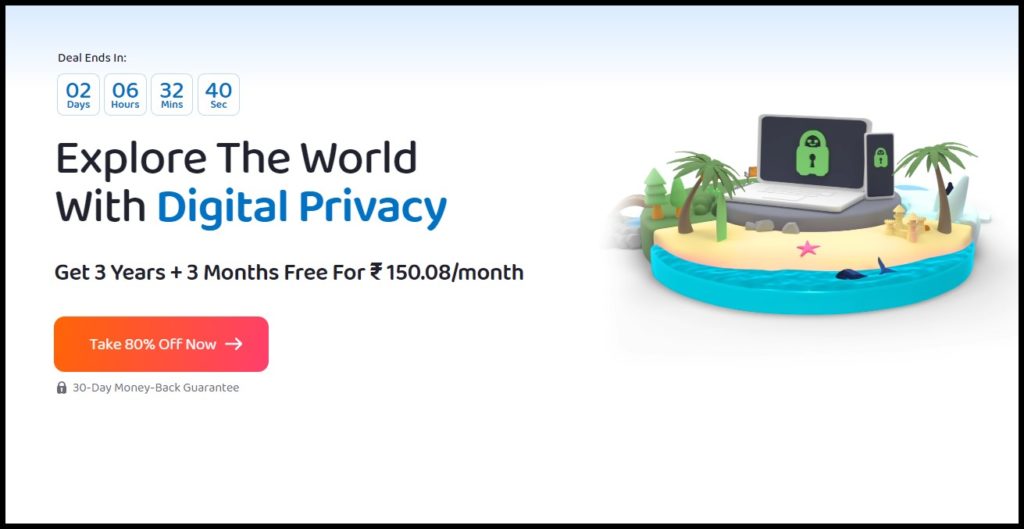 Standout Features:
Establish ten connections simultaneously
Excellent for torrenting
Massive server fleet
Download This Best VPN for Linux
---
CyberGhost
CyberGhost is a common name among Android and iOS users. However, they have released a command-line app for Linux users, making it easier to set up, install, and connect to ensure your device's privacy. It works with plenty of notable Linux distros, including Fedora 29, 30, and Ubuntu 16.04,18.04, and 19.04. The app is one of the best VPNs for Linux that provides diverse functionality and plenty of safety features, making it a great choice for users.
Like other command-line apps, CyberGhost does not have a graphical interface and can operate smoothly. You can also decide to use the VPN as per your requirements, including for streaming and torrenting or for location safety. a notable feature is that it doesn't store or keep user logs and places a strong leak-protection and encryption measures to ensure safety.
CyberGhost uses the popular OpenVPN protocol. It can operate on more than 5900 servers and 89 different countries. The connection speed is excellent, fast, and reliable. It also comes with the benefit of 24 hours live support. Furthermore, you can also connect seven devices simultaneously, thus making it a great choice.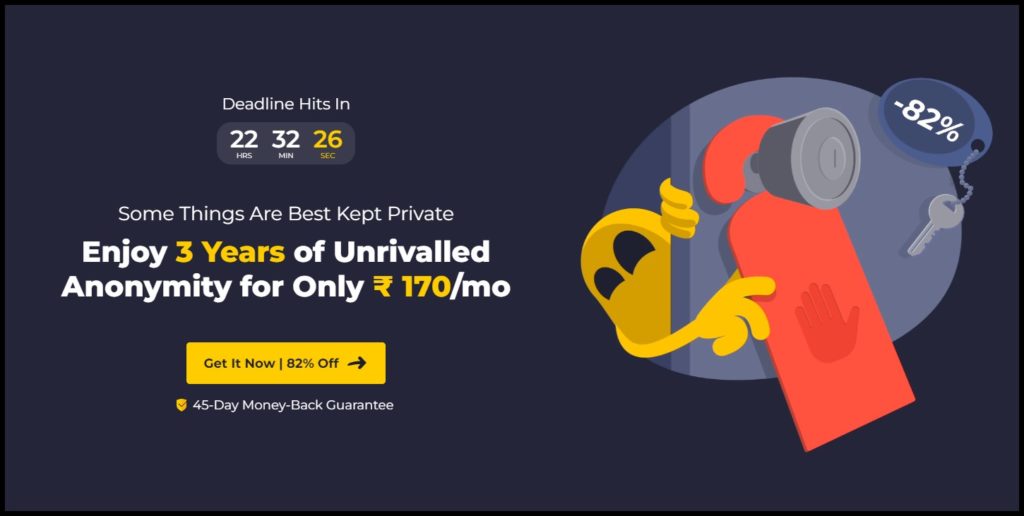 Standout Features:
Does not keep logs
Easy to use VPN
Connect up to seven devices at once
Download This Best VPN for Linux
---
TorGuard
If you are looking for the Best VPN for torrenting, TorGuard is your choice. However, it doesn't mean that its functionality is restricted to simply that; instead, it provides plenty of other features which make it a great choice for various purposes. It's one of those VPNs that offer a Linux app that can directly be compared to the macOS and Windows versions. It offers a similar GUI, plus it won't require you to use the terminals for command executions.
It also offers extra features such as App Kill. It will let you select the particular system process that you can automatically close if the connection to the VPN server is interrupted. You can think of it as a customizable kill switch that offers some additional kick. However, it does have a downside: its installation only installs the app. You must install the package separately if you want to use others, such as WireGuard.
It will also let you use OpenVPN UDP/TCP and OpenConnect. Thus providing you with a healthy choice of multiple tunneling protocols. Overall, if you love customization, TorGuard is your app as it offers different settings that you can change as you like. Additionally, it provides excellent speed to ensure you can execute operations as you like in the least amount of time.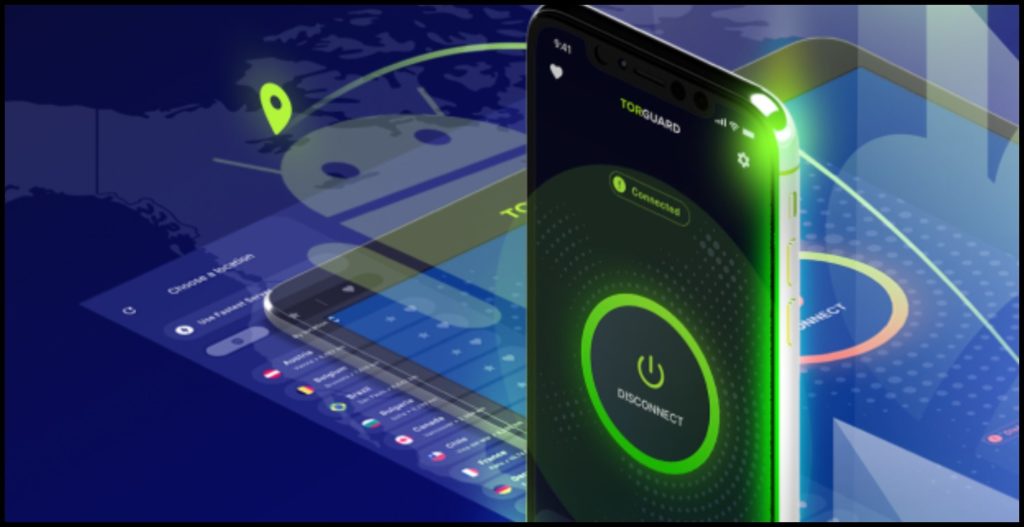 Standout Features:
App kill feature
GUI
Excellent for torrenting
Download This Best VPN for Linux
---
ProtonVPN
ProtonVPN offers a command-line app for Linux to see the complete server list and efficiently manage connections. The major benefit is an open-sourced VPN that lets you modify and inspect the codes freely. Furthermore, it can work on nearly all the popular Linux distros, including Fedora, Arch Linux, Manjaro, Solus, Kali, and Ubuntu. Every connection uses the OpenVPN protocol, and you can instantly switch between different servers, thus making it a useful choice on our best VPN for Linux list.
Proton VPN pays great attention to the privacy of all its servers. It provides plenty of military-grade top-notch security features and strict zero-log policies. It also provides P2P filesharing options and can also work on US Netflix. Thus, overall, the VPN is filled with excellent choices making it a complete choice suitable for many Linux users.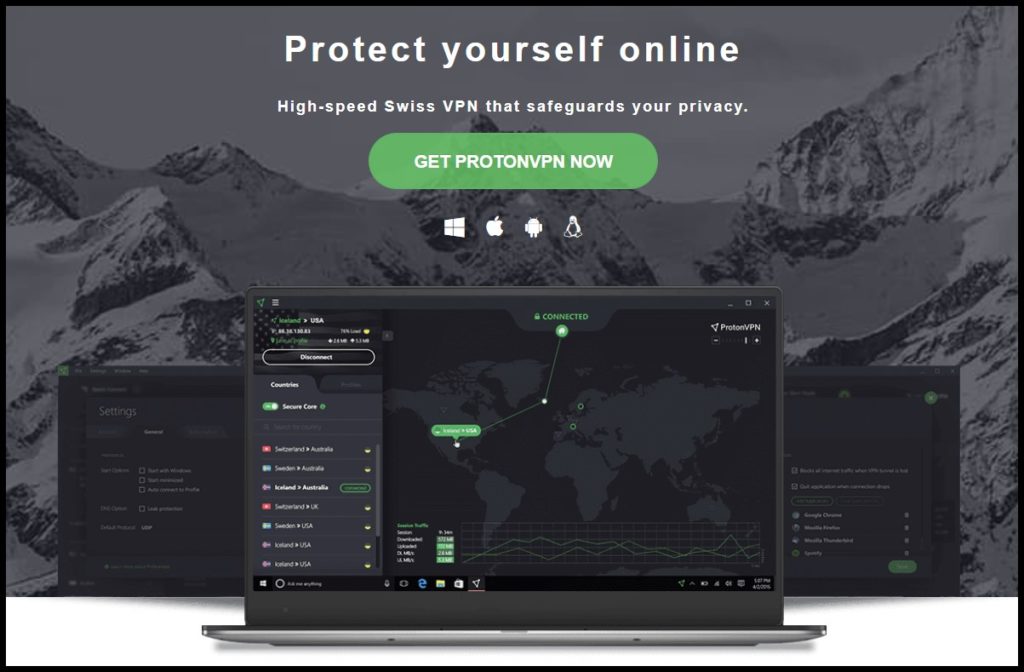 Standout Features:
Strong security features
P2P compatible
Can run Netflix
Download This Best VPN for Linux
---
Final Words
We have created a list of the best VPN for Linux above after considering all the available choice from the market and then shortlisting it. Choosing the best will now depend on your preferences and requirements since there is no such thing as one standout choice. Every selection on our list is suitable for different users, and you will have to find out the category you fall into. As per our recommendations, we suggest NordVPN, SurfShark, and ExpressVPN as our 3 top picks in the category.
Thank you for reading! Try these out too:
General FAQs
What is the best VPN for Linux?
The best VPN for Linux depends on your requirements and how you want to use it. ExpressVPN, Mullvad, and Private Internet access are some of the best choices.
Is the best VPN for Linux-free?
Many of the best VPNs for Linux are free, and it will require you to pay nothing. However, the others come with a 30 days trial period, after which you will have to get a paid subscription for it.
Does the best VPN for Linux provide connection encryption?
Connection encryption is one of the essential traits of the best VPN for Linux. Thus, it's a widely popular feature among them and one that users often lookout for as many VPNs offer multiple layers of security for it.