Most of us have trouble learning and comprehending more than one language. The sole remedy used to be translation books that would help you to understand the language and text, but now a translator app on your iPhone can do the same for you. No need to carry bulky books or ask your guide for small things. Just scan the text in your translator app and comprehend the meaning. However, not all apps are capable of precise translation and can understand only a few languages.
I have sorted the best translation app for iPhone, that understands most languages and produces an errorless translation of the input text.
Excited? So, Let's Get Started.
Benefits of Best Translation App
Swift Translation – A translation app can provide an instant output of the scanned text. You don't have to wait for long to read and understand the translated text.
Multi-language support – The best translation app supports multiple languages and can translate each one of them without any difficultly.
Easy to use – No more flipping pages or asking strangers for translation. The best translation app can scan and translate in just a few easy steps.
Best Translation App for iPhone
---
Google Translate is the undisputed champion in the translation apps category and can translate any language without stuttering or rendering errors. This best translation app for iPhone supports 108 languages and can even work offline. In the offline mode, users can only translate text belonging to 59 languages which is still a lot. Google Translate supports text translation, image translation, and voice translation. You can even draw characters that are immediately translated by the app.
There is a feature called Phrasebook to star and save the previously translated phrases and words for future use. The new update has increased the number of supported languages and this best translation app for iPhone is completely free to use by both Android and IOS users.
Related: Best Navigation App For iPhone
Standout Features:
Free to use
Supports 108 languages
Even works offline
Download this Best Translation App for iPhone
---
Microsoft Translator doesn't have as many languages as Google Translator but it is still a bankable app in our list of the best translation apps for iPhone. Basic translation features such as text translation, audio translation, image translation, are all present along with a bilingual mode for translating conversation between two people. This best translation app for iPhone also has a multi-person conversation translation mode that helps multiple users to connect their devices, and have live translations to easily understand each other.
Microsoft Translator works both online and offline and for best results in the offline mode, it is recommended to download all the languages supported by this best translation app. The app also has a pronunciation mode that teaches you to correctly pronounce a phrase or a sentence of a particular language. Microsoft Translator can have an audio input from your apple watch and produce an instant translation on your iPhone. This translation app is also free for iPhone users and doesn't have any advertisement placement or an optional premium tier.
Related: Best Photo Collage App For iPhone
Standout Features:
Download languages for offline use
Translation into over 70 languages
Multi-person conversation translation
Download this Best Translation App for iPhone
---
iTranslate adds a few more features that aid in translation and is among the best translation apps for iPhone with support for over 100 languages. You can download all of these languages so that internet connectivity is not a necessity while translating a text or an image. This translation app provides you a feature to listen to the audio in male or female voice, and even offers the option to switch between different dialects. iTranslate has an inbuilt dictionary that helps you to understand synonyms and different meanings, and its phrasebook has over 250 predefined phrases.
Standout Features:
This best translation app provides widgets and flashcards to teach you a new phrase or word every day, and boost your vocabulary. Other necessary features such as the history of translated content, marking favorites, and sharing translated content are present. The pro-mode of iTranslate allows you to perform offline translation, scan menus and signboards, real-time object translation using Augmented Reality mode, voice-to-voice conversation translation, and a few other features. iTranslate is a freemium app that is available for most iOS devices including the Apple watch, and for the best experience, it is wise to go for the pro-version.
Related: Best Free Video Editing App For iPhone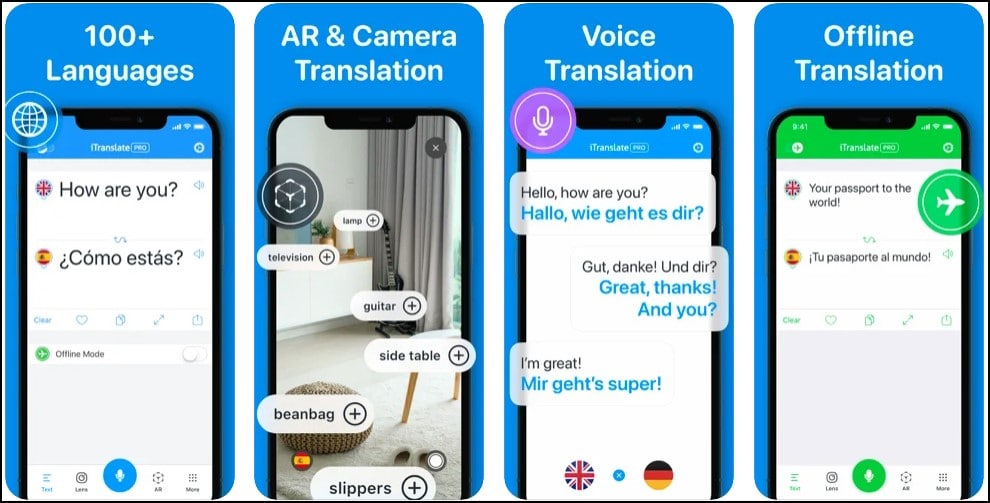 Support for over 100 languages
Augmented Reality mode
voice-to-voice conversation translation
Download this Best Translation App for iPhone
---
Apple introduced the Translate app alongside iOS 14 which was a much-needed software upgrade for translation. Apple Translate can perform basic translations on text, images, conversations without any difficulty. the translation capabilities are on par with the high-ranking translation app options in the business such as Google Translate and Microsoft Translate. The offline translation is supported and can be used easily by downloading the desired language packs.
The only thing holding this best translation app for iPhone back is the support for a handful of languages that makes it a difficult choice for users that need as many languages as possible. If you compare it with other translation apps like Google that boast support for 103 languages, Apple translate lags far behind in the competition. It will receive future updates and language editions but the launch of iOS 16 is due next year, and not many languages have found their way to Apple translate yet.
Related: Best Call Recording App for iPhone
Standout Features:
On-device mode
Auto Translate
Face to face view
Download this Best Translation App for iPhone
---
SayHi Translate has almost identical language support as compared to Google Translate and is among the best translation apps for iPhone. It supports translation in 103 languages along with dialect support for 48 languages. So, you can effortlessly translate any text, image or audio, without having to look for another translation application. SayHi Translate recently revamped its user interface which makes it a lot more intuitive as compared to the earlier version. As for the translation features, users can select between male and female voices and can quickly change languages, and even face up or slow down the rate of speech for precise translation.
SayHi Translate supports voiceover and dynamic typing to help you convert audio into text without any problem. The only stipulation for using this best translation app for iPhone is that you have to have an active internet connection. It does not work offline and can be trouble for users, who are traveling to other countries and have to pay additional data charges for translation. Overall, SayHi Translate is a completely free-to-use application with no pestering advertisements and an optional premium subscription that unlocks advanced features.
Standout Features:
Quickly change languages
Supports 103 languages
Copy & share
Download this Best Translation App for iPhone
---
Speak and Translate takes the help of Google Translate, Microsoft translate services to provide error-free translations in 117 languages. Keep in mind that this best translation app for iPhone supports 117 languages for Text translation whereas it supports only 54 languages for voice translations. Speak and Translate has iCloud integration that syncs all your translation history across your connected iOS devices.
There is a language detection feature for text mode which can help you detect the input language if you don't understand it. You can also choose different male or female voices in the voice settings and can alter their speed to match your pace. Apart from this, the new update brings support for the Apple watch and adds a new snap mode which helps you translate any picture and understand its context. Speak and Translate limits the number of translations that you can perform on a free subscription and to unlock all of its features, remove advertisements, and enable the offline mode, you have to opt for a monthly or yearly subscription.
Related: Best Free Scanner App for iPhone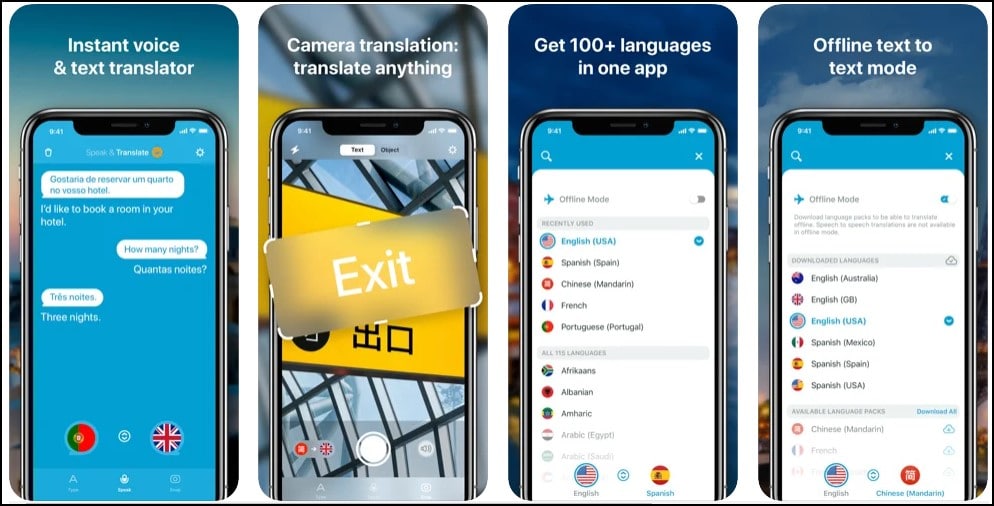 Standout Features:
Support for the Apple watch
Language detection feature for text
iCloud integration that syncs translation history
Download this Best Translation App for iPhone
---
Translate Free is available for iPhones along with a few other iOS devices and can easily translate a given text into 59 languages. Users can easily access past translations with the help of the translation history feature and can raise a complaint regarding a language that is not listed in the library. The translations can be shared and mailed via email and users can easily swap target languages on the fly.
The Pro version of Translate Free increases the number of supported languages and supports transliteration in 30 languages. All the other features remain more or less the same, only the increase in the number of supported languages and transliteration are added to the pro version. If you need expansive language support and require transliteration features on a daily basis, then the pro version is suitable for you. Otherwise, just install this best translation app for iPhone and continue using the free version without any worry.
Related: Best Photoshop App For iPhone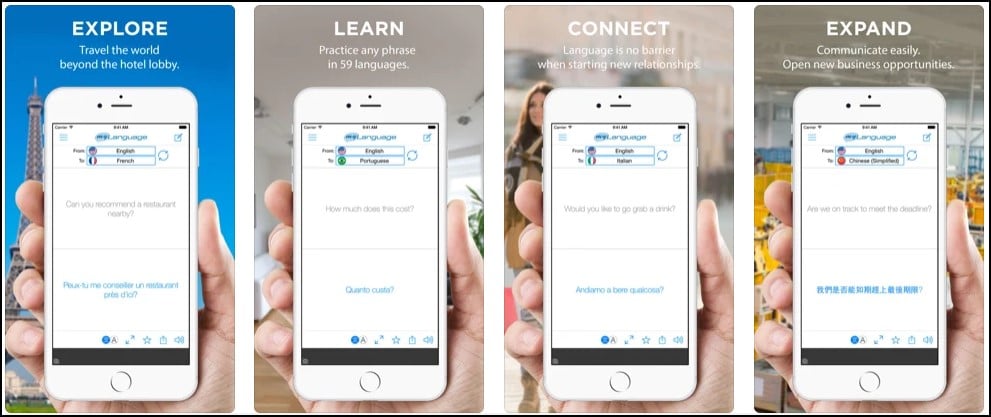 Standout Features:
90 supported languages
Transliteration feature
Translation history
Download this Best Translation App for iPhone
---
Dialog is a relatively new addition to the play store but offers excellent translation services for iPhone users. Currently, it is only available for iPad and iPhone and does not have the support for translation using the Apple watch as an input device. It comes with a built-in phrasebook and supports all types of translation including text input and camera translation.
Dialog supports over a hundred languages and uses advanced speech recognition that can translate text even in noisy environments. It also comes with a home screen widget that lets you access the app and begin translation without jumping to the app drawer. Dialog supports both online and offline translations and comes with a keyboard with a built-in translator. There is an optional premium tier that improves the voice quality and text translation, which is only available as a weekly subscription.
Related: Best Tracking App for iPhone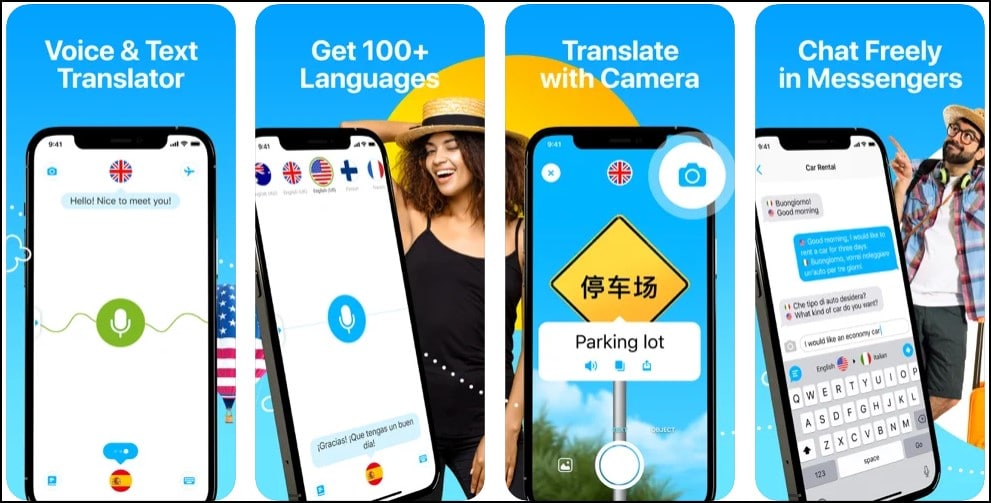 Standout Features:
Offline mode
Built-in phrasebook
Multiple translation modes
Download this Best Translation App for iPhone
---
Final words
Google Translate and Microsoft Translator remain the best translation app for iPhone that offer excellent translation features and are completely free to use. iTranslate and SayHi Translate are also a useful addition to our best translation apps for iPhone lineup, which are partially free but get the job done. If you don't want to use any third-party app and can adjust with the available support for only a handful of languages, then the Apple translate app is a good option. If I have missed adding the best translation app for iPhone to this list, feel free to comment with your suggestions.
Thank you for reading! Try these out too:
General FAQ
What is the best translation app?
Google Translate and iTranslate are among the best app options if you are looking for a reliable translation app for your iPhone.
Does iPhone have a translation app?
Yes, there is a dedicated app for translation on the iPhone which can be downloaded from the app store and is completely free to use for iPhone users.
Is Apple translate better than Google?
The number of supported languages in Google Translate is way higher as compared to the translator app for Apple. Google Translate is superior to Apple translate in many aspects, but most users don't need those many features and can make do with either of these best translation apps for iPhone.
Is speak and translation app free?
Yes, it is a free-to-use app but offers an optional paid subscription, that removes the restriction on the number of translations, and allows you to use the offline mode for translating text.