Location-based tracking has made it easy to pinpoint the whereabouts of the device holder. It leverages the GPS sensor embedded inside the iPhone to precisely learn the current or last location of the iPhone. A tracking application is useful to keep track of the user's whereabouts and can provide a lot of other useful info and features besides mere geo-tagging.
I have listed the best tracking app for iPhone that can help you locate the concerned device holders and keep track of the locations that they visit frequently.
Excited? So, Let's Get Started.
Benefits of Best Tracking App
Peace of mind – If you know the whereabouts of your family members and children, you can maintain composure and not be stressed out about them. The best tracking app for iPhone lets you have a piece of mind and not overexert yourself about the location of your family.
Useful in emergencies – The best tracking app for iPhone comes in handy in emergencies, as the smartphone user can send an SOS signal to get help as soon as possible.
Silent tracking – The best tracking app for iPhone works silently in the background, and continues feeding you information about the current location.
Best Tracking App for iPhone 2021
---
Life360 is among the top favorite apps for tracking due to its support for cross-platform location sharing. Configuring the app is pretty easy, just add your family members and it displays all of the added members onto a map. You can navigate to any member using the map interface and can also chat with them in a private channel. This best tracking app for iPhone also stresses road safety and can alert you if a family member who is behind the wheel, is driving above the designated speed limit.
Related: Best Free Music App for iPhone
Other useful features include personalized spaces, 24/7 personal safety feature that lets you send an SOS to the circle members and all your emergency contacts. The members of the circle can receive a heads up, whenever a person checks in or checks out of a personalized space. The app can even display the weekly or monthly stats of the driving habits of each member of the circle, which can be used to reflect the bad driving habits. The premium version of this best tracking app for iPhone lets you have 24/7 road assistance, stolen phone coverage, and even an insurance cover of 1 million dollars.
Standout Features:
SOS feature
24/7 Emergency dispatch
Family Safety Assist
Download this Best Tracking App for iPhone
---
Find my Friends is developed by Apple and is a free-to-use tracking app for iPhone, that helps you to keep track of your family members and close friends, without paying a penny for the services. It does not support cross-platform location tracking and only works on iOS devices. The app can send and receive location data from all of your Apple devices, including your apple watch, which is a huge benefit if you are using the cellular version of the Apple watch.
Related: Best iPhone Themes For Customization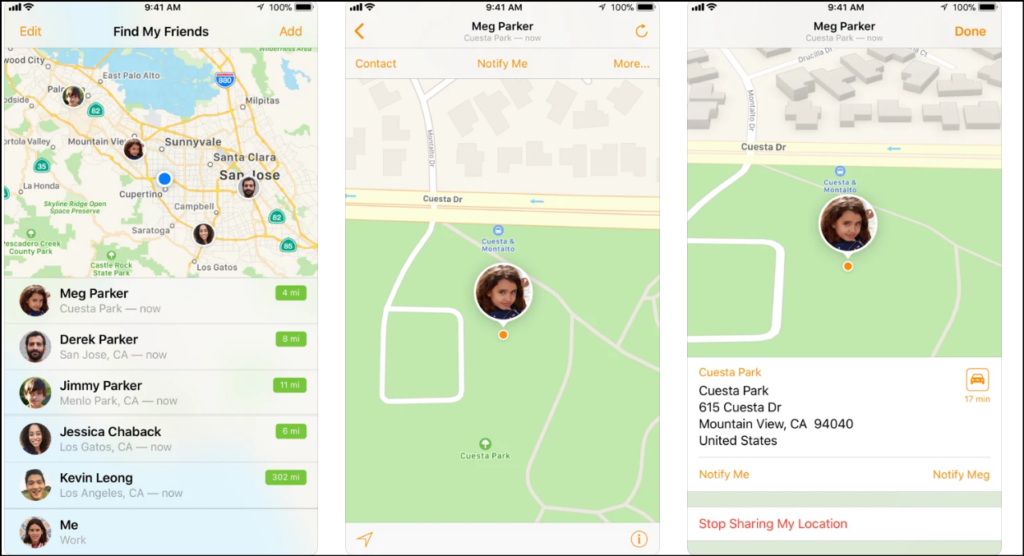 Masking your locations is as easy as flipping a switch, and you can turn it off anytime you want to. This best tracking app for iPhone alerts you whenever a contact changes places, like arriving at an airport, leaving school, etc. The notifications can also be turned off in case it is a concern to your privacy, and you can choose to share your location temporarily or permanently. Find my Friends uses AirDrop to share your locations with other friends and needs and active Wi-Fi connection 24/7 for accurate monitoring. The biggest benefit of Find my Friends is that it is free for all Apple users and requires no premium subscription whatsoever.
Standout Features:
Location-based notifications
Parental restrictions
Free for iPhone, iPad, and iPod touch
Download this Best Tracking App for iPhone
---
Glympse is another best tracking app for iPhone that is completely free to use for both Android and IOS users. Cross-platform support opens doors for users with or without an iPhone, to share their live location using Glympse. There is no sign-up required to use Glympse, and it runs as a web app in your browser so anyone whom you send your location can easily use it without going through laborious signup and installation process.
Related: Best Camera App For iPhone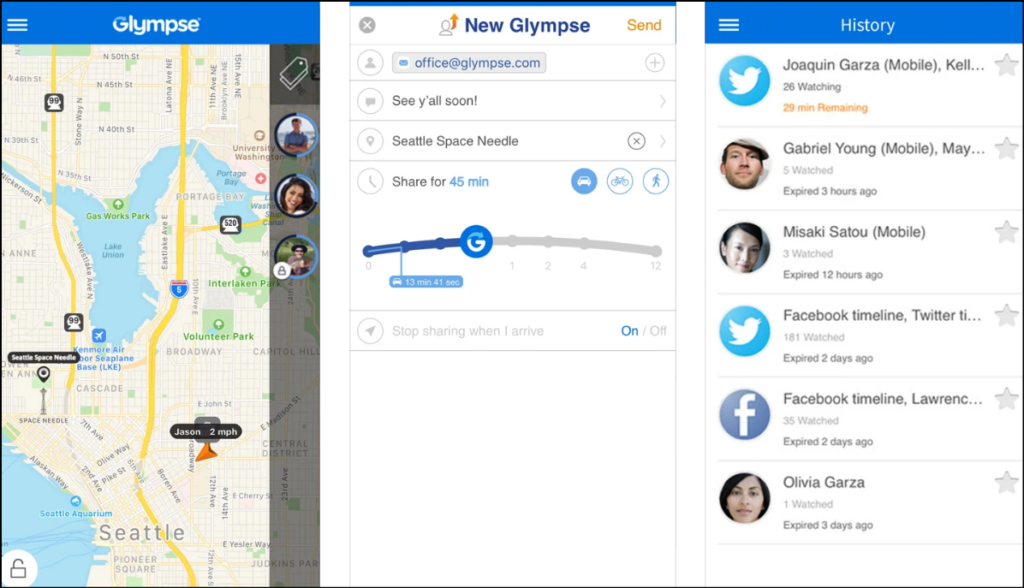 Location sharing allows you to set up your own terms and share complete or partial location data with the other party. Glympse allows the users to create public and private groups, in order to separate conversation, and location sharing and avoid confusion among the two. This best tracking app for iPhone also has in-app messaging features and comes with geofencing features which alert you every time a person in your group steps out of the designated zones. All of these features are consolidated into a beautiful package, that does not force any ads while you are using the app. If you are looking for a completely free tracking app for iPhone, you should give Glympse it a try.
Standout Features:
No sign-up needed
Free and works anywhere
No app required
Download this Best Tracking App for iPhone
---
Google Family Link is focused on maintaining a healthy lifestyle for your kids. It does that by tracking their screen time and geo-location and lets you fine-tune these schedules, to maintain the balance between the two. Unlike every other tracking app for iPhone mentioned in our list, it does much more than deliver basic location history.
Parents can easily view their child's activity on the iPhone, along with the apps that they continuously use throughout the day. Google Family Link can also make application recommendations, which helps you to find applications that are intuitive and increase curiosity among their children.
Related: Best Live Wallpaper Apps for iPhone
Google Family Link takes the help of Google Maps to deliver the precise location of your child, and can even help you reach them with an intuitive navigation node. This best tracking app for iPhone by Google is available for free, for both Android and iOS users and does not require a subscription at all. Moreover, it supports cross-platform tracking which means you can track every device in your home that has the Google Family Link app installed in it.
Standout Features:
Set limits
Manage their apps
Completely free
Download this Best Tracking App for iPhone
---
FollowMee GPS Tracker doesn't have the best user interface as compared to other options on the app store but is a quite effective location tracking app. It can easily log the location data in the background which can be accessed by the account holder. The app never stops or shuts down after it's activated, even if the target device reboots itself.
Related: Best Icon Pack For iPhone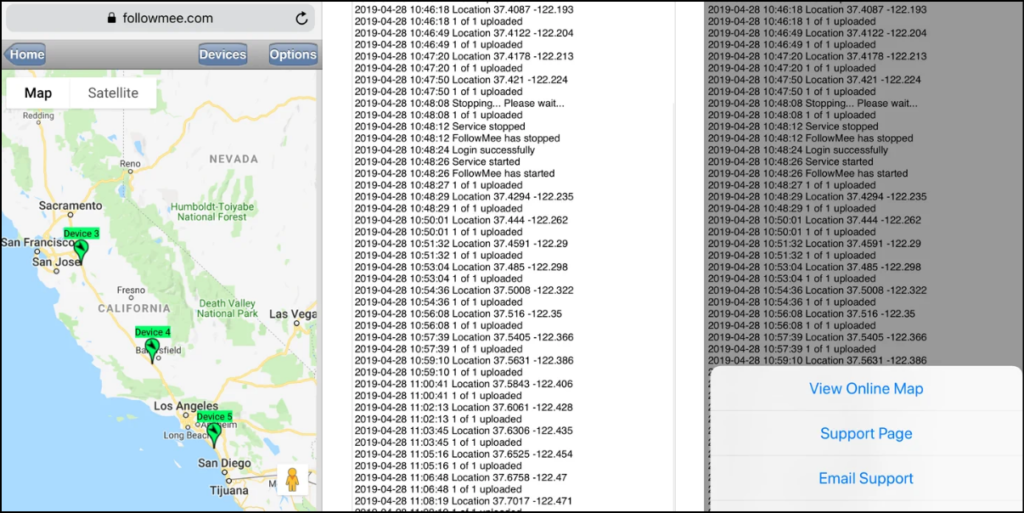 FollowMee GPS Tracker has a panic button that can be pressed to send an SOS signal. The app continues monitoring the location even when the internet is disconnected and resumes uploading data when the connection is restored. If you can bear with the outdated UI on this best tracking app for iPhone, FollowMee GPS Tracker works like a charm. Also, it doesn't have any kind of ad integration and is completely free for iPad and iPhone users.
Standout Features:
SOS signal button
Always on feature
Download this Best Tracking App for iPhone
---
Find my Kids is aimed towards tracking kids but there's no harm in using the app for tracking the location of anyone. The simple solution is to install the Find My Kids app on the user's smartphone and then track its activities using the control app on your iPhone. Currently, it offers a free trial of seven days after which a subscription plan lets you access the advanced features. But if you just need location tracking, you do not need to pay anything at all.
Related: Best Weather App for iPhone
Before blindly advancing to the free tier, understand that this best tracking app for iPhone has much more to offer than basic location tracking. It enables the users to send an SOS signal to the family members and also informs them about the low battery status on the target device. You get prompts about major changes in the location of the members and can learn about the frequently visited locations. If you are tracking a kid, the app usage statistics provide insight into the current favorite app of the kids.
Standout Features:
Location tracking and alerts
SOS signal
App usage stats
Download this Best Tracking App for iPhone
---
GeoZilla is among the best tracking app for iPhone that is slightly underrated but is slowly getting popular on the App Store. Apart from the usual feature set, it makes use of SLC, a feature that runs the program in the background only when it detects a movement. This conserves a lot of battery and enables the users to not discard the application because it drains the battery too much.
GeoZilla allows you to add members and track their location using GPS. You can easily see their daily activity on the map and can even initiate a conversation with the members and even share images and emojis. It is a lot of fun to engage with your members while asking about their current status. The free version of the app puts a restriction on the number of alerts, number of people in a circle, and many more features. To access advanced features such as driving alerts for speeding, unlimited alerts, an option to turn off location tracking, you have to upgrade to the premium version.
Standout Features:
Driving alerts for speeding
Battery conservation using SLC
Toggle location tracking
Download this Best Tracking App for iPhone
---
FamiSafe is a parental control app by WonderShare that lets you keep tabs on your kid's iPhone and their usage patterns. FamiSafe has made some useful additions to the feature set to make it distinguishable from other tracking apps. Its Smart Schedule feature allows you to set usage time as per different places such as school, tuitions, library, etc. It allows you to block apps according to age and can even block specific keywords pre-uploaded by the parents.
Related: Best Dating App for iPhone
If the kids enter such words on a YouTube search, it automatically alerts on the dashboard. FamiSafe also has a robust algorithm that examines photos present in the gallery for nudity or pornographic content. Kids have a habit of falling prey to useless apps that are priced very high and this tracking app for iPhone provides a feature to block in-app purchases as well.
Standout Features:
Track the location history
Multi-platform supported
Block inappropriate apps
Download this Best Tracking App for iPhone
---
Final Words
These were my best picks for the most useful and reliable tracking app for iPhone. Life360 and Find My Friends are both equally deserving of the title of the best tracking app for iPhone, and you can go for either one of them for granular tracking of family and friends.
For users who need to share locations on a frequent basis and do not want to force the other person to install an app for the same, Glympse is a viable option that can even provide location tracking via a web app. There are a lot of free yet best tracking app for iPhone on the app store, among which Google Family Link and FollowMee GPS Tracker are two desirous options.
Thank you for reading! Try these out too:
General FAQ
Can you secretly track an iPhone?
Yes, there are a lot of tracking apps available for iPhones that can secretly track the target device without even appearing as an app on their iPhone.
What apps track your location iPhone?
All the apps mentioned in a list can track the location of the iPhone, and a few of them are even completely free to use.
How can I track another iPhone from my iPhone?
You can easily track another iPhone from your iPhone by using a tracking app like Life360 or Find My Friends.