Organizing is an essential aspect in the lives of competent individuals who believe in personal development. We are part of a world where it's easy to lose track of important things both on a business and personal level. Missing out on such vital actions can have a detrimental effect on our daily lives. The best to-do list app for iPhone is all that you want.
Forgetting to complete essential yet straightforward tasks is common and thus to ensure you don't end up in such a situation. Keeping track of your daily tasks is a helpful way; although most people use pen and paper, which work perfectly fine but let's face it, why carry the extra burden when you can get equal benefits on your phone?
The Best to-do list app for iPhone will allow you to maintain a list of all your tasks, the benefit? Well, you will keep track of stuff you want to do, and going back to it during the day will ensure you don't miss out on anything. Furthermore, it will allow you to save space and time since many of these apps are pretty easy to use and offer advanced functionality.
A lot of these apps will allow you to plan your week and even months. So, you benefit from planning and scheduling all the crucial things you want to do beforehand at the top of preparing your day.
The best to-do list app for iPhone will benefit you without a doubt, but which one? It's a common question as the plethora of applications on your app store might leave you confused. However, why fear when we are here? Our list comprises the top 8 apps for you to download on your phone.
Excited? So, Let's Get Started.
Benefits of Best to-do list app for iPhone
More productivity:- Let's be honest, if you aren't doing more in less time, your chance of success in the long term takes a drastic hit. It's where a to-do list comes into play, as it will allow you to prioritize all the tasks based on importance. Thus, you can devote more time focusing on the tasks with more significance and complete them first
Improves your memory:- It's easy to lose track when you are busy all day; the to-do list app acts as external memory support since you don't have to remember everything anymore. It will allow you to track everything and reinforce your memory.
Assists with motivation:- To-do list apps offer a lot more than an everyday planner. It will allow you to divide your long-term goals into smaller ones. Since motivation isn't a one-time thing and you need to make it stronger with small wins, ticking all the short-term goals that you achieve will boost your confidence.
Best To-Do List App For iPhone
---
Todoist is among the best to-do list app for iPhone, and it's also one of the most popular choices with millions of daily users. Todoist is a flexible option to adjust to various workflows; however not so complex as to overwhelm. It has an efficient interface that will allow you to add new tasks pretty easily.
Adding tasks isn't a complicated task. It's pretty easy and quick. You will have to add the task's name and then describe it to add extra detail. You can also add a date to the task and prioritize it if you want. There are four sets of priorities in the list based on the significance of the task, and you can set them accordingly. Once you create the task, it will be added to the inbox; you can arrange the tasks based on their priorities.
You can add any tasks that you want to complete today or any upcoming ones during the month. Todoist will also allow you to create projects, labels, and categories the tasks through filters. You can also set due dates on the app to track all the important dates throughout the month. Todoist is the perfect balance of functionality and simplicity.
Related: Best Navigation App For iPhone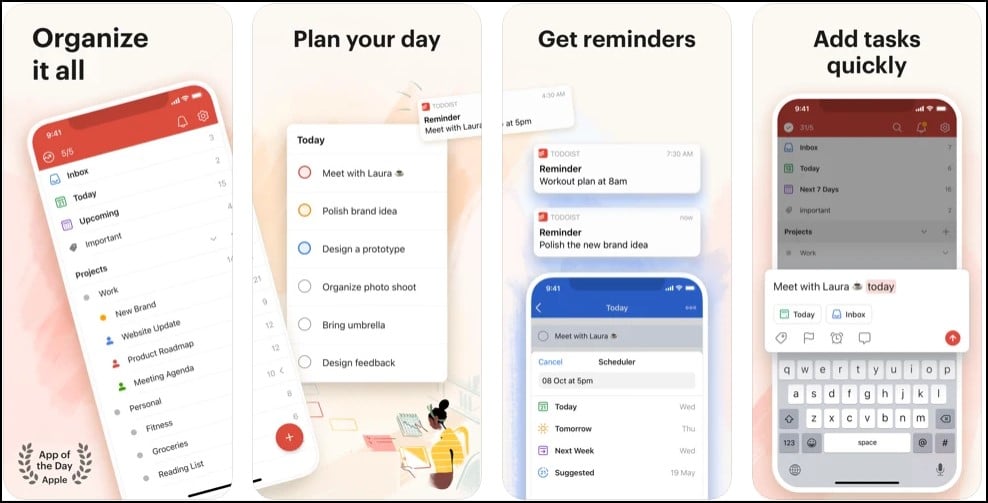 Standout Features:-
Efficient user-interface
Excellent features
Works in the offline mode
Download This Best To-Do List App For iPhone
---
In terms of features, TickTick is the best to-do list app for iPhone because it offers a lot. The app will provide you with a wide variety of features. You can quickly add any task to the app. Furthermore, categorizing the tasks is pretty straightforward and efficient as you can do it based on the tags, lists, or due dates. You can also add various sub-tasks to a task, allowing you to break it down and perform it more efficiently.
TickTick will allow you to add location tags, photos, or a description to every entry, thus keeping a memory of your tasks. It has a Pomodoro timer feature that will assist you in improving your focus.
Overall, the application has a pretty intuitive and simple user interface that allows you to add tasks to it quickly. You can categorize your tasks in various lists, allowing you to differentiate between them, ensuring the tasks don't mix.
Related: Best Photo Collage App For iPhone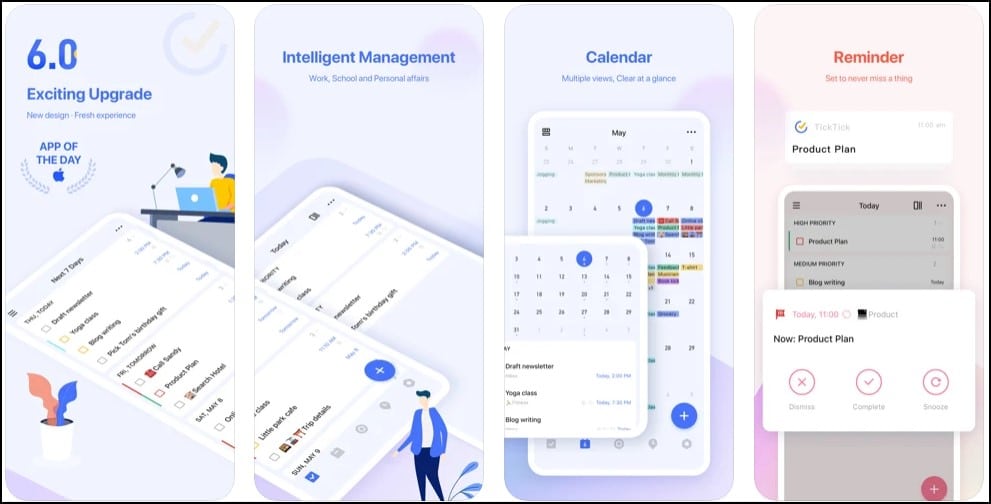 Standout Features:-
A broad category of features
Easy to use
Collaborative interface
Download This Best To-Do List App For iPhone
---
Loyal users consider Apple reminders the best to-do list app for iPhone. It is the official application pre-installed on all iOS devices, which means that all you would need to do is search the application on your phone and jump right into it.
Adding tasks on Apple reminders is quick and convenient. It simply requires you to click on the new reminder options and fill in the details, including the title, description, detail such as date, time, location, priority, and the list you want to add the task into.
Its interface is highly convenient, and this makes it a popular choice among iPhone users. The app displays the tasks you have planned for today along with the scheduled ones right away. You can create a list to ensure a proper distinction between the tasks, and you don't lose track of them.
The Reminder feature of the app will alert you at a particular time or location. You can create repeatable reminders that will follow a foreseeable weekly and monthly pattern, or you can change it to follow a custom pattern.
Related: Best Free Video Editing App For iPhone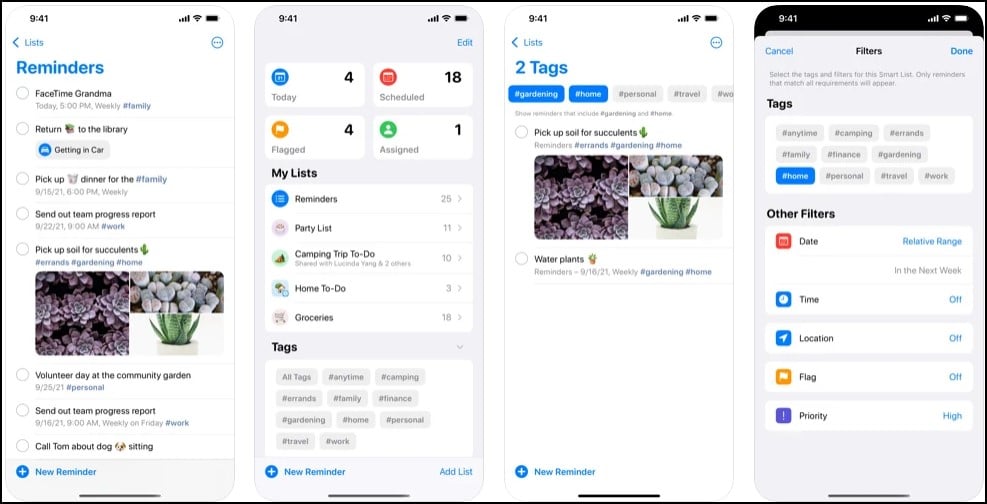 Standout Features:-
User-friendly interface
Provides functionality and convenience
Ideal for novice users
Download This Best To-Do List App For iPhone
---
OmniFocus is the ideal choice if you are looking for an application that will provide you with a to-do list along with a reminder management system. Although you will have to get the premium version to get the advanced functionality, OmniFocus is an absolute value for money and one of the best to-do list apps for the iPhone.
The app will give you a to-do list feature with professional-grade functionality along with outstanding organization features. You can create any task or capture any idea you want to perform, then move it to your inbox. Organizing all your actions into different projects has never been easier as OmniFocus will ensure that you can work on multiple projects without mixing up your tasks. You can also add tags for priorities, places, and people to arrange all the tasks into an order.
To-do list apps are used primarily for planning your days, and it's what you can do with OmniFocus, but its functionality isn't limited to it as it provides a lot more features than merely that. You can also review all the projects regularly and make repeating actions.
Related: Best Call Recording App for iPhone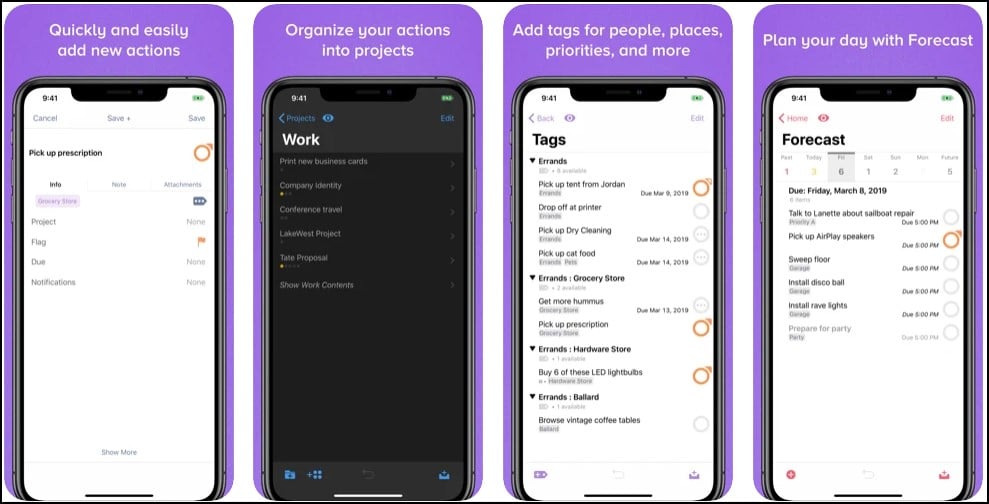 Standout Features:-
Excellent features
Add plenty of details to your tasks
Ideally designed for GTD
Download This Best To-Do List App For iPhone
---
Any.do is the best to-do list app for iPhone users that want a complete organizer. The most notable benefit of the app is that it can do it all for you, from list management to calendar scheduling, organized planner, and a reminder system. The application is pretty easy to install and use tho if you want some extra features, you can opt for the premium version.
Any. will provide you with an option to incorporate with calendar apps and the iOS reminders that you can easily disable through the app settings. The app will allow you to connect to Facebook, Outlook, and Google calendar making it easier to send data from it to those apps. It's also pretty easy to collaborate using Any.do since you can easily share lists or even a single task for others.
You can flesh out the tasks with attachments, sub-tasks, and notes at the top of setting reminders for them separately. Another notable feature of Any.do is "plan my day," which will scan your entire any.do a list for the remaining tasks before allowing you to add them all to your schedule or mitigate them, mark them as completed to remove them from the list altogether.
Related: Best Free Scanner App for iPhone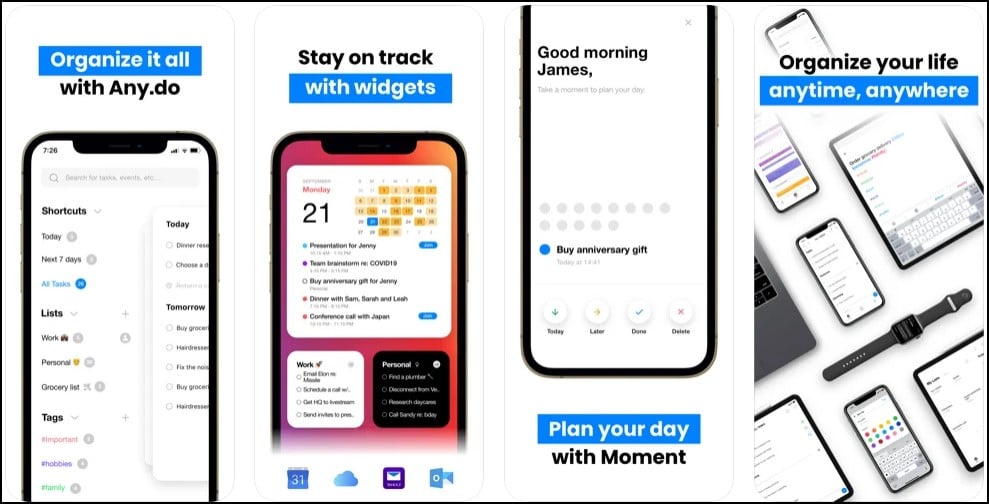 Standout Features:-
Easy user interface
Convenient to sync with other platforms
Efficient functionality
Download This Best To-Do List App For iPhone
---
Due is the best to-do list app for iPhone for users that suffer from serial procrastination. The app is designed for you to store essential daily tasks. There are certain things that you can't forget during the day. It's where Due comes into play and provides a solution. You can use Due in conjunction with other applications but store the tasks with the most significance in the app.
You can easily add a task to this app by just swiping down and entering it. The natural language analysis will decode the due date; meanwhile, a quick date store conveniently sets a date. You can use the auto snooze button to continuously remind you of that task till you choose to perform it.
The button will also notify you constantly at an interval of your choice to ensure you don't forget the task. You can also mark the task as completed or delay it through a 3D touch of the notification on the lock screen of your mobile. The app also has reoccurring timers that you can set as you want.
Related: Best Photoshop App For iPhone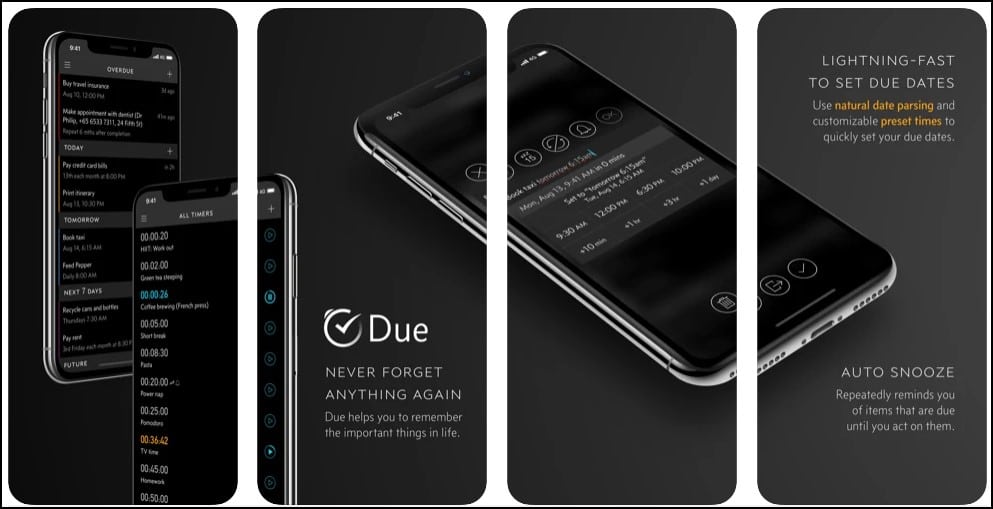 Standout Features:-
Ideal for important tasks
timers to remind you of the task constantly
Easy to use the app
Download This Best To-Do List App For iPhone
---
If you are eyeing an app that will allow you to add more visuals and depart from the traditional lists style, Habitica is the best to-do list app for iPhone, most notably for your preferences. It takes a unique approach to the daily task management system by turning all the actions you want, such as writing daily tasks, to-do lists, or developing habits, into a role-play game shape.
The app changes the entire outlook of the to-do lists and makes it more interesting to earn rewards by completing all the tasks on the list and taking damage if you skip any. Although it doesn't offer advanced functionality such as creating multiple lists, it still offers plenty.
Habitica will let you categorize everything between dailies, to-dos, and habits. Dailies are things that you need to do every day, while habits are occasional tasks. You can divide the to-do list of Habitica into various divisions, such as a trigger reminder, due date, and sub-tasks. Completing the tasks will give you rewards such as more customization options for your avatar.
Related: Best Tracking App for iPhone in 2021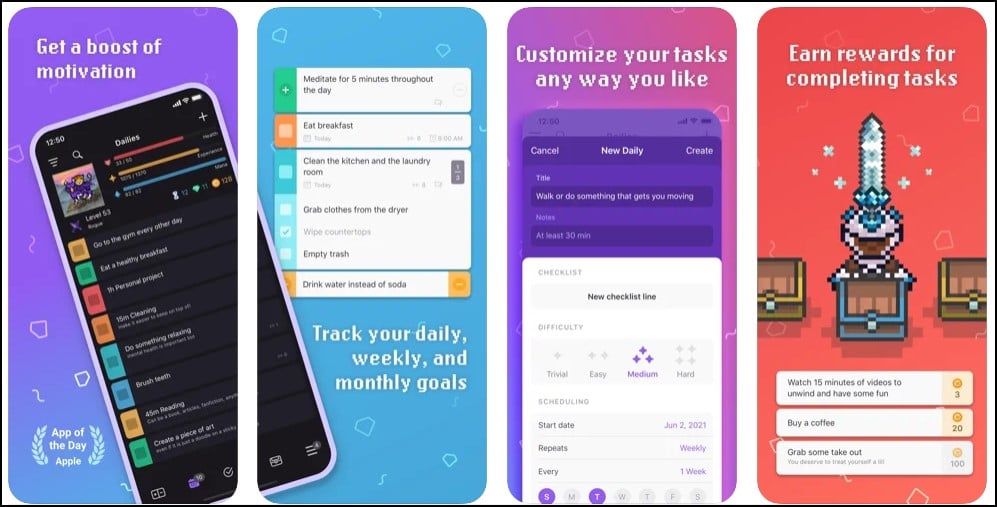 Standout Features:-
Unique design
Attractive interface
ideal for teenagers to build discipline
Download This Best To-Do List App For iPhone
---
If you love a lively design and like to make more detailed lists, Pocket Lists is the best to-do list app for iPhone. The app comes with a unique yet striking design as it departs from the standard approach of creating lists.
You can easily add any task directly after creating lists into the relevant one. The app will also allow you to assign the task a location, priority level at the top of a due date. You can customize every list with a unique icon, and it will give you up to 400 choices to choose from, which makes the app ideal for any purpose, including daily planning to long-term organization and goals.
You can view all the upcoming items on the schedule to know the tasks you need to perform first. It will let you sort any list based on the priority, repeating tasks, or the nearby functions, thus making it an excellent choice.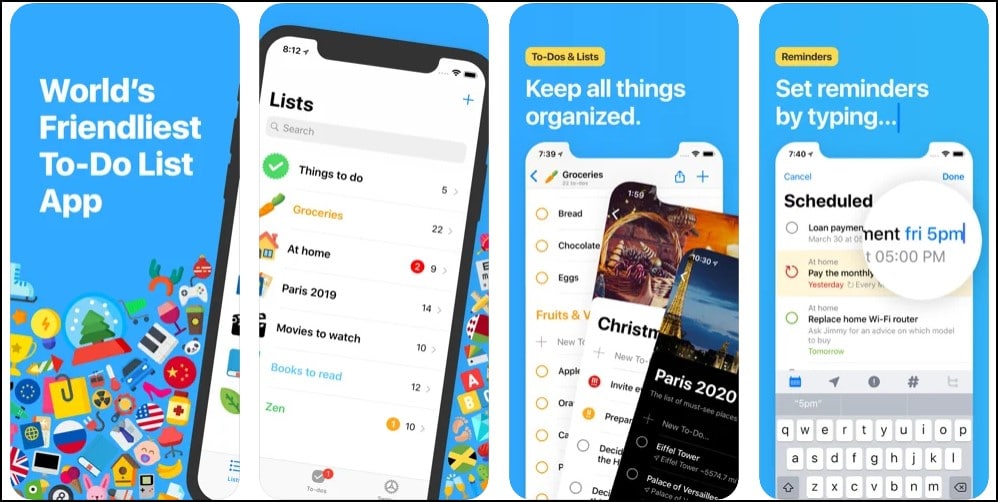 Standout Features:-
Unique yet elegant interface
Various icons that you can assign to different lists
Calendar to mark any special dates and assign tasks to them
Download This Best To-Do List App For iPhone
---
Final words
The best to-do list app for iPhone will make it convenient to organize and plan your entire day without missing out on any critical tasks. Our list of top 8 apps will provide you with plenty of versatility and diversity, although each app's functionality remains at the top. Although there are many excellent choices, Todoist, Apple reminders, and Due are some of the most popular apps.
Thank you for reading! Try these out too:
General FAQs
What is the best to-do list app for sharing lists on the iPhone?
Although there are plenty of apps that will allow you to share lists, Todoist and Any.do remain an excellent choice to do it for you.
Are all the to-do list apps free?
A lot of the apps provide a free version with plenty of features. However, if you are addicted to one and want to add more features, opting for the premium is ideal.
Which to-do list app is best for building habits?
Habitica is the perfect app that provides advanced functionality and lets you create and monitor habits.