For every progressive individual, a mobile phone provides more benefits than harms. Although, technology does come with its fair share of disadvantages. Jim Kwik, in his book "limitless," describes the four significant side effects of technology in the digital deluge, digital distraction, digital dementia, and digital deduction. Still, it's safe to say that there are always two sides to a coin, and you can also use technology to transform into the best version of yourself. One of the most beneficial applications that you can find is the best running app for iPhone.
Although training is the core of a better life, tracking plays an equally important role in assisting and ensuring you reach your full potential. A running app will provide you with the luxury of tracking your fitness goals and running durations, distances.
Another significant benefit of getting the best running app for iPhone is that it offers coaching programs that will help you get started if you are a novice runner. Since running is one of the best cardio globally, it can be equally challenging and expose you to injuries such as shin splints, muscle overloads, etc. Thus, a proper program will help you get started and put you on the right track of long-term progress.
However, the idea of getting the best running app might sound quite simple, but it is far from it. There are many factors involved in choosing the proper application. Some are paid increasing ambiguity since you don't want to waste your time, money, and energy. You don't have to worry, as our list will help you find the best running app for iPhone.
Excited? So, Let's Get Started.
Benefits of Best Running App For iPhone
Track your progress accurately:-  The best running app for iPhone will let you set fitness goals and trace them with trackers. You can set a distance goal or any running-related targets and use the app to help you reach them. The app will also let you determine how long it will take to reach your target and act according to the situation.
Performance analytics:- One of the most significant features of these apps is that they provide plenty of performance analytics and a weekly report. Whether you are preparing for a run or intend on keeping yourself in good shape, this app will have you covered in all circumstances.
Precise GPS tracking:– We might find an excellent trail for running, but the problem is that we can't seem to find its exact distance. So, to make progress, especially when it comes to running, you need to be aware of the distance. The best running app for iPhone offers a GPS tracking mechanism that will measure the exact length of the track for you and implement safety measures by sending reminders to friends and family.
Best Running App For iPhone
---
Runkeeper—Distance Run Tracker
Runerkeeper is one of the best running app for iPhone, and it's also viral among users due to its exceptional features, accuracy, and functionality. The app remains the top choice on your list because its suitable for both novice runners and more experienced ones. It offers a very accurate GPS service that will let you track your overall time, distance, and place. Furthermore, you can also follow a running route or mix it up with Runkeeper's Pre-created routes.
To make long-term gains, tracking your progress and setting goals is extremely important, and RunKeeper will provide you with these features as well. If you are into healthy walking, cardio or biking, you can use the app to track these activities.
If you are a runner or someone training for a race, this app will provide a personalized training route with plenty of reminders to ensure you are on the right track. RunKeeper can sync with other devices and applications like your Apple watch or a Fitbit for more detailed tracking. You can also participate in one of the app's challenges and virtual running groups, which will keep you motivated during the fitness journey.
Related: Best Reminder App For iPhone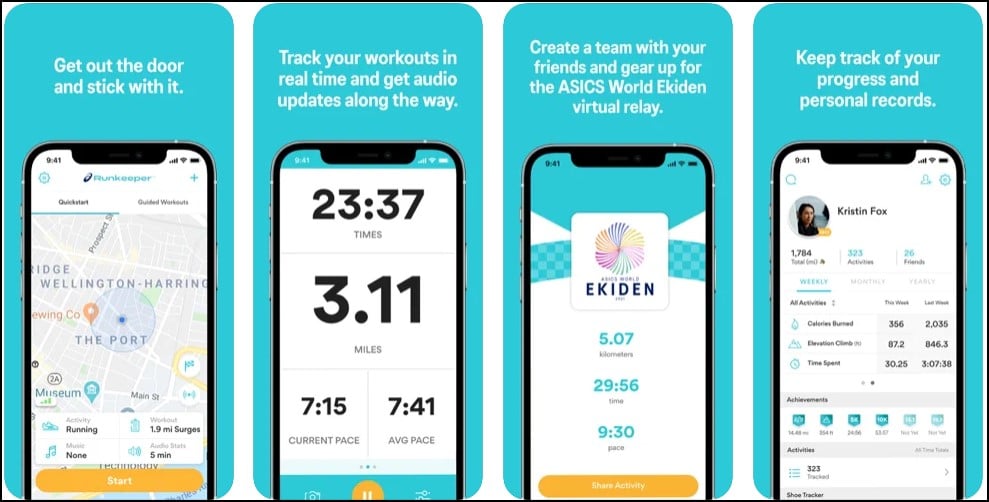 Standout Features:
Ideal for novice and experienced runners
Easy to set and track goals, progress
Use GPA to track performance
---
MapMyRun by Under Armour
MapMyRun is one of the most detailed best running app for iPhone. It offers countless unique features that make it the ideal companion of many runners during their cardio. It offers a complete program that combines training and tracking tools to assist you in running and getting at the top of your game. Furthermore, you can also get personalized coaching and tips from Garmin users.
Whether you are a seasoned, experienced runner or someone just about to begin their journey of physical fitness, this app will offer tools and features that will help you stay on the right track and keep you motivated to ensure you reach your goal goals. Apart from tracking your distance and running duration, you can use the app to find the best local running routes in the city and get valuable feedback on your stats.
The MapMyRun community is one of the most features as it lets you connect with like-minded people, and you can all strive towards a single goal. Audio coaching is another notable benefit of the application, which makes it pretty popular among users.
A unique feature is the Gear Tracker, which will notify you when it's time to get a new pair of runners. The app is compatible with various devices and apps as you can sync the data with Garmin, Fitbit, Apple watch, etc.
Related: Best Fax App For iPhone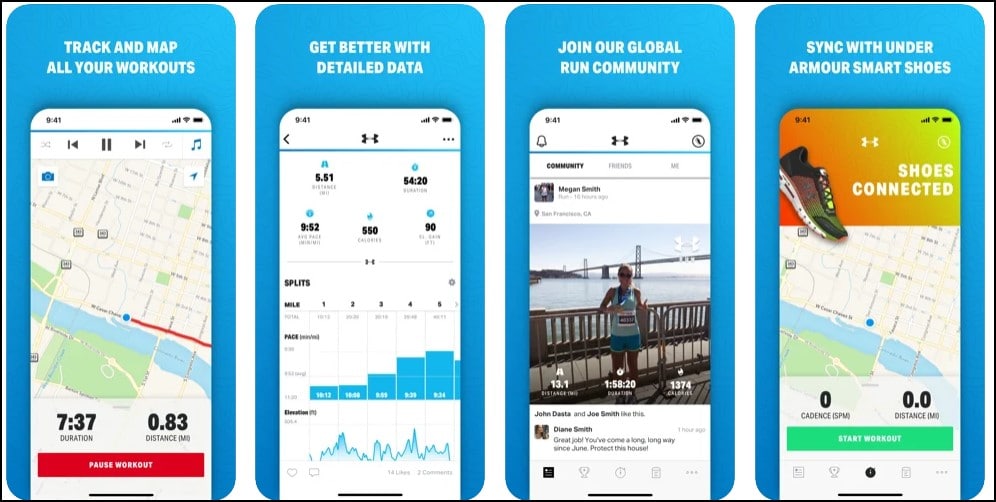 Standout Features:
Comprehensive training analytics
Find local running routes
Compatible with different devices and apps
---
C25K® 5K Trainer
If your goal is to hit 5k distance, C25K® 5K Trainer is the best running app for iPhone that can help you reach it. This app rose to massive fame because it features several running and walking training methods to help you get to the 5k distance. This app is a blessing for runners at the entry-level as it will help them reach the distance efficiently and through a specialized program.
The app features an eight-week program that will take your running game to a level you cant imagine. It offers plenty of training plans for pre-workout and post-workouts, which measure to track your actual progress and find the best routes to get to the level you want.
An essential thing, particularly for beginners, is stamina, strength, and endurance when working out. C2k will provide you with a plan that helps you build these physical traits as you establish a running habit.  You can also get feedback (verbal) during your running, thus resulting in more motivation.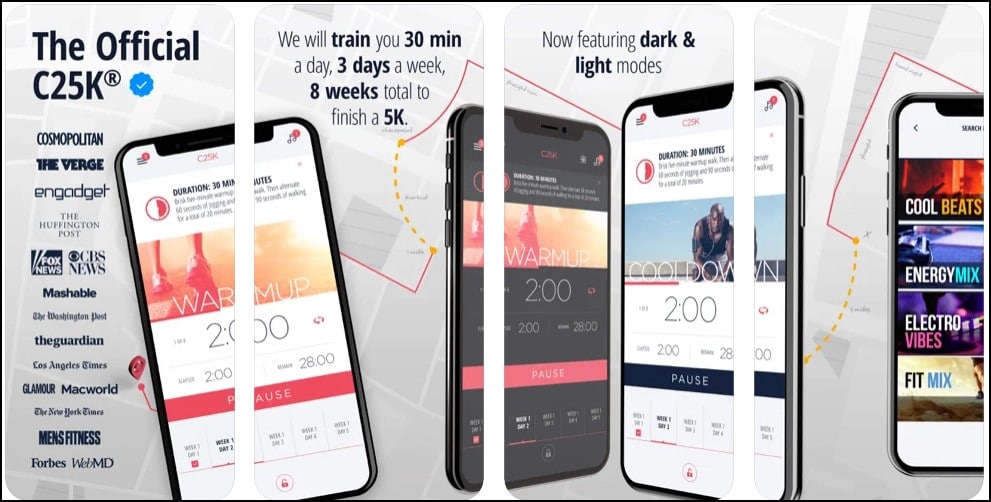 Standout Features:
Eight weeks program to run 5k
Audio coaching alerts
Based on walking and running training method
---
Strava: Run, Ride, Swim
Running is a great sport, but the problem is that when there is a lack of competitive spirit, you might end up losing motivation. It is why Strava is the best running app for iPhone for people looking for a strong community commitment and support.
The app lets you compare runs and times with each other and engage in group challenges; thus, you are more likely to work harder and boost your motivation. Strava also provides detailed analytics and information about the routes along with the training guidance features.
One of the best features that the app offers is that you can set up a group challenge. It will allow you to create a goal between you and your friends; thus, you will know who makes the most progress, such as reaching the fastest 5k run or completing most miles in a fixed duration.
Strava also comes with safety features known as Beacon, which lets you add two close people to know exactly where you will be running. The benefit of this feature is that they can easily track you in case of an accident or mishap.
Related: Best Wallpaper App For iPhone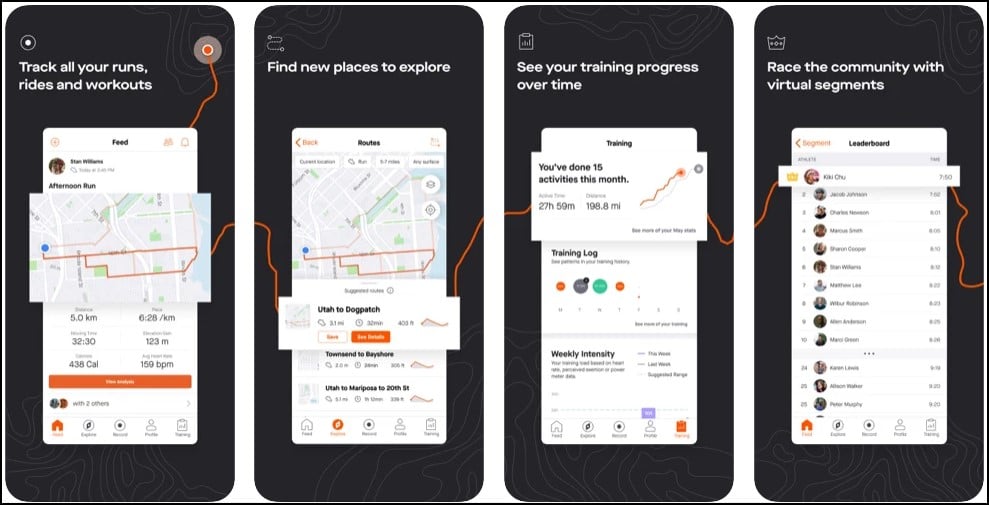 Standout Features:
Suitable for people with community commitments
Detailed analytics
Create group challenges with friends
---
Running by Daily Burn
Running by Daily Burn is the best running app for iPhone for the users that want a coach as this application will provide you with customized workout plans to reach your goals. Furthermore, the most beneficial feature is that it offers 1-on-1 training with audio guided runs that ensure you aren't bored or lack the motivation to complete the daily targets.
The app will let you download plans efficiently, and you can run them anytime, anywhere that you want. The tracking mechanism of the application is also excellent as it lets you measure runs, miles, mins, and the total calories you have burned during the runs.
Running by daily burn also provides a handy feature in stretching and warm-out workouts. You can view any video that will prepare you for the race. Furthermore, it also offers a workout by category feature that lets you train through intervals, tempo, endurance, strength, etc.  For people that like running on a treadmill, you can choose the option, and the app will track your progress accordingly.
Related: Best Voice Recording App For iPhone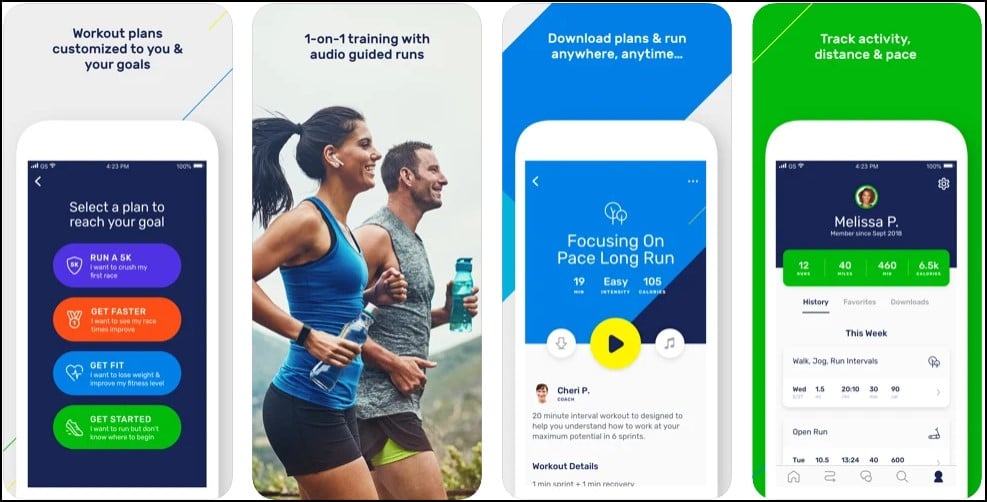 Standout Features:
Weekly Updated running and challenging training programs
Guided outdoor and treadmill runs
Personal running coaching
---
Charity Miles
For endless motivation, Charity miles is the best running app for iPhone. It will keep you in good shape and let you donate money to your favorite charity simultaneously. The feature that makes this app an exclusive choice is that it will help you earn money at the rate of 10c per mile that you can donate to your favorite charity later on. Thus, it will ensure you stay motivated and also serve a noble cause
You can earn money by your favorite cardio running, walking, or biking. A prominent feature of it is that you can earn through walking. Thus, the benefit of it is that each mile that you spend walking makes it more meaningful. Thus, you can create a team with your friend circle, and all strive towards the cause.
CharityMiles also provides constant reminders to keep you motivated and going; thus, you know that you are trying to make your life and others better. Overall the app remains an excellent multi-purpose choice.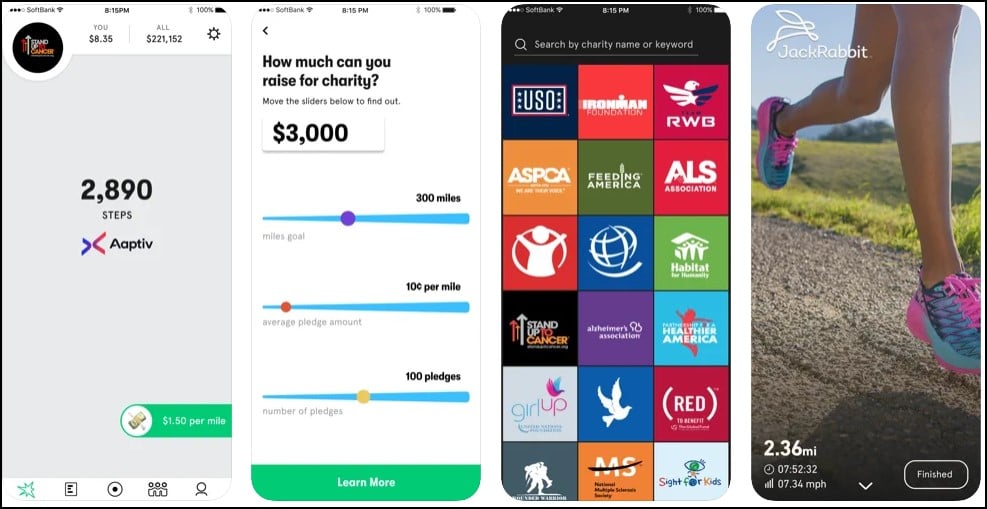 Standout Features:
Earn money by walking
Track various activities such as running, walking, etc.
Easy to use
---
MyFitnessPal
My fitness pal is ranked as one of the best running apps for iPhone with over 1.3M users. The app will help you reach your fitness goals with a lot more convenience. The app provides diverse functionality, including charting your training runs, connecting with your friends for support, and a weight loss progress recorder.
Running is the best cardio exercise out there, and it will help you in weight loss. If you want an app that can track your progress and provide detailed analytic options, MyFitnessPal remains the best choice as it provides it all. The app will track all your calories and the runs in a single place and know how much calorie intake is left for the day.
You can also connect with your friends through the app and hold each other accountable if you fall off the schedule, as it will ensure you maintain a competitive spirit. MyFitnesspal can sync with other applications and various devices such as Fitbit, Runtastic to provide you with an unmatched experience.
Related: Best Offline Music App For iPhone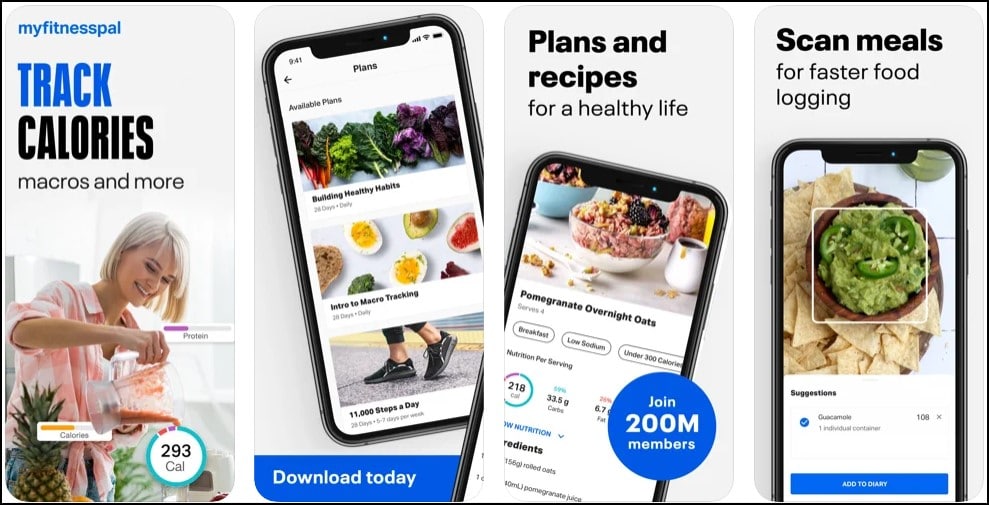 Standout Features:
Track your calories and workout progress
Sync with other devices and apps
Customizable goals and progress monitor
---
Adidas Running App Runtastic
Adidas Running App Runtasitc provides all the features that a runner might require during their journey. The app is free; thus, you won't have to pay anything to download it or use it efficiently. The application will let you track all your activities, including your overall distance covered, pace, and the total calories you have burned. Furthermore, it also offers a GPS that shows the entire map and the route you have covered.
Once you have covered a particular distance, you can capture an image of your route you can share with your friends and family or on your social platform. Maintaining a check and balance is also extremely easy as the app lets you check all your stats in great detail. It's also possible to challenge yourself through the application as its programs let you achieve success.  Furthermore, the app lets you choose a personal fitness goal that you can strive towards and achieve whenever you want. Overall, the app is filled with beneficial features that will put you on a fitness journey and help you reach new heights.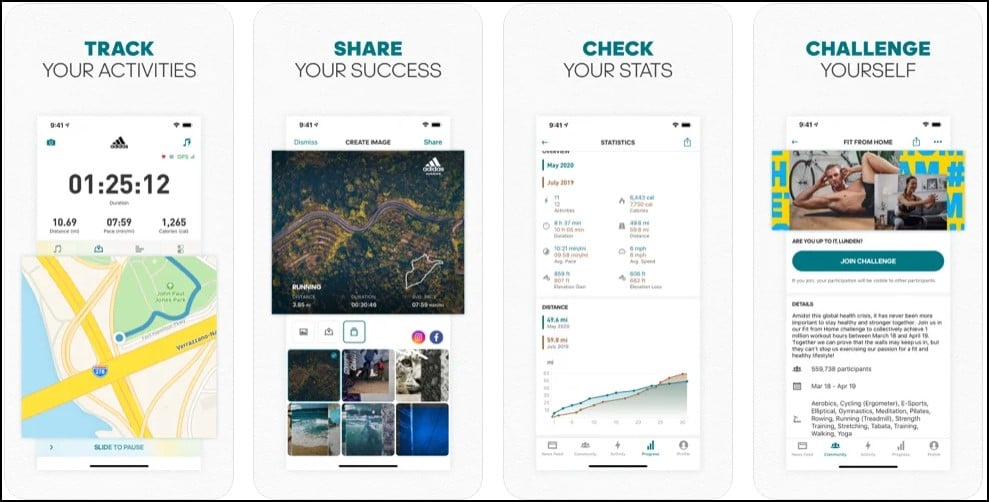 Standout Features:
GPS tracking
Track various analytics
Adidas running app community
---
Final words
Whether you are a beginner or a professional, the best running app for iPhone will always have some features for you in the bag that will benefit you. Our list above contains apps that can take your performance to the next level and others that will help you get started as you gradually progress and build your way up. Although there isn't one universal formula, you will have to choose an application based on your partialities and requirements. From our list, My fitness Pal, Runkeeper—Distance Run Tracker, and MapMyRun by Under Armour remain some of the best choices.
Thank you for reading! Try these out too:
General FAQS
What is the best running app for iPhone?
There are many applications that you can label as the best running app for iPhone. Although all of these apps excel in their functionality,  the users' requirements vary, and thus selection should be made accordingly. Although MyfitnessPal remains the best choice for calorie trackers, Runkeeper—Distance Run Tracker is the best overall, and C25K® 5K Trainer is suitable for starters.
Can the best running app for iPhone help me track calories?
Yes, MyFitnessPal will let you track your overall diet calories at the top of your fitness routine. It will ensure you meet the calorie requirements and don't fall short of it.
Can I sync the app with my apple watch?
Yes, the best running app for iPhone will let you synchronize with other Apple devices and apps