We all want to have a customized call and message ringtone on our smartphones. The best part from our favorite soundtrack or the background score of any movie, web series, we all want to listen to them as a ringtone on our smartphones. We are coming with a listicle of the best ringtone apps that will let you trim, cut, edit, and create custom ringtones.
Tons of the best ringtone apps offer quality features. We are aggregating some of the best ringtone apps Android users can install on their smartphones. Before starting the listicle, let us look at some of the benefits best ringtone apps can offer to the users.
Excited? So, Let's Get Started.
Benefits Of Best Ringtone App
Trim parts of tracks: You can trim parts of your favorite soundtracks with the ringtone app. Not only soundtracks, but you can also cut and trim background scores from your favorite movies and TV series. Best Ringtone apps have handy

editing tools

that let you cut and trim specific soundtracks and set them as a ringtone.
Free: Ringtone apps are usually free. You can download the app and take benefit from the editing tool apps without paying anything. Ringtone apps charge small amounts or in-app purchases. Also, the apps have default ringtones that you can use as your ringtone.
Best Ringtone Apps For Android
---
Zedge
Zedge offers a wide selection of free ringtones across the globe. You can set custom ringtones for contacts. Besides caller ringtones, you can also set a custom alarm and notification sounds. The app allows you to save the favorite ringtone on your device and access it whenever you want.
You can sync the app across various devices to keep your data safe and easily accessible. Set ringtones for occasions and holidays like Valentines Day, Fathers Day, Mothers Day, New Year, Halloween, and Christmas.
Related: Best Guitar Tuner Apps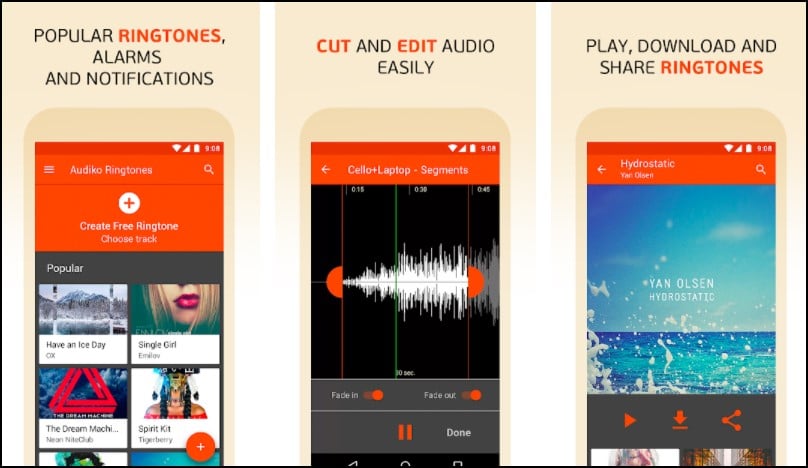 Standout Features:
Cool customization ringtones
Syncable across various devices
Set ringtones for occasions
---
Audiko
With over 2M+ soundtracks, Audiko can be the ideal choice for the users. The app has an audio editor and ringtone maker that help you create customized ringtones. You can create a "My Ringtone" section to access all the custom ringtones in one place.
With the intelligent track search interface, you can search your favorite tracks quickly. The database is frequently so that you are always up with the latest chartbusters, making it one of the best ringtone apps. The app supports all audio file formats like MP3, MP4, and WAV. The pro version of the app offers unlimited ringtones and top 100 music charts.
Related: Best Home Workout Apps
Standout Features:
2M+ Soundtracks
Support all file formats
Top 100 music charts
---
Ringtone Maker (Big Bang)
Ringtone Maker is a free ringtone maker that lets you create ringtones, notifications, and alarm sounds from various file formats. You can extract MP3, FLAC, OGG, WAV, AAC(M4A)/MP4, 3GPP/AMR, MIDI audio files with the Ringtone Maker app and make ringtones. Also, you can merge multiple tracks and make them a ringtone.
You can assign ringtones to different contacts or re-assign them when you want to change them. With the fade in and fade out effect, you can make your ringtones more appealing. This best ringtone app is visually appealing and is another standout feature. You can sort your ringtones via artists, music, albums, and artists.
Standout Features:
Support different file formats
Fade in and fade out
Visually appealing
---
Pi Music Player
A highly-rated music player with more than a 4.5 rating on the Play Store, Pi Music Player is our top pick on the list of the best ringtone app. The app is visually appealing, thanks to 4 themes and 25 backgrounds. You can choose dark, black, light, and gloss theme options as your default theme. As for cutting your favorite part of the track, the app has an in-built ringtone cutter.
You can do ID3 tag editing to edit the metadata of tracks and albums. Besides, the app has a 5-band equalizer with 25 preset bass boosts for an immersive listening experience. The latest update of the app lets you browse videos from YouTube and add them to your playlist.
Also, the app has a floating YouTube popup player that helps you multi-tasking while listening to your favorite songs. You can set a sleep timer according to your bedtime schedule. Not only this, the app has an intuitive interface with the help of which you can play audiobooks and podcasts.
Related: Best Weight Loss Apps
Standout Features:
Themes and background
YouTube Popup player
Widget support
---
Ringtones (Time Cable)
Ringtones by Time Cable offers a plethora of free ringtones to users. You can enjoy more than 10,000 ree ringtones across various genres. The ringtone categories include funny ringtones, rock, hip-hop, dance, and Bollywood alarm. The app has a powerful search engine where you can discover all the trending and hottest ringtones. You can request a new ringtone, a standout feature, making it one of the best ringtone apps.
Besides ringtones, you get access to high-quality wallpapers and photos. The app is visually appealing, and we like the color theme paired with attractive backgrounds. You can also listen to your favorite ringtones in offline mode by downloading them.
Related: Best Sports Apps
Standout Features:
10,000+ free ringtones
Powerful search engine
Diverse categories
---
Ringtones For Me
Ringtones For Me app introduces new ringtones frequently to keep the users updated. The app gives you access to thousands of ringtones across various genres. The ringtones are grouped in categories so that you can easily find the tone you want to set as your notification sound, alarm bell, or caller ringtone. You can buy the in-app purchases to get more exclusive ringtones and features.
Related: Best Credit Score Apps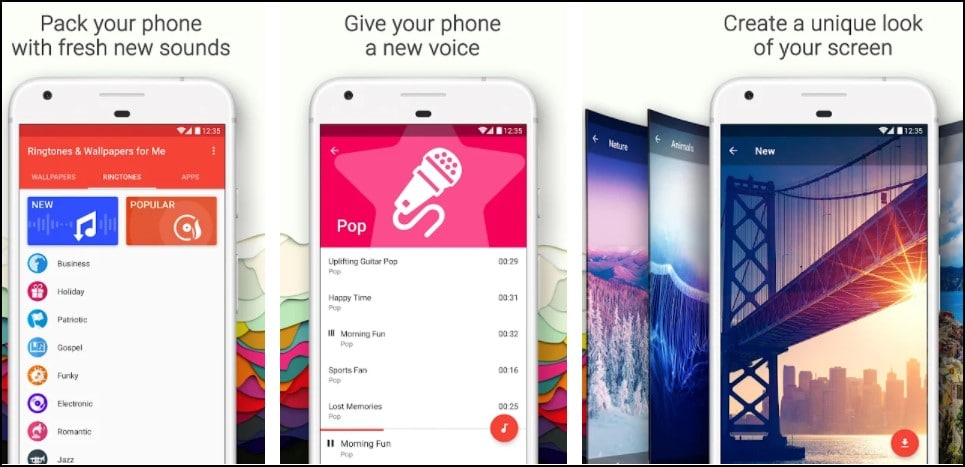 Standout Features:
New ringtones
Sorted categories
Easy to use
---
Ringtone Maker (MeiHillman)
Ringtone Maker is a powerful music editor that helps you produce unique ringtones as your caller tune. It automatically scans audio files stored on your device. The music editing software supports MP3, WAV, AAC, AMR, 3GPP, 3GP, M4A audio formats. You can easily access all the audio files on your device with the help of the built-in browser of the Ringtone Maker app.
The quality of the audio does not diminish during the conversion of tracks into ringtones. Your ringtone comes in a waveform display along with five scaling levels. This compact and best ringtone app offer all the features a ringtone lover wants on his device.
Related: Best Personal Finance Apps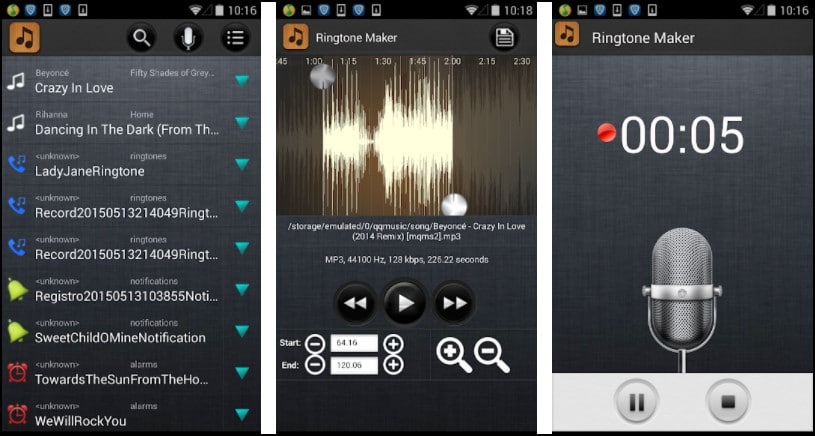 Standout Features:
Powerful music editor
Supports multiple formats
Waveform display
---
Z Ringtones
Moving further, Z Ringtones is the latest and best ringtone app that offers new ringtones in diverse categories. The categories include Alternative, Blue, Classical, Comedy, Country, Dance, Electronica, Entertainment, Games, Hip Hop, Jazz, Latin, Pet & Animals, Pop, R&B/Soul, Rock, Christmas, New Year, NYE, Holiday Party, and many more. You can easily search for the latest ringtone and browse new ringtones for every occasion.
Standout Features:
Free ringtones
Diverse categories
---
Final Words
These were the top 8 best ringtone app you can install to enjoy high-quality ringtones on your devices. All the apps have multiple utilities, and you can conveniently create notification sounds, alarm ringtones, and caller tunes of your favorite track. For me, Zedge, Ringtone Maker(Big Bang), Pi Music Player, and Ringtones are the top recommendations on the list. You can comment and tell us about your top picks on the list.
Thank you for reading! Try these out too: