Organization is an essential trait of a productive lifestyle. However, unfortunately, not everyone makes the most out of it. As Martha Stewart says, "Life is too complicated not to be orderly," thus, we should look for ways to make our life more methodical to maximize our personal and financial results. Thankfully, the introduction of technology now provides numerous ways to improve our concentration, productivity, and focus. Among several others, some of the most beneficial applications are the planner apps.
Although physical planners can serve you equally well but let's be honest, nobody wants to carry it around regularly. Eventually, it ends up in the drawer before we know it. So, the most effective way to maintain a planner is to use the best planner app for iPhone.
Since mobile phones are now essentials that we carry everywhere, increasing productivity and organization adds to countless other benefits. However, the task can be more daunting than you initially think the reason? Diversity.
There are now hundreds of planner applications on the App store. There is a wide variety of choices; thus, you need to select the one which works for you. It can be a problem since you don't want to waste time downloading and testing. It's where we come in with a list of the top 8 applications that you can download on your iPhone. Our list comprises apps based on their functionality, convenience, and benefits. So, before further ado, let's jump right in.
Excited? So, let's get started.
Benefits of Best Planner App for iPhone
Customization:- One of the most significant benefits of the best planner app for iPhone is

customization

. Although you might use the app mainly for classification, the most notable advantage remains its customization. The app will allow you sort tasks and prioritize them without mistakes or crossing them out. You can delete a task or edit it in case you make a mistake.
Enhance productivity and reduce stress:- One of the most effective ways to remain stress-free while ensuring you fulfill all your tasks is by thinking on paper. A planner app will offer similar functionality and sort all your tasks beforehand, thus improving your productivity. Furthermore, as per the journal Nature Reviews Neuroscience, a planner can help reduce ambiguity and thus lower anxiety and stress levels.
Better Time management:- A planner app will also let you set deadlines and timers for performing various tasks. Thus, it ensures you don't end up spending more than the required time for executing it. Furthermore, you can sort everything on their priority level, an effective

time management

measure.
Best Planner App for iPhone
---
Things 3 is one of the best planner apps for the iPhone due to its advanced functionality and features. It is the perfect application to sort your daily activities and tasks by category. Things 3 will make it easier for you to plan your day and stay organized during it.
The app has a clean design at the top of an interactive checklist and an intuitive user interface. One of the significant benefits of Things 3 is that it will let you add headings to the tasks in the list. The features add exclusivity to a particular list, thus allowing you to remain more focused.
You can create a list with different categories you need to perform while assigning a date and time. The app will also let you add sub-tasks and descriptions to every major heading to avoid being lost during the day.
You can add various calendar events along with your daily tasks. The application will remind you of any particular important task that you have to complete at any set date. It is the ideal choice of numerous people that want to enhance their productivity and take their game to the next level.
Related: Best Navigation App For iPhone
Standout features:
Elegant design with powerful features
Create a To-do list while assigning dates and times to it
Add tags to the To-do tasks by time, priority, or context
Download This Best Planner App For iPhone
---
If you are looking for the best planner app for iPhone that will allow you to plan each day, Todoist is an ideal companion. It is an excellent way to keep track of all the essential tasks during the day and be productive. The app has convenient usage with an interface that is suitable for novice and experienced users.
Todoist is one of the most downloaded applications on Appstore. Since it provides a way to organize and plan your day with ease, it is deemed a must-have for users who want to increase their efficiency while ensuring they don't miss out on anything.
We are humans, and forgetting something is often easy, especially when busy during a significant part of the day. It is where the reminders come into play and remind you of anything vital that you might be overlooking. You can create lists of categories such as personal, work, business or fitness, etc. You can also add sub-tasks quickly to the list.
 In the latest version of the app, you can also scan any text to convert the handwriting into a task. Furthermore, you can now save some taps by instantly linking back to a task from the quick notes.
Related: Best Photo Collage App For iPhone
Standout features:
Create a list of tasks and sort them into priorities
Easy to add a sub-task
Ideal for detailed organization and planning
Download This Best Planner App For iPhone
---
Awesome calendar; unlike the regular planners we have on the list, this one is a little different. It's the best planner app for iPhone for users that want to have all the important dates sorted and mentioned on a calendar-style app.
An awesome calendar offers a lot more than simply adding tasks on important dates. You can crates notes, color code, calendar events, and even get information about the local weather forecast through the app. Although many people often use the app to mention a few important calendar events, you can also use the app to add daily tasks and plan your days.
You can also add stickers and photos to the events and share screenshots with your friends by simply taking a screenshot. It offers daily reminders for the planned tasks, a day view of how your next day is planned, recurring rules that you need to follow, and adds plenty of day colors to make the theme more appealing.
Standout features:
Provides local weather updates
It incorporates a daily and monthly planner
Easy to use with an attractive design
Download This Best Planner App For iPhone
---
Another popular name on the best planner for iPhone list is Any. do. The application is the ideal companion for you if you search for a comprehensive tool to plan everything. You can add all sorts of tasks through the app, including buying a gift for your friend or family or completing an important work presentation within the deadline.
A significant benefit of Any.do is that you can plan multiple days in advance. You can easily add tasks for today, tomorrow, or any upcoming day. It is a particularly notable feature as it directs your subconscious minds to note any upcoming critical event and thus prepares for it accordingly.
Any.do apart from offering a To-do list also comes with a calendar. You can assign various tasks on a due date through the calendar. For instance, if you want to visit your grandparents next week, you can add it to the calendar with the exact date, and the app will notify you in advance to prepare for it.
The app will let you create multiple lists; thus, you can sort everything out and be more organized than ever. You can categorize everything you need to do during the day, including personal tasks, work goals, fitness, and even maintain a grocery list. You can further add sub-tasks to the list, thus ensuring that you are descriptive and don't miss out on anything.
Related: Best Free Video Editing App For iPhone
Standout features:
Create a list of things for different aspects
Maintain essential dates on a calendar
Add sub-tasks and reminders
Download This Best Planner App For iPhone
---
Fantastical is an application that will maximize your productivity and efficiency during the day. The app provides countless features, which makes it the best planner app for iPhone to many users.
One of the main reasons the app excels in the category is its features and customization options. It will let you use a natural language pattern to schedule all the events and identify their locations while also suggesting invitees. You also get a widget for the home screen to readily use when required.
The app takes scheduling to the next level as it offers Calendar dates, tasks, time zones, weather, availability, and plenty of templates to ensure you don't get bored of it. You can assign tasks for important dates throughout the year while also maintaining a daily planner. The weather forecast and time zone update will let you plan a trip without any disruptions. You can also join a conference call through any third-party device such as skype using Fantastical. Its widgets will allow you to manage everything conveniently while keeping it interesting.
Related: Best Call Recording App for iPhone
Standout features:
Add tasks and events through natural language
Calendar with interesting facts about various dates
Weather forecast feature
Download This Best Planner App For iPhone
---
The Planner Pro- Daily Calendar is an excellent organizer that will allow you to record daily, weekly and monthly tasks. The detailed organization is one of the most crucial aspects for an individual that wants to thrive in today's economy. As Cal Newport's book "Deep work" states that to ensure we maintain laser focus in today's noisy world, we need to be comprehensively organized. Planner Pro can help you to achieve it.
Planner Pro is the best planner app for iPhone mainly for its simple and user-friendly interface that keeps things convenient and straightforward. You can efficiently add tasks, events, and notes to it by some simple operations. Additionally, it will also let you plan weeks or months; thus, if you want to schedule any important tasks for any upcoming date, you can instantly record it through the app, so you don't end up overlooking it later on.
The app will also let you sketch directly in notes to save a vital diagram or create study notes with ease. You can work on multiple projects by categorizing them, which is another feature of the app.
Standout features:
Easy to sync with different apps
Add tasks and divide them into categories
Efficient and Convenient application
Download This Best Planner App For iPhone
---
Although Google Calendar is an application that offers versatile functionality, it is the best planner app for iPhone, most notable for users that want it for work purposes. The main reason it's the ideal choice of professionals to carve a plan for your daily, weekly, and monthly schedule while overviewing it in terms of work and meetings.
A significant feature of Google Calendar is that it constantly notifies you through an email about any significant plans or tasks that you have assigned for today. Furthermore, you can also connect other productivity apps with Google Calendar for impeccable efficiency.
Google Calendar also has a pretty straightforward and user-friendly interface. It provides a calendar format that allows you to add different tasks such as meetings, birthdays, etc., on any given date. You can also set daily reminders for any date; thus, you don't miss out on anything special.
Related: Best Free Scanner App for iPhone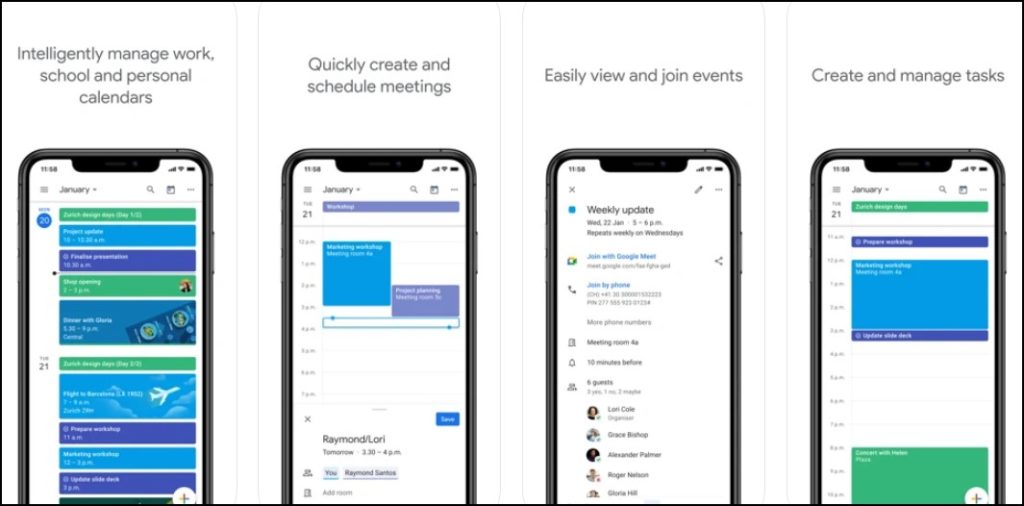 Standout features:
Email reminders
Easily synchronizes with other apps
Constant updates on meetings and incomplete tasks
Download This Best Planner App For iPhone
---
If you seek the best planner app for iPhone that can offer diverse functionality and be a one-stop solution for multiple tasks, Notion is a great choice. The app provides an attractive workspace that will let you organize all your tasks. Furthermore, the most attractive feature is that you can create notes, presentations, organize docs and project plans inside an online planner.
You can create separate projects and then add various sub-tasks to make progress. One of the best ways to ensure that you reach your goals is by dividing them into sub-goals and clarifying how you will reach them. Thus Notion is the app that's up for the task. You can easily drag, drop and edit any task into it. Furthermore, the app is also operational offline across all Apple devices.
The notion app will let you add comments and mentions to any task; thus, you can easily catch up to it if there is some detailed information that you might be missing out on. Overall, the app provides excellent functionality that will help you thrive in productivity and efficiency.
Related: Best Photoshop App For iPhone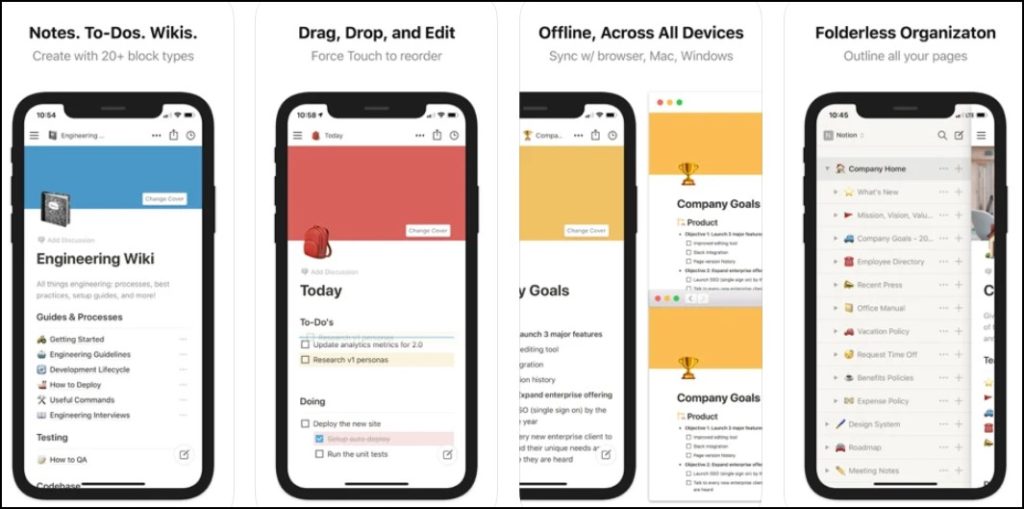 Standout features:
Diverse functionality
Easy to manage
Attractive interface and design
Download This Best Planner App For iPhone
---
Final words
Our list of the best planner app for iPhone is created after careful analysis of the functionality, features, and convenience. However, it finally falls to the preferences of the user to choose the app. One central thing to note is that what works for one user might not be the best choice for you. Thus, it would help to be mindful of your preferences before downloading an application to ensure you get value. As per our recommendations, Fantastical – Calendar & Tasks, Things 3, and Todoist are some of the best choices on the list.
Thank you for reading! Try these out too:
General FAQS
What is the best planner app for iPhone?
The best planner app depends on your expectations. Suppose you want an application with a traditional listing design Todoist and Any.do are a great choice, but if you want to download an app with versatile functionality, Fantastical, Things 3, and Notion are the best choices.
Why use a planner app on an iPhone?
The most important thing to use a planner for iPhone is convenience, and it will organize all your tasks. Although a physical textbook can be equally beneficial, it's also an extra burden to carry every day. So, the best planner app for iPhone will take your productivity and efficiency to the next level.
Are all the planners free?
Although there are a lot of free planners that can provide great functionality, there are other choices, such as Things 3, that require a paid subscription.